10 Clever Storage Ideas for Your Tiny Laundry Room
Stuck with a super tiny laundry room? Make the most of it with these super clever storage ideas.

After years of living in NYC with no washer/dryer unit, my tiny laundry room feels luxurious. But for those of you who, like me, have a laundry room that could be described as "petite," you know first hand that there are some small-space storage challenges that you have to face.
Just because you have a tiny laundry room, that doesn't mean you need to give up on figuring out some smart storage solutions. With a little creativity, you can create space for everything you need and then some.
Here are some of our favorite tiny laundry room storage hacks:
Wall Storage for Laundry Supplies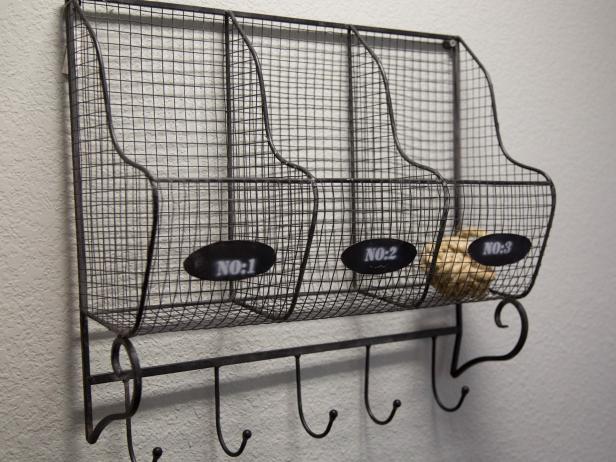 After: Laundry Room Detail
Wire mesh basket organizers, with hooks below, are handy for sorting and storing items in the laundry room.
The key to success in a small laundry room is using every available space you can. This means that you might have to ditch your dreams of hanging cool artwork on the wall and instead think about how you could best use that space to keep some necessities.
A hanging wire storage rack would work great for storing detergent, dryer sheets or orphan socks that need to find their mates. The hooks are a great option for hanging lingerie or other smaller items to dry.
These would work great in a tiny laundry room.
Hang a Drying Rack From the Ceiling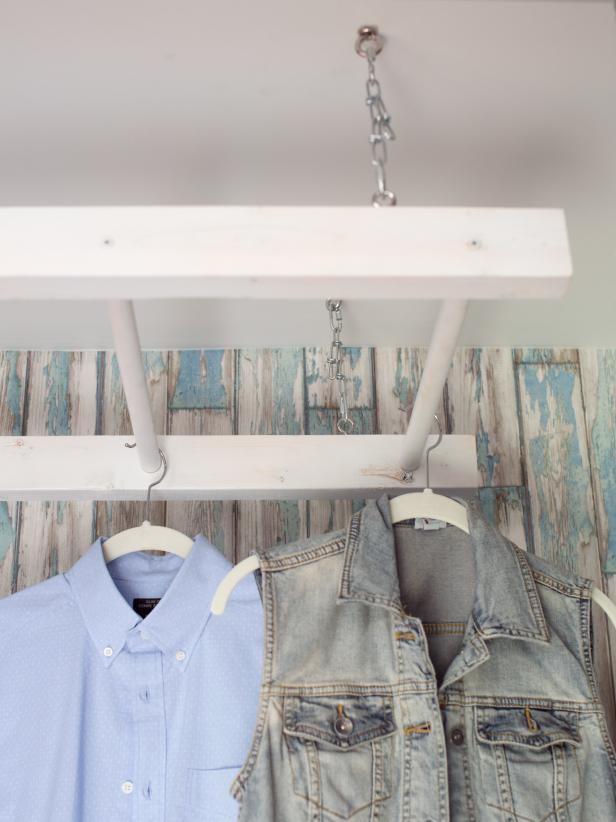 DIY Laundry Drying Rack Made From Ladder
Doing the laundry just got a bit more enjoyable thanks to this clever ceiling-mounted clothes drying rack. All you need is a wooden ladder and some supplies, and you can put the fifth wall in your laundry room to work.
Now that you've utilized all the wall space you can, it's time to look up at the ceiling! This is another often overlooked spot in a tiny laundry room that could work well for something like a drying rack.
This simple ladder-like drying rack is hung from the ceiling with chains and serves as a great spot to hang items to dry or clothing that has been pressed. If you hand-wash a lot of your clothing or have delicate items that you don't put in the dryer, a hanging rack is a smart investment for you.
Add Shelving to Unused Corners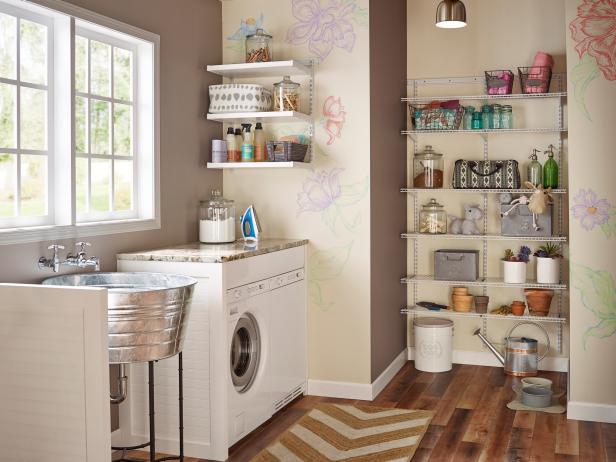 Laundry Room With Adjustable Shelving
Take advantage of wall space and create organized storage in your laundry room by using adjustable shelves, like these from ClosetMaid's ShelfTrack and ShelfTrack Elite. Well-placed shelves over a counter or in a niche keep supplies close at hand, but also off the floor and out of the way of your work area.
Unused corners in your laundry room are a great spot to think about adding some shelving. There are so many wall shelf options these days, so you can almost always find something to fit perfectly in your own space. They're a great spot to keep detergent, other cleaning supplies and lighter items.
This would provide a ton of additional storage space.
Put Supplies in Baskets + Storage Containers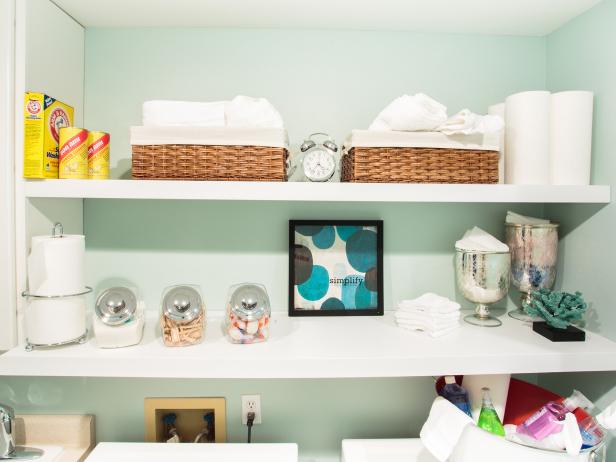 Laundry Room Shelves With Baskets
Open shelves above the washing machine and dryer provide additional storage for wicker baskets, paper products and cleaning supplies.
Copyright 2013 REDBUD Construction Services, LLC
Once you have some shelves, try to get ahead of the mess by wrangling up all of your laundry supplies in baskets, jars and other storage containers. If you're a collector of vintage items, this is a great spot to show off some of your finds. Old apothecary jars, candy jars or even old vases would work great for storage solutions.
If you'd like things to look a bit more orderly, you can use one single type of basket or jar for all of your supplies. Even if your laundry room is in an unseen corner of your home, you'll enjoy doing laundry much more if your space is looking neat and pulled together.
for all sorts of bins and baskets.
Use Curtains to Separate Your Space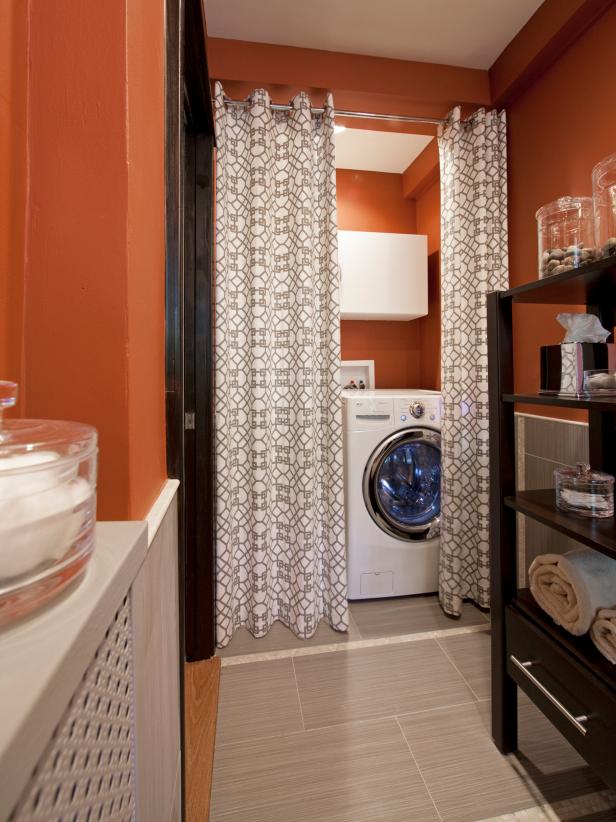 Bold Orange Laundry Room
Because they're already plumbed, bathrooms can be a great place to tuck in a washer and dryer. Natalie Sheedy of Natalie Sheedy Interiors took advantage of this long, narrow space, installing appliances at one end and screening them off with a pretty curtain. Extending the deep orange paint color into the laundry area makes it feel of a piece with the rest of the room.
Natalie Sheedy; Natalie Sheedy Interiors
If you don't have a door on your laundry room but would like to separate the space, consider using a simple curtain rod and curtains. This is a great option if your washer/dryer is somewhere more visible in your home. While curtains won't provide any sound protection, it's a perfect solution for hiding your washer/dryer.
A is the perfect choice for a small space.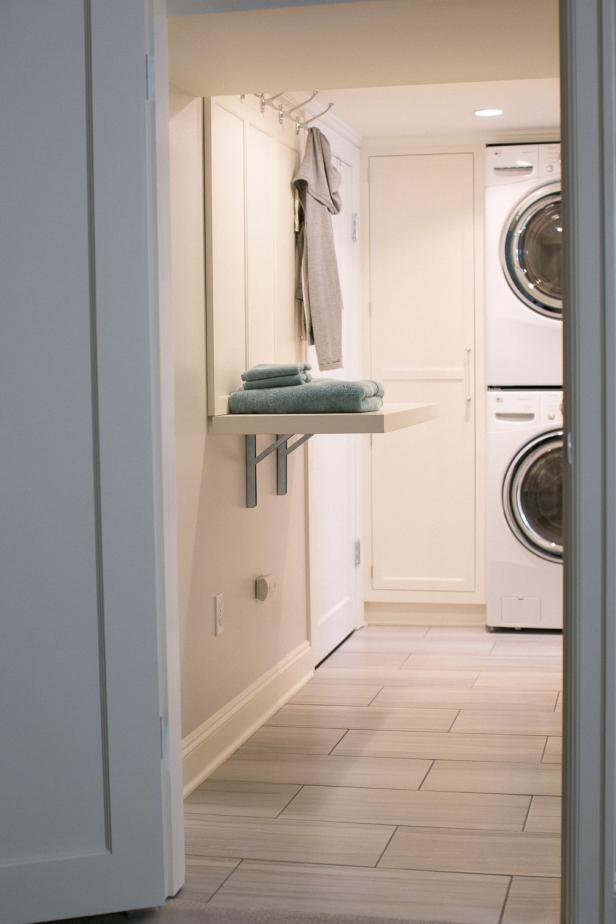 Folding Station in Contemporary Laundry Room
Designer Christina Tello integrated a small folding station into the laundry room design.
Even in a tiny space, you might have some room to create a folding station. This is a good option for a family that does a lot of laundry and needs a bit of room to spread out.
Consider mounting a small piece of a counter onto your wall and using that for folding. If you're handy, you might even be able to create a solution that can fold down and back up when not in use to save a bit more space.
This would work as a great folding station.
Use Pedestal Drawers Under Your Washer/Dryer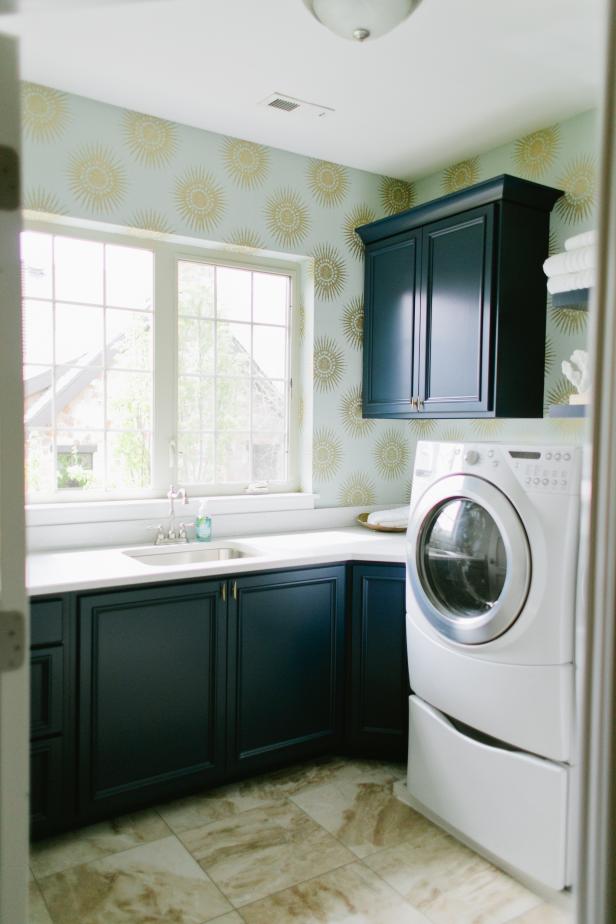 Transitional Laundry Room With Sunburst Wallpaper
Traditional black cabinets are paired with sleek white countertops in this transitional laundry room. Sunburst wallpaper bring in a fun, contemporary element, while large neutral tiles ground the space.
One of my favorite tiny laundry room hacks is using pedestal drawers under your washer/dryer units. These are basically drawers that fit perfectly under your washer or dryer. While this is not an option for every washer/dryer model, many of the newer units offer this additional add-on.
The nice thing about these pedestal drawers is that they also raise up your units, making them easy to access. Many of the drawers feature sectioned storage areas that allow you to fit in a good amount of detergent, dryer sheets and other laundry supplies.
If you're buying new washer/dryers, make sure to ask if pedestals are available. And if you have existing washer/dryers that you'd like to retro-fit with pedestals, your manufacturer to see if they offer that option.
Here are some options for many common washer/dryers brands.
Use a Bookshelf for Storage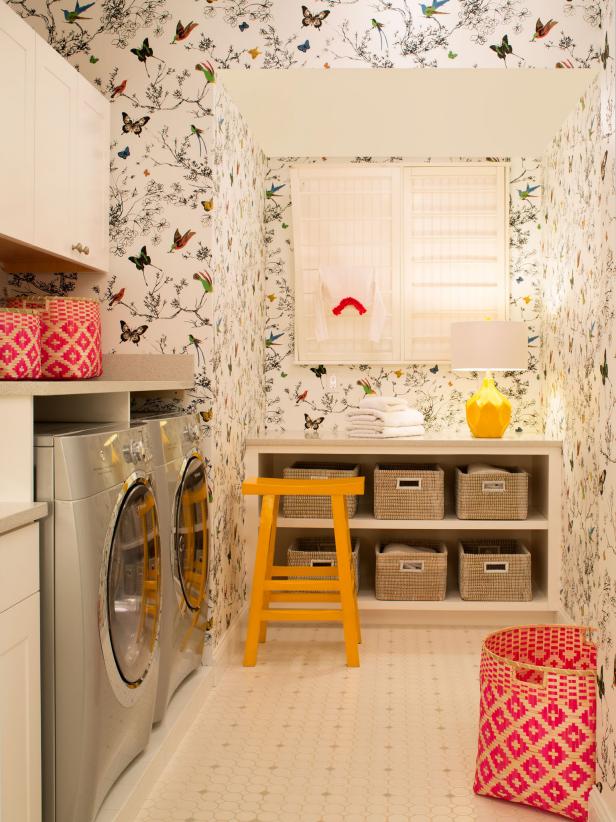 Laundry Room With Whimsical Butterfly Wallpaper
Who says a laundry room can't be fun? For this young family, Cheryl Scarlet of Design Transformations orchestrated a cheery, whimsical space with a bird-and-butterfly print wallpaper. The open shelving corrals portable laundry baskets, one for each family member and an extra for dry cleaning items. A pretty wall-mounted drying rack serves as a focal point and adds the illusion of a window.
Cheryl Scarlet; Design Transformations; photo by: Kimberly Gavin
Don't be afraid to make use of furniture and items from other parts of your home in your laundry room, especially if you have an odd corner or wall. This bookshelf was certainly not intended to be used in a laundry room, but it fits perfectly in the space and provides some much-needed storage space for sorting baskets.
You might have some extra furniture in your attic or garage that would work well in your tiny laundry room, too. Think of small bookshelves from kids rooms, side tables, storage cubes or any other items that might help wrangle the supplies in your space.
Don't Forget About Your Doors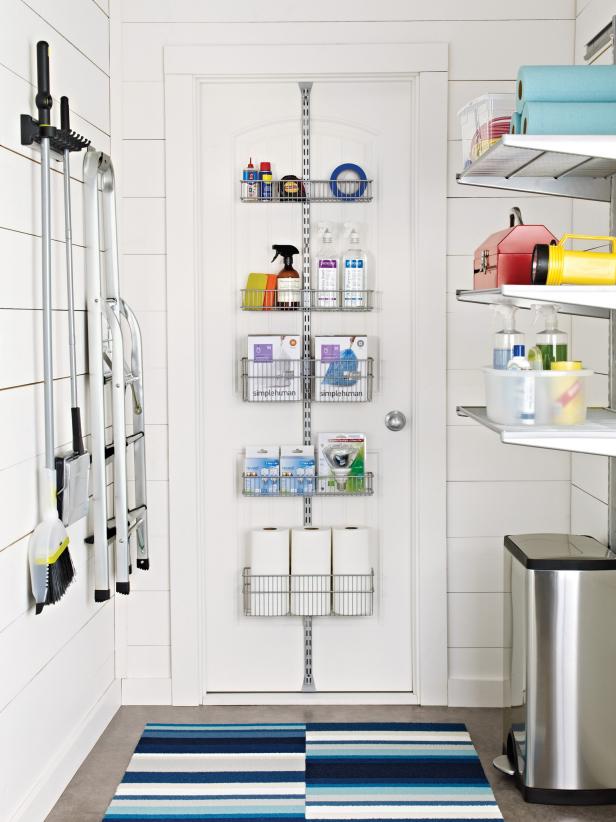 Clever Laundry Room Storage Solutions
Make use of otherwise wasted vertical space by creating extra storage on the back of a closet, pantry, or mudroom door. Over-the-door hooks or systems can be customized with baskets and racks of different sizes.
Another overlooked storage spot is the back of the doors in your laundry room. Look for storage solutions that were designed for closets as a starting point. While the unit in the photo above works great for supplies, you could also use things like over-the-door shoe storage for small supplies. Even simple hooks mounted on the door would provide some additional space to hang laundry bags or hangers for drying delicate items.
Here's a good option for an .
Add Baskets to Your Cabinets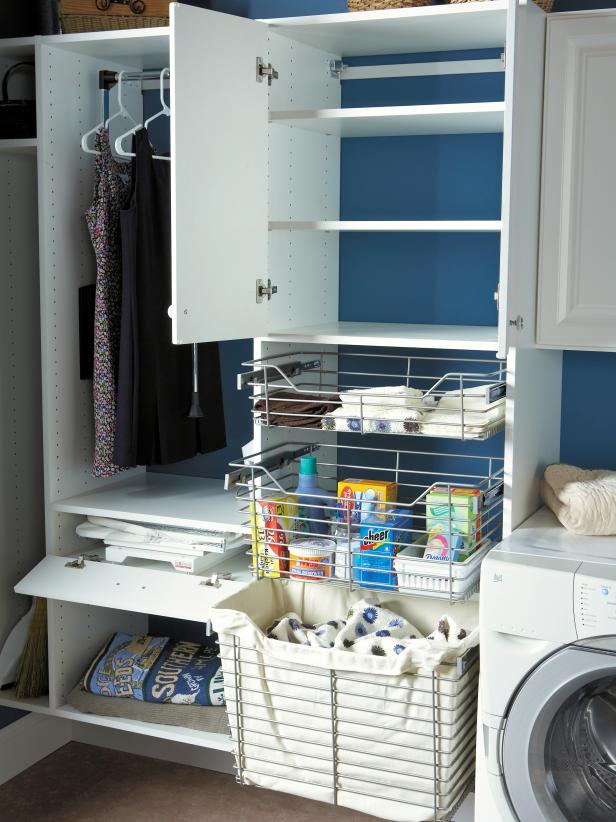 Blue Laundry Room With White Cabinetry and Wire Baskets
Ample white cabinetry provides concealed and open storage space for laundry room necessities. Wire baskets are a convenient place for laundry detergent and a dirty clothes hamper next to the washer.
If you're lucky enough to already have some cabinets in your tiny laundry room, consider upgrading them by adding some pull-out drawers or baskets to store supplies.
Oftentimes, the existing shelving in cabinets doesn't make the best use of your space. However, by retro-fitting them with some additional storage, you could seriously amp up the storage options in your laundry room. These drawers and baskets are often used for kitchen cabinets, but I think they're a perfect option for laundry rooms.
If you don't have cabinets, try using a .
Contemporary Palette
This spacious, transitional laundry room offers plenty of room for functional and stylish design ideas to form. Designer Traci Zeller adds drama to the room through a black-and-white color scheme and checkerboard tiled flooring. Glass decanters serve as attractive storage containers for detergent, clothespins and other laundry essentials.
Custom Design
Designer Shane Inman takes advantage of floor-to-ceiling wall space with louvered cabinetry and pull-out drawers in this galley-style laundry room. Custom industrial-inspired butler doors take up minimal space and introduce an interesting design element into the space.
Bright Transformation
To transform their dingy and outdated laundry room into a bright and modern-day utility space, design blogger and her husband, Ken, renovated the entire room from top to bottom sans contractor. They added wood-paneled walls, enclosed shelves above the washer and dryer, tiled flooring, a concrete vanity countertop, custom pendants and handcrafted details, like leather cabinet pulls. Now, the space appears stylish and homespun but 100 percent functional.
Concealed Storage
Storage is essential in any home but can be even more crucial in a laundry room. Designer Sarah Richardson doesn't want to take away from the floor space, so she designs the storage as close to the ceiling as possible. The shelved cabinets run horizontal above the washer/dryer unit and provide the perfect place to hold towels and other laundry essentials.
Double the Function
With not just one washer and dryer but two, designer Shane Inman ensures a low turnover rate for laundry in this household. By encasing the units below a stone countertop and adding storage cabinets above, the room instantly expands its functionality and efficiency.
Closet Laundry Station
Rather than skimping on an in-home laundry facility, city-dwellers Jeremy and Amanda decide to turn a closet on their second-story loft landing into a laundry room. To make up for the use of storage space, the room is designed with contemporary cabinetry to conceal all the essentials. Designer Brian Patrick Flynn even manages to fit an 8-foot folding station into the space.
Pet-Friendly Space
A laundry room is the perfect place to set up a cozy corner for the family pet and all of his toys and supplies. In this room, the laundry station is confined to one side, while the rest of the space serves as an informal mudroom with a spot for leashes, toys, hats and shoes. And for added style with practicality, the vinyl flooring makes pet messes, shoe prints and other accidents a cinch to clean up. Photo courtesy of
Clean and Pristine
Following the same aesthetic as the rest of the home, the designers at Fiorella Design use a sleek color palette and a striking minimalist approach to bring a contemporary look to this laundry room.
Homespun Laundry Look
This charming reach-in laundry station boasts simple farmhouse appeal through its collected accessories and homespun look. Rather than stow away all of her laundry necessities, Linda Macdonald keeps them all within reach in stylish decanters, baskets and vintage buckets above the washer and dryer.
Maximum Exposure
Organization solutions don't have to be costly. Ikea's organization system comes with adjustable shelves, a folding table, drying bars, moveable clothing racks and hampers that create an airy space. A clean table above the front-loading machines makes pre-sorting dirty clothes quick and convenient. Photo courtesy of
Unexpected Storage
A washer/dryer pedestal with built-in storage drawers ensures every inch of valuable space in the laundry room is used. In addition, wall-to-wall cabinetry guarantees there's a place for everything. Design by Shane Inman
Organized and Elegant
Galley-style laundry rooms make practical sense. When the sink and washer are along the same wall, it's easier and less expensive to run plumbing lines. Wood-finished cabinetry helps integrate a workspace into the rest of the house when hiding it away is not an option. The glass-fronted cabinets make it easy to find supplies and help make the space a bit more elegant than a standard laundry room. Photo courtesy of
Ample Space
This space proves to be far more than just a laundry room; it also serves as a multifunctional home office and hobby area too. The large L-shaped countertop remains clear for folding laundry and taking on other housekeeping tasks. Plus, storage cabinets above and below the countertop provide the perfect place to store cleaning supplies, extra linens and children's messy arts and crafts supplies. Design by Castle Rock Design Group
Hidden (Dirty) Laundry
For apartment dwellers and those with limited space, a hideaway laundry room is the best option. Compact washer/dryer units make it easy to conceal the laundry room. With a sliding door, even a small hallway closet can be converted without impeding traffic. Wall shelves and between-machine storage bins make for an organized, self-contained utility space. Photo courtesy of
Serene Cleaning
Sometimes laundry rooms don't even look like laundry rooms at all. This serene space embraces a soft color palette and feminine cottage-style decor. The environment would make laundry feel less like a chore and more like a tranquil getaway.
Tucked Away
Oftentimes, homeowners find they don't need a room solely devoted to laundry. This spacious bathroom dedicates a small nook to the washer and dryer, a folding station and some overhead storage cabinetry. Design by Nancy Leffler Mikulich
Warm and Inviting
This may be a hard-working laundry room, but it feels anything like one. RMS user MrPeabody prevents a pure "utility" atmosphere by integrating the home's rustic architecture, wooden ceiling beams and warm pendant lighting.
Moving Upstairs
Traditionally, laundry rooms are located adjacent to the kitchen on the main level. Recently, though, larger second-story laundry rooms are becoming more popular. This sizeable utility room features all the desired amenities with a crisp, clean color palette. Design by Hillary Reed Interiors, LLC
Shared Spaces
A surprisingly common companion to the laundry room is the home office. Designer Amy Bubier creates a built-in desk nook on the opposite side of the concealed washer/dryer unit to take advantage of all the space offered.
Ultimate "Do" Room
Featuring a laundry area, workspace and wash station, this super utility space is truly the ultimate "do" room. It offers plenty of countertop space to complete laundry-related tasks, plus a quiet place for both kids and adults to work. Design by Hillary Reed Interiors, LLC
Elegant Expansion
This large laundry room offers an expansive run of custom cabinetry in elegant natural wooden and stone materials. Design by Pacific Dimensions, Inc.
Feminine Touches
RMS user Sassy0239 wanted to transform her contractor-grade laundry room into a stylish and feminine utility space representative of her style. She repainted the walls, replaced the traditional metal shelves and added chic, budget-friendly baskets and storage accessories to make up for the lack of cabinetry. Now, she has a pretty laundry room she actually enjoys doing laundry in (kind of).
Retro Hues
The designers at Color Design Art prove that laundry rooms don't need to be cold and sterile. In this retro utility room, bright-red appliances, colorful artwork and contemporary black cabinetry bring a different feel to the laundry room.
Organized Storage Systems
Laundry rooms can be as tiny as a closet or as large as a garage. But no matter if they are L-shaped, U-shaped or galleys, efficiency and organization are key. This modular solution is designed to put all supplies at arm's length. In a crisp, clean white finish, the system includes adjustable shelves and a wardrobe valet that effectively uses wall space atop and around the appliances. Photo courtesy of
Unwind and Unload
Front-loading appliances provide extra stacking space atop the machines. This colorful room with generous storage space, an easy-to-clean, marble-topped table and a built-in television with DVD player, makes laundry time less of a chore. Photo courtesy of