9 "Why Didn't I Think of That?" Car Organizing Hacks
These dollar store items-turned-storage will have you like 'whoa.'

If you all too often find yourself apologizing to your passengers for the "hot mess" that is your car, you're in the right place. These dollar store car organizing hacks are so cheap and easy, you'll wonder why you didn't think of them sooner.
Shower Caddy Car Fluids Organizer
If you break down on the side of the road, that motor oil does you no good sitting at home in the garage. For safe measure, keep a few small bottles of the essentials tucked away in a shower caddy (Image 1). And to prevent the caddy from toppling over in transit, secure it to your trunk wall with a small strip of heavy-duty hook and loop tape (Image 2).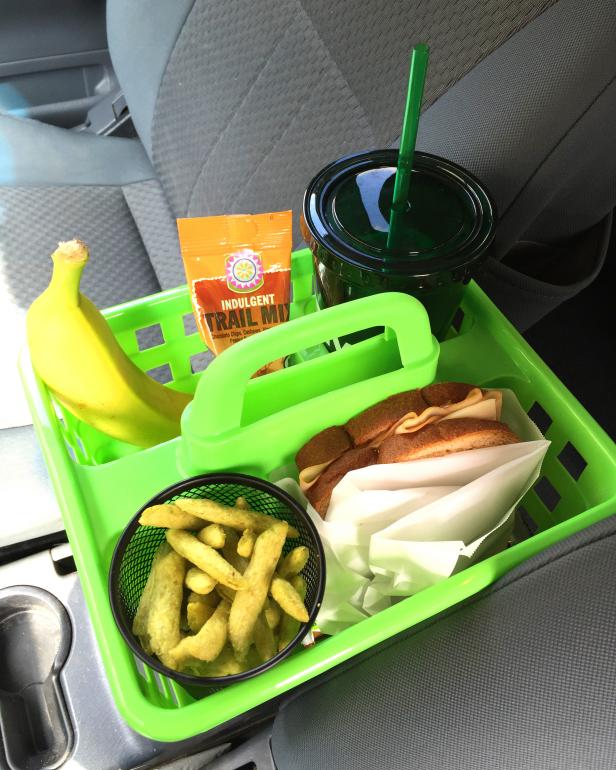 This one is great for all us busy folks out there. Keep a few of these small shower caddies in the house for out-the-door meals and a few in the car for fast food stops. It's much tidier than balancing everything on your lap!
Make the most of your car's vertical space by using climbing carabiners as bag hooks. They're great for transporting your purse, gym bag, groceries and more!
Tissue Box Grocery Bag Dispenser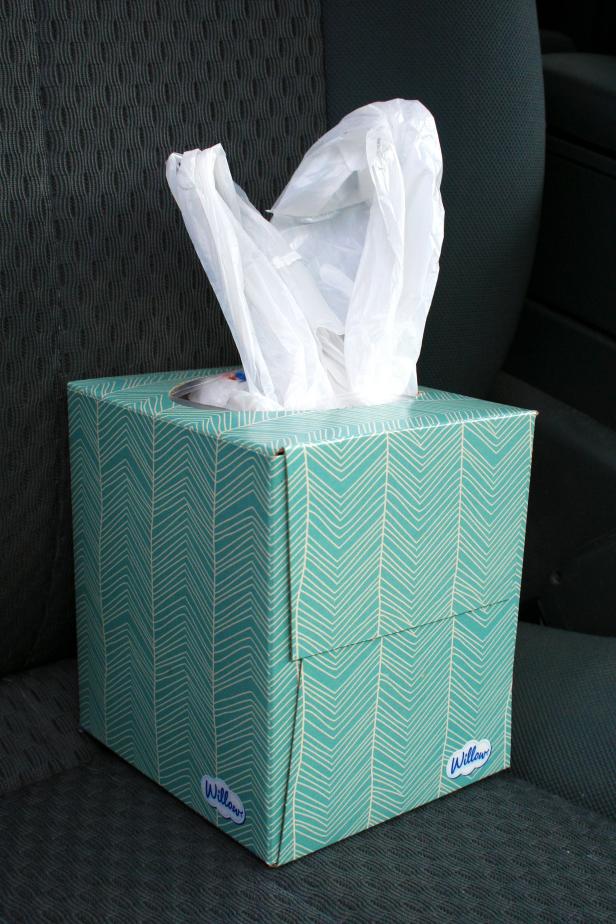 Plastic grocery bags are great for bagging up wet clothes, muddy cleats and miscellaneous trash. They also come in handy at the farmer's market! Store a handful in an empty tissue box for easy use.
Makeup bags with multiple zipper compartments make perfect car emergency kits. Mine folds up flat and stores easily in the pouch behind the passenger seat.
Ice Pop Console Organizer
The bottom of an ice pop mold is perfect for organizing small items like coins, lip gloss and garage door openers in your console. Plus, the molds come in all different shapes and sizes to fit any console.
Cereal Dispenser Trash Can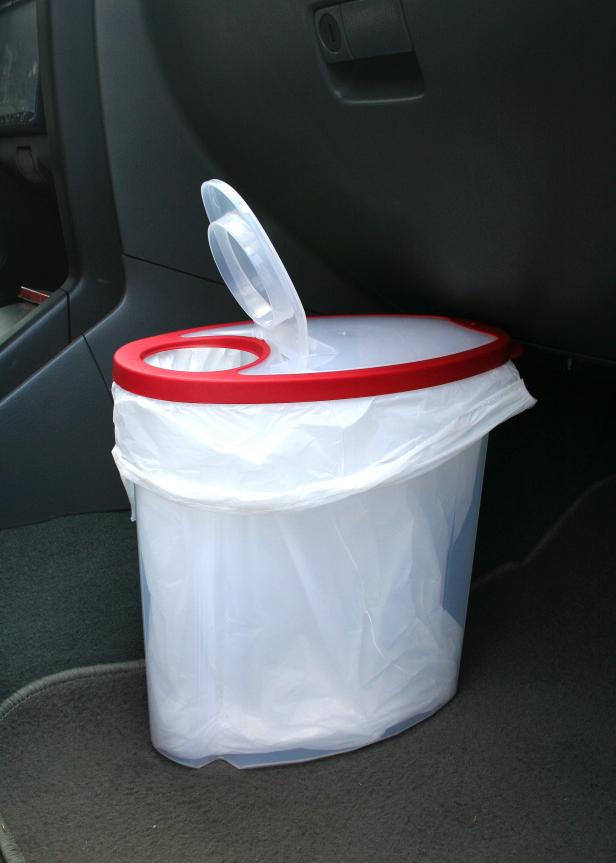 This one's as easy as it gets. Just add a small trash bag to a cereal container and you have a sealable, portable on-the-go trash can. To prevent spills, secure to the floor with a piece of heavy-duty hook and loop tape.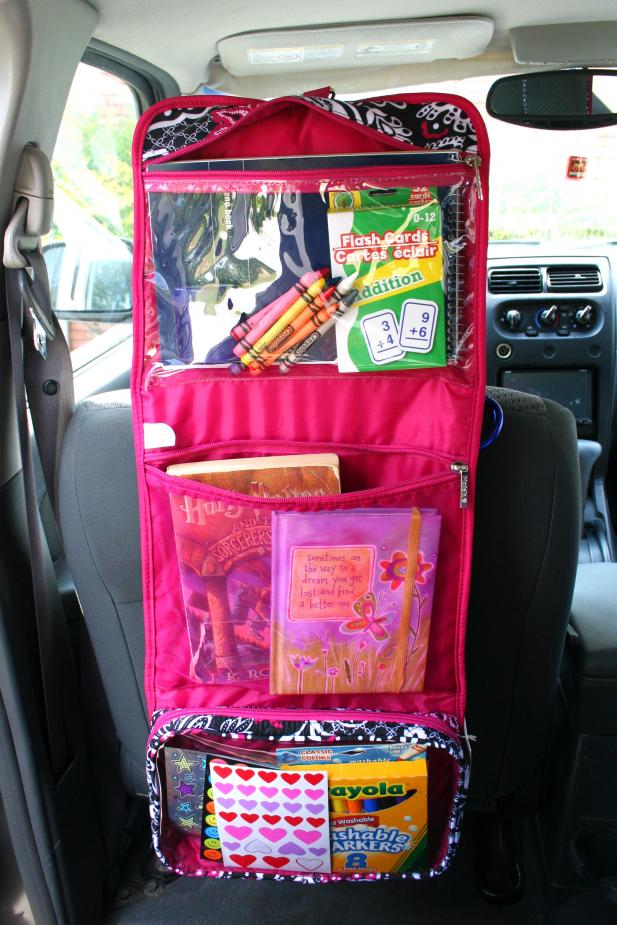 Is kid clutter taking over your car? Clean it up with a hanging toiletries organizer-turned-entertainment station. When you reach your destination, either leave it in the car or fold it up into a portable play pack your kids can carry with them for hours of fun.
Hayley at came up with this genius idea for keeping the kiddos occupied during a long car ride. Suction cup shower caddies are a great way to store water, snacks, toys and other pint-size necessities within reach of little hands. Hayley's Note: "Colored pencils at eye level are probably not a good idea in the event of an accident. Maybe crayons instead?"
Play With Their Food
"My one go-to [parenting] trick is food-related. I add faces and make shapes with everything! Tofu trees, smiley rice cakes, you name it!" -Lorena Siminovich of Petit Collage

Try Lorena's advice at home and make this funny-face toast for your kids, as seen in Prefit Magazine.
Frosty First Aid
"Popsicles for splinters. If a child has a splinter they can numb it with the popsicle. It tints the splinter so it shows up better, then [a] parent can gently remove it with a [set of] tweezers." -Facebook fan Dawn Marie Bowers Chentfant
Bite-Size Time Saver
"I use a pizza cutter to cut most of my children's food into nice pieces: waffles, pancakes, etc." -Facebook fan Elissa Gallien
Tools for Tots
"When [I'm] trying to get a project done and my 5 and 7 year olds keep getting in the way, I just find a child-safe tool and hand [it] to them so they feel like they are helping." -Facebook fan Keith Benedetti
Tape Fixes Everything
"I couldn't afford a popular toy train track for my son, so I ran some low tack painters tape [down] the length of the hallway so he had a train track for his toys." -Facebook fan Scuba Steve
Vintage Soda Crate Toy Storage
Creating storage boxes from vintage items is simple. Holly Mathis attached casters to old soda crates, and placed her son's favorite toys inside. The crates fit nicely underneath the bed and provide easy access to his toys.
Raking It In
"We use a garden shrub rake to 'rake up' the small pieces [of plastic block sets] on the carpet. Kids think it is fun!" -Facebook fan Anne Littmann
Tickle Monster
"My daughter would fight bedtime, so Daddy started turning into 'Tickle Monster' if she resisted and her bed was the only safe spot. Problem solved." -Facebook fan Michael Deo Fulscher
Stack the Sheets
"If you have an infant or young child, stack the sheets. Alternate rubber pads and sheets, so when baby has an accident in the middle of the night all you have to do is take off the top layer and you are good to go! No more remaking the bed in the middle of the night!" -Facebook fan Beth Wile Meyerowitz
Adult Grape Juice
"Wine...lots and lots of wine." -Facebook fan Britney Ballin