DIY Cleaning Tips to Keep Your Sofa Looking Brand-New
Don't let pets, kids and red wine ruin your prized possession. We've got at-home cleaning solutions to keep your sofa looking good-as-new.

While getting your couch cleaned by an upholstery cleaner is sometimes necessary, there are actually quite a few things you can do on your own before calling in the big-gun professionals.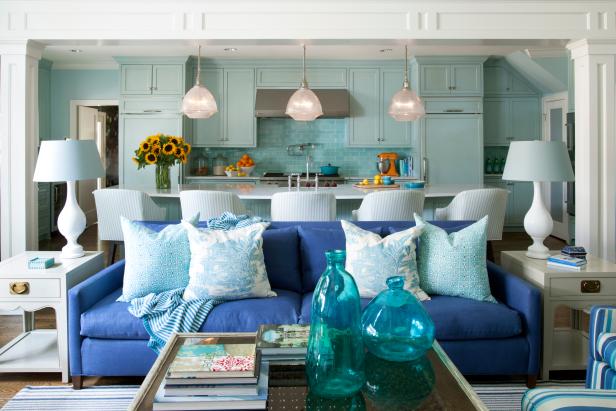 Transitional Open Plan Kitchen and Living Area With Blue Sofa
Varying shades of blue create a peaceful setting for this transitional open concept kitchen and living area. A gorgeous royal blue sofa anchors the living room space.
Remember that whenever you're using any kind of cleaning solution (even one you think will be totally safe!), it's always best to test it out first on a small, hidden area of your couch just to be safe. Here are some of our favorite at-home DIY couch cleaning solutions:
Many vacuum cleaners these days now come with upholstery attachments that make vacuuming your couch a breeze. You'll want to remove all of your cushions first, then make sure to get deep into every crevice and corner of your couch with the vacuum. It's easy for crumbs, dirt and pet hair to get stuck in there, so it's important to clean it out often.
If you don't have an upholstery cleaner attachment for your vacuum, a smaller hand-held vacuum will work well, too.
If your couch is made from a fabric the easily attracts lint, hair or dust, you should keep a lint roller on hand that you can exclusively use for your couch. This works best for a couch that only requires a light amount of de-linting, but it can work for larger jobs, too. In a pinch, I've even used large pieces of packing tape to de-puppify the hair on my couch.
Did you know that all couches have a secret code on the tag that will tell you how it should be cleaned? Find the fabric tag on your couch to see what will work best.
W — Use a water-based detergent.
S — Your couch should be dry cleaned or cleaned with a water-free detergent.
WS — Your couch should be cleaned with a water-based cleaner or dry cleaned.
O — Your couch is made from organic and/or natural fibers and should be washed in cold water.
X — You can only have it cleaned by a professional upholstery cleaner.
Make sure you keep these rules in mind when you're searching for a good cleaning agent solution for your couch. Get more on the letters and what they mean .
Leather Soap + Conditioner
If you have a leather couch, leather soap and conditioner is something you can use to keep it looking clean and fresh. I also use a slightly damp, clean rag to wipe off my leather furniture about once a week. See below for some additional leather-specific product recommendations.
If your couch is made of a fabric that can be cleaned with a water-based cleaner, try using steam to loosen up dirt and stains.
Try This: Grab your iron, put it on the "steam" setting, and wave it back and forth across any trouble spots on your couch.
For spot-cleaning, you'll have to make sure you're using the right solution for the fabric. (Again, check the codes on your fabric tag!) However, even for fabrics that can handle a variety of cleaners, it's sometimes best to start off with a clean rag and some simple dish soap when tackling a stain. Blotting (rather than wiping) seems to be a technique that most people favor when it comes to spot-cleaning, too.
Another important thing to remember is that some stubborn stains might actually take two or three passes before they completely come out. So even if you're not seeing immediate results, keep going. Let your spot dry completely, then try again.
Here are some common go-to cleaners I found that might work on your upholstery.
— At-home dry cleaner products are a good choice if your fabric is marked "S" or "W/S".
— This can be used with vinyl or fabric upholstery.
— This is great for leather furniture.
— Jenny from The Little Green Notebook has had lots of luck with this solution.
— Try baking soda for a more natural solution.
— For red wine stains, this is my go-to.
Things You're Forgetting to Clean
Whether it's deep cleaning or just tidying up, there are a few ways to go the extra mile and keep your home sparkling. From the back of the TV to the garbage disposal, there are some items around your home that may need some TLC from the sponge or vacuum.
Spring-Clean Your Paper Clutter
Preparing your tax return can be chaotic, but it doesn't have to be. Keeping important papers organized year-round can help you spend less time scouring your file cabinet and more time planning your Tax Day shopping spree. 11 Ways to Clear Paper Clutter
Clean Out Your Dryer Lint
Clean Your Home After Illness
Keeping your home spic and span is one of the most important ways to ward away disease, and a thorough cleaning once you're feeling better can prevent illness from spreading to your loved ones. Easy Tips for Making Your Home Healthier
Use Attachments the Right Way
With so many brands, options, filter types and other factors, choosing the right vacuum can be a daunting task. Plus, they come with so many attachments! Uncover your vacuum's full potential with these tips. Get a Full Vacuum Attachment Tutorial
Flip Your Ceiling Fan Rotation
Utilize Vinegar
One of the best things about keeping vinegar in your home is that it's so cheap. Plus, it's edible — no harsh toxins, no lingering chemical smell — making it the perfect cleaning solution if you have children or pets. 8 Vinegar Tricks You've Never Tried
Make Homemade Scents
If you've ever tried to make your own fragrance, you know it can be difficult to get the combination just right. That's why we followed our noses to find easy mixes for springtime scents that you can make at home. How to Make Potpourri Pillows
Creative Uses for Beer
As it turns out, your favorite brew may have more uses than just cooling you off after a long day, like polishing garden pots and keeping wasps away.
Clean Your Gutters
Taking measures early — like checking your gutters for leaks and cleaning out built-up debris — will ensure you spend less time outside scooping up piles of wet leaves and more time inside with family. Learn How to Clean and Maintain Your Gutters
Spring-Clean Your Outdoor Space
Have you been neglecting your yard? Get your outdoor space ready for the spring and summer months with our tidy-up tips. 15 Easy Curb Appeal Boosters