8 Home Office Design Hacks You Need to Try
Check out this round-up of some of our favorite home office design hacks to help you take your space from "meh" to "wow!"

Creating a workspace that keeps you focused and motivated is no easy task, especially when many of us are using makeshift spaces that are not necessarily ready for the cover shoot of a design magazine. We think it's time for an upgrade!
Give Your Office Supplies an Upgrade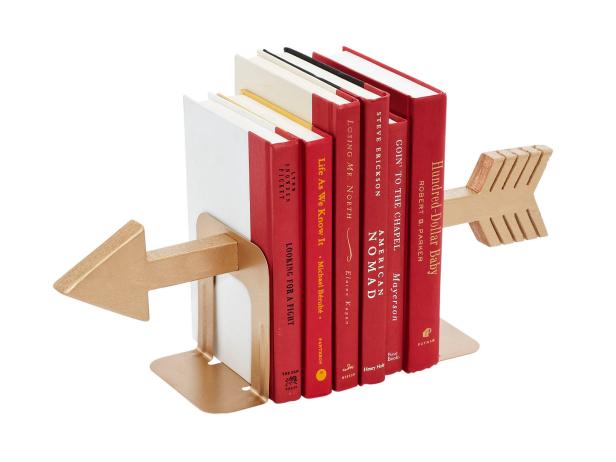 Office Supply DIY
The crafty editors at Prefit Magazine transformed these bookends with spray paint. Get the step-by-step here.
The crafty editors at Prefit Magazine transformed bookends
The crafty editors at Prefit Magazine transformed bookends
Marko Metzinger/Studio D
The crafty editors at Prefit Magazine transformed these bookends with spray paint. Get the step-by-step here.
The crafty editors at Prefit Magazine transformed bookends
The crafty editors at Prefit Magazine transformed bookends
Although there are actually quite a few options out there these days for chic office accessories, you can also give your regular stapler or boring trashcan an easy upgrade with spray paint. Grab your favorite color at your local hardware store, bring your office supplies outside, put down some newspaper and start spray painting. While you certainly can use different colors, you can create a bit more symmetry on your desk by using the same color paint for all of your office supplies. I've had a lot of luck spray painting staplers, metal trash cans, pen cups and tape dispensers.
Don't Use a Desk Chair at Your Desk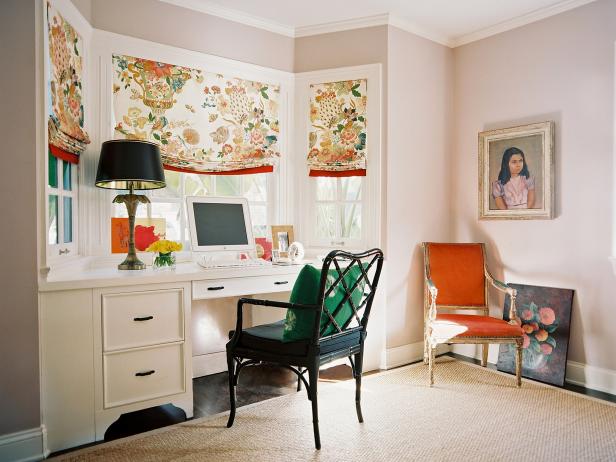 Home Office With Bay Window
Enlighten your morning correspondence with a seat at your home's sunniest spot. Transforming an interior bay window into a study nook takes advantage of natural light and extra space. Eliminate the glare factor with adjustable Roman shades.
You can really give your desk a style upgrade by choosing a chair that is not necessarily meant to be used as a desk chair. I like to pull chairs from the dining room or a side chair from the living room or another space in your home. You can amp up the style with a nice throw on the back of the chair or even a brightly patterned throw pillow. This type of chair might not work if you're in your home office all day every day, as these chairs likely won't have wheels or great back support.
Look to Your Kitchen for Storage Ideas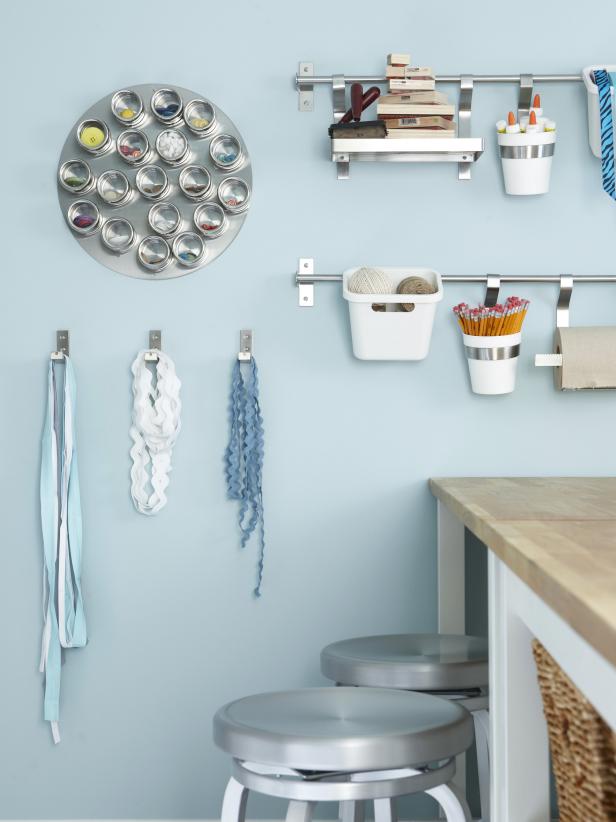 Blue Contemporary Craft Room With Wall Mounted Storage
This clever work space features unique wall-mounted storage for craft supplies. The display is both functional and stylish.
Making sure everything has its place in your home office is one of the keys to your daily work success. And for some unique storage hack ideas, look toward the kitchen for some inspiration. While I definitely think you'll want to keep your desk drawers in tip top shape, for wall storage that could work really well for your office. Take some inspiration from this space and try organizing your supplies in chic buckets hung on a rail. You can even use hooks to hang things like your scissors or other craft supplies. Small storage shelves meant for spices work great for containers filled with paper clips or extra staples, small flower arrangements, or even stacks of colored notes.
Chalkboard/Whiteboard Paint Is Your Friend
If space allows, you can create a really inspiring full wall white board or chalkboard in your office space with paint. Take a cue from this space and create a monthly calendar on your wall, keep a giant, ongoing to-do list, tape inspirational images or goals up (with removable washi tape!) or even have a space for the kiddos to stay busy while you try to get some work done.
Get Creative With Washi Tape
Washi tape is truly one of the most versatile materials I've ever come across. Even if you're not so crafty, I urge you to give washi tape a shot when it comes to decorating and organizing your office space. This washi lamp hack would look adorable on a desk in a home office and can easily be recreated by simply wrapping a lamp shade with your favorite colors and patterns of washi tape.
Switch Up Art on the Regular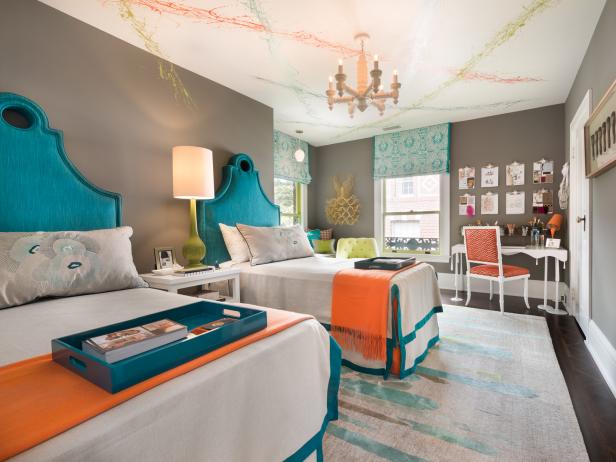 Bedroom in Gray with Blue and Orange Accents
Designed for an artistic teen girl, this bedroom features fun pops of turquoise, orange and lime green against sophisticated gray walls. The art theme is carried from the splatters of paint across the ceiling to a desk and desk lamp that appear to be dripping paint.
Jason Kisner, 2014, Scripps Networks, LLC. All Rights Reserved
A fun hack that will allow you to switch up your artwork on the regular is to use clipboards. This kids' room hack would also work really well in a home office space. Hang a series of clipboards on your wall and use printouts of inspiring messages, artwork, postcards or even items that you need to tackle that week on your to-do list (like taxes, expenses or paperwork for the kids). This project allows you to constantly switch things out, change the look of your space or stay on top of whatever you need to prioritize for that week.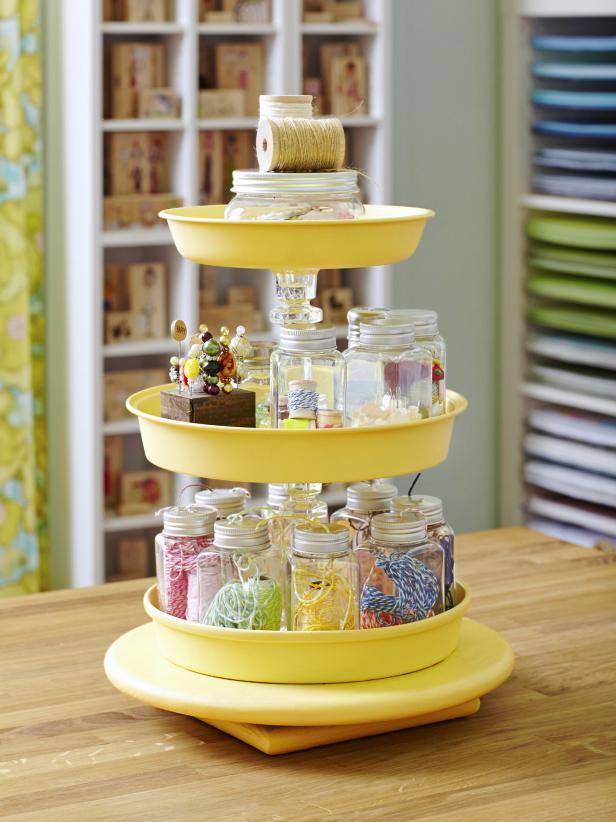 RX-HGMAG018_Craft-Room-036-a-3x4
Another fun office hack is to look for vintage office supplies to jazz up your space. I often find unique things such as these old scissors at thrift stores and flea markets. But you don't just need to focus on actual office supplies; try using vintage cups and saucers for storage of little desk supplies like paper clips, thumbtacks or small items like erasers. You can use vintage serving pieces to stack your notebooks on, old cake stands for craft supplies or vintage mail sorters to keep track of your paperwork.
Don't Use a Desk as Your Desk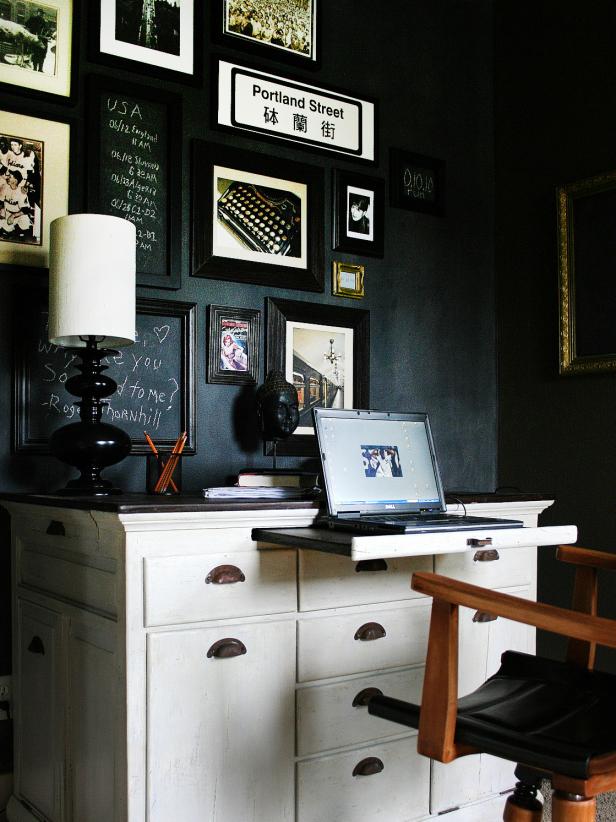 Contemporary Black And White Home Office
A contemporary home offices offers contrasting black and white accents and furniture. Framed chalkboard message boards let you personalize the gallery wall above the desk.
This hack is particularly helpful if you don't have a dedicated office space and need to set up shop in an unused corner or extra closet space. While a desk is certainly a great choice for anyone who is setting up their office space, you can often use furniture meant for other things to serve as your desk (or serve double duty as a desk AND something else). This console/storage unit has a pull out that serves as the perfect desk when you need it, but it can also be stored away when you're not hard at work. Consoles, dressers and even bookcases can work as makeshift desks when you don't quite have enough room to carve out space for a dedicated desk area.
Modern Artwork
The neutral color palette here doesn't steal too much focus from the rest of the room and the small desk details and wall frame cluster keep it from feeling unfinished.
Shelf Under the Stairs
Add a floating shelf, and a small space beneath the stairs is transformed into a tidy workstation. The corkboard on the wall displays clippings and reminders and the front of the shelf opens with hinges to hide paper clutter.
Bachelor Pad Nook
Even the most unlikely corner can function as a work area. This master bedroom nook instantly became an office with the addition of a few floating shelves and a refined desk chair.
Homework Helper
If you're able to renovate, building a custom study space may be the best option, as it was here for contractor Chip Wade, host of Prefit's Elbow Room. The station is private enough to curb distractions, but open enough that it still feels connected to the room.
Corner Curios
Don't overlook corners. You can buy a corner desk to effectively "hide" a workspace and make it blend into the room, or you can take a small, traditional desk and turn it into a room feature. Here, took added some Tiffany blue flea market finds to spruce up this space.
Minimal and Modern
Choosing a white desk and chair is a smart strategy if you don't want to add too much visual weight to a room. The clean lines of these pieces also make them feel light and airy.
Masculine Area
Sometimes a workspace can actually help unify a room, as this desk area does with its sculpture, pistol painting and red cords on the wall. A brick room can be challenging to decorate, but these details certainly add interest.
Tiny but Flexible
This little cranny is only 3' x 3', but it utilizes the 10 feet high vertical space nicely with custom built-ins that are the same color as the wall (a bit of eye trickery), and all the surfaces can be stowed away or rolled out as needed.
Vintage With a View
Pick up a vintage desk, pair it with a woven chair. Plant both in front of a bedroom window. Decorate with framed photos, flowers and a lamp, and you've added form as well as function to an overlooked space.
Hidden Away
Take an awkward bit of empty space and put it to use. Here, the previously unused square footage just off of an apartment's entry is now occupied by a private office space.
Wash Room Workspace
Can an office fit in a space the size of a stacked washer and dryer? This cozy little cubby proves it can! (Bonus: Bet you'll get your wash done more quickly by working next to the laundry, too.)
Closet Office
An unused closet has office area potential, as shown here by Rate My Space user . The elegant wallpaper and shelving make it pretty enough to display, but she could also choose to conceal the office area with tension rods and curtain.
Loft on Wheels
This industrial-modern desk set seems like it's monopolizing the loft, but all the pieces have casters, so they can easily be rolled out of the way. Mobility is key when you need give the room another purpose!
Portable Laptop Table
If you still think you can't squeeze an "office" into your space, think again. If you have a laptop, consider a C-table for your bedroom. The bottom of the table has a C-shaped frame that tucks underneath the bed, keeping it out of the way. Now you don't even have to get out of bed to work. Trust us, it makes the commute easier.