5 Organization Solutions That Work in Even the Smallest Spaces
Being short on space doesn't mean you can't have an impeccably organized home.

There was a time when giant houses were the be-all end-all of real estate goals. But now that tiny houses and studio apartments are surging in popularity, those McMansions feel like relics of the past. And while we're all for downsizing, smaller spaces do pose their own challenges, and getting organized without the help of walk-in closets or designated storage spaces can feel incredibly daunting.
But implementing a few key organization solutions, like the five ideas below, can make even the smallest spaces feel and look impeccable.
1: Put your doors to work.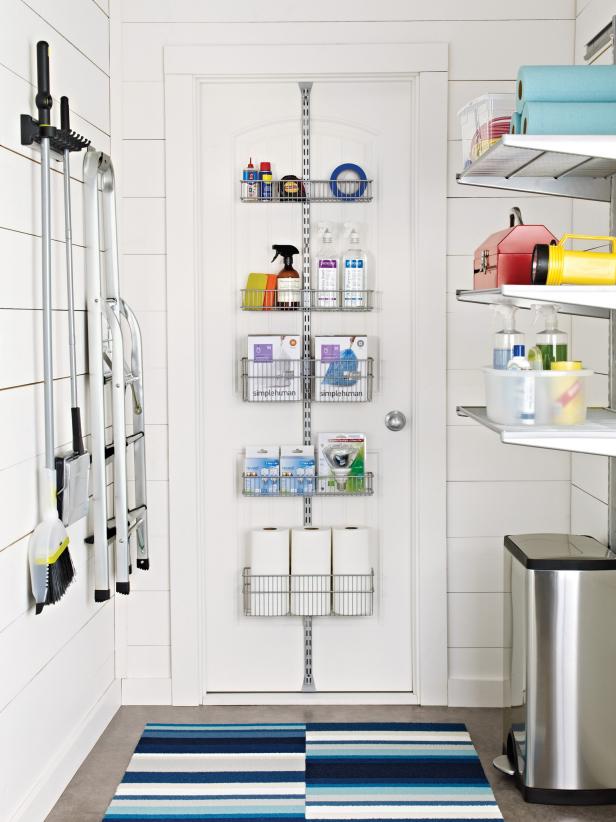 Clever Laundry Room Storage Solutions
Make use of otherwise wasted vertical space by creating extra storage on the back of a closet, pantry, or mudroom door. Over-the-door hooks or systems can be customized with baskets and racks of different sizes.
It's easy to underestimate the storage potential that doors offer up. Sure, you could throw a few hooks on the back of a door to hang up coats and bags, but adding a few shelves is a much better way to go. The solution not only saves space, but lets you store essential items in an orderly manner.
2: Remember closets can do double-duty.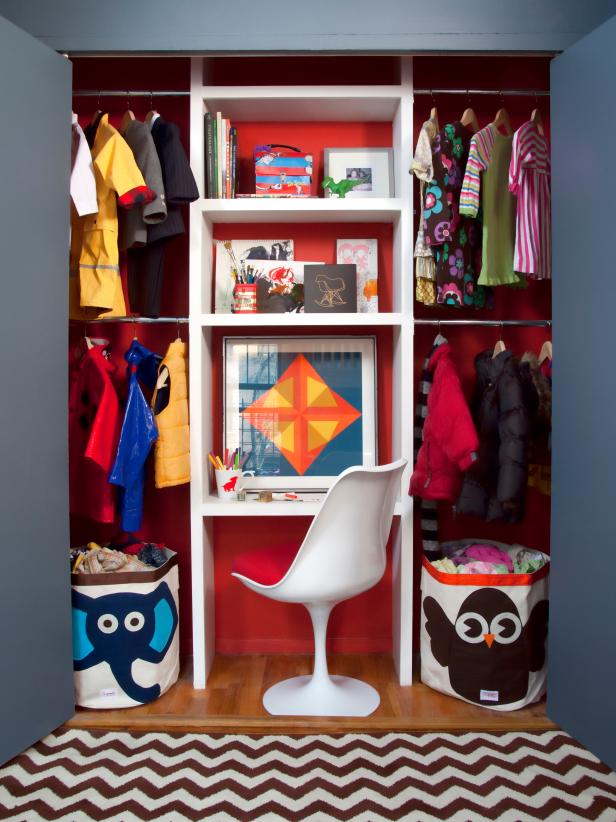 Children's Closet with Workstation
To free up square footage in Evander and Frankie's bedroom, their closet was outfitted both as a clothes-hanging space and as a concealed workstation for crafts and homework. The central column was made from MDF (medium density fiberboard) that provides open storage as well as a child-height desktop. To add a burst of high-energy flair to the closet and break up the dark charcoal color throughout the rest of the room, the closet's walls were painted red-orange.
Photographer: Christina Wedge
If you're tight on space but still need a desk area, consider building a mini desk inside a closet. Done correctly, you'll gain a work space and a few extra shelves — just make sure to keep the desk on the small size — without completely sacrificing clothing and shoe storage.
3: Always look under the bed.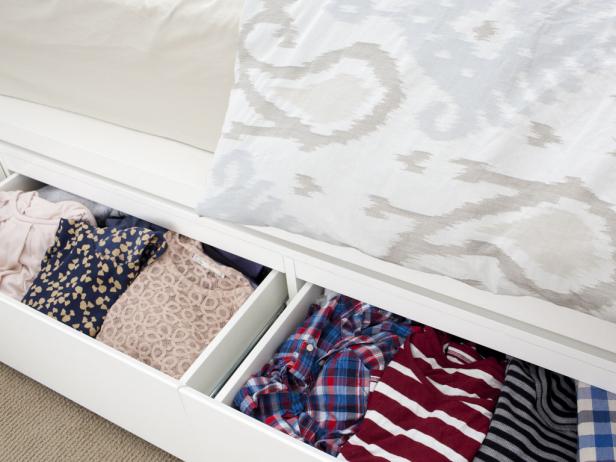 Under-Bed Clothing Drawers
Under-bed storage, like these built-in drawers, is a great space-saver and a fantastic way to maximize the use of every square foot of your bedroom. If exposed under-bed storage boxes or bins are creating visual clutter, add a bedskirt to streamline the look.
Chances are you already keep a few things stowed under your bed frame, but taking the time to plan how you can use the space most effectively is essential. Instead of just throwing excess items beyond your bed skirt to disappear in the dust, invest in a bed frame with drawers, or a few storage boxes that you can dedicate to key purposes. The space is ideal for keeping extra linens or off-season clothes neat and tidy.
4: Don't neglect nooks and crannies.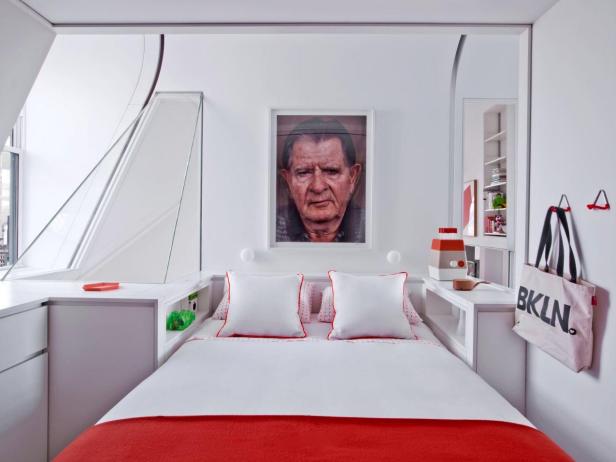 Small Modern Bedroom With Smart Storage
This sleek modern bedroom makes the most of a small space by framing the bed with shelving and drawers for clutter-free storage.
Ghislaine Viñas Interior Design
Oddly shaped corners or windowsills that jut out away from the rest of the room are easy to overlook, but seeing their potential can help open up a world of storage possibilities. Bookshelves, small sets of drawers, and even furniture can be tucked into these forgotten areas to help open up space elsewhere, and keep everything organizationally optimized.
5: Baskets are your best friends.
codyulrich.com
Design by Paige Morse
While most people opt for clear plastic shelves when they need a little extra storage, baskets are really where it's at. You can find covered baskets in an endless array of designs and materials, which means you can keep clutter contained while still making a style statement. They're also a breeze to move around and can be tucked under tables or in closets if need be.
Slatted Door Kitchen Storage
Jamie Dorobek of got creative when dealing with very limited kitchen storage. "The door organizer was a lifesaver in our tiny kitchen with only one drawer," she says. "I had to come up with a solution to make the most of our vertical storage! The door stored everything from knives and take-out menus to spatulas and kitchen towels." A bright splash of sunny color and a thoughtful layout makes this shutter-door storage idea a smart addition to even a much larger space. Simply customize to meet your needs.
Remote Control Caddy
"We have a variety of media remotes in different sizes," says Jennifer Jones of . "So I set out to find something that could hold those as well as my current reading material and a notepad to jot down notes and ideas." Since acrylic organizers are Jennifer's go-to for many projects, she found a desk organizer that fit everything perfectly. "I added the legs to dress things up a bit since the organizer was going to be front and center in our living room," Jennifer explains.
Cork Accessory Wall
"In my small studio apartment, my morning routine was easily within view and reach: shoes on open shelves, compact closet with all my clothes, full-height mirror on my closet door. I could plan and assemble my outfit all while drying my hair in the bathroom," says Nicole Alvarez of . But without an organized way to store and display her accessories, Nicole would waste time digging through and untangling her jewelry stash.
Accessory Overload Solution
"There was a sliver of space between the bathroom and closet doors where I thought I could hang necklaces so they wouldn't tangle. They would be conveniently located right next to my clothes and mirror to help me make a quick decision," Nicole says. "As a renter, I try to minimize holes in the walls, so I decided to make a custom-sized cork board where I could pin small nails as hooks for my necklaces and bracelets." From there, she just kept pinning, adding bracelets, brooches and rings. She found she could even use the earrings themselves as pins. "It became a perfect way to keep my jewelry organized and readily available — and a functional way to decorate!"
Vertical Shelf Desk
"Our guest room is barely seven feet wide, and although it's pretty long, we were dealing with space issues and funny cutouts along the wall," explains Kim Vargo of . "We knew we wanted a place for guests to be able to place their laptops or tablets during their stay with us, but it would have to be compact — not only physically, but visually as well." Kim continues, "We spotted this tiny vintage desk at the flea market, and we almost couldn't believe it! We knew right away that we'd find a way to securely mount it to the wall to take up the least amount of space." Adding a trio of stained wood shelves with brackets enhanced this streamlined workspace with writing, storage and display areas. A simple stool tucks underneath to complete the design.
Booze Box
A bright sidewalk-sale find inspired Kim and Scott Vargo of to create a fun and functional piece. Because of their fondness of the rustic-industrial look, they wanted to use the vintage toolbox for both storage and decor. Soon, the two decided it would make a cool container for liquor bottles. A length of chain and a few screws and the "booze box" was born! "We like to encourage others to think outside the box!" Kim says. "So many vintage finds can be repurposed to fit your needs."
Stacked Small Bathroom Shelves
"When we purchased our home 11 years ago, I was ecstatic about not having to share a sink with my husband," shares Maria Gonalez of . "But when I saw the size of the sink [area], I knew I had to get creative!" With no space for a cabinet, Maria needed to come up with a storage solution for her bathroom essentials without cluttering the sink. "I found these small, white shelves meant for decorating, and I knew they were the perfect solution for storing my necessities," she says. "I love how practical they are but also how good they look on that narrow wall." Her tip for getting the most out of small spaces? Think vertical!
Stovetop Counter
"In my rental studio apartment, the kitchen was upgraded but still lacking in counter space," says Sara Swezy of . "I knew that covering the range was the only way to gain more counter space, but the cover needed to be easily removed and stored. I found a few traditional stove-top covers online that were clunky and ugly-looking," she recalls.<br><br>Inspiration hit during a trip to Ikea, "I remembered that they have an 'as is' section full of discounted remnants, and I decided to browse around. I found a fairly heavy wooden piece in a white finish which perfectly coordinated with my cabinets and countertops." Swezy felt that it was close to the size she needed and, at just $2.99, she was willing to take the chance. And it paid off. "Fortunately, it fit perfectly! It's heavy enough that it doesn't move or shift while on top of the range but is thin enough that I can slide it away easily if I'm using the stove or oven. I use it all the time now and it makes the small kitchen livable," Swezy says.


Mason Jar Organizers
Small household clutter has met its match with Mason jars. Casey Finn of discovered a way to use the popular glass vessels to store stuff in style. "We live in a small condo in Chicago, and that means that we don't have a ton of storage," Finn explains.

Mason Jar Organizers
"This Mason-jar organizer helps corral the bathroom clutter and keeps things right at hand." One of our favorite things about this sweet solution? The versatility. Continues Casey, "We especially love this project because it can work just about anywhere ... in an office to hold pens and scissors, in a kitchen to hold silverware — the possibilities are endless!"
Hair Tool Holders
Jennifer Jones of has some seriously smart ideas for keeping her bathroom in order. But one, in particular, made us wonder, "Hey, why didn't we think of that?" "Searching for a hair tool organizer that was both attractive and inexpensive, I was continuously coming up short," says Jones. The more expensive options were meant to be displayed on a counter or vanity, taking up too much precious space. Jennifer noted that the pricey versions often had tin cup inserts to hold the hot hair tools. So she got creative with the drawer space she had available. "That sparked the idea to check out some empty metal paint cans from the home improvement store. I was able to tuck them into a deep drawer, so the tools can still be out of site, yet neatly organized and safe in-between uses."
Behind-Door Bookshelves
Kristine Franklin of came up with these narrow, unobtrusive hybrid shelves to create beautiful storage. The ultra-slim design works, thanks to the "lip" of the shelf, which holds books up and in place. "The project came about because my daughter has such a teeny bedroom," Kristine says. "I really needed to make the most of all the available space and the unused wall behind the door just felt wasted." Store-bought shelves were simply too deep to fit behind the bedroom door, she realized, "so I came up with my own easy, attractive and super affordable DIY version."
Slim Sofa Table
Happy to have found a sofa to perfectly fit her living-room nook, Amy Geib of was faced with a new challenge: no room for side tables. She needed a smart fix to create a place for lamps, books, plant and her evening glass of chardonnay! "This project was brought to life due to lack of space and my need for furniture to not be pushed up against a wall," explains Geib.
Personalize DIY Style
Geib goes on to explain, "Functional meets pretty with this tiny but mighty table. Don't be afraid to try something unexpected or build something from scratch to meet your own living demands." Cheers to that!
Bedside Charging Station
"Before I DIY'd this charging station, my phone would charge every night on the floor, which was a total eyesore," admits Bridget Matkovich of . "When I came across this craft box at Goodwill, I immediately knew that with a little TLC, this piece could not only be fashionable, but very functional." Now, her charging station is also a neat little spot for other things too, including remotes, hair accessories and more. Says Bridget, "I love that this easy project hides cords and keeps my bedside very organized (and my phone very charged!). A win-win if you ask me!"

Tween Closet Workspace
"Large closets in children's bedrooms always seem to become a dumping ground for everything imaginable," says Christina Katos of . "I decided to gut my daughter's entire closet and create an organized space for homework, storage and display." A chalkboard wall created a fun place to write notes or draw. Shelves were installed and wall-mounted lighting was also added to make the space functional. "Since the desk was now in the closet, my daughter also gained back some valuable floor space. It has stayed neat and organized with no hidden messes behind closed doors!"
Stuffed Animal Pouf
Playrooms are meant for lots of fun and imagination. So, we love Laura Osumi's inventive way to corral her daughter's herd of stuffed animals: inside a beanbag pouf. "I was so sick of seeing stuffed animals everywhere! I knew I would not have time to actually make a bean bag chair, so I bought one," Osumi shares. After (carefully!) opening the pouf and emptying out the Styrofoam beads, Osumi had smart and sneaky storage for a pile of stuffed animals. "We gained a lot of shelf space in our playroom," she says. "Always a plus!"
Tiny Bag Storage
We're happy to know we're not the only ones who hang on to those cute little pouches that come with everything from soap and candles to jewelry and extra buttons. We're even more excited to put them to good use. Says Erin Boyle of , "In any size space, small things need to be wrangled. I like using small muslin bags to corral things like Mason jar lids, bottle stoppers, birthday candles and other small household objects that can get unruly if left to their own devices." From holding hair accessories or unattractive medicine bottles in the bathroom to keeping necklaces from tangling with earrings atop a dresser, these little pouches are a big help in keeping household bits and bobs in order. (P.S. They're great for traveling too!)