Living the #TinyKitchen Life? Keep Cooking With These Compact Appliances
Small appliances that work hard.

Living with a super tiny kitchen? (Me, too.) You're probably always making tough decisions based on what you can and can't do in your space. And sometimes it probably feels like a big puzzle. Living with a tiny kitchen often means that you can't even fit standard-sized appliances in your cook space. But the good news is, there are lots of options out there for more compact appliances designed especially for people like us.
I've rounded up some of my favorite compact appliances for anyone who's trying to make their tiny kitchen as functional as possible. Take a look:
SMEG 24-Inch Two-Door Refrigerator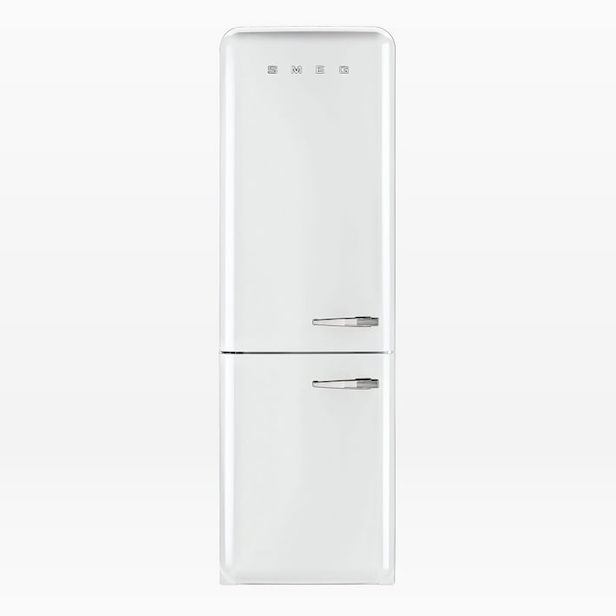 If you're a fan of the vintage look, you might fall in love with this slim SMEG refrigerator. This retro-style fridge comes in 11 different colors and can be ordered with either a right- or left-hinge door, which ensures it will work best in your kitchen no matter your layout.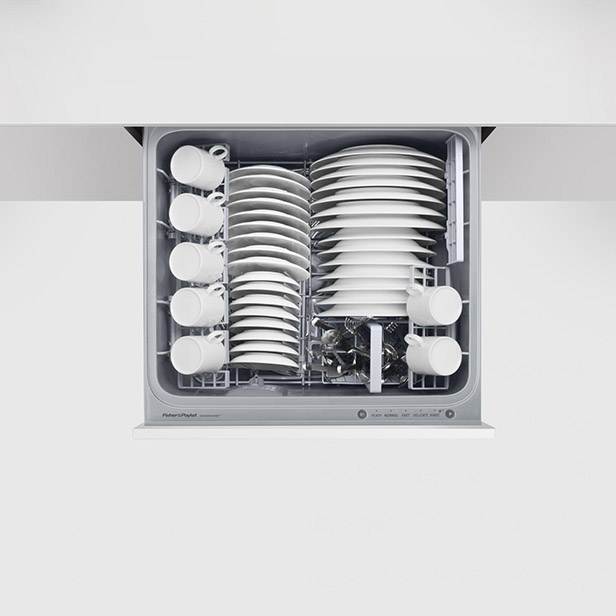 If you love the idea of a refrigerator or freezer drawer, then you'll be smitten with this dishwasher drawer. This is a great solution for a kitchen where you may not even have space for a slim dishwasher. Believe it or not, you can fit up to 12 plates inside.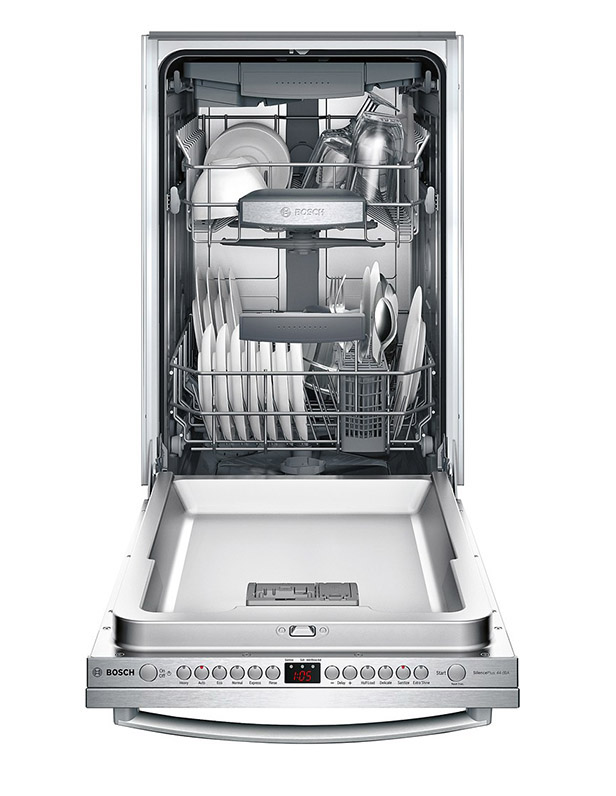 This super slim dishwasher can fit into most tiny kitchens. It's a great choice for a smaller family or a couple. Despite its small size, you can still fit about 10 place settings in each load. Buttons and controls are also hidden on the door, so the dishwasher will look super sleek in your space.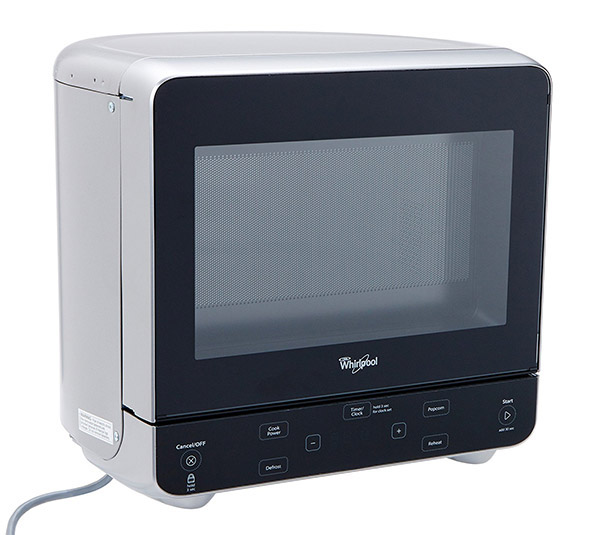 Counter space is truly precious in a tiny kitchen. This means that a compact cube microwave is a perfect choice when you don't have a lot of room. If you don't have any space on your counter, consider putting your microwave on top of your fridge or even on a separate cart in your kitchen.
Counter-Depth 24-Inch Refrigerator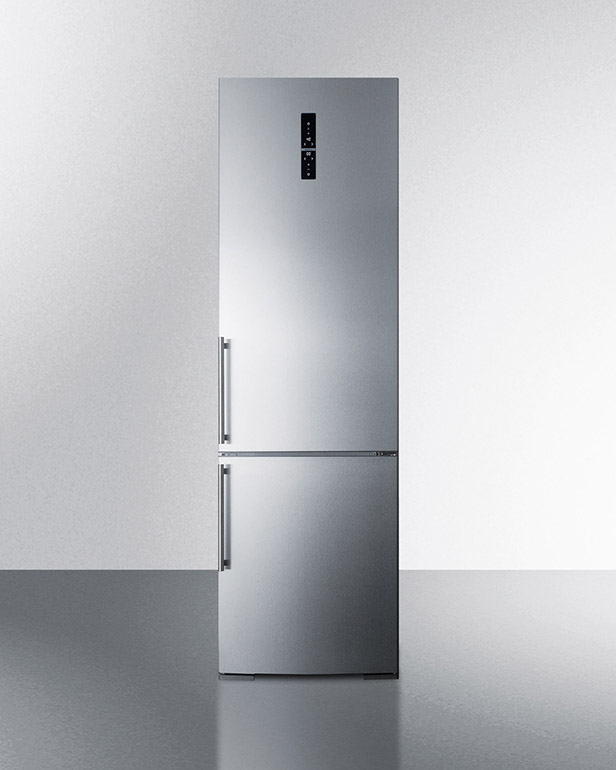 We have this tall, skinny Summit refrigerator in our tiny kitchen, and it's a great choice if you want a full-size fridge but are stuck with just a narrow space. A typical refrigerator is usually 30 to 36 inches wide, so you really enjoy some significant space savings with a 24-inch-wide model like this one. If you have the vertical space and simply lack the space for a wider fridge, using one like this might be the perfect choice for you.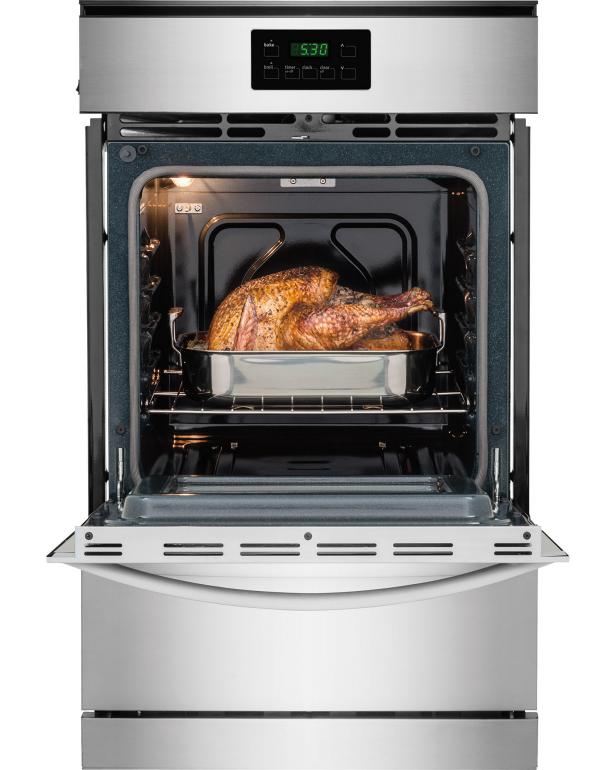 Most average stoves are 30 inches wide, but this Frigidaire model clocks in at only 24 inches wide. It's a gas oven, so it will still appeal to anyone who likes that flexibility when cooking; it just requires much less real estate in your tiny kitchen. With a cooktop and an oven, it's a great choice for cooks and bakers alike.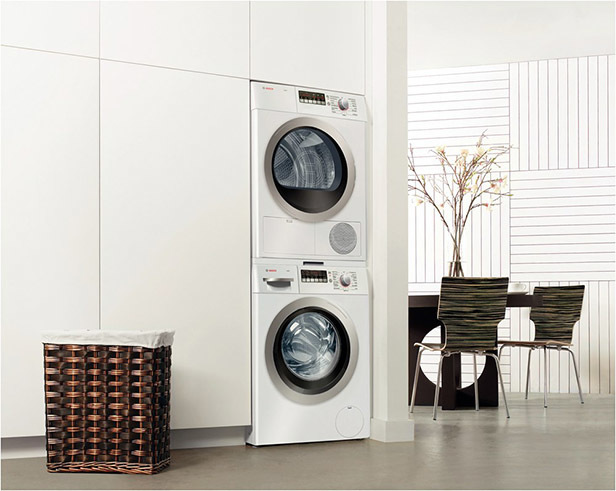 If you're lucky to have space for a washer and dryer, chances are you will need a compact version. This pair from Electrolux is a great choice for apartment dwellers; the dryer is electric and doesn't need to be vented the same way that a classic gas dryer does.
Washer: $899, ; Dryer: $899,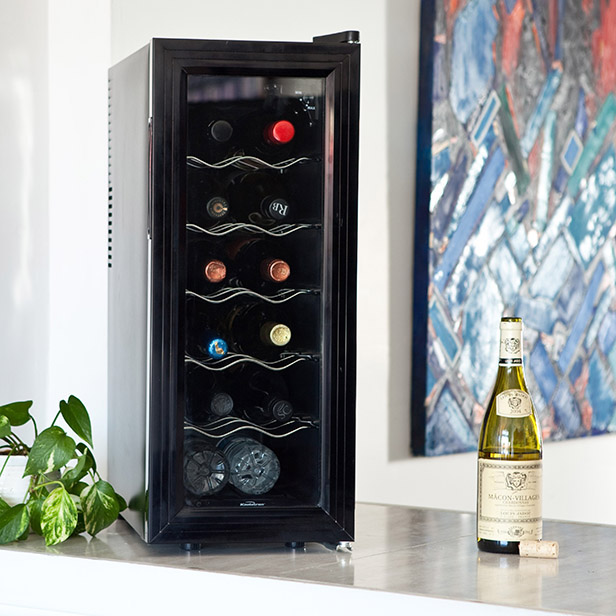 For tiny kitchen dwellers who are also wine lovers, you might be willing to give up some of your precious counter space for a wine fridge like this one. This slim wine cooler is perfect, as it's only 12 inches wide.
Our Top Small Kitchen Transformations
We've rounded up some of the best-ever small kitchen remodels from Prefit's biggest stars. Read on to see how Anthony Carrino, Nicole Curtis and more have taken spaces from dated and cramped to chic and efficient.
Before: Fixer Upper
Though this kitchen is not the tiniest, the dark cabinets and blue walls make the space feel smaller and keep it from reaching its full potential.
After: Fixer Upper
After a makeover from Prefit's Fixer Upper hosts Chip and Joanna Gaines, this kitchen feels far larger, even with a center island. By removing the wall between the kitchen and the dining room, the entire home feels more open. The original cabinets were painted white for a fresh look that also reflects light.
Before: I Hate My Kitchen
As seen on DIY Networks' , dated appliances and lack of color call for a serious makeover in this plain-Jane kitchen.
After: I Hate My Kitchen
With new appliances and a trendy color scheme, this kitchen is barely recognizable. Host James Young removed one wall, opening up the space and connecting the kitchen to the dining room.
Before: Income Property
As seen on Prefit's Income Property, this basement apartment was dark, dingy and totally dated. Ugly vinyl floors and dark cabinetry left a lot to be imagined.
After: Income Property
Without adding a single square foot, this room feels far more spacious with white upper cabinets, attractive wood flooring and contemporary appliances. By keeping the cabinets light on top, the entire space feels more open and airy.
Before: Meg's Great Rooms
For this busy family, a kitchen this size was just far too small, and the bland white cabinets and paneled walls certainly didn't help.
After: Meg's Great Rooms
After designer Meg Caswell worked her magic, this space boasts sleek black cabinets and brand new appliances. Recessed and under-cabinet lighting illuminate the contemporary space.

Before: Beach Flip
This petite kitchen has plenty of storage space, but the dated wood cabinets and bright yellow paint are in need of a refresh.
After: Beach Flip
After the makeover, this sweet space boasts bright white cabinets, a soothing light blue paint color, and new stainless steel appliances. Wood planks laid vertically visually elongate the space.
Before: Beach Flip
As seen on Prefit's Beach Flip, this tight kitchen was nothing but tacky blue walls and overpowering white cabinetry.

After: Beach Flip
The white cabinets were taken to the ceiling and given glass doors for a less extreme look. The homeowners were able to keep the blue with a softer shade in a beautiful glass tile backsplash that creates more depth and texture within the space.
Before: Rehab Addict
This kitchen had good bones, but water damage that warped the lower cabinets had made half the small space unusable.
After: Rehab Addict
As she's known to do, host Nicole Curtis of Prefit's Rehab Addict was able to save the space with new hardwood flooring and gorgeous marble countertops. The new look feels more spacious and is definitely more functional with brand new lower cabinets with a fresh coat of white paint.

Before: Kitchen Crashers
As seen on DIY Network's Kitchen Crashers, storage was at a premium in this cramped kitchen which also housed outdated, non-functioning appliances.

After: Kitchen Crashers
After an extreme makeover, which involved moving the kitchen into the roomier living room, this space is a vision with custom cabinets, new appliances and stunning quartz countertops.
Before: Rehab Addict
This tiny kitchen, featured on Prefit's Rehab Addict, was lacking more than just space. Basic appliances and floors would be the first addition.

After: Rehab Addict
The creamy wall color instantly adds visual space to this once-formidable kitchen. New floors and white appliances also contribute to the room's adorable new look.
Before: Flip or Flop
Aside from the fact that this kitchen was extremely outdated, the square tile backsplash and linoleum floor were way too much in this small space.
After: Flip or Flop
After the redesign, hosts Tarek and Christina El Moussa were able to give the room a much more open, relaxed vibe. Sleek cabinets, neutral floors and a lovely new backsplash keep this kitchen looking fresh and up to date.
Before: Property Brothers
The dark cabinets in this outdated kitchen made the entire room feel dark, depressing and small.
After: Property Brothers
Now this kitchen feels airy and bright with beautiful white cabinets, new appliances and a backsplash that introduces a stylish pattern to the space.
Before: Kitchen Cousins
Old wooden cabinets darkened this kitchen, while black and white tile flooring overpowered the small space.
After: Kitchen Cousins
By swapping the black-and-white tiles for a beautiful wood floor, Prefit's Kitchen Cousins were able to create a softer look in this newly redesigned space. A bright pop of orange is a fun accent that draws the eye up for a bold visual impact.
Before: Love It or List It, Too
The layout in this kitchen simply wasn't functional, and the fridge was so small that the homeowners had to keep a separate freezer.

After: Love It or List It, Too
After the makeover, this space is simply divine with stunning white cabinetry, new applainces and an open floor plan that connects the kitchen to the living and dining rooms.
Before: Kitchen Cousins
Before its makeover, this kitchen featured dated appliances and too many tiles that fought for attention in the small space.
After: Kitchen Cousins
Hosts John Colaneri and Anthony Carrino took down a wall separating the kitchen and dining room to create a better flow in this bright space. The long kitchen island helps to highlight the length of the newly remodeled kitchen.

Before: Property Brothers
Before the renovation, this galley kitchen was closed off by walls, making it extremely cramped and barely functional.
After: Property Brothers
Thanks to Prefit's Property Brothers, this kitchen was given a brand new look by knocking down a wall, creating a seamless transition from room to room. The new kitchen features all-new appliances, granite countertops and gorgeous white cabinetry.
Before: Run My Makeover
There's simply no space to move around in this itty-bitty kitchen, and the cabinets make the entire room feel darker.
After: Run My Makeover
By knocking down a wall and a section of cabinets, the kitchen can flow into the living and dining rooms. The interesting gray and white backsplash adds instant texture, while cabinets with a soft cream finish provide great storage and keep the space looking bright.
Before: Kitchen Cousins
This tiny kitchen screamed builder grade and was in desperate need of better lighting and a brighter look.
After: Kitchen Cousins
This space was totally reworked to create a seamless transition from kitchen to dining area. By adding new cabinets on the wall and tearing down the area between the kitchen and dining space, there is even room for a work station.

Before: Love It or List It, Too
This kitchen was far too small for homeowners who loved to entertain, and the room was in need of more natural light.

After: Love It or List It, Too
After installing new window pane doors, the combination kitchen and dining room has plenty of natural light, and guests can freely move around in this much more open space.
Before: Run My Makeover
Full of personality but too bright for such a small space, this kitchen needed a more toned-down look.
After: Run My Makeover
A new color palette and brand-new cabinets soften the look of this petite kitchen. White subway tiles and stainless steel appliances reflect light, visually enlarging the space.
Before: Spice Up My Kitchen
Cramped and with very limited storage, this pitiful before seen on Prefit's Spice Up My Kitchen is in serious need of a facelift.
After: Spice Up My Kitchen
Now, this small kitchen feels much larger with lighter cabinets, bright wood floors and more functional storage spaces.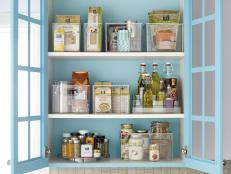 Who said organizing had to be ugly?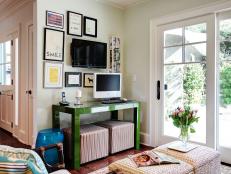 These tiny workspaces don't skimp on style.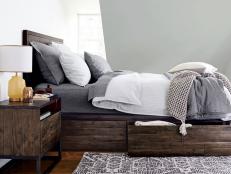 Don't let that under-bed space go to waste!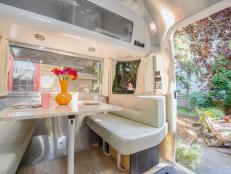 Small appliances now handle the bulk of kitchen work. Experts dish on which ones top their shopping lists, and why.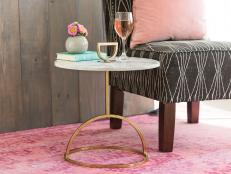 These 3 products will help you stylishly make the most of the space you have.  Published: July 31, 2017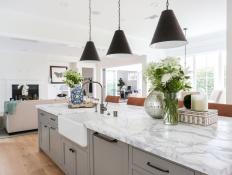 Paradise, found! Shop the makings necessary to transform your kitchen into an everyday getaway.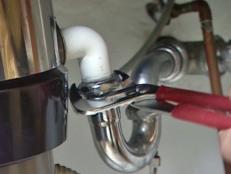 Tips on how to carefully uninstall and remove kitchen appliances and fixtures.
San Francisco designer Tineke Triggs makes a smaller home feel more spacious by creating a light and airy great room.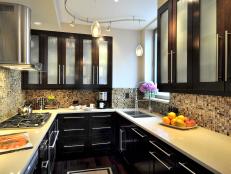 Create a small-scale, smooth-functioning hub with savvy space planning and chic style.