Our 10 Favorite Hanukkah Gifts
Hanukkah's here and we're sharing our favorite gifts, from menorah sweaters to knit dreidel koozies.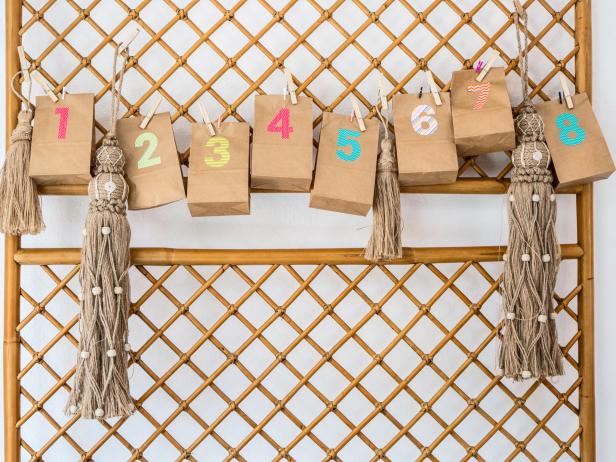 Boho Chic Hanukkah Stockings
To help your kids keep track of each holiday night, make some Hanukkah stockings. Use paper bags and label each from 1-8 to represent each night of Hanukkah. Put a small gift in each bag and allow the kids to open the small gift after you light the menorah.
Bethany Nauert; Styling by Paige Geffen
Whether you're a foodie, a pet lover or just want to know where to find an ugly Hanukkah sweater (yes, they really do exist), keep reading for a roundup of our top Hanukkah gifts.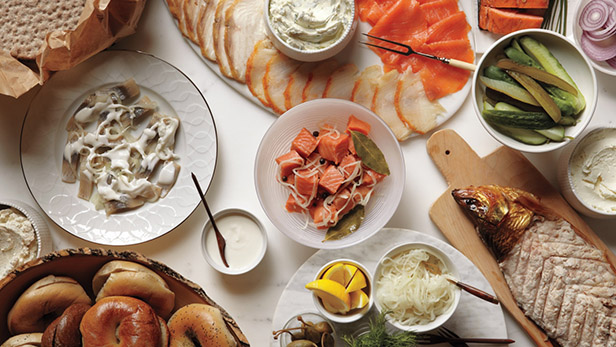 Photo credit: Russ & Daughters
If you've never visited in New York City, spoiler alert: it's the most delicious bagel, cream cheese and lox that's ever passed my lips. But don't worry about buying a plane ticket, because they now offer amazing gift boxes that can be shipped anywhere. This box gives you all the makings of your own classic bagels and lox brunch (with dessert and coffee, too).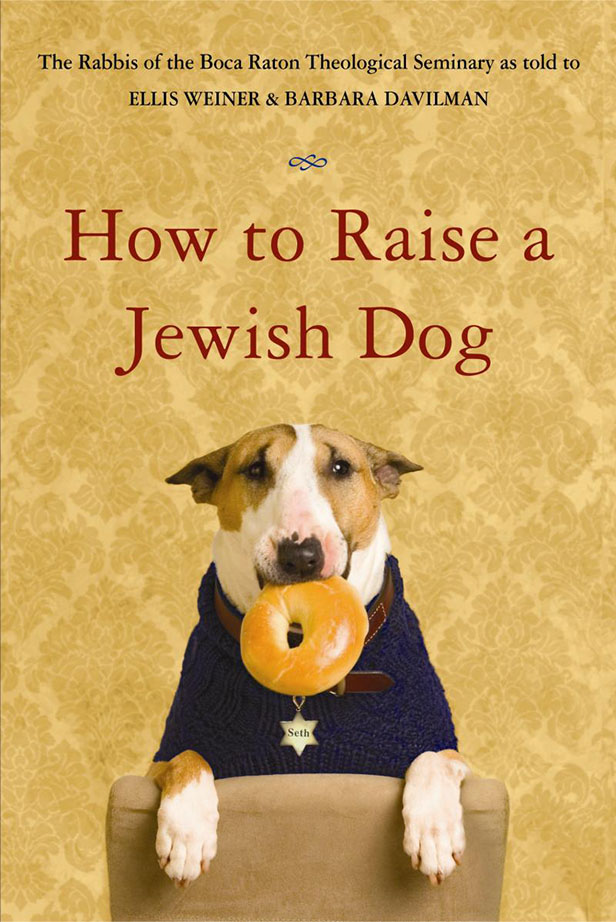 This hilarious spoof of a dog advice book will keep any pet lover laughing for days. Here's a quote from the book: "For the first time, the same dynamic blend of passive-aggressiveness and smothering indulgence, that unique alloy of infantilization and disingenuous manipulation that created generations of high-achieving Jewish boys and girls, can be applied to create a generation of high-achieving Jewish doggies." You won't learn much about how to actually raise a pooch, but you will definitely be entertained!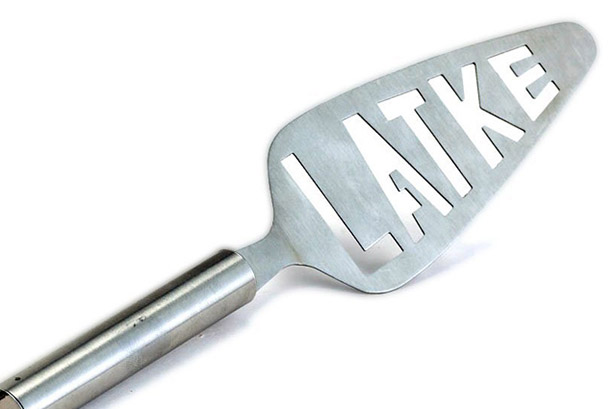 Potato pancakes, or latkes, are a traditional part of Hanukkah celebrations. What better way to serve them than with a "latke" serving piece?
I firmly believe that you can never have too many tote bags, and this "matzoh, latkes, challah and me" bag is completely adorable. If you want to amp up your gift a bit, add in some Hanukkah essentials like a bottle of wine, fresh challah bread and bags of chocolate gelt for the kids.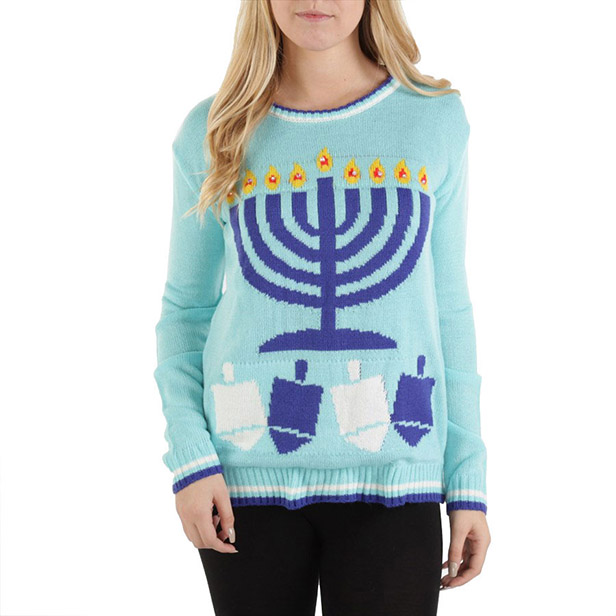 We've all heard of ugly Christmas sweaters, but we now have some fun ugly Hanukkah sweaters to choose from, too! This fun sweater, featuring a giant menorah and some dreidels, would work well for a guy or girl.
Get in on the nail art trend with these festive nail decals. Use them with a light or dark blue nail polish for the perfect traditional Hanukkah mani.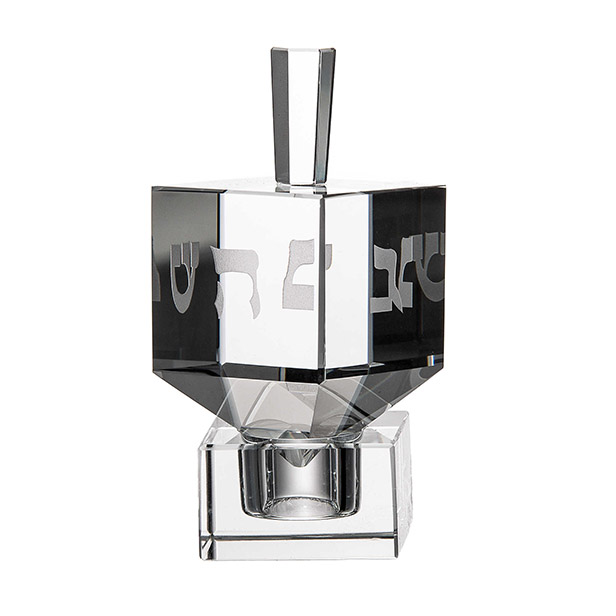 Photo credit: Bed Bath & Beyond
There are many options for simple wood or plastic dreidels, but if you really want to go luxe, this gorgeous crystal dreidel is a great choice. This one isn't kid-friendly, but it's a great gift for newlyweds.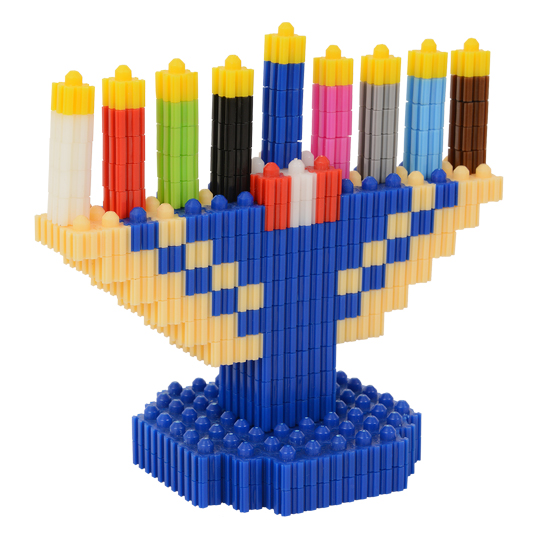 Photo credit: Traditions Jewish Gifts
If you're looking for some fun options for the kids, consider this awesome building block menorah set. This Lego-like kit comes with detailed instructions so the whole family can use the interlocking pieces and join in on the menorah-making.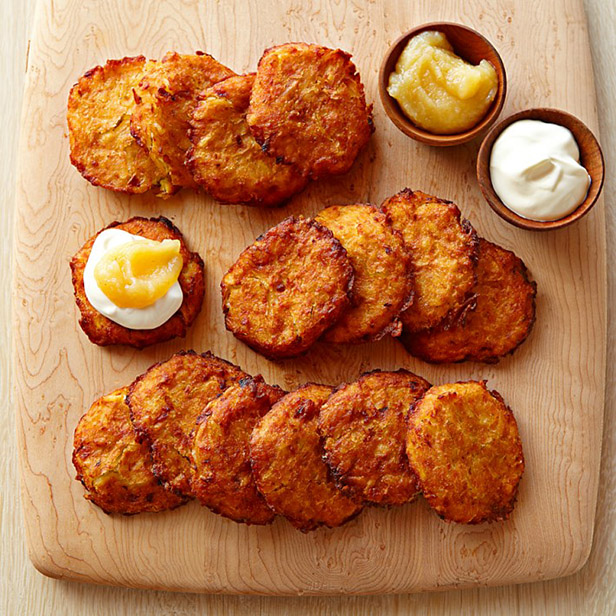 Photo credit: Williams-Sonoma
For those of us that aren't so savvy in the kitchen (or just want to save some time), Williams-Sonoma has some delicious handmade latkes. You can choose either large or mini, and they even come in assorted flavors: original, sweet potato and artichoke.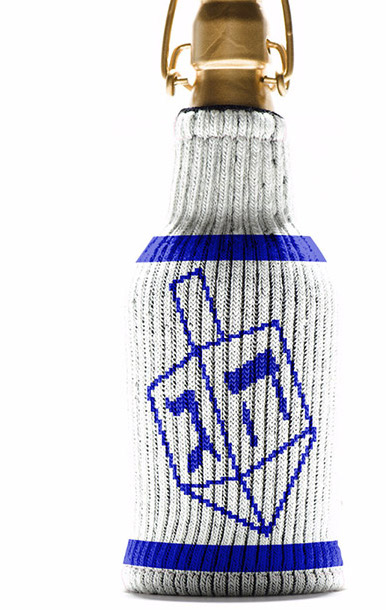 Photo credit: ModernTribe
If you've got any over-21s on your Hanukkah gift list, this dreidel koozie is a fun idea. Consider pairing two koozies with a great six-pack of their favorite craft beer for a more generous present. Or cover each beer with a koozie if you really want to go over the top.
Set Your Hanukkah Dinner Table
A bold shibori-dyed tablecloth works as a chic updated interpretation of the traditional blue and white color scheme associated with Hanukkah.
Add Warmth
Add some texture with sheepskin throws and fresh flowers and greenery.
Mix and Match Place Settings
Mi metallics is a stylish trend that works perfectly for a holiday table setting. Pair a dark blue and aqua place setting with a brightly-colored napkin to bring a touch of the unexpected to the table.
DIY Decorations
Easily incorporate the boho theme with a DIY yarn wall hanging. It looks like a complicated macrame piece, but it's actually a series of simple knots and braids.
Light the Menorah
Spray paint empty wine bottles gold to create your own beautiful menorah centerpiece. You'll need one bottle for each night of Hanukkah, as well as a larger bottle for the Shamash candle, which is used to light the other candles.
Make the Perfect Hostess Gift
These matchboxes are easy and thoughtful to make for a host. Cover a box of matches with chalk paper, and write celebratory messages with a white chalk marker. Pair the matches with a box of Hanukkah candles, and tie with a bow.
Add a Punch of Color
Make a fun, quirky pom-pom bouquet by simply sticking barbecue skewers into pom poms from the craft store.
Serve Hanukkah Sangria
Use your favorite sangria recipe, but replace the red wine with blackberry wine. Add fresh blackberries, raspberries, blueberries and peaches to amp up the flavor. For a kid-friendly version, use sparkling grape juice instead.
Make Dreidel-Shaped Appetizers
Cut cheddar cheese sticks into squares, and snip off the ends so they resemble dreidels. Use a toothpick to make a hole in the top of the cheese, and place a small pretzel stick inside.
Try This Sufganiyot Jelly Doughnut Hack
, or take the easy route. Put jelly in a squeeze bottle, and fill store-bought powdered doughnut holes.
Washi Tape Gift Tags
Celebrate Hanukkah with the kids by making gift tags decorated with washi tape. The kids can use them to wrap presents for friends and family.
Do a Play on Words With a Banner
Have a little fun with Hanukkah traditions with a banner. This one speaks to the traditional game of spin the dreidel. To make, cut card stock pieces into the same shape, and tie ribbon to connect each one. Add glitter letter stickers to spell out a Hanukkah-themed message.
Bring the Outside In
Use branches and leaves to make an earthy, stylish piece of decor. To make this Jewish star wreath, simply tie branches and twigs together piece-by-piece. To assemble, cut six branches to approximately the same length (ours were 24 inches long). Use a floral trimmer or snap branches to shorten them. Tie the branches together, two at a time along with the twine to create a triangular shape. Repeat to make your second triangle, and tie the first triangle (top side up) to the second triangle (top side down) to create the Star of David. Attach leaves or flowers with thin pieces of wire. Don't worry about perfectly lining everything up, as this piece looks fantastic the more imperfect it is.
Hanukkah Stockings
Make modern Hanukkah stockings to help kids keep track of each night of the holiday. To make, label each paper bag 1-8 to represent each night of Hanukkah. Put a small gift in each bag, and allow the kids to open the small gift after you light the menorah.
Set Up a Craft Table for the Kids
If you have kids at your Hanukkah gathering, set up a craft table to keep them busy. Use card stock to make gift tags, or have them decorate dreidel-shaped paper with washi tape, colored pencils and markers.
Gelt Connect Four
Ditch the checkers for Hanukkah gelt instead, and re-invent some of your favorite games.