10 Easy, Last-Minute Holiday Decorating Ideas to Try Today
Attention, procrastinators: There's still time!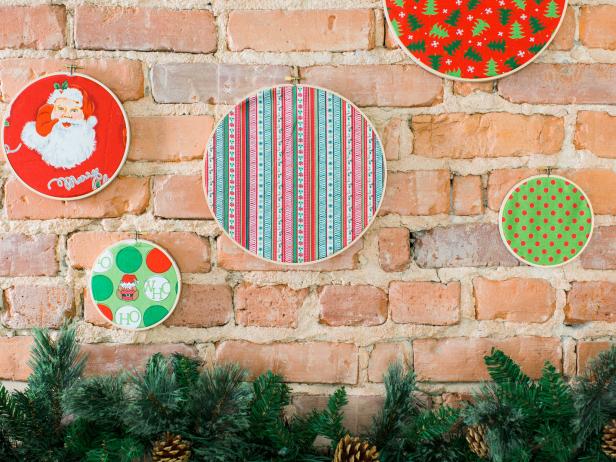 Small Space Holiday Decorating Ideas
When space is at a premium and there's no room for elaborate decorations, keep things simple, light and easy to store away with fabric-wrapped embroidery hoops. Choose a variety of fabrics in solid and patterned styles, cut them to size, then stretch them to the hoops. Arrange them randomly along the wall to add a pop of holiday cheer.

We may be just days away from the main event, but you can still dress your home in festive garb without running all over town (and breaking the bank). Here are some last-minute holiday decorating ideas to try using either items you already have at home or can pick up at the dollar store. Take a look:
Dress Up Inexpensive Garland
Dress Up Inexpensive Garland
01:07
Add your own flair to an inexpensive garland for stunning holiday decor.
3 DIY Dollar Store Decorations
01:18
Transform dollar store items into holiday decorations that look expensive.
Refresh Old Decor With Spray Paint
Refresh Decorations With Paint
01:17
Check out 3 ways to give old decorations a fresh makeover with paint.
Kids' Toys as Holiday Decor
03:31
Let the kids help you create holiday decor using buttons and small toys.
Collection on Display
No room to display your holiday collection? No problem! Group and showcase similar seasonal objects together in a decorative tray. When multiple items are arranged within a tray, they'll appear more uniform.
Elevated Serving
To keep this kitchen island functional during the holidays, a vintage sled is placed in the center for displaying snacks while the rest of the space around is kept free for preparing meals and cocktails.
Mini Cutting Tree
Put tiny tabletop surfaces to use by snipping greenery from backyard trees and arranging the stems in a vase. Use the space below the cutting tree to arrange gifts as a tiny alternative to a traditional Christmas tree.
Rustic Wall Tree
Bring the look and feel of a rustic Christmas tree to your walls with a tree sculpture made from twigs and yardsticks. Use the yardsticks as the base of the tree and create branches by securing the twigs to the faces of the yardsticks with tacks or bailing wire.
Cake Stand Scene
Add instant space for holiday decor by transforming a clear glass cake stand into a festive snow globe. Arrange various holiday figures with moss or faux snow to create the look of a winter scene.
Fun With Fabric
When space is at a premium, keep things simple with fabric-wrapped embroidery hoops. Choose a variety of fabrics cut to size, then stretch them around the embroidery hoops. Arrange the fabric hoops along your wall of choice to add a pop of holiday cheer.
Deck Out the Unexpected
Use the front of your built-ins and bookcases to display holiday decor like wreaths, garland or tree cuttings. Here, a built-in display case with clear glass fronts creates the perfect backdrop to place a fresh magnolia wreath front and center.
Tiny Traditional Tree
Even the tiniest of apartments can accommodate a Christmas tree if you stick with tabletop versions. Available in both live and artificial styles, tabletop trees can range in size from 10 inches to two feet tall and are often equipped with battery-operated lights.
Impromptu Stocking Spots
Take advantage of vertical space for stockings by simply draping them from door knobs of interior doors.
Wrapping Paper Tree
Put leftover wrapping paper to good use by cutting different patterns or colors to size forming a large triangle. Use double-sided tape to fasten the wrapping paper to the wall, then cut and add decorative ribbon around the edges for a clean, graphic look.
Ornament Sculpture
Put an upcycled spin on your holiday decor with a Christmas tree sculpture made from a reclaimed frame, twine and ornaments. Wrap twine around the edges of the frame, then stretch it across and secure with a knot. Create a web-like pattern to attach ornaments.
Stairs With Style
If you've run out of space to keep gifts stacked in your living room, put your stairs to work as gift risers. Simply, keep wrapped gifts piled toward one side of the landing.