Light Up the Night With These 5 Marquee Signs
See how five designers used vintage-style marquee lighting letter displays and signs to add drama to bedrooms, playrooms and living spaces.

Of all the major award shows, broadcast is the only one I rearrange my calendar for, so you know what I'll be doing this Sunday night. I've been a film fanatic since I was a kid, and I'd be lying if I said I didn't want to see my own name in lights one day. But since my acting career has fallen behind my interest in home design, I guess I'll just have to settle for incorporating the lights into my own home and hope that my dogs will make do as my adoring fans.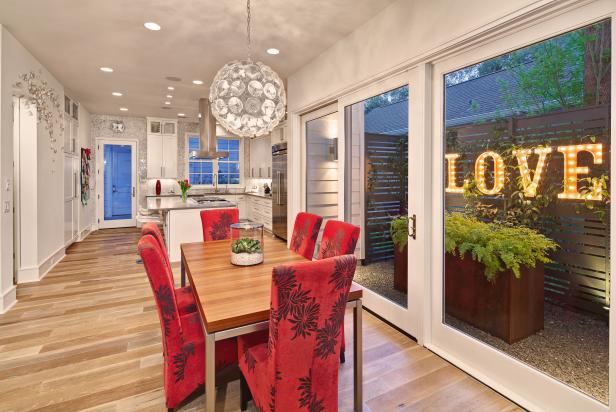 Eclectic Open Plan Dining Room With Red Chairs
Fun meets chic in this eclectic open plan dining room where bright red chairs pull up to the table underneath an imaginative globe-shaped chandelier. Love shines in from a lighting feature just beyond the glass doors.
I've been drawn to marquee signs since I started seeing them pop up in interiors with the rustic trend, and I'm in love with designer use of marquee letters to spell out "LOVE." The placement of the letters is perfect — they illuminate both the patio and dining room of this , creating a fun, playful vibe.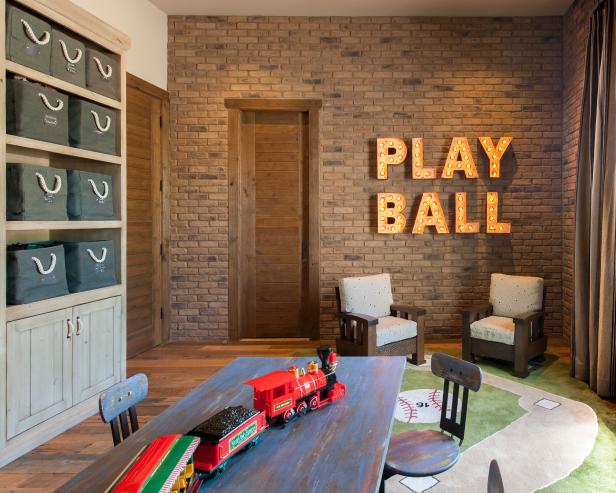 Neutral Rustic Playroom With Marquee Letters
Despite its small footprint, the clever design of this rustic playroom makes sure there's plenty of room for games, reading and toy storage.
knows that a playroom is meant to be fun, and marquee letters spelling "Play Ball" encourages the sportier side of both kids and adults in this .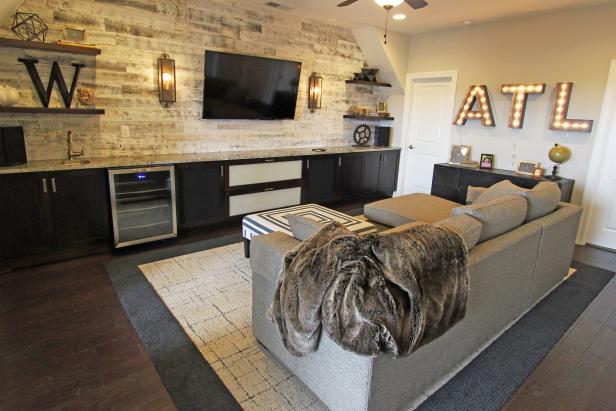 Cozy, Rustic Media Room With Whitewashed Wood Feature Wall
Wall-to-wall storage and a tucked-in beverage center adds tons of function in this media room, while a whitewashed wood feature wall offers texture and visual interest, The homeowner wanted something completely custom and durable so that his young children could play freely in the space, so designer Blu Interiors selected custom furniture made with durable fabrics and a rug created from FLOR carpet tiles, which are easy to wash and replace as needed. The homeowner is from Atlanta, and the ATL marquee lights are a fun way to show off his hometown pride.
uses marquee letters to spell out "ATL" in a "playroom" for adults in honor the homeowner's love for the city of Atlanta. The letters really work with the rustic, vintage vibe of the space.
Neutral Rustic Nursery With Pine Accent Wall
Baby will love this charmingly rustic nursery for years to come. Instead of wallpaper, the wall behind the crib was paneled in pine planks, creating a beautifully textured accent element.
What a fun way for a little girl to learn her name! uses bright letters to illumniate this nursery which mixes rustic industrial style with glamour.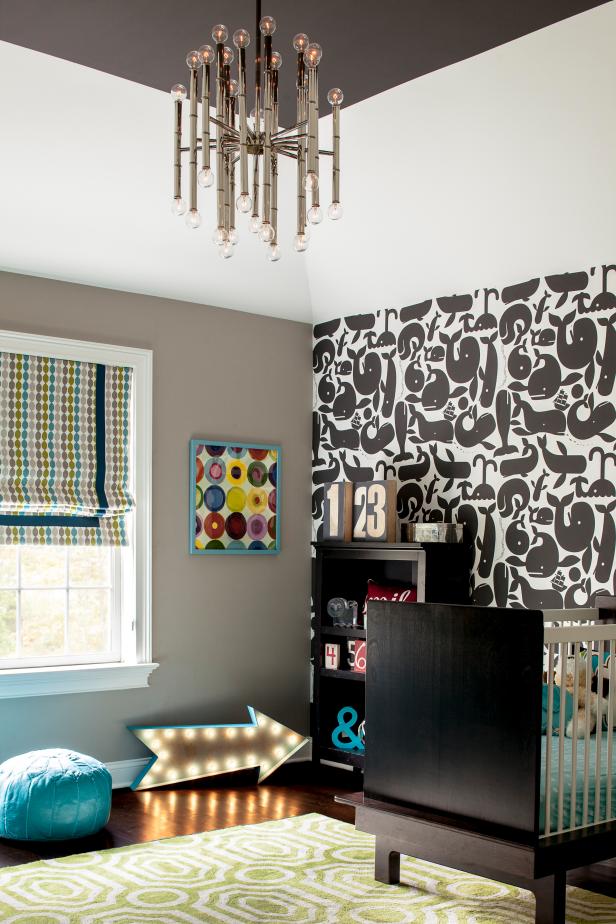 Boy's Nursery With Bold Patterns
The client wanted a room that reflected their boy's name, "Jonah" without being literal. This nursery is a perfect example of how a room can rock a theme and stay sophisticated, timeless and relevant. This big boy's space will not time out through the use of bold color, dramatic pattern and mature furnishings. Tricks of the Trade: 1. How to Balance a Bold Pattern: Make sure your colors have a weight to it that can hold up to the bold pattern. Designer Karen Wolf used bright mid tones to balance the whales and also showcase them. 2. Why Red?: The black pattern called for a "power pop". The playful and strong red color was able to shine on its own in just right amounts in the room. 3. Sweet and Strong: A great mix for a room to grow. The sweet patterned window treatments are offset by the strong wallpaper. 4. Pattern Mixes: The dense wallpaper was mixed with a small window treatment print and open graphic with white field on the floor.
If spelling out "BETH" ends up being a little too obvious or gets vetoed by my husband, maybe I'll opt for a symbol like the arrow designer used in what has got to be the !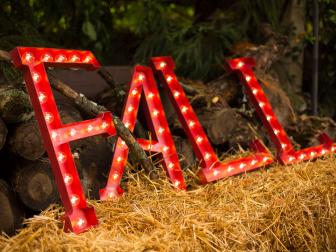 Get easy step-by-step instruction on how to create your own vintage-inspired marquee-style letters.