8 Space-Saving Organization Ideas for When You Don't Have a Walk-in Closet
You don't need a walk-in to have a closet that works for you.

I don't have a bucket list but if I did, "get a walk-in-closet" would definitely be on there. As someone who has lived in 800 square feet or less for the last 20 years, I've still never had a closet to call mine. I see walk-in closets with accessory islands and seating areas, and that's not what I'm dealing with in my small house. At all.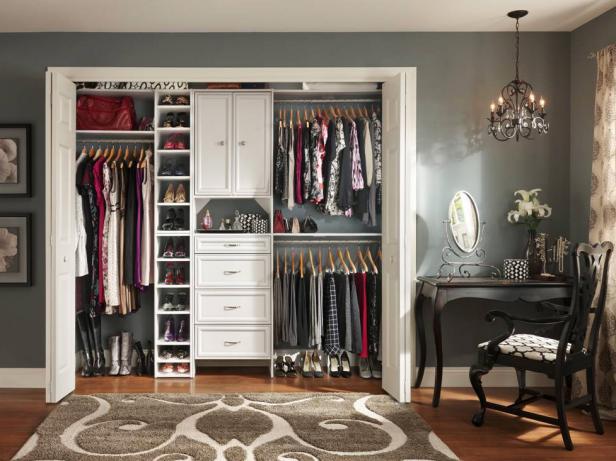 A Woman's Dressing Space
Getting ready in this space is nothing less than enjoyable. Shoes are neatly displayed in a vertical row alongside custom shelves, which feature a place for perfume and small items. When the doors are open you can easily locate all of your belongings. Photo courtesy of ClosetMaid.
For those of you who, like me, need to get organized with a reach-in closet (or don't have a closet at all), here are some tips and tricks that will help you along the way.
Take Off Your Closet Door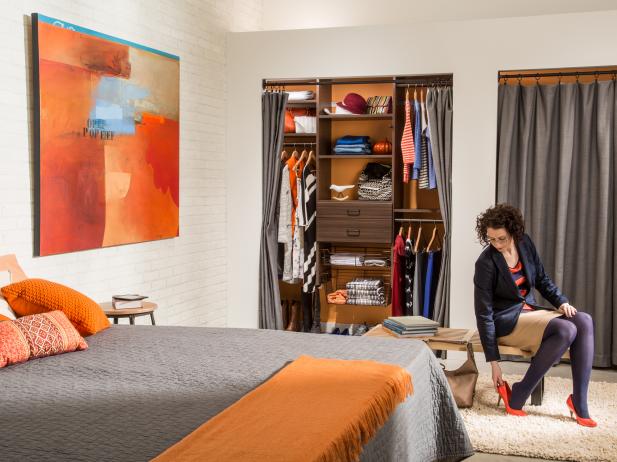 Cocoa Reach-In Closet
Design a solution to fit your lifestyle with a custom reach-in closet. Choose your own combination of hanging rods, open shelves, drawers, and baskets with full-extension glides, accommodating all of your clothes and accessories so you can put together the perfect outfit each day. An appealing Cocoa color and Oil-Rubbed Bronze hardware keep the entire look polished, making the closet one of your favorite features in the room.
One way to immediately get a bit of extra space is to remove the doors on your reach-in closet. Once the doors are off, you can choose to leave the closet open or add something simple like curtains. Removing the doors will allow you to store bulkier items or add some additional storage furniture that might not fit with closet doors.
If You Do Have Doors, Use Them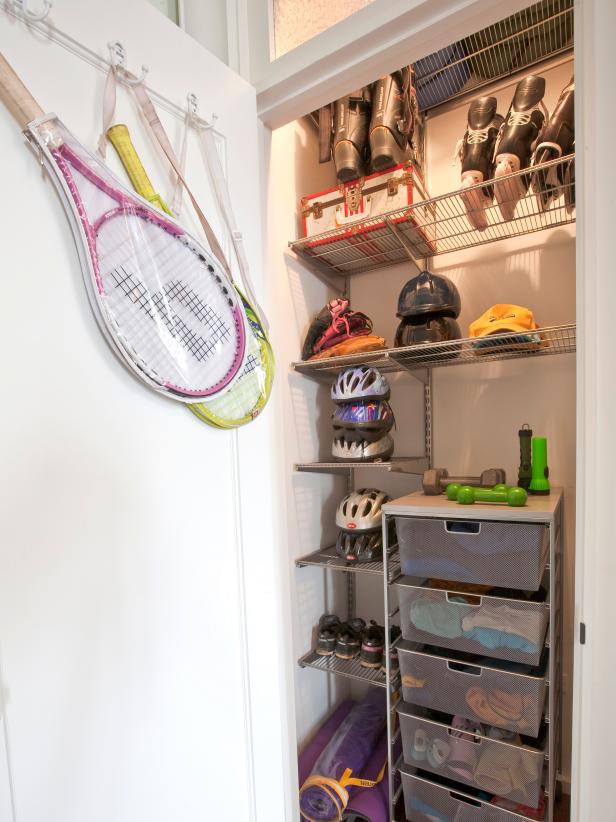 Organized Sports Equipment Closet
This closet provides organized storage space for sports equipment in a small New York apartment. Adjustable shelving and a drawer unit make equipment easily accessible for an active family.
If you're going to keep your closet doors, consider how you might be able to use them to create even more storage space in your closet. Add hooks to keep your jewelry in place, or use an over-the-door organizer to store shoes, scarves or other small items. Even if you have an unusual item to store, think about how you might be able to use the extra space on your doors to grab more real estate.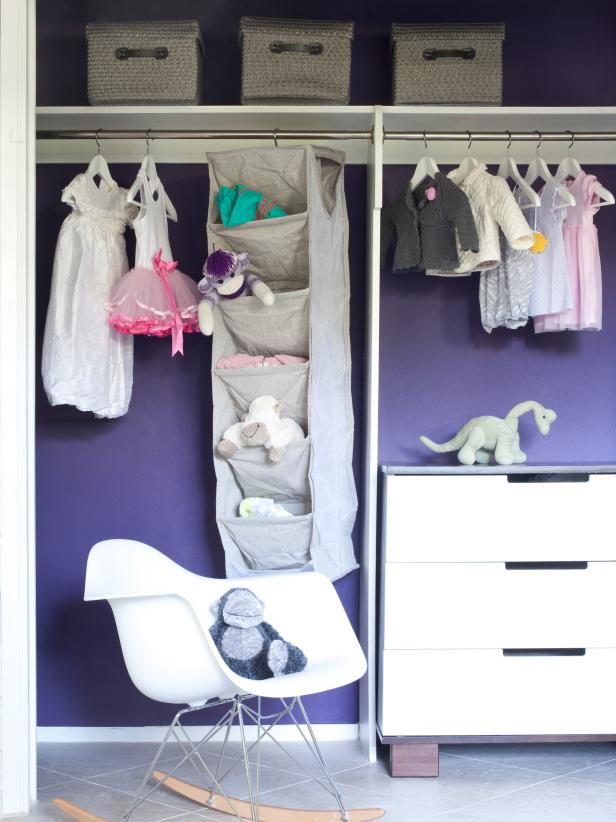 Organized Child's Closet
A toddler's closet painted in tones of purple and white provides organized storage for clothes, stuffed animals and other items. The hanging fabric shelf keeps child's favorite playthings within easy reach.
Another easy closet upgrade is to add a dresser. The nice thing about this is that you can add a dresser without making any other physical changes to the closet. It's also a great option if you happen to have a dresser that you don't love the look of. Dresser drawers are the perfect place to keep folded t-shirts, underwear or other accessories that you don't want on display.
Don't Be Afraid to Think Outside the Box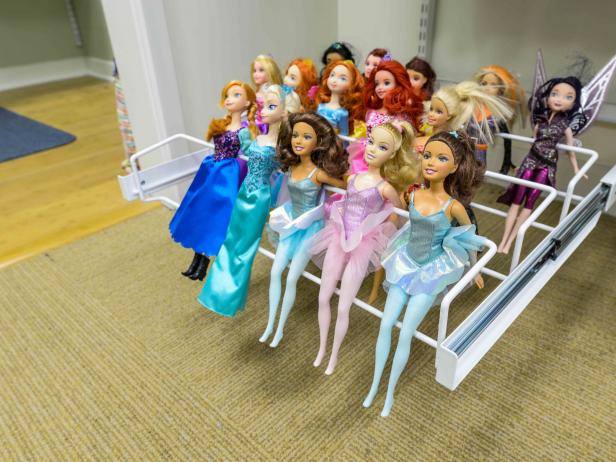 Dolls Stored on Shoe Rack
Plastic bins and tubs are one solution for storing a collection of fashion dolls, but there are other options. In this closet, a women's slide-out shoe rack has cleverly been used for display storage of a group of fashion dolls. The "arms" secure each figure to the rack, which keeps all the dolls in plain sight and within easy reach.
We all have different needs with our closets, and this clever doll storage idea is a great reminder that you shouldn't be shy about trying to make your space work exactly how you need it to. If you have special storage needs based on your hobbies or collections, try to think through how you might set up your closet to handle them. For example, I really love infinity scarves but I don't like hanging them on hangers. I cleared out one of the drawers in my dresser and have dedicated it to keeping all my folded scarves.
Try Pre-Fab Custom Solutions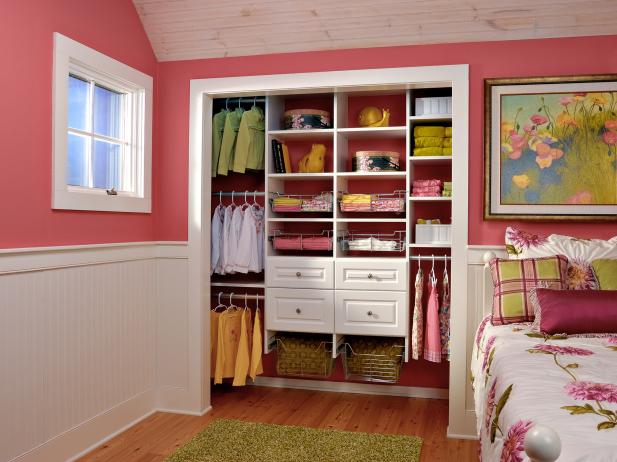 Reach-In Girl's Closet
This little girl's closet organizer is functional with shelving, drawers, baskets and triple hanging for children up to the age of two that can be easily adjusted. The White closet design features Raised Panel drawers, Matte Nickel hardware and Modern Rope Trim Knobs with Polished Chrome slide-out baskets.
There are a number of pre-fab options available that will help you customize your closet in the same way you might if you went for a full-on custom solution.
Hang All of Your Storage Containers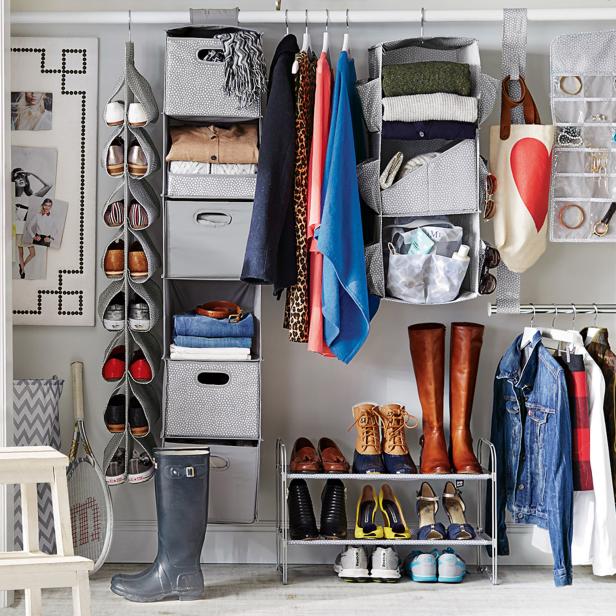 Hanging Closet Storage Systems
Afraid to invest in built-in systems for the trend-chasing teens? Try removable modular systems such as these hanging options from Pottery Barn Teen. Available in different colors and styles, these can be rearranged as easily as hanging cloths.
If you have a limited budget or live in a rental that doesn't allow you to make any structural changes, consider closet storage solutions that you can hang from the existing clothing rod in your closet. There are solutions for shoe storage, jewelry, scarves, sporting equipment and other accessories.
Decorate Your Room With Items That Can Double as Storage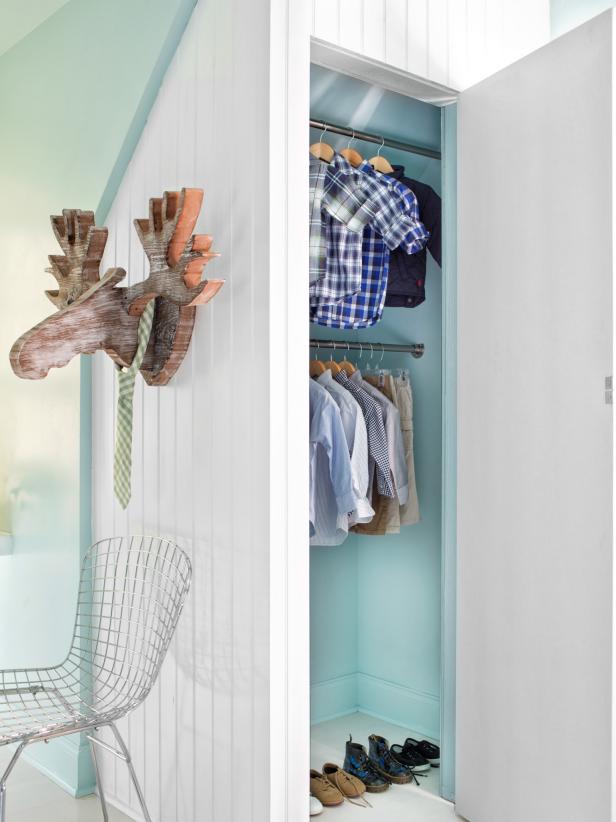 BPF_original_boys-bedroom-to-grow-into_open-closet-doors_3x4
Once opened, the closets reveal two hanging rods as well as an interior painted the same shade of sea foam blue as the walls and ceiling. Many designers suggest painting the interiors of closets the same color as a room's walls to make the closet feel like an extension of the space. Another idea involves painting the interiors of closets a bold contrasting color, or giving them a separate identity with wallpaper.
Now that you've started customizing the inside of your closet to work with all of your storage needs, think through the rest of your space to ensure you're using all of the available real estate you have. If you have any items or collections that you don't mind keeping on display, consider decor or art that will allow you to move things out of your closet and onto your bedroom walls.
If You Don't Have a Closet, Create One With Wardrobes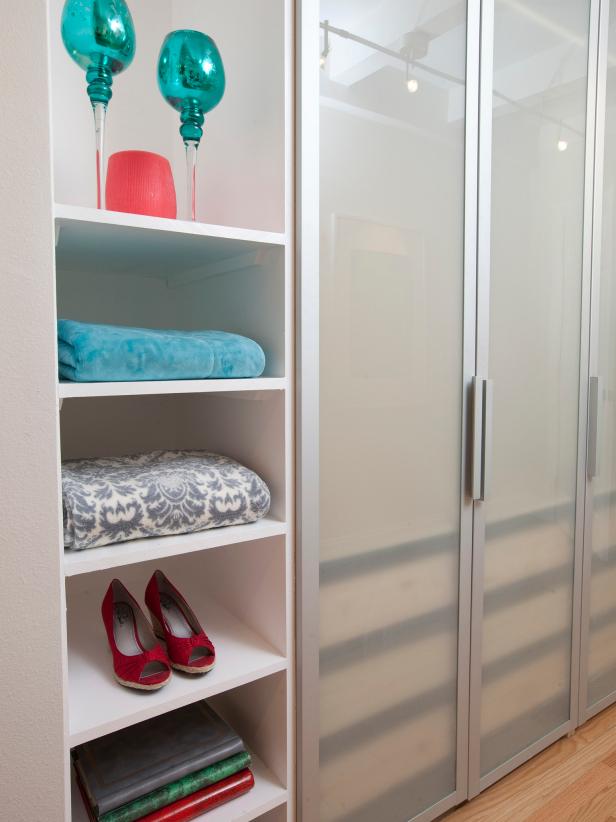 Master Bedroom
Master Bedroom. After 20b. The modular closet that was once crowding the bedroom has been moved into the newly painted, bright hallway.
If you have a room that doesn't have any closets at all but does have a bit of extra room, consider creating a faux built-in closet with existing wardrobes and shelves. My favorite tool for achieving this is the . By carefully measuring your space and creating the right configuration, you can create a closet that looks completely custom but is actually the opposite. If you want to take it one step further, you can even make the Pax wardrobes look completely built-in with .
Funky Frame for Your Jewels
Don't let your favorite necklaces get in a tangle. transformed a simple picture frame into perfect storage (and display) for your best jewels. All you need is a couple of nails, a hammer and chicken wire. Make it your own by painting your frame a refreshing color, like this canary yellow.
Ice Cube Tray Organizer
It's easy to lose those stud earrings or extra buttons from that expensive pea coat you purchased last winter. Instead of having a junk drawer, use an ice cube tray to keep it organized. Now you'll know exactly where to go if that one-of-a-kind button goes missing. Photo courtesy of
Silverware Tray Displays Your Jewelry
While this project really works great with a wooden silverware tray (because you can paint it any color), a plastic version will suffice. Jennifer Hadfield of got creative and decorated her organizer with chalkboard paint, feathers and glitter. It's glam enough to leave out in the open, but also smart enough to stuff into a drawer without worrying that your jewelry will get lost or tangled.
Prop Up Boots With an Old Tabloid
We've all suffered from saggy boot syndrome. Storing your favorite kicks for the summer doesn't have to mean a nasty crease come fall. Roll up back issues of your magazines and stuff them into your boots so they stand tall until the cold weather returns. Photo courtesy of
Hang Baubles on Branches
If you have a big enough space, move that unsightly fake plant into your closet and decorate it with your necklaces by color coordinating them. Photo courtesy of
No Closet? No Problem.
Sometimes closet space isn't an option. If you're a small-space dweller, you know all too well how precious — not to mention hard to come by — storage can be. Toma Clark Haines of literally made her own closet next to her shower with some tension rods and duct tape.
Store It in a Planter
Need more storage for your beauty products or tube socks? Go outside. used a flower box planter as a depository for medium-sized necessities. Simply remove plants, clean it out and fill it up.
Bread Box Shelving
Remember that old bread box you inherited from your mom? Now you can finally put it to use. Cristin Frank of turned a planter into shelving. She removed the hinged lid and positioned the box on the wall so the indents from the hinges aren't visible.
Basket Made From Plastic Bags
came up with a way to reuse all your plastic bags. They weaved colorful plastic bags into handy bins that you can use to store your T-shirts, allowing you to stay organized while helping the environment.
Savvy S Hooks
S hooks aren't just for hanging pots and pans in the kitchen. They're also great for those hard-to-store items like purses, umbrellas and scarves. They're not as big as hangers, so they take up less space. Use pliers to tighten up their grip so they don't slip off. Photo courtesy of
Tag It With Shipping Labels
It's such a basic idea, but it really can make all the difference in getting your closet in order. Professional organizer had a client that wanted her linens to be separated by type. "We wanted to label each stack, but were afraid that putting the label directly on the wire shelf would cause the label to get hidden," she says. "So, we used regular shipping tags that were found with the client's office supplies."
Tie Rack for Your Jewelry
Who really has enough ties to fill an entire rack? Use that leftover space to hang your favorite chunky necklaces and bangle bracelets. Best of all, it's small enough that you can hang it in your closet or another inconspicuous place like your bathroom — or in the corner of your bedroom. Photo courtesy of Angel Tuccy
Sub Out Your Towels for Scarves
It's perfectly OK to neatly fold your summer scarves and place them into a drawer. However, folding isn't always an option when you're in a rush. A towel rack is the perfect solution for your storage dilemma. Simply loop it through to return to a non-wrinkled scarf, guaranteed. Photo Courtesy of
The Catchall Basket
You've used this wicker basket throughout the entire home — from the laundry room to the living room. It works just as well in your closet. Make this basket wool- and silk-friendly by covering it with cloth to prevent unwanted nicks in your fabric. Photo Courtesy of
Tidy Up the Tuna Can
Aluminum is one of the strongest materials around, so Stephanie Lynn of had the idea to use cans to line a vanity drawer for storing small things like bobby pins and rings. You can also use cans to store office supplies. Be sure you fold down the sharp edges and wash them out completely to keep them odor-free.
Woven Tin Wastebasket
This colorful basket by is made from scrap tin containers and can store plenty of items without taking up too much space. Similar design ideas include using magazines, plastic bags, T-shirts and newspaper.
Bungee Cords Hold Items
You know the top part of your closet that you can't bear to look at? It's the place where you haphazardly throw the items you aren't sure what to do with, so things pile up and come crashing down. solved this problem by tying a bungee cord from the bottom shelf to the top shelf to create a cage, making the space innovative and safe.
Rolling Pin Coat Rack
This project really stands out because it's so unexpected. Jessica Farmer of Etsy shop cut wooden rolling pins into halves and nailed them onto a sturdy piece of plywood. Add some variety by choosing rolling pins with different handles and adding a coat of paint to create one-of-a-kind storage.
Bring Your Wire Flower Box Indoors
If you have a special place in your closet for gift-wrap, then you'll love this idea to avoid the dreaded tangled ribbon calamity. loved the style of this flower wire box, but she had no idea how to use it. "It wasn't long that I realized what a great ribbon holder and dispenser it could be," she says. Clean the residual dirt off with a wire brush, then hang the box on the wall with two picture hangers.