5 Healthy Soups and Stews to Keep You Warm
Stay warm during chilly months (or all year long!) with these healthy and hearty soup and stew recipes.

The worst of winter may be over (please, let it be over!), but it can still get pretty chilly out there. Get through the last leg of winter with these healthy soup and stew recipes that will keep you warm until spring.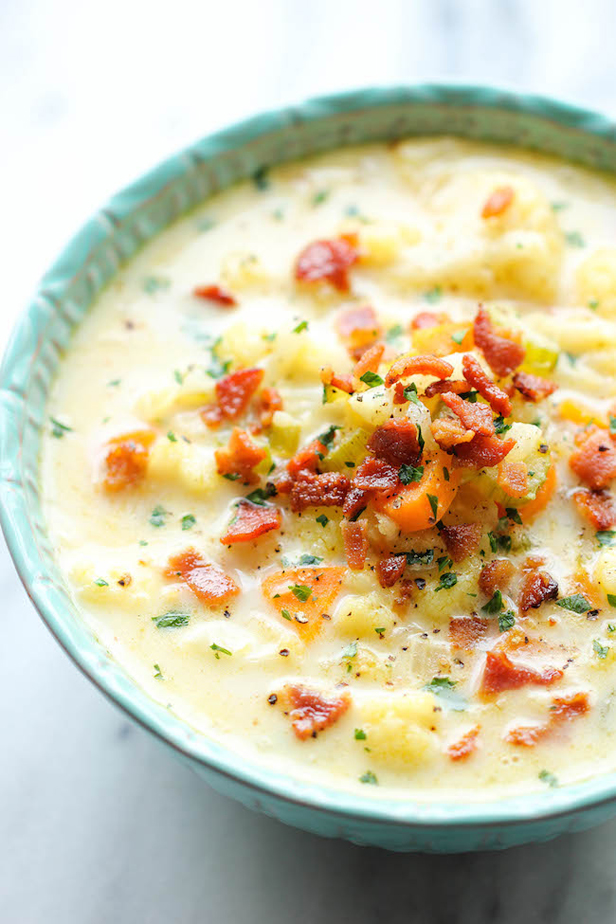 Photo credit: Damn Delicious
Photo credit: Damn Delicious
When you hear the word chowder, you think, "Creamy, yum! But cream, eh, unhealthy." Not this time! There's no heavy cream in sight, and cauliflower takes the place of high-carb potatoes for a lighter but still flavorful version of a comfort-food fave. Don't worry though, this bowl doesn't shy away completely from indulgence — there's crispy bacon on top.
Tomato Basil Chicken Stew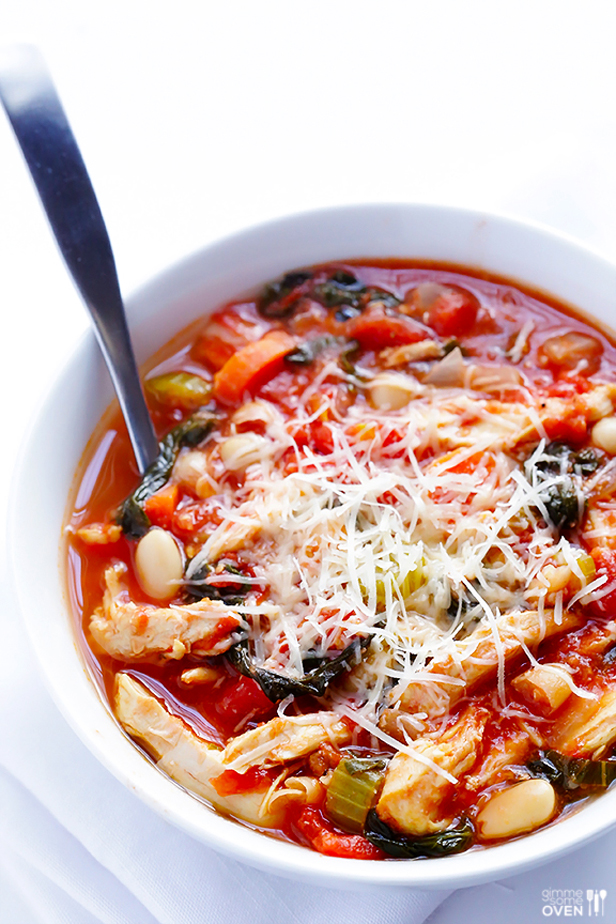 Photo credit: Gimme Some Oven
Photo credit: Gimme Some Oven
This 30-minute recipe is a no-brainer. The perfect pair (tomato and basil) creates a delicious base for protein-packed chicken and spinach to blend with fiber-rich beans and lots of spices. Together with cheese, they make a quick and hearty meal that will warm you from the inside out.
Crock Pot Chicken Tortilla Soup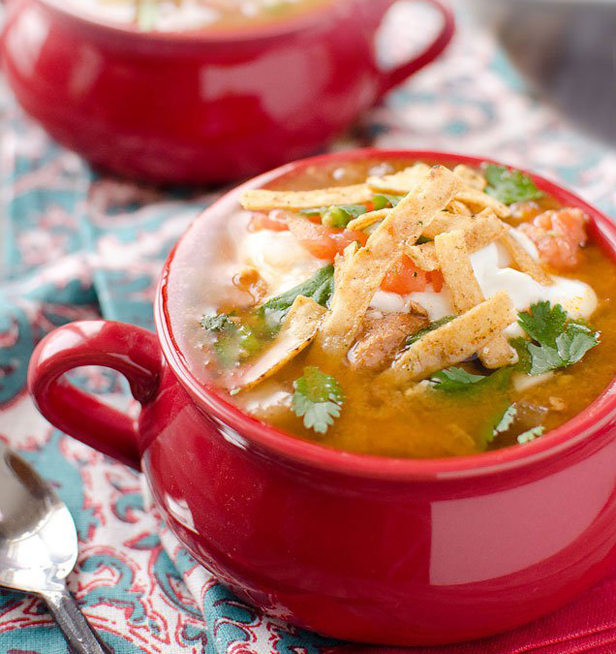 Photo credit: Krafted Koch
Photo credit: Krafted Koch
When naming a soup everyone loves, chicken tortilla likely comes to mind. Please the whole family sans any extra effort with this slow-cooker recipe with a kick. Paprika, chili powder and cumin make this one super flavorful without adding major calories. The best part is you can throw everything into the cooker in the morning and come home to the smell of a finished meal.
Thai Curry Lentil + Sweet Potato Soup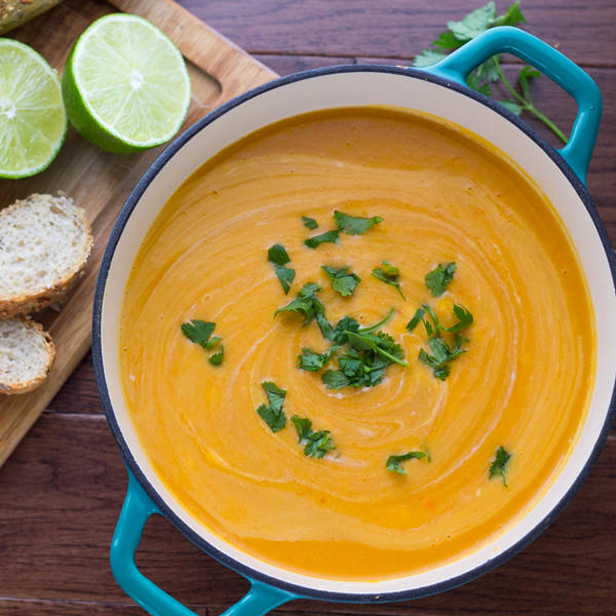 Photo credit: Sweet Peas & Saffron
Photo credit: Sweet Peas & Saffron
At first glance you might think this is just another butternut squash soup, but take a deeper look and you'll see a unique recipe you can't wait to try. The familiar flavors of Thai cooking (curry paste, lime juice, coconut milk) come together in this tasty one-pot meal that you'll be eating for days.
Hearty and Healthy Beef Stew With Zucchini Noodles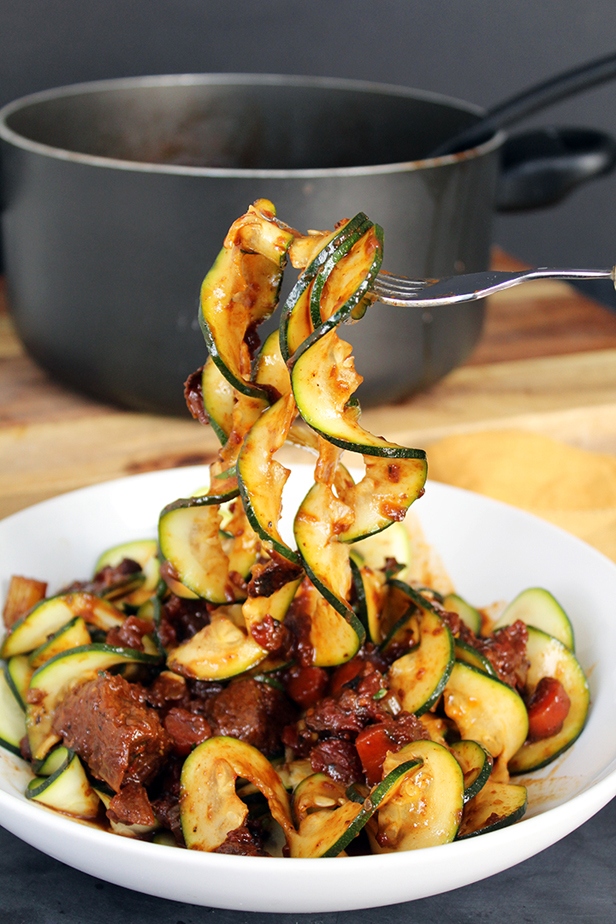 Photo credit: Inspiralized
Photo credit: Inspiralized
You'll be so inspiralized by this take on beef stew that uses zucchini "noodles" in lieu of egg noodles or starchy potatoes. The key here is to let the z-oodles be the star of the plate — they create a big bed of good-for-you green to top with meat and veggies. Sure, you need a gadget (a spiralizer) to create the wavy zucchini, but we have a feeling once you try this dish, the tool will become less of a trend and more of a staple in your kitchen.
Snowed-In Lunch
To escape from winter weather, invite friends over to spend the afternoon indoors for a snowed-in lunch. Set out oversized pillows and blankets in various textures, shapes and sizes that invite guests to cozy up and relax.
Snowed-In Lunch
Decorate the table using vibrant hues that offer a mental escape from the doldrum weather. A cheese board with colorful dried and fresh fruit is the perfect snack to nibble while watching the snow pile up.
Snowed-In Lunch
Piping hot food, like crockpot meals, soup or pasta, require little effort in the kitchen and allow you to spend most of the day unwinding with friends.
Host a Cozy Soup Swap
Host a winter-perfect soup swap complete with homemade soups, cheeses, bread, crackers, nuts and fresh herbs. Display a buffet of bowls and toppings on round wooden stumps lined with tartan fabric as a toast to the season.
Host a Cozy Soup Swap
Suggest that everyone bring his or her favorite homemade soup or chili. This allows guests to test out new flavors and recipes. Plus, there should be plenty of leftovers to take home!
Host a Cozy Soup Swap
Display a variety of garnishes, such as parsley, pine nuts, oregano and shredded cheese, on the table. Guests will enjoy trying new flavor combinations without having to make multiple trips to the buffet.
Host a Cozy Soup Swap
Don't forget the favors! Send guests home with a favorite soup recipe that includes one or two of the ingredients, such as lentils or herbs.
What's My Name Again?
Monogramming is having a major moment, so get creative by adding etched family heirlooms or personalized elements, such as linen napkins and table runners, to the table.
Dressed-Up Desserts
Sweets are in season all year long, but winter is a perfect time to test out unique cocktail recipes. Get creative by blending popular seasonally-inspired flavors like chocolate with cinnamon, peppermint with coconut or apricot with rosemary to create some grown-up libations.
Dressed-Up Desserts
Simple, homemade (or even store-bought!) cinnamon rolls are dressed up with berries and cream cheese icing, proving — yet again — that presentation is everything.
Toddies With a Twist
Give hot toddies a new twist by adding a dash of zesty, orange citrus instead of lemon. Plus, this combo of ingredients has been known to offer a few extra health benefits. Thank you, vitamin C!
Mix Those Metallics
Shiny metallics in shades of pewter, silver and copper set a chic and modern vibe for dinner with a best friend, significant other or family member you're overdue on seeing.
Mix Those Metallics
Adorn the table with unexpected produce (like purple cabbage) to add extra height and drama.
Pull in Icy Pastels
Surprise guests with a variety of macarons for dessert in pastel hues as a gentle reminder that the lovely, warm spring season is just around the corner.