5 DIY Ways to Cozy Up Your Home for Winter
Keep it cozy (on the cheap).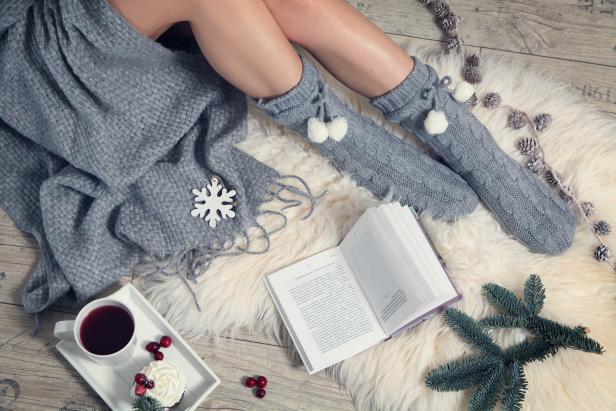 625237714
cute young girl drinking tea
You know those people who hate winter? The second the air turns brisk, they're literally counting down the days until spring? I am not one of those people. Sure, there are some pretty great things about spring and summer, but I love the cooler months. Hot beverages, cozy blankets and an excuse to stay in and binge on all my favorite television shows make winter the best season of all. And I can definitely get behind that. If you, however, are finding it hard to be happy about darker days and the constant need for warm slippers, I think I can help you out. These simple DIYs will turn even the most avid winter hater into a cold-weather enthusiast.
DIY Blanket Ladder
01:00
Learn how to make a cozy and functional blanket ladder for your home.
You know those really expensive but totally cute blanket ladders you see at home goods stores? Now you can save your money and subtly brag to your inquiring friends that you actually made that incredible blanket ladder they all want. Am I winning you over to the winter-lovers club yet?
DIY Tassel Blanket
01:00
Keep yourself cozy with this no-sew tassel blanket.
And what better to hang on your adorable new ladder than a tassel blanket you embellished yourself? After all, you're no chump. You know there's no reason to fork over your hard-earned money when you could simply update a blanket you already own.
Upcycled Sweater Wreath
01:00
Give old sweaters new life with this customized DIY wreath.
While you're looking for the perfect blanket to turn into a chic tassel throw, you may run across a few old sweaters you had packed away. If those sweaters aren't quite as fetching as they used to be, we've got the DIY for that. I can sense you're pretty close to confessing maybe winter isn't so bad after all.
DIY Flannel Coasters
00:30
Bring in fall with these cute and cozy DIY flannel coasters.
While you're snuggled up watching Fixer Upper, might I suggest this simple craft? After all, your hot cocoa is going to need a snuggly seat of its own, and these flannel coasters are just the thing.
Winter Spa Kit
00:29
Chase away the winter blues with this DIY spa kit.
And when you just can't take another day of cold, you'll be really glad you thought ahead to make this simple spa kit. Fuzzy socks and a new face mask? Your future self will thank you. Bring on the snow, amiright?
Yarn Pinecones
Add a different spin to your holiday decor with these simple, colorful pinecones. All you need to do to create this look is wrap bright strands of yarn around pinecones — no glue required. They make perfect embellishments for gifts or placed in a bowl as a centerpiece. Design by
White Napkin Ring
This napkin ring is so simple to make and will add that extra touch to your tablescape. cut a small section of an old sweater and sewed the ends. Wrap the rings around silver napkins for a sophisticated winter look, or use colorful sweater remnants for a brighter tablescape.
Wintry Lampshade
You can easily transform your home's decor from fall to winter by incorporating sweater elements. brought a wintry feel to her living room by covering a vase and lampshade with sweater material. The look instantly warms up the space during colder months.
Scrap Sweater Trees
You can make these festive trees by using your sweater scraps from other projects. Take the scraps and hot-glue the pieces to tree-shaped cardboard pieces. Apply larger pieces to the bottom, and use smaller pieces as you work your way up the tree. Make a simpler design by starting at the top and winding sweater material around the cone, gluing along the way. Design by
Wine Bag
You can repurpose an old sweater to make the perfect holiday gift. felted her sweater and sewed the bottom to create a wine bag. Complete the look with metallic ribbon and a sparkly pin.
Serving Tray
Serve warm apple cider to guests by covering an old cutting board with a sweater. To get this look, wash your sweater in hot water and put in the dryer to felt it. Cut a rectangular shape from the sweater big enough to cover the board. Sew the sides and bottom to create a pocket, and slip over the board. Design by
Rustic Decor
Winterize your home's decor by covering spring vases and candleholders with sleeves from an old sweater. For a rustic look, chose a neutral-colored material and embellished it with twine.
Sweater Stockings
These stylish stockings require little sewing and put your old sweaters to great use. The custom look will impress guests, and can be done in just one afternoon. Design by Marian Parsons of
Colorful Pot Cover
Brighten up your terra-cotta pots with a colorful old sweater. washed her old sweater in hot water and put it in the dryer to felt it. She cut off the sleeve and fit it over her pots. Stitch a card to the top to give as a holiday gift.
Cozy Candles
If you're looking for a one-of-a-kind hostess gift — or a way to bring texture to your space — wrap basic candleholders with sweater remnants. Add leaf accents or pinecones for an easy way to add a winter look. Design by
Wool Sofa Pillows
Sweater pillows add interest and texture to a space. transitioned the look of her living room by accenting her sofa with pillows covered with wool material. The soft-gray palette stands out against the neutral sofa and accessories.
Neutral Vases
For a classic look, covered vases with a monochromatic color scheme. The different sweater knits add visual interest while keeping a sophisticated holiday look.
Entryway Rug
Placing a sweater rug in your entryway is one way to welcome your guests during the holidays. The neutral color doesn't take away from the design of the space, while the texture brings just the right amount of interest. Photo courtesy of
Sweater Wreath
Grab your old wool socks and scarves to make this colorful, unexpected wreath. Cut the socks along the seams, and wrap them around a wreath form. Secure socks with floral pins. Design by
Striped Rug
A cozy rug can instantly warm up your home. This striped cable-knit warms your toes and adds an inviting feel to this open space. The hints of red, green and blue are the only source of color in the room, making it an unexpected focal point. Photo courtesy of
Knit Slipcover
Etsy shop owner covered her ottoman with an oversized, hand-knit sweater slipcover. The chocolate-brown slipcover also works as extra seating.