7 Everyday Things You're Probably Forgetting to Clean (Yes, We're Guilty, Too!)
Have YOU ever cleaned the remote control?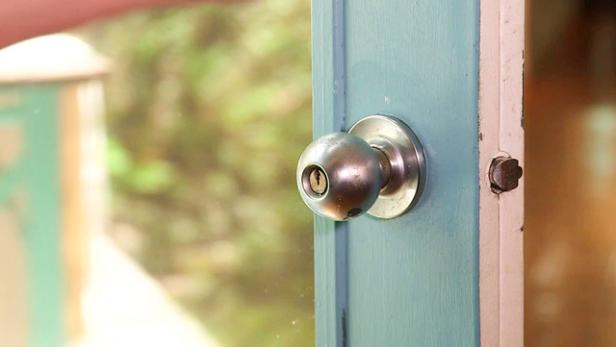 When you're cleaning your house (which if you're like me is right before friends arrive), you probably do the basics: Vacuum the carpet, clean the toilets, possibly mop if you're ambitious…the list goes on. But what about those places that rarely (if ever) get cleaned? Thankfully, we're here to help.
From your TV remote to ceiling fans (hint: just turning it on doesn't do the trick), check out this video of seven things around your house you should clean more – plus, how to do it!
7 Things You Should Clean More
00:58
Keep your home squeaky clean with these cleaning tips.
Kitchen: Sink Area
Raw meat, raw fish, what's left of dinner — the sink has plenty of growing bacteria. Give it a scrub with baking soda, then follow up with a white vinegar soak. Add a few tablespoons of vinegar to warm water, or place vinegar-saturated paper towels in the sink for 15 minutes to completely sanitize.
Bathroom: Toothbrush
Water alone won't sanitize months of growing bacteria. Put your toothbrush in the dishwasher, or use a UV cleaner for 10 minutes to get rid of bacteria.
Kitchen: Refrigerator Handle
Germs can live on refrigerator handles for at least two days. Apply a small amount of dishwashing soap to a damp microfiber cloth to wipe away bacteria. Avoid using bleach or other harsh cleaners to prevent chemicals from getting in your food.
Living Room: Remote Control
Everyone touches the remote, often times while snacking. Use a cotton swab dampened with rubbing alcohol to clean germs without damaging delicate buttons. Tip: Use disinfectant wipes to clean the remote in a hotel room.
Kitchen: Faucet
The aerator on your faucet, the little screen at the bottom of the spout, is a hotbed of bacteria. Remove and soak it in white vinegar every couple months to get rid of germs and lime buildup.
Every Room: Light Switches
Light switches are one of the dirtiest items in your home, which results in an abundance of germs. To clean, spray a cloth with all-purpose cleaner or a 1:1 mixture of vinegar and water. Gently wipe the faceplate and switch.
Bathroom: Walls
Nobody wants to think about it, but when you flush with the toilet lid open, nearby surfaces get contaminated. Your favorite all-purpose spray or hydrogen peroxide is a simple solution to this nasty problem.
Every Room: The Walls
While you're at it, go ahead and give all of your walls a good scrubbing. Wipe off any loose dust with a soft cloth, then gently scrub off any dirt with an all-purpose cleaner that's safe for your walls. (Test in an inconspicuous area first if you're unsure.) Don't forget the molding!
Kitchen: Cutting Boards
A clean cutting board is important since you place food directly on it. Using soap can wear down a wooden board, but vinegar will gently disinfect it. Scrub with a baking soda paste and salt for a deep clean.
Kitchen: Sponge
If the kitchen sponge smells, that's proof that it's harboring bacteria. Place a wet sponge into the microwave for a minute and a half to kill bugs, or run it through the dishwasher (and replace it regularly).
Kitchen: Garbage Disposal
The garbage disposal can also produce a foul odor if not cleaned regularly. Pour half a cup of baking soda down the drain followed by a cup of vinegar. Let the mixture bubble for a few minutes; then pour a bucket of hot water down the drain to rinse. Grind half a lemon in the disposal for extra cleaning power and a fresh scent.
Kitchen: Oven Knobs
You touch oven knobs frequently while handling food, but how often do you clean them? Pull the knobs off, and give them a good cleaning with a 1:1 mixture of vinegar and water. For stubborn stains, let the vinegar sit for at least 10 minutes.
Dog Bowls
To clean your pets' bowls, remove the food and water and run them through the dishwasher. Use vinegar to get rid of lime buildup, and wash with dish soap in between dishwashing cycles.
Home Office: Computer Keyboard
You touch your face. You type an email. You reach for your lunch. You type a report. You get the idea. To clean your computer's keyboard, unplug it first. Next, gently wipe with a 1:1 mixture of rubbing alcohol and water, but make sure not to get your keyboard too wet.
Bathroom: Shower Curtain
Getting rid of mold on your shower curtains is easier than you think. Spray plastic shower curtain liners with a 1:1 mixture of vinegar and water, and run fabric curtains through the washing machine once a month.
Ready to go on a cleaning binge? Check out our list of more places you might be missing.