Take Your Camper Up a Notch With These Must-Try Design Ideas

Vintage trailers and RVs have officially joined the interior design movement. So if you're looking for cool tiny homes on wheels, you're in the right place. Creative adventurers are tricking out their trailers and turning them true oases with unique details, luxe upgrades and stylish storage solutions. Folks are even using them as guest quarters, home offices or vacation rentals. (Genius, right?)
If you're ready to turn your RV or trailer into a tiny design haven, check out these ideas inspired by friends around Instagram.
An easy way to immediately add some style to your RV is to upgrade your lighting. Any electrician would be able to help you properly outfit your space; however, you can also do it yourself using plug-in fixtures like the one pictured here. This pretty sconce immediately elevates the space while also providing a convenient light for nighttime reading.
2: Use Lots of Textiles + Pillows
If you don't have the budget to reupholster all of the cushions in your RV, you can bring in some additional textiles and pillows to do the heavy lifting. These mud cloth pillows bring in a distinctly boho-chic vibe and help amp up the coziness factor. In addition to pillows, you can use throws or even colorful pieces of fabric when styling your space.
3: Wallpaper is Your Friend, OK?
An Airstream, trailer or RV is the perfect spot to experiment with wallpaper. Blogger Mandi Gubler from Vintage Revivals uses a bright yellow wallpaper in her small vintage trailer that she's nicknamed "The Nugget." Paired with her pink cushions, vintage accessories and textiles, this little nook in her trailer looks like it could easily be a spot in someone's house.
4: Get Sneaky With Storage
Storage space is always at a premium in RVs, so you may need to get creative … and sneaky. You'd never know it, but bulky winter sweaters and coats are hidden in these fluffy "pillows." Steal this idea to help store soft goods including clothing, linens, towels or even kids' stuffed animals.
5: Create Your Own "Backyard"
If you're parking your trailer and staying put for a while, consider creating your own outdoor space. Simple Adirondack chairs and a portable fire pit help define this outdoor living space. You can easily add potted plants, a kiddie pool or a picnic table to expand your space to fit more of your friends and family.
If you're really looking to make a statement with your trailer, why not paint it a fun, bright color? You could spot this fuchsia trailer from miles away, but it's hard to not look at it and smile. If you're not quite ready to go that bold, consider painting your RV a more subdued color or a fun pattern like stripes or polka dots.
Depending on the type of RV you have, you might want to allocate a bit of your budget to expanding (or replacing) your windows. This open, airy trailer allows its owners to drive right up to the beach and enjoy the scenery. If your trailer has smaller windows, you might even be able to replace them with larger picture windows which would really help to open up your space.
Open shelving is often a perfect solution in a small trailer or Airstream, as it allows you to make use of every square inch. In this example, they've managed to use a corner to add a shelf and create additional storage.
The upper clearance in trailers tends to be quite low, so ceilings are much more visible than they are in your home. Take your design makeover up, and decorate the ceiling to create more interest. Retro-inspired gold stars add just enough bling to this trailer to help the space pop. Look for removable wall decals for easy installation.
While many people tend to embrace the vintage vibe when thinking of decorating their Airstreams, you definitely don't have to. This trailer is a great example of how you can make a dark and moody design style work well in a tiny space. Black cabinetry, mirrors and simple accessories help to create a sleek, modern and completely unexpected space.
When Wedgies Are Welcome
We love the Wedge exterior for its marriage of rustic and modern design elements. High trapezoidal windows on the sides ensure privacy, while the mostly glass front floods the Wedge with natural light.
Slice of Heaven
Inside the Wedge, a large sliding glass door opens to a private deck, which increases living space. We think the gas fireplace feature, which also comes in electric, is just heavenly.
Wedge Salad for Two
The Wedge's tiny kitchen features a two-burner cooktop, a built-in mini fridge, microwave oven, a dishwasher, Caesarstone or granite countertops and high-grade cabinetry.
Packed With Goodness
The Wedge's bathroom was designed for maximum storage without compromising aesthetics. Each features top-of-the-line glass showers, vanities with stone countertops and Kohler fixtures.
Stay Wired
Just because you go off the grid doesn't mean you can't update your Facebook page by the fire. Each Wedge comes wired for cable and Internet. Mini gas-burning or electric fireplaces and AC can also be added.
Wedge Exterior
Rustic elements, such as weathered wood, meet with corrugated metal to create an attractive exterior in harmony with the natural surroundings.
Taking the Show on the Road
The crew at has been constructing cabins for many years and recently decided to go mobile. The result is the , a luxury cabin that qualifies as an RV.
Game Changer
With its floor-to-ceiling windows, the Escape Traveler has definitely upped the ante in the tiny house game. If you're curious about the construction, check in to in Chetek, Wis.
Kitchen Envy
We must confess that the Escape Traveler's kitchen is nicer than a lot of ours. The craftsmanship and attention to detail is unparalleled thus far.
Bless This House
As if complementing the environment surrounding it, the Escape is constructed with our Mother Earth in mind utilizing the greenest and most sustainable materials on the market.
Got Wanderlust?
While the Nomad's Nest model from will go just about anywhere you like, it is designed to stay put, not be pulled like an RV. However, should you decide to pull up stakes, this home can be toted to a new location whenever you like.
Mad for the Nomad
Though the exterior screams Davy Crockett, the interior's designer touches include hip light fixtures, stainless steel appliances and faux stone flooring.
Love Shack
This model was customized for a pair of newlyweds, but Wind River can easily install a loft or bunk beds. We love the industrial hanging light cages.
Baby Steps
A tiny wood staircase leads to the Nomad's bedroom, while French doors provide natural light and an open space perfect for enjoying the great outdoors in style.
Wagons, Ho
The hails from Austria and is constructed from natural, recycled and a few new materials. The exterior is covered in naturally waterproof larch wood, which is known for its durability and attractiveness.
Green Machine
The Wohnwagon features spruce paneling or other woods indigenous to the region. Walls are insulted with wool, which naturally controls humidity. There are solar panels mounted on the roof with a recharging battery pack beneath the floorboards.
Pajama Party
The sleeping area features hidden storage that can be used to conceal twin bed rolls or dirty laundry. Fold-down shelves maximize space and pull-out drawers act as a nightstand.
Flower Power
Solar panels heat water for the shower and greywater is filtered through the green roof and is reusable within 24 hours. Clean water is stored under the floorboards.
Unique Features
We love the recycled tile in the tiny home's shower. So far, less than 10 Wohnwagons are in existence making each one unique.
We Jam Econo
We love the "hOMe" model not only for its sleek exterior but also for its functionality. Inside this tiny beauty you'll find a fully functioning kitchen, a sleeping loft and a modern living space.
Tiny Dancer
Every inch of an EcoCabin is designed with form and function in mind. This award-winning model features plenty of built-in storage, fold down tables and a cozy sleeping loft that we adore.
Stairway to Heaven
Designed by Andrew and Gabriella Morrison for EcoCabins, the "hOMe" boasts a unique staircase with built-in storage that leads to a heavenly master sleeping space.
Wheels on Fire
Who says that you have to compromise on taste? It's hard to believe that a four-burner gas stove can be packed into one of these tiny mobile homes.
Come on Get Happy
The one-of-a-kind is the result of two guys running into each other at a Chicago reclaimed materials store. Frank Henderson, a music student, met Paul Schultz, a designer, and the two decided to design and construct a tiny house where Henderson could live while in school.
Window on the World
The eco-friendly Toybox is one of the most original tiny homes we've ever seen. It was created with the concept that home should be a fun place inspiring creativity while also providing peace of mind.
Table for Two
When he designed the Toybox, Schultz used lighter wood to make the space feel more open. The folding table has plenty of room for two. Above the bathroom doors is a sleeping loft.
View From the Top
This view from the Toybox's sleeping loft provides a bird's-eye view into the living space where module seating serves as storage and can also be arranged to form a bed.
Special Purpose
Every element of the home serves a purpose. Sliding panels reveal the Toybox's hidden storage.
Keep it Clean
The bathroom is unique in that the entire space acts as the shower. We like this "self-cleaning" element.
Rocky Mountain High
Greg Parham of likes keeping things simple, earth-friendly and affordable. After discussing your wants, Parham will translate that into your needs and custom build you a home that suits both.
Tiny Before Tiny Was Cool
laid down its roots in 1999 basing their business model on the concept that homes could roll and lay down roots just like its namesake. All models, like this Mica, can be customized in-house or they will help you out with a DIY kit.
Tasty Waves & Cool Buds
Mica owners enjoy the freedom that tiny house living affords owners to wake up just about anywhere they can find a (legal) parking space.
Breakfast at Tiffany's
From the streets of Manhattan to the Oregon coast, your Mica kitchen will serve you wherever you wake.
Whistle Stop Tour
Tumbleweed's Elm features a custom arched window above the door reminiscent of an old-fashioned train caboose. The full porch and lancet window give this exterior design the charm and elegance that started it all.
Sweet Dreams
Customize your Elm with optional dormers in the loft for added space, light and cross breeze.
Dinner Time Options
From cooktops to full stoves, these Tiny House RVs have a range of options to suit your most adventurous cooking ambitions. This Elm features a two-burner electric cooktop.
Head Space
Tumbleweed Houses are designed to weather all seasons, climates and personalities. The Cypress makes use of the most interior space, by incorporating a recessed corner porch affording the interior living area more space.
Food Truck
This Cypress kitchen was customized with a "nook" kitchen and two-burner gas cooktop with an external propane tank. There's no need for a special permit to tow.
Almost Paradise
Named after one of our favorite trees, Tumbleweed's Linden screams outdoorsy, though it does it with subtlety. The tiny porch is a great place to sit and watch the sunset or the local wildlife.
Let the Sunshine In
The Linden's roof takes advantage of two full dormers that not only let the sunshine in, but also give it more space. It's the perfect spot for rela or hosting fellow glampers.
Sunnyside Up
The Linden's kitchens are completely customizable and take advantage of a ton of natural light, which is why you came out here in the first place, right?
Let's Go to Grandma's House
There's no longer any need to go over the river or through the woods to get to grandma's house. Conceived as an eldercare solution, Drop Homes park loved ones right in your backyard yet afford you both independence and privacy.
Street Legal
Drop Homes are not only ADA compliant and street legal but also available to rent making them a great solution for the temporary of a loved one.
Holy Roller
We just had to include this adorable rolling house of holy. With destination weddings all the rage, this beauty will come to you or will help you acquire your very own.
Going to the Chapel
In this case, the chapel can come to you.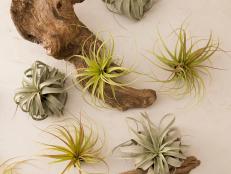 Jealous of your neighbor's lush garden? We'll get you that green thumb in no time.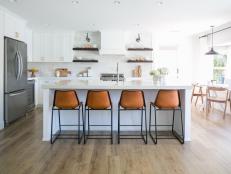 Same style; tiny refresh.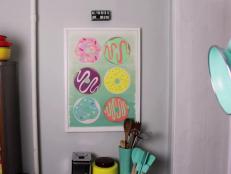 Love doughnuts? You'll go nuts for these yummy recipes, sweet DIY projects and must-visit bakeries.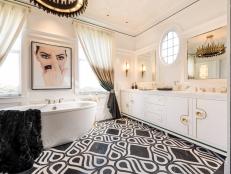 As we head to Paris for the last week of Fashion Month, let's take a look at these "holy chic!" spaces that blend the best of fashion and interior design.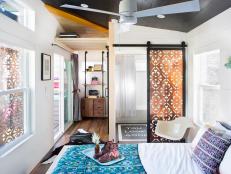 Pinterest's 100 for 2016 board showed us what's coming down the interior-design pipeline this year. From geometric tiles to a resurgence in neutrals, we're ready for a slew of new trends.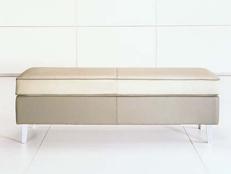 If you're good at pulling together an outfit, can you also be good at pulling together a room? Designer Jhane Barnes says yes.
A low-country-inspired farmhouse cottage lives larger than its small footprint thanks to a crisp white palette, lots of natural light and a smart floor plan.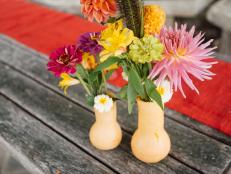 Is it time to buy pumpkins yet?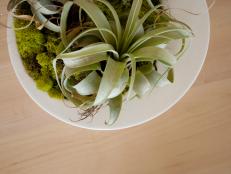 Let's get this out of the way: I love faux plants, I use faux plants and I give you full permission to use them too. Follow these important faux plant tips and you'll have thriving plants FOREVER.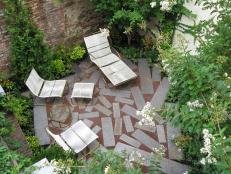 Pave your way to the patio of your dreams. #sorrynotsorry