7 Things to Know About Monica Potter's New Prefit Show, 'Welcome Back Potter'
The Parenthood actress and her three sisters share their journey to restore their Cleveland childhood home.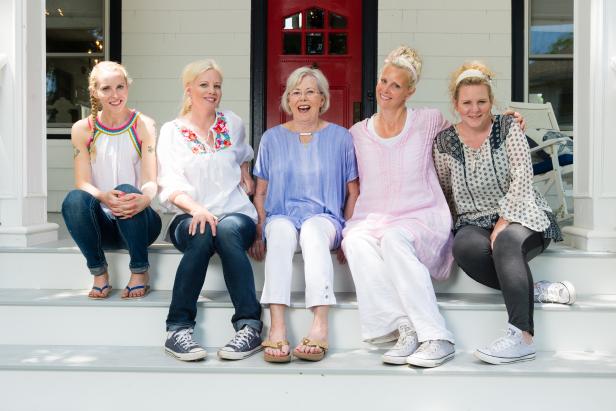 Kerry, Bridgette, Nancy, Monica Potter and Jessica (L-R) on the newly renovated front steps of the house as seen on Welcome Back Potter. (portrait)
Since the end of everyone's favorite cry-so-hard-it-hurts show, Parenthood, in 2015, actress Monica Potter has kept busy with an on-screen adventure of another kind: home restoration.
In Prefit's new series Welcome Back Potter, Monica and her three sisters work together to restore their childhood home in Cleveland that they recently bought after it sat abandoned and in disrepair for years. Each sister has a special skill of her own, but Monica leads the charge for all-things-design of the house.
It's been almost 30 years since the sisters lived in their family home near the lake, but, as Monica says, "Home is where the heart is, and this is where our heart is."
Here's what you need to know before you watch the premiere of Welcome Back Potter on Prefit on October 11 at 9p|8c.
Monica Potter is a DIY queen.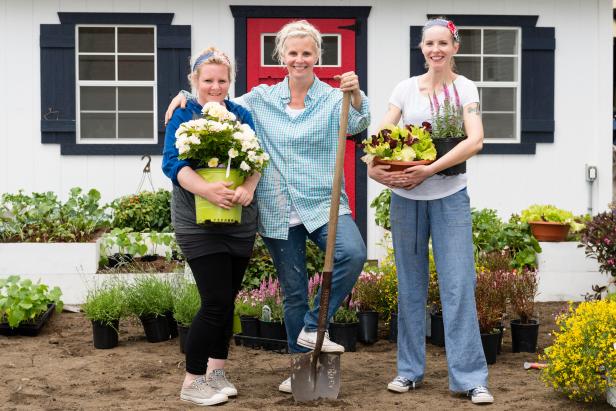 As seen on Welcome Back Potter, Monica Potter (center) and her sisters Jessica (L) and Kerry (R) in the backyard before installing new landscaping plants. (portrait)
After Parenthood wrapped in 2015, Monica launched her own line of natural home products, , with a brick-and-mortar store just outside of Cleveland. She has a serious eye for upcycling and repurposing, as you'll see on Welcome Back Potter.
The family's old furniture was still in the house.
Thirty years after moving out, the sisters found their mother's dining room table and their father's workbench, among other things, still in the house.
They decided on restoration versus renovation.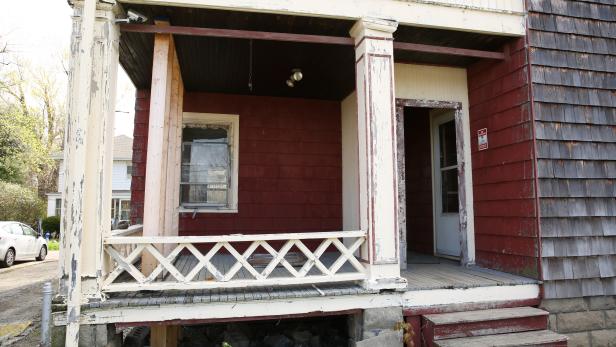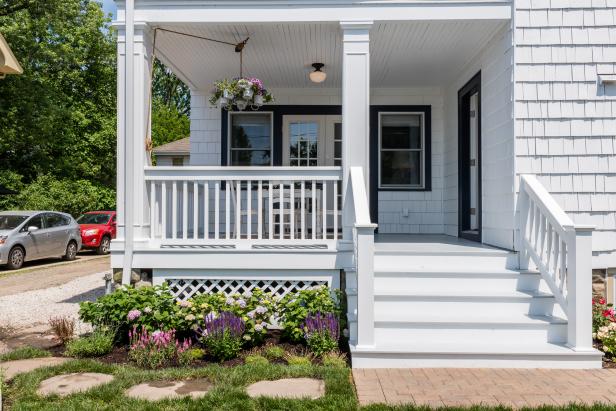 The backyard was turned from a unused space to a bright new green space with new landscaping and a brick pathway as seen on Welcome Back Potter. AFTER #5 (exterior, after)
Much of the work being done on the Potter family house is restoring it back to its former glory. Floors are refinished instead of replaced, and damaged fixtures are repurposed into new pieces, like the porch railing the sisters upcycled into a wall hang for plants.
Welcome Home, Potters
Monica Potter, her sisters — Jessica, Bridgette and Kerry — and their mom, Nancy, toast on their back porch to their newly restored family home in Cleveland.
BEFORE: Back Porch
The back porch where Monica and her sisters often had birthday parties and neighborhood gatherings growing up had fallen into disrepair over the years it had been abandoned.
BEFORE: Back Porch
While the back porch was structurally sound, the decking needed to be replaced, and the siding was in desperate need of some fresh paint.
BEFORE: Backyard
New landscaping was also in order, to bring the Potters' backyard back to its glory days when Mom, Nancy, tended to it.
BEFORE: Backyard
The Potter sisters had plenty of debris to clear out first before any real work could be done to level out the backyard and lay new sod.
BEFORE: Backyard
With a straight path to a lake just beyond the property fence, the backyard renovation was key to making the house feel like a home for the Potter sisters again.
AFTER: Back Porch
After restoring the back steps, the deck railing and the flower beds, the back of the Potters' home is brighter than ever.
AFTER: Back Porch
New French doors, decking with a light gray paint and fresh white siding transformed the back porch back into an ideal spot for family gatherings.
AFTER: Backyard
The formerly unused backyard space has been revived with new landscaping, a stone and brick pathway leading to a new outdoor dining area and a vegetable garden for Mom, Nancy.
AFTER: Backyard
The sisters planted a white lilac tree in the back corner of the backyard as a memorial "living tree" to honor their late father.
BEFORE: Workshop
The Potter sisters' father, Paul, was infamous for his inventions, most created in a garage workshop space in the backyard that was torn down. The family wanted to carry on his love for inventions by rebuilding the workshop in its former space.
AFTER: Workshop
The new workshop, built from scratch by local Amish carpenters, mirrors the classic style of the new exterior of the house.
AFTER: Workshop
Red doors lead into a bright, open space where the Potter sisters and their families can continue to craft and create long after the home's restoration is finished.
AFTER: Workshop
The new workshop has plenty of floor and tabletop space for new projects.
AFTER: Workshop
When the Potters bought their childhood home back, they found their father's old workbench in the basement. Monica restored it and uses it as a centerpiece of the new workshop.
More Potter, Please
Want to see more of the Potters' incredible projects and room makeovers? Check out how the sisters transformed their childhood bedrooms, here.
Monica says they're "all really weird," but the truth is they're just incredibly funny.
Family friends helped with the restoration.
The sisters ended up knowing many of the local contractors and builders working on the project from their time in the neighborhood. This leads to some particularly weepy moments in the show like this one:
Sisters doin' it for themselves.
Monica and her three sisters did an impressive amount of the work on the house themselves: knocking out walls, ripping up floors, installing wainscoting … but they still manage to make time for goofing off, as sisters are known to do.
Monica's dad was an inventor.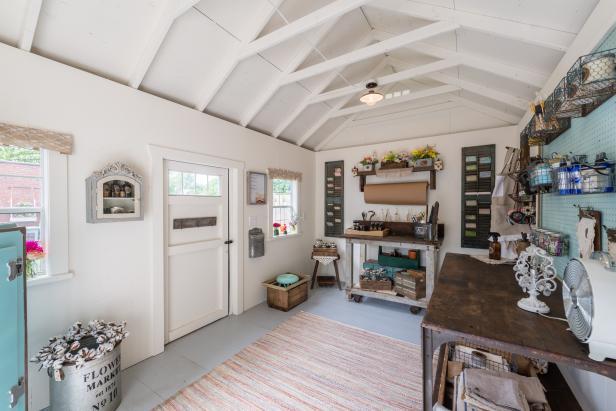 The new workshop, that previously did not exist, provides an outdoor workspace for craft projects as seen on Welcome Back Potter. AFTER #3 (exterior, after)
Many of the sisters' DIY decor projects for the new house are in memoriam to their father, who passed away in 2004, including a picture wall made from church pews. The brand-new backyard workshop, though, is their greatest tribute to their dad, who could often be found tinkering with projects at his workbench in the former workshop.
Cozy, Updated Bedrooms
With four adult sisters, their mother and plenty of young ones staying for weekends, the family will need to make the most of their home's sleeping spaces. See how Monica and her sisters transformed their childhood bedrooms for their grown families.
BEFORE: Master Bedroom
Monica shared this bedroom with her older sister, Jessica, growing up. Though it was on the small side for a master bedroom, Monica had big plans for this wall that separated it from the sun porch ...
AFTER: Master Bedroom
French doors! The master bedroom now has warmth and personality with new doors that provide access to the sun porch.
AFTER: Master Bedroom
Light lavender paint and feminine linens soften the room without losing its classic and original touches.
BEFORE: Master Bedroom
While the windows and doors were in excellent condition, the baseboards and floors needed a little TLC.
AFTER: Master Bedroom
Small touches like the new chandelier add a lot to the room's comfy cozy feel.
BEFORE: Master Bedroom
Even with two windows, the former bedroom felt a bit too dark and closed off for a master bedroom.
AFTER: Master Bedroom
After knocking out a wall and adding french doors into the sun porch, the bedroom now has much more light and feels twice as big.
BEFORE: Sun Porch
Though the neglected enclosed porch had plenty of light streaming in, there wasn't much to be sunny about.
AFTER: Sun Porch
The finished product now has serious warmth and personality with a custom bench and shelving underneath.
BEFORE: Sun Porch
The sisters and their mom got a big surprise when they pulled up the tattered carpet on the sun porch.
AFTER: Sun Porch
Wood floors in great condition! Rather than refinishing them, the family decided to leave them as is for a more rustic, original look.
BEFORE: Bathroom
Retro much? There wasn't much to see in the original bathroom, aside from its dated finishings that hadn't been updated in years.
AFTER: Bathroom
Moving the vanity to the other side of the bathroom created much more space and versatility for the newly updated powder room.
BEFORE: Bathroom
Check out those tub decals!
AFTER: Bathroom
Installing a new clawfoot tub preserves the classic charm seen consistently throughout the home.
BEFORE: Kerry's Bedroom
Though it wasn't a gut job, Kerry's childhood bedroom needed quite the cleanup.
AFTER: Kerry's Bedroom
Fresh paint and barn shutters repurposed as a headboard transform the bedroom into a cozy sleeping spot.
BEFORE: Kerry's Bedroom
A bit of a diamond in the rough, the room actually had tons of space and potential for an upgrade.
AFTER: Kerry's Bedrom
Refinished floors, a reading nook and a chandelier that draws your eye upward give the room the finished and inviting look it needed.
BEFORE: Brigette's Bedroom
With much of the room's finishes in decent shape, Brigette's former bedroom didn't need much more than a fresh coat of paint.
AFTER: Brigette's Bedroom
Monica added removable wallpaper to the reading nook in Brigette's bedroom to create an accent wall.
BEFORE: Brigette's Bedroom
Unlike many of the bedrooms, this one didn't need its baseboards replaced or repainted.
AFTER: Brigette's Bedroom
The new bed's custom barn door headboard.
BEFORE: Brigette's Bedroom
This bedroom's reading nook called for some special design treatment.
AFTER: Brigette's Bedroom
A new chandelier and furniture and lighting for the reading nook totally transform the new, inviting space.