How to Use a Lazy Susan to Organize Everything in Your House

Lazy Susans are old-school organizing must-haves that are here to stay. Not only do they offer compact-yet-accessible storage in the kitchen, but I feel confident that I speak for the masses when I say – there's something so satisfying about sending lazy Suze on a super-speed swirl.
From the kitchen, to the living room and even the boudoir – here's how to spin, swirl and twirl your way to a neat, orderly and accessible household.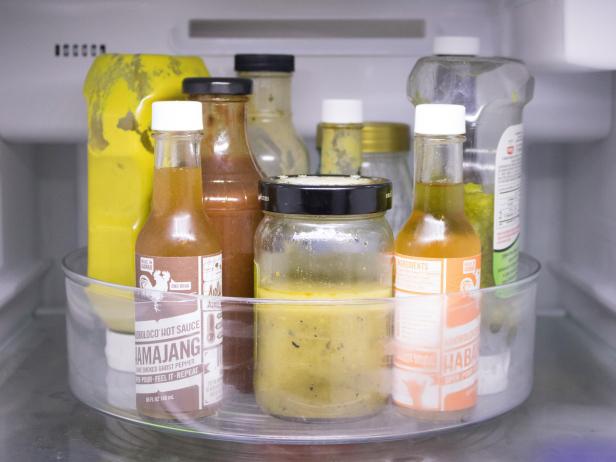 Tips for Organizing in the Kitchen
Organizational strategies for organizing cooking spices, your knife collection, and inside your refrigerator.
It's no secret that lazy Susans and kitchen cabinetry go together like peanut butter and jelly. Another way to up your kitchen organizing game? Try sticking your milk, juice or condiments on a LS in the fridge! With one simple swirl of the Susan you'll have everything at your fingertips – without stretching to reach the back of the fridge.
Keep your coffee table neat and never lose the remote again by adding a small Susan to your tabletop! Other items easily stored here? Coasters, candles, books and decorative trinkets galore.
Our favorite space-saving Susan solution? A swivel-top station for your bedroom vanity. Keep your go-to glam products within reach and show them off, all at the same time! Our suggestion: opt for a sophisticated Susan to organize your vanity products – clear acrylic and sleek, brass finishes are our top design picks.
Small bathrooms, simplified. Use a LS on the bathroom counter to store necessities like cotton balls, cotton swabs and hand soap. From there, go the extra mile and add a lazy Susan beneath the sink in the bathroom cabinets. Use this to store facial cleansers, haircare products and any extra shampoo and conditioner you have on hand.
As mentioned above, swirling a lazy Susan is entertaining at all ages. Make the mornings more joyful by adding a LS to your closet for shoe storage. Pro tip: your children will love this. Add one to their closet and we wouldn't be surprised if it cut down on the amount of times you must beg them to put their shoes on before heading out the door.
If there's any space that needs to be organized, it's the office. Add a tiered LS to your desktop, filled to the brim with your favorite pencils, must-have stationery and paper clips aplenty. Stressed out or coming up short on inspiration? Send Suze on a couple of whirls, take deep breaths and recollect.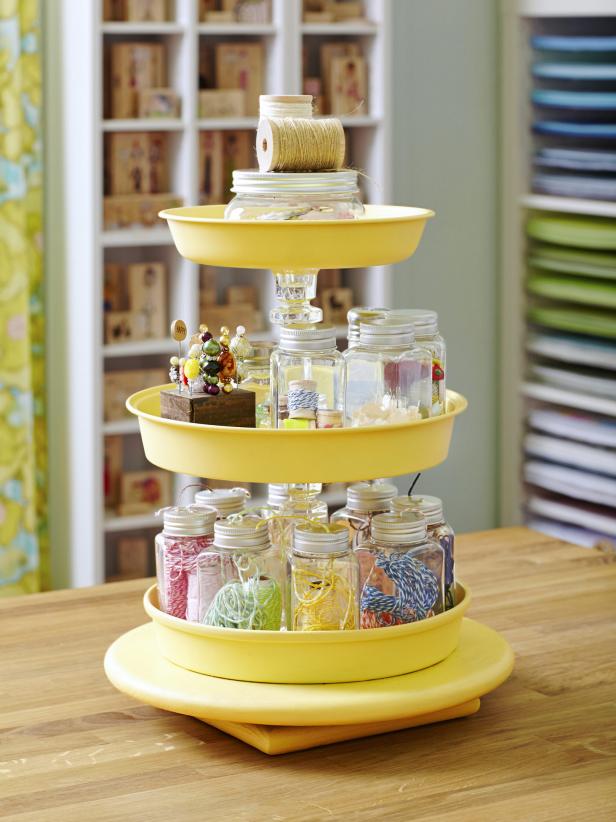 Yellow Spinning Caddy Used for Crafting Organization
This spinning caddy is actually built of a lazy Susan, cake pans, and candlesticks hot-glued together. To keep baker's twine from tangling, Regina drilled a hole into each metal jar lid so one end of the twine can poke out.
Craft blogger Regina Easter created this spinning craft caddy from old cake pans and candlesticks to keep extra thread and sewing accessories perfectly organized. Genius!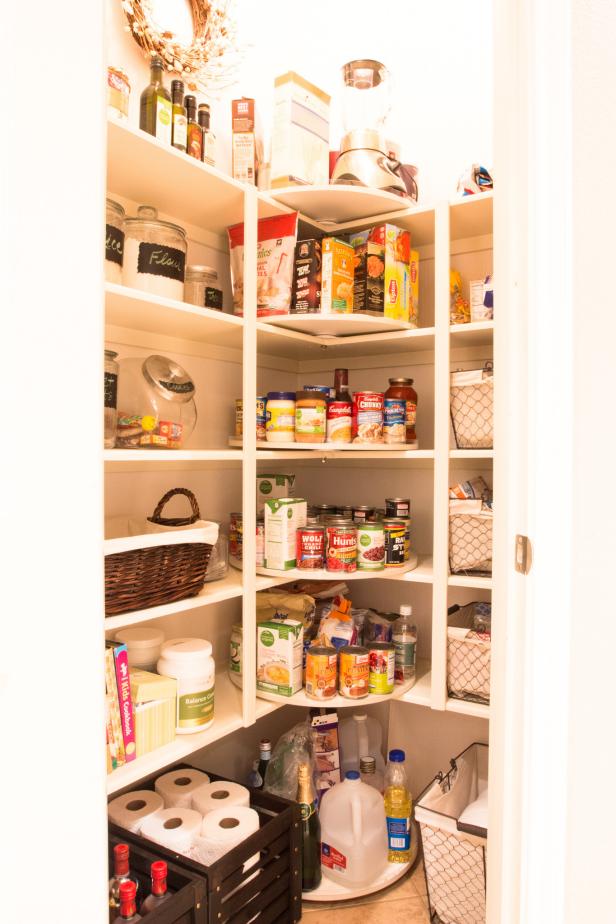 Lazy Susans in Corner of Pantry
Wish you had a better solution for the dead-end space in the corner of your pantry? Lazy Susans to the rescue! This do-it-yourself pantry organization project by Emily Allison of Decorchick has us spinning with pantry envy. The circular discs are mounted to existing shelves to transform every inch into usable space.
Optimize pantry space by transforming awkward corners into handy storage carousels like Emily Allison of Decorchick did here. All you need are a few circular discs from your local craft store and some lazy Susan hardware to turn every inch into usable real estate. Tip: Try this trick in the garage, storage shed or any other utility space!
Vintage Grooming Station
A vintage test-tube rack keeps all your grooming tools neatly in one place. Brushes, nail polish and nail files fit perfectly in the test-tube compartments, giving your bathroom an organized look and keeping everything conveniently at your fingertips. Design by
Ladder Drying Rack
Laundry can take over your entire house. solved that problem by hanging an old ladder from her ceiling, allowing her to dry her clothes in once place rather than scattered throughout her house.
Binder-Clip Cord Organizer
With so many new gadgets these days, wires can make your home office desk look cluttered. To keep them at bay, attach binder clips to the edge of your desk, and place the cords through the clips. This will also make it easy to plug in your electronics.
Soda-Crate Toy Storage
Creating storage boxes from vintage items is simple. attached casters to old soda crates, and placed her son's favorite toys inside. The crates fit nicely underneath the bed and provide easy access to his toys.
Cleaning Supplies Holder
With so many types of cleaning supplies, your kitchen and bathroom cabinet can fill up fast. To keep things more organized, make use of every inch of space by hanging household cleaners from a tension rod, saving space on the shelves for other everyday items.
Dish-Rack Coloring Station
Organize your craft supply in a dish drying rack. Coloring books stay put in the grates, while the silverware tray stores crafting tools, such as colored pencils and scissors.
Bobby Pin Holder
Loose bobby pins are hard to keep in one place. Next time you finish a pack of mints, save the container to store your bobby pins. The small opening easily dispenses the pins, and the container's compact size makes it easy to travel with.
Frame Jewelry Organizer
Get rid of tangled jewelry by displaying your necklaces and bracelets neatly on the wall. To do this, remove the glass from a picture frame, and screw in hooks to the top of the frame. You can hang the frame in your closet or on your bedroom wall.
Hair Accessories Storage
Large kitchen canisters are perfect for storing hair accessories. The clear containers make it easy to pinpoint exactly what you need when you're rushing to get ready.
Magazine Holder Bookcase
Use low-cost file folders from the school supplies section to hold children's books. The folders fit just about anywhere and you can paint or decoupage them to match any room.
Scarf Hanger
Folded scarves can get wrinkled in your dresser. To keep them at hand and looking fresh, attach shower curtain rings to a basic hanger, and loop your scarves through each ring.
Shirt Hanging System
Get use out of your entire closet, including the door. Hang items that you wear often on a clothing hanger that's made to fit on top of the door.
Spice Cabinet
Finding the right cooking spice can be hard when they're all the same size. To make them easier to access, place the containers on stacked reclaimed wood.
Organized Menu Folder
Is your collection of takeout menus out of control? Keep them in one place by placing them in a plastic folder and adhering the folder to the inside of your kitchen cabinet.
Thread Organizer
An old golf-ball holder makes the perfect thread holder. Display each spool of thread in each cubby so you can easily grab the color you need.
Office Supply Jar Holder
Make your own utensil case by turning a few Mason jars on their sides and gluing them together. Each jar can hold a different type of writing utensil so you don't have to search through a messy drawer for your favorite highlighter.
Cookie Tin Storage
Do you have leftover cookie tins from the holidays? Use them to store large office items, such as ink cartridges for the printer. Stack the tins to save counter space.
Decorative Soda Box
Stacking canned goods on top of each other isn't the most efficient way to find your favorite soup. uses an old soda box to store her cans. She covered the boxes with decorative paper, attached labels and cut openings in the back so older cans rotate to the front.