How to Create a Floor Plan and Furniture Layout for Your Living Room
Searching for a new living room look? Before you redesign, consider switching up the room's layout. Take a cue from professional designers and reconfigure the furniture by creating a paper floor plan using a ruler, graph paper and a pencil.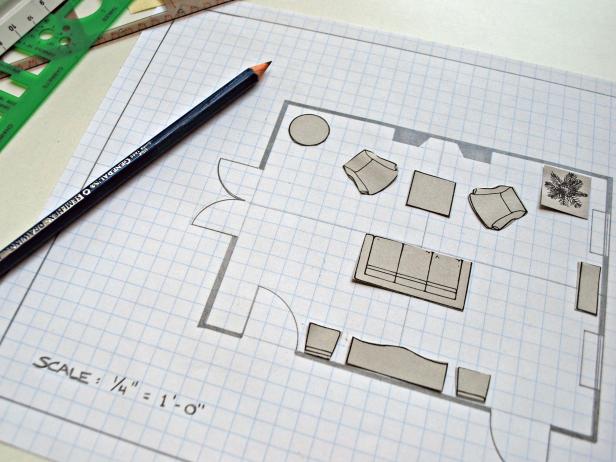 Graph Paper Floor Plan With Furniture Layout
Searching for a new living room look? Before you redesign, consider switching up the room's layout. Take a cue from professional designers and reconfigure the furniture by creating a paper floor plan using a ruler, graph paper and a pencil.
By:
Camila Ramirez-Pavone
Pencil Drawn Living Room Floor Plan on Graph Paper
Measure and Draw the Room
Using a tape measure, determine the length and width of your room. Also note any installations or built-in furniture pieces that cannot be moved. Using a ruler and pencil, add the boundaries of the room to your graph paper. One box on the paper represents one foot.
Once you have your four walls on paper, add the location and size of your doors and windows. When adding doors, mark the direction door opens to note the lost space.
Tip: Once you have a finished floor plan, it's a good idea to make a couple of photocopies so you can try different furniture layouts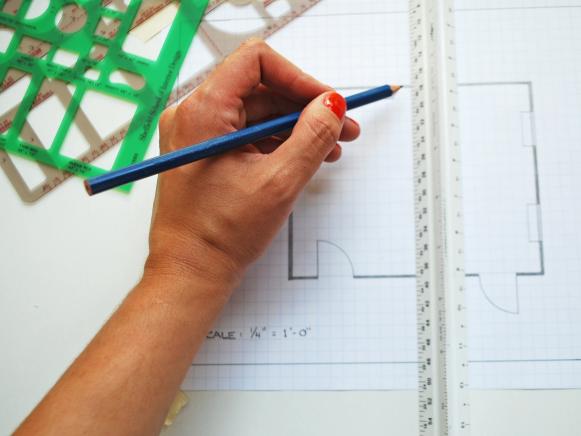 Drawn Living Room Floor Plan Including Doorways and Windows
Formulate Your Floor Plan
With your completed floor plan in hand, it's time to answer four questions that will help you figure out the ideal floor plan for you.
Question 1: Where are the balance lines of this room?
This is super easy to do. Simply take out your floor plan and draw a pair of lines that cut each wall in half. These are the balance lines of a room and they divide the room into 4 equal-sized areas. In order to have a balanced room, the visual weight of the furniture on one side of the room should be about the same as the weight of the furniture on the opposite side of the room.
Question 2: What are the traffic patterns?
In essence what you are asking is "Where can I not place any furniture because it will be in the way of the natural flow of people as they move about the room?" Add 36 inches of clearance in front of every door opening. Allow 12 inches to 15 inches of clear space in front of windows.
Question 3: What is the focus of the room?
This is the simplest question to answer. When you enter the room, what is the most important feature of the room that calls out for attention? All major furniture arrangements should be designed around that item. Some rooms have an existing focal point, like a fireplace. If your room doesn't have a natural focal point, you must create one. Try a large-scale piece of art, a gallery wall, or a console and television.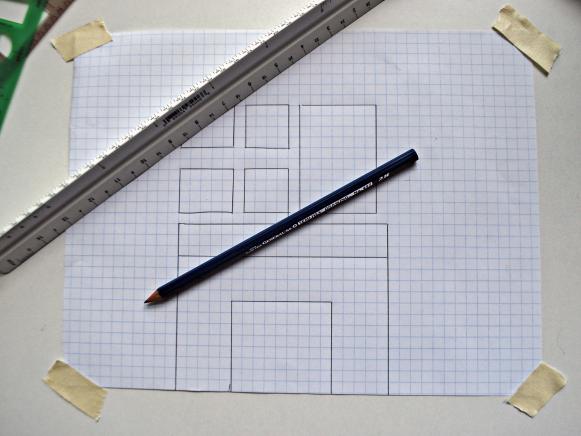 Find the Axis of the Room When Creating a Floor Plan and Layout
Question 4: Where is the axis?
Since we have positioned all of the furniture in relation to the focal point, the last piece of the puzzle when it comes to furniture arrangement is to not forget the walls. If the fireplace is your focal point, draw a line that runs floor to ceiling through the center of it on the floor plan.
In order to find your axis, simply draw an imaginary line that runs floor to ceiling from the center of your focal point. The purpose of this axis is to give you a line along which you can add decoration, such as a mirror or piece of artwork above the fireplace.
To take things a step further, extend the axis line to the wall opposite the focal point to create the same visual weight. In our fireplace example, you could perhaps feature a wall of bookcases flanked by chairs.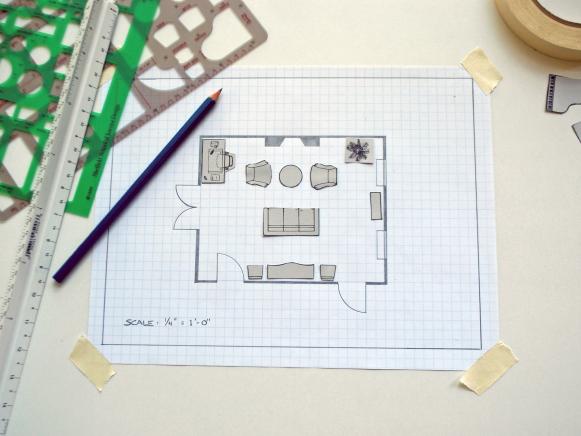 Paper Furniture Layout on Graph Paper Floor Plan of Living Room
Draw paper scale models of your furniture, or search for printable versions online. To draw your own, use the same scale of 1 box equals 1 foot to cut out shapes for your furniture pieces.
Before ordering new furniture or moving around existing pieces, use some painters tape to map out the arrangement on your actual floor. This will help you double-check that everything will actually fit the way you envision it.
Modern
Clean and streamlined, modern style is characterized by a neutral color palette, strong geometric shapes and asymmetry. The most common features of a modern interior are white walls and neutral tone-on-tone color schemes. The words sleek, smooth and polished will come to mind when you think of this design style. Design by Emily Henderson
Contemporary
Contemporary living rooms feature softened, rounded lines and contain neutral elements with pops of bold color. Get the look by pulling in pieces of furniture with clean lines and slim silhouettes. A vibrant hue or geometric pattern can be brought into the design with accessories or a bold area rug.
Romantic
A relaxed style that appeals to the senses, romantic design is characterized by femininity, a pastel color scheme and sheer, light fabrics. When outfitting a romantic living room, silk, chenille, matelasse and velvet are absolute musts for pillows or throws. Don't forget to add a little sparkle, too. Crystal, pearlized shell and silver accents will instantly romanticize any space. Design by Sarah Richardson
Eclectic
If you can't choose one style, go eclectic. It's a mixture of different styles and periods, but pulls the look together through a similar texture, finish, pattern or color. Most often, an eclectic space can be defined by its multitude of fabrics. Designer Steven Miller combines various finishes and textures to create this eclectically-styled living room that includes various accessories and design styles.
Mediterranean
Originating in countries north of the Mediterranean Sea, this style pulls in colorful, Spanish-inspired details, from the ornate furniture to the textured walls. Mediterranean colors typically mirror those of the sea and sky, but can also include warm hues of yellow and lavender. Mosaic tiles, often seen in kitchen backsplashes or on the floor, are the most popular (and sought-after) features of Mediterranean interiors.
Traditional
Classic and comfortable, traditional design features furnishings that are consistent and familiar in style. It may not be an unexpected look, but it's timeless and can still look fresh and effortless for many years to come. Pull in a traditional color palette by balancing neutral tones with colorful hues. You can enhance these hues with metallics and warm woods to create an inviting interior, like this cozy living space.
Asian
Asian style pulls in a variety of looks, including design elements from Japan, China, Vietnam and Thailand. Bamboo, tatami and silk fabrics make up these naturally feng shui spaces. Furnishings, although sparse, include low-profile chairs, sofas and tables often paired with seat cushions or pillows. Design by Jane Ellison
Transitional
If you're looking for a perfect marriage of traditional and contemporary designs, then a transitional interior may be for you. In a transitional interior, furniture lines are sophisticated, simple and often feature either straight or rounded profiles. To keep the focus on the simplicity and sophistication of the room, designers will keep color palettes neutral and decor to an absolute minimum. Image courtesy of Decorating Den Interiors
Old World
In an Old World living room, distressed, textured and dark-stained surfaces are preferred over those that are polished and maintained. Upon entering an Old World interior, you're immediately drawn into the age and history that comes with that room. Each rough-hewn beam, archway and woven tapestry tells a story into the aged life of that Old World-styled home. Design by Lori Venners
Midcentury Modern
Midcentury modern style is characterized by simplicity and natural shapes. This era of design is most known for its mass-production of household objects, including the popular Eames chair and Howard Miller sunburst clock. Midcentury modern designs are often emphasized by ample windows, an open floor plan and the idea of bringing the outdoors in, like in this prime living space.
Cottage
Cottage design is a colorful, comfortable look characterized by pastel, botanical palettes and painted furniture with weathered finishes. Living room furnishings often include iron and wicker chairs covered with stylish floral cushions. You don't have to say goodbye to your favorite pieces of furniture just because they've seen a little wear and tear; the aged surfaces will make them fit in beautifully within a cottage-style space.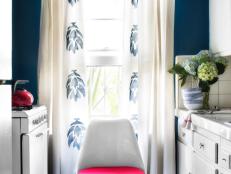 Add a custom look to ready-made drapery panels with a pattern made from a handmade stencil and spray paint.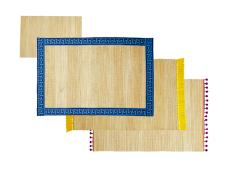 Prefit Magazine shows you how to put your stamp on basic items with these easy makeover ideas.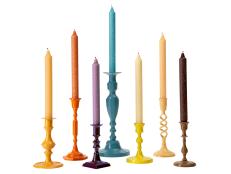 Prefit Magazine gives the simple how-tos of transforming old brass candlesticks into a snazzy centerpiece.