10 Eye-Catching Powder Room Wallpaper Designs
Pretty up your half bath with graphic prints, flowing florals and more.

Wallpaper is back in a big way and is one of the trendiest ways to add color and texture to any room, bathrooms included! I'm currently on the hunt for the perfect paper for my powder room — the small space is ideal for experimenting with designs that are a little more daring. Whether you go glam, botanical, cheeky or geometric, with just a few rolls of punchy paper and some elbow grease, you can transform any space in an afternoon! Here are a few favorites we're considering for our own tiny powder pocket.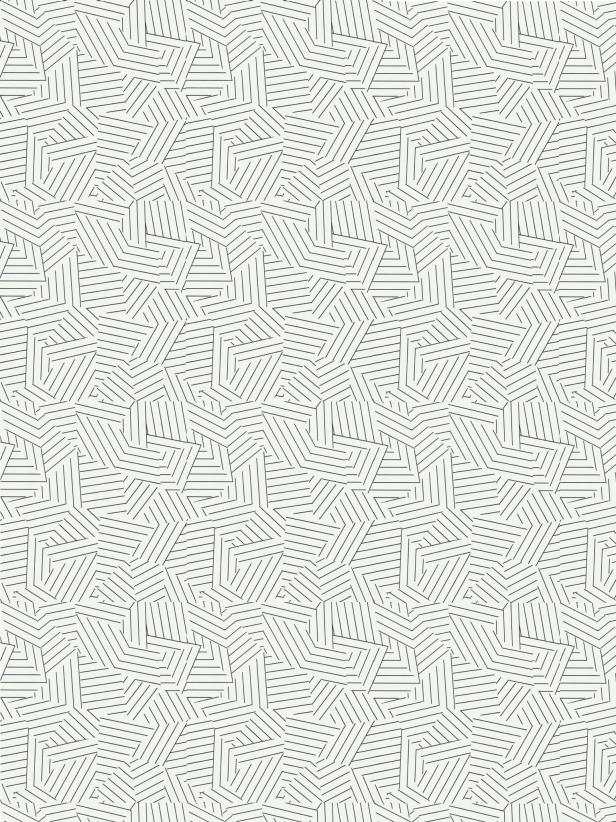 This pattern is both playful and incredibly chic at the same time. This paper would look exceptional with black or oil-rubbed bronze hardware and a hit of marble.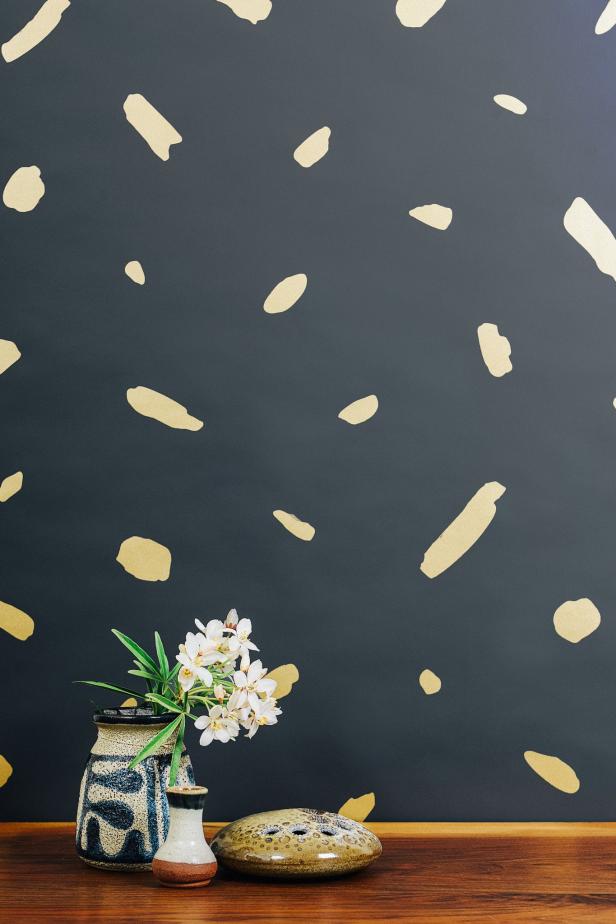 Flecks of metallic, be still my heart! I just love the combination of shimmering gold details over this matte grey. This quirky pattern would pair well with a complementary gray wainscoting below.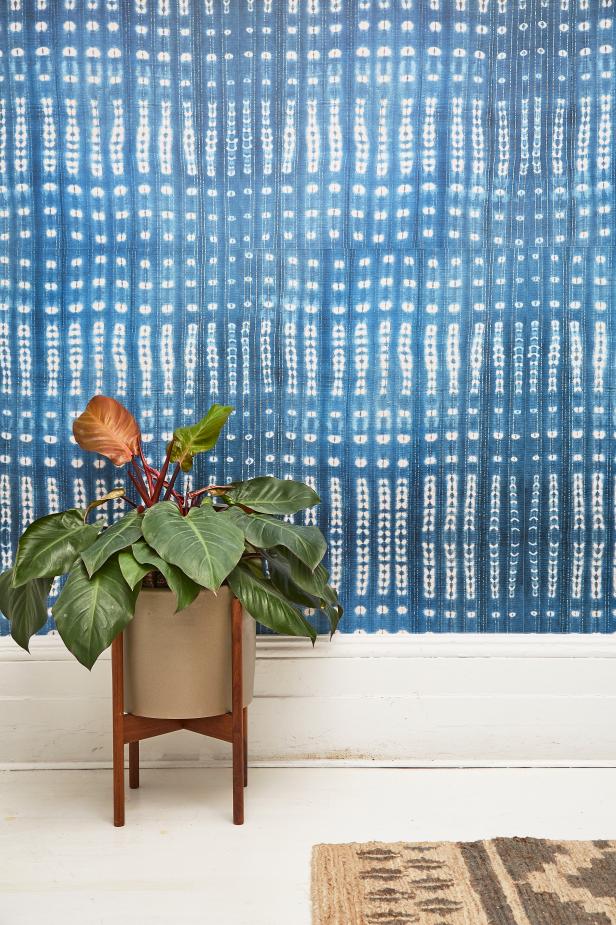 Here's your chance to try on the indigo trend in an unexpected way! This eclectic pattern would take any bathroom to boho territory in no time, especially when accessorized with some plants, a kilim rug and a woven basket or two.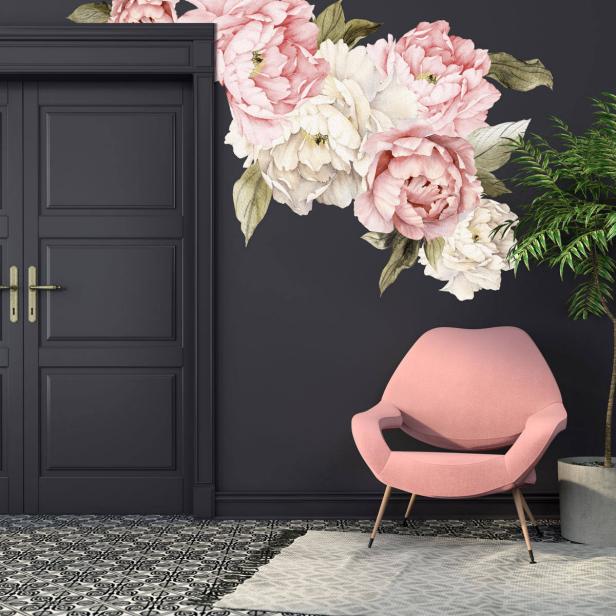 Pink armchair in a black interior
If the idea of wallpaper sounds intimidating, try adding a large scale mural across one corner of the bathroom, instead! This floral accent would look particularly striking against a dramatically painted charcoal or emerald wall.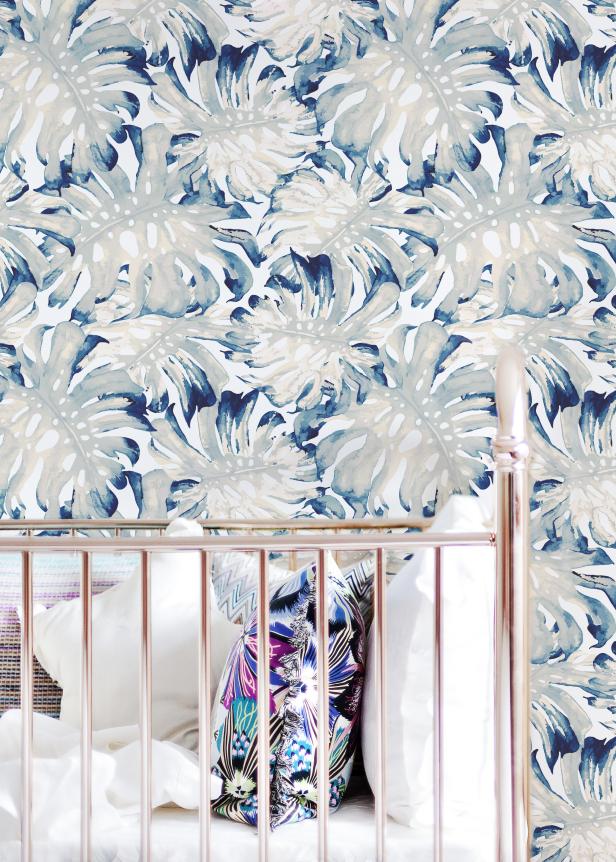 I personally adore the botanical trend but am getting a little tired of the same old greenery patterns. This Monstera leaf print is refreshing in an unexpected blue hue that would look lovely with warmer accents like wood and brass.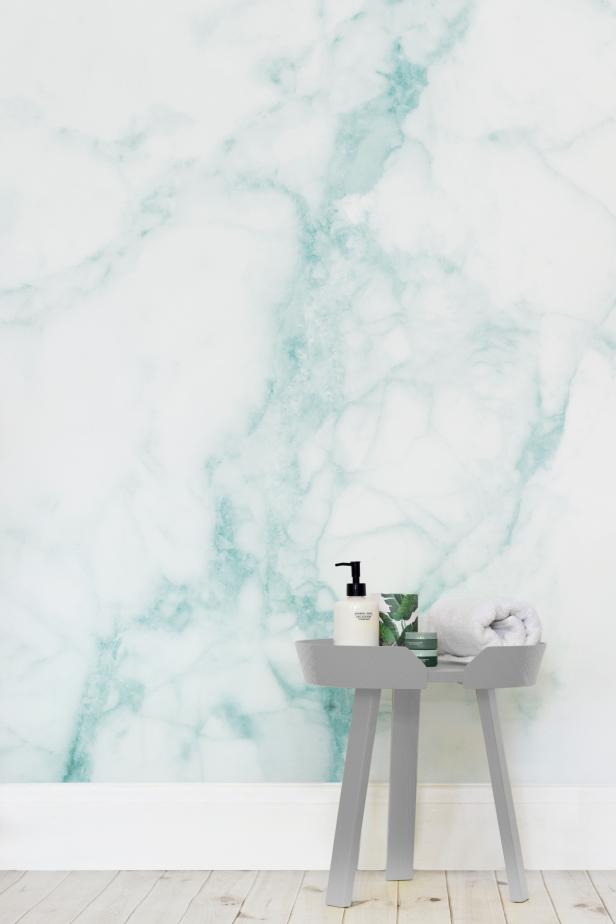 Want the marble look but on a budget? Skip updating your vanity and bring the look of luxury to the walls. This pattern would work especially well if you wanted to introduce some solid-hued or white tile into the mix.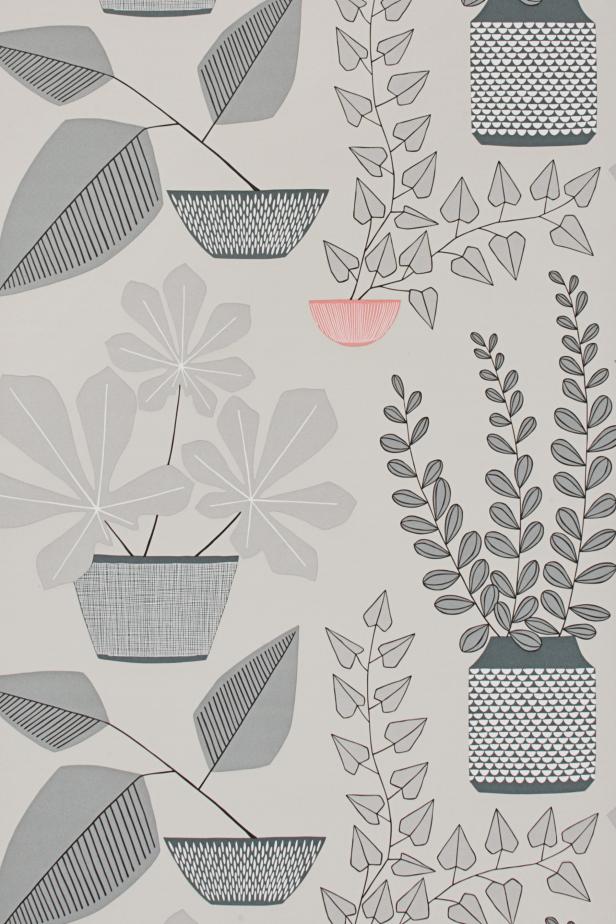 No green thumb? No problem! Satisfy your plant lady alter ego with this cheeky print that is both retro in style, yet modern in color. The pops of pink are a great starting point for other blush-colored accents dotted about the room.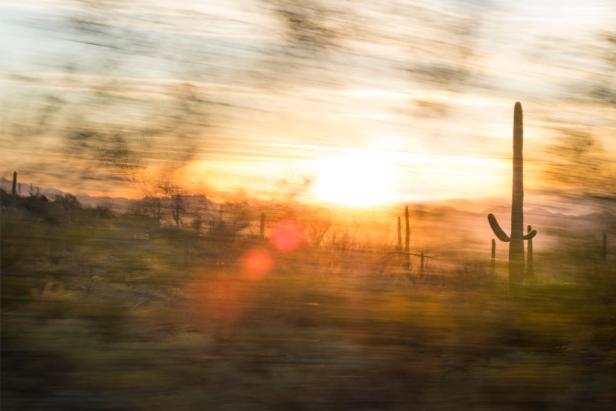 Dreaming of Joshua Tree but live in the city? Get the best of both worlds with a desertscape mural that will have you jet-setting into cactus-filled sunsets as soon as you shut the door. Picture murals are a unique way to add depth and perspective to even the tiniest of rooms.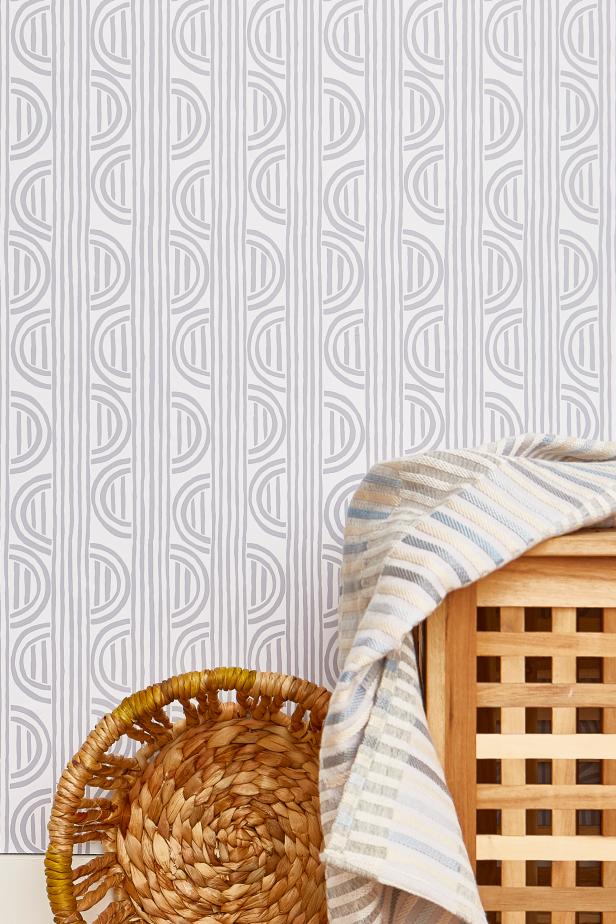 Busy patterns in a neutral color make for a delicate layer of texture, especially in smaller rooms. This gray color would allow framed artwork to pop off the walls while still adding a polished, unique look to the space.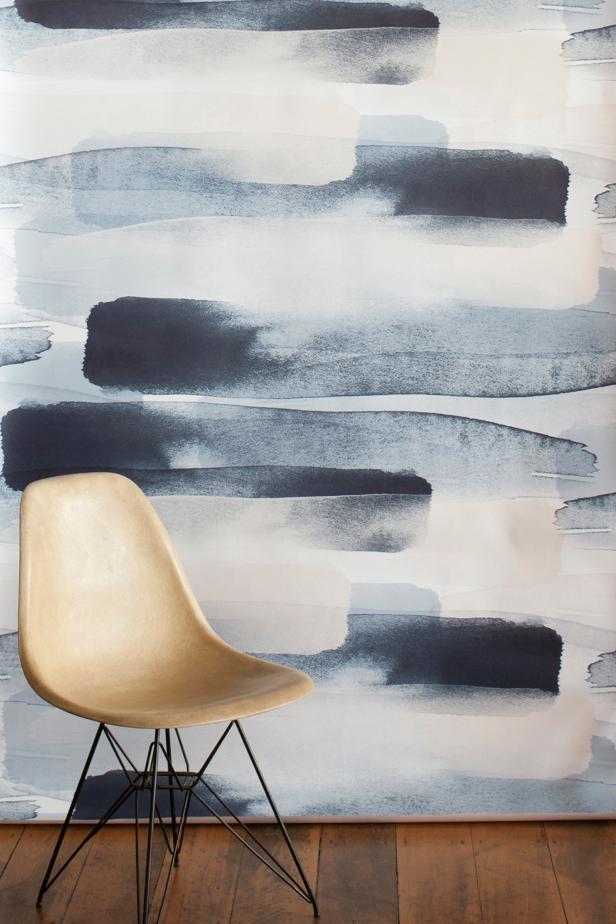 Struggling to find framed art for your space? Paper the walls with artistic prints instead. This brush-stroked paper is the perfect balance of strong and soft and would look dashing paired with a deep navy vanity or accent towels.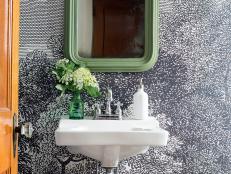 Short on space, big on style.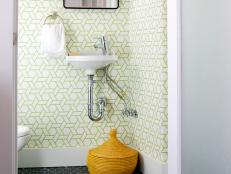 Browse helpful information on powder rooms so you can create an elegant bath and preparation space in your home.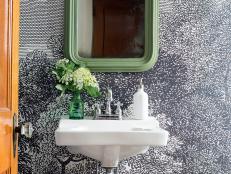 All bathrooms -- but especially small baths or powder rooms -- can be a challenge to decorate. But they're also a great place to be bold and add a lot of drama in a small space with a graphic wallpaper.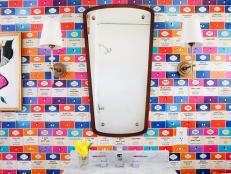 Add some spice to this tiny space.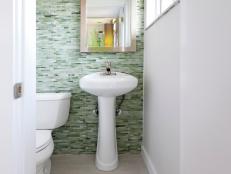 Turn this often tiny space into a fun, elegant or whimsical room for guests with these design, style and color ideas.
Designer Kathy Geissler Best updates a bathroom with a bright color palette and custom details.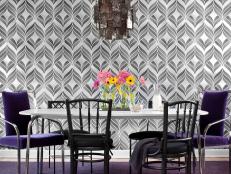 Serve up an extra helping of eye candy with bold, graphic wallpaper on dining room walls.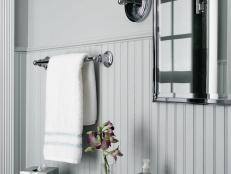 Get the info you need on beadboard bathroom designs, and prepare to install a cozy and welcoming bathroom design in your home.
No matter what your decorating style, it's clear to see that the hottest look for the bath is glass.
Recreate the past with a modern wooden tub for your bathroom remodel. Wooden bathtub designs run the gamut of remodeling possibilities, from charming rustic to classic elegance.