Fall Craft: Thanksgiving Place Settings
Bring nature to the table this year with these harvest-inspired miniature gardens.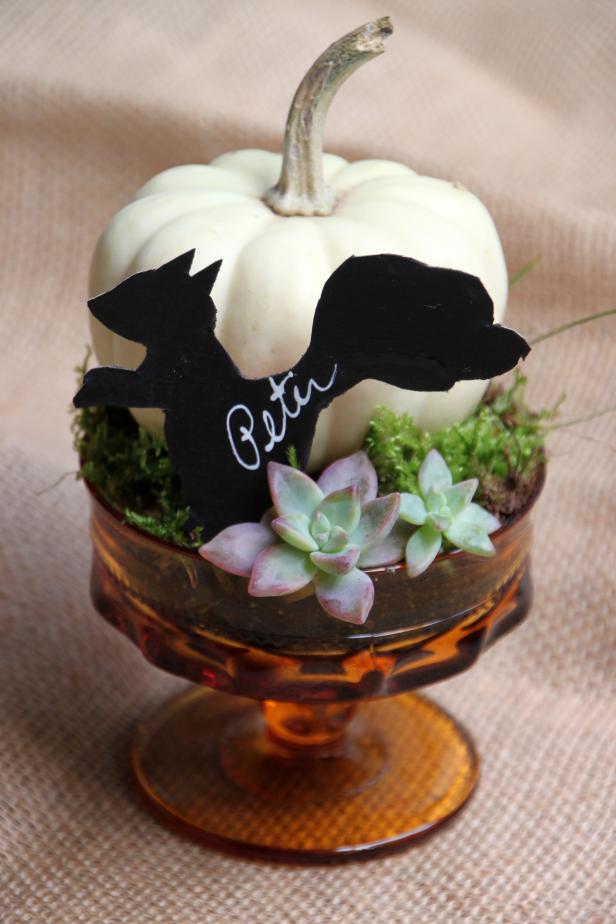 The Finishing Touch
Your guests are sure to go nuts over these sweet place settings.
Your guests are sure to go nuts over these sweet place settings.
Whenever I am the hostess for the holidays, it is not uncommon for my guests to bring me gifts, bottles of wine, or even an apple pie. But whenever I host, I love giving a little something to my guests to take home too. A great way to do this is with a personalized place setting.
Whenever I am out and about on my daily adventures, I am always looking for deals on vessels that would work nicely for the holiday place settings. I love scouring flea markets, thrift stores and tag sales. At the last flea market I attended, I found these amber glass dessert cups. I bought all 12 for only $20! The amber color would surely pop on my Thanksgiving table. You can get creative with the planting vessels. Try using terra cotta pots, tea cups, flower pots or canning jars. Trying out all the possibilities and combinations is half the fun.
Vessels
Cardboard
Squirrel template (see below gallery)
Pen or pencil
Chalkboard spray paint
Chalkboard marker
Potting soil
Succulents or miniature plants
Moss
Miniature gourd or pumpkin
Take a peek at the gallery below for all of the instructions including the printable squirrel template.
Fall Inspired Place Setting
Give thanks to nature's beauty with these beautiful garden-themed table place settings.
Seek Inspiration
Try using terra-cotta pots, dessert dishes, mason jars or tea cups—whatever you have on hand—for your place setting vessels.
Gather Your Supplies
You will need:

This Squirrel template

Cardboard

Vessels

Potting soil

Moss

Succulents

Mini Gourds

Newspaper

Chalkboard spray paint

Chalkboard Marker

Scissors
Squirrel Template
Print out a copy of the template and enlarge it so that it is approximately three inches from the tip of the nose to the back of the tail. Trace it onto cardboard and cut it out. Make one for each of your guests.
Painted Squirrels
In a well-ventilated area, spread out newspaper and spray your cardboard squirrels with chalkboard paint. Allow them to dry.
Add Dirt
Fill each vessel with potting soil.
Add Life
Plant a few succulents on the edge of the vessel.
Moss Filling
Cover the remaining soil in the vessel with moss.
Gourd Topper
Place a gourd in the center of the arrangement.
The Finishing Touch
With the chalkboard marker, add the guest names to the squirrels, then tuck them into the place settings. These can be made a few days ahead of your get together.