Holiday Craft: Make a Pretty Christmas Wreath
Snowflakes, greenery and a twig wreath bring a beautiful winter wonderland to your front door.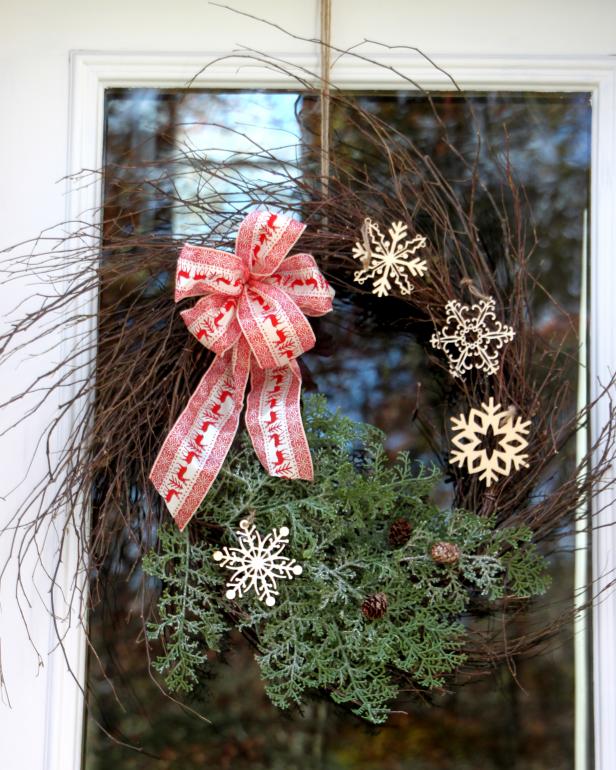 Gather Your Supplies
This wreath is a simple project that takes no more than a half an hour to complete.
This wreath is a simple project that takes no more than a half an hour to complete.

When I think of winter scenes they always seem to involve greenery, snow, pinecones, leafless trees and of course reindeer!
To make a wreath like this, take a trip to the craft store and see what inspires you. I prefer to use real greenery that trimmed from the yard. In this post, I'll teach you the simple steps to make this fantastic bow too. Other ideas for a front door wreath include wiring on small feathered birds, tucking in a nest of moss or even adding some bottle brush trees. There are so many pretty possibilities. So let's get started!

To make this wreath, you will need:
Twig wreath
Fresh greenery
Pinecones
Hot glue gun
Floral wire
Ribbon
Wooden snowflake ornaments
Take a peek at the gallery below for all the step by step instructions:
Gather Your Supplies
To make this wreath you will need: A twig wreath/ribbon/wooden snowflake ornaments/greenery/pinecones/twine/scissors/floral wire/hot glue gun
Start with Greenery
With floral wire, secure the greenery to the wreath and hot glue on the pinecones.
Make the Bow: Part 1
Cut a length of ribbon at least five feet long. Cut a length of floral wire about 18 inches long. Fold the ribbon in half to find the center. To one side of the center make a loop that is approximately three inches high. Twist the floral wire around the loop's base.
Make the Bow: Part 2
On the other side of the first loop, make another identical loop and twist the floral wire to attach this loop's base to the other loop's base. Repeat this loop-making step, alternating sides until you have five loops and your bow looks like this.
Add the Bow
Wire the bow to the wreath in your desired location.
Let it Snow
Hot glue the wooden snowflake ornaments into place.
Add Twine
Double up a length of twine approximately four feet long and use this to hang your wreath.