How to Distress Furniture
What's old is chic again. Follow these step-by-instructions for achieving a distressed look on furniture.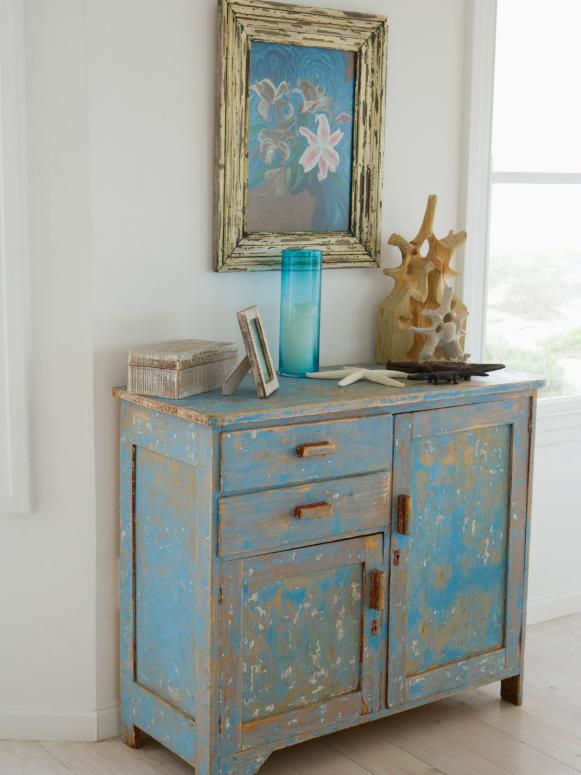 Antique Distressed Blue Chest
This distressed blue chest of drawers sits by a window. Beach decor sits on top and artwork in a distressed frame hangs above.
In our grandmothers' day, if a piece of furniture or a picture frame was distressed, it meant it had been around for generations and most of the paint had worn off in areas that had been rubbed by hands or nicked by being moved too many times. Today, the distressed look is sought-after, and it can add character and style to many types of decor.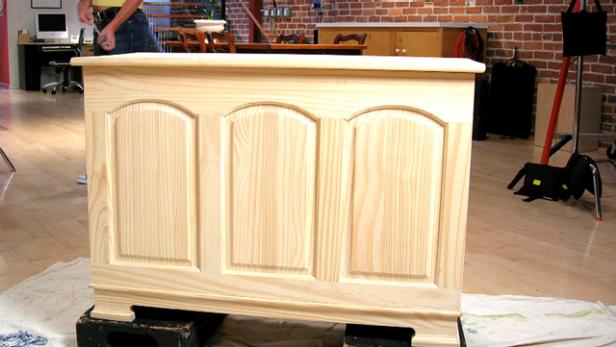 Popular Videos on Distressing Furniture
4 Videos
Surprisingly, the process is relatively simple. The first step is to determine what you'd like the finished piece to look like. If below the distressed areas you'd like to see an old paint color, as if the piece has been painted many times over, you'll need to paint two colors. Consider a brighter color for the base coat so it shows up well as it peeks through the top coat. If you want the rubbed-off areas to reveal bare wood, the technique requires only one coat.
You also need to decide whether to add a stain to it afterward, which will mute or age the color(s) you've selected. To retain the integrity of your color choice, you may just want to paint clear polyurethane over the finished project. A water-based polyurethane that won't yellow over time is a good choice.
Ready to distress for success? Here's what to do:
object to be distressed (wooden frame, piece of furniture, etc.)
satin latex paint for the base coat
satin latex paint or a wood stain for the top coat
painting tools
candle
medium-grade steel wool
sandpaper
tack cloth
polyurethane to finish (optional)
1. Lightly sand the object you want to distress. If the object already has a finish (previously painted or varnished), sand all surfaces well. After the sanding, wipe the piece with a tack cloth.
2. Paint the entire piece in the base coat color you've selected.
3. For the bare-wood look: When the base coat is dry, start sanding off areas that would naturally end up distressed — places where hands would have held it, or corners that could easily get nicked. For the color look: Rub candle wax on the areas where you'd like to see color show through. Don't forget to do the sides and back; you want the entire piece to be finished. Then apply the top coat.
4. For the bare-wood look: Be sure to stop before you go too crazy with the sanding, and then wipe the entire piece with the tack cloth. For the color look: Paint over the base coat and the wax. Cover everything well. After the paint dries, rub the steel wool over the areas you've waxed. (The steel wool won't harm the rest of the paint enough to worry about — remember, the piece is meant to be distressed, so use it to find the waxed areas.) Wipe off the piece with the tack cloth.
5. Apply a finish if desired.
(Distributed by Scripps Howard News Service, www.shns.com.)
16 Distressed Furniture Pieces You'll Want In Your Home
See All Photos
Mantel Decor
To bring texture to your mantel design, add strips of distressed wood in varying tones. Designer Anisa Darnell grabbed wood strips from an old barn and attached them vertically to add height to the room. An inspirational quote is displayed on a large sign with a distressed finish to give the living room a timeworn look.
Shabby Chic Porch
Bring shabby chic style outdoors. Distressed window frames and porch flooring provide a welcoming atmosphere for guests. Prefit fan robinelise added plenty of potted plants for much-needed color.
Vintage Chandelier
Thrift stores and antique shops are the best places to look for distressed finds. Simple changes — like switching out your kitchen lights for distressed metal — will transform your kitchen from ordinary to rustic chic.
Entryway Furniture
Decorating a small nook or entryway can be a challenge. A bold-colored, distressed piece of furniture is all you need to brighten up small areas in your home.
Rustic Headboard
Put a white-wash finish on two old doors for an unconventional headboard. The weathered headboard is nod to shabby chic style, while a glitzy chandelier brings just the right amount of sparkle. Design by
Distressed Metal
Bring rustic charm to your outdoor space with distressed metal furniture. The Outdoor Room host Jamie Durie added a distressed bright blue cafe table and chairs to enhance the Old Mexico-style backyard.
Kitchen Cabinetry
You can decorate with distressed pieces in even the most luxurious of spaces. Distressed cabinets bring warmth and comfort in this grandiose kitchen. Design by James Howard
Porch Ceiling
To give your porch a shabby chic look, add white wicker furniture, lush plants and distressed details. Prefit fan antiqueshopper gave her wraparound porch a one-of-a-kind look with a distressed ceiling.
Eclectic Chest of Drawers
Designer Sarah Richardson found a distressed chest of drawers at a thrift shop to add an eclectic look to her farmhouse bedroom. The hint of blue on the chest ties the red, blue and yellow color palette in the area rug together.
Bathroom Vanity
A blue distressed bathroom vanity adds a charming touch to this Old World bathroom. As the only source of color, the vanity prevents the room from being too monotonous. Photo courtesy of Gene Northup of Synergy Sotheby's International Realty
Coastal-Style Cabinet
Distressed furniture is perfect for a beach-front home. This weathered chest brings coastal style while adding a punch of color.
Elegant Sideboard
Distressed furniture isn't only for cottage- or beach-style homes. You can have a formal space and still integrate distressed wood into your design. This sideboard mixes distressed wood doors with contemporary style for a timeworn yet formal look.
Dining Room Table and Chairs
Design Star contestant Dan Faires added blue distressed chairs to a rustic wood dining table for some color and texture. Hardwood flooring complements the dark wood table.
Kitchen Cabinet
A pop of blue allows the white distressed cabinets to stand out in this charming kitchen. An "ANTIQUES" sign makes the small cabinet the center of attention. Design by Prefit fan fleamarkettrixie