3 Easy Ways to Dry Your Own Wedding Bouquet
Warning: You're about to save hundreds of dollars on wedding bouquet preservation.
3 Ways to Preserve Your Wedding Flowers
03:04
Don't toss your gorgeous bouquet! Preserve it with one of these easy techniques.

If you've ever looked into the cost of preserving a flower arrangement, you know it isn't the kind of purchase you can take lightly. Professional preservation can cost several hundred dollars, and the stress of delivering your wedding bouquet before taking off for your honeymoon can be enough to give even the calmest of brides a major headache.
Luckily, there are ways you can dry your own bouquet without breaking the bank and without having to even leave the house (but we'd still suggest enlisting your most trusted bridesmaid for the job).
Method No. 1: Silica-Drying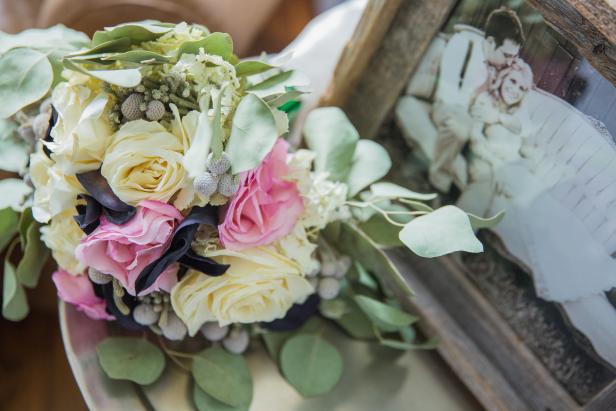 Silica-Dried Wedding Bouquet
Though it looks as good as new, this lovely wedding bouquet has been dried using silica gel powder.
Silica-drying is by far the most difficult method, but with a finished product that looks almost identical to the original bouquet, we feel it's worth a little extra effort.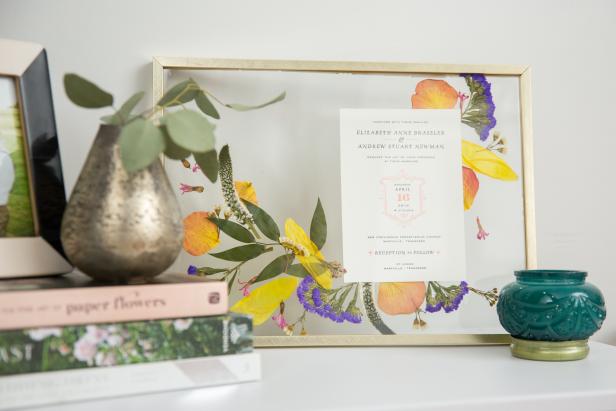 Pressed Wedding Flowers
This lovely framed wedding invitation is enhanced with a gorgeous display of pressed blooms from the wedding bouquet.
Perfect as a gift for the parents of the bride and groom or a great way to save only your absolute favorite blooms from your bouquet, flower pressing is a tried-and-true option. Whether you go with the classic book method or speed things along with an iron, this technique is a solid winner.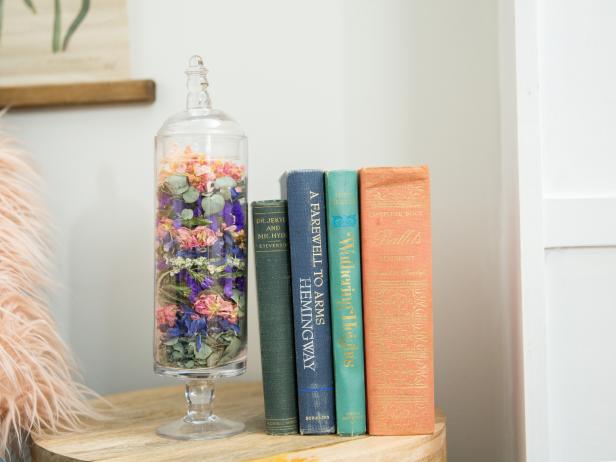 Dried Wedding Bouquet Display
Make the most of your air-dried wedding bouquet with a gorgeous layered display that will last for years to come.
If you'd rather go the easy route, this parfait of pretty is the right choice for you. And if you are one of the millions of brides who air-dried her bouquet only to wonder what to do now, this gorgeous display may be the answer to your prayers.
Over-the-Top
Peonies, roses, thistle and more are stunningly opulent when grouped in large quantities.
Sips & Blooms
This lush summer bouquet features an eye-catching mix of garden roses, spray roses, dusty miller, ranunculus, sweet peas, dahlias, freesia, thistle & hypericum berries. And it looks great paired with the bride's signature Moscow Mule cocktail.
Winter Gold
This winter bouquet features a breathtaking combination of cream roses, red hypericum berries, seeded eucalyptus and spray-painted gold cypress greenery. Photo:
Southwestern Succulents
Fuchsia and peach roses pair perfectly with leafy fern greenery, succulents, green hydrangea and safari sunset blooms in this Southwest-inspired bridal bouquet.
Juliet's Bouquet
Designed by , this bouquet features 'Café au Lait' dahlias, astilbe, pink and white peonies, Juliet garden roses, yellow Finesse roses and Veronica. Photo by .
Blue Note
This subtle bouquet features blue agapanthus, blue hydrangea, peonies, lavender sweet pea, purple stock, dusty miller and lavender. Floral design by . Photo by .
Romantic White
Peonies, 'Jeanne Moreau' garden roses and spray roses compose this elegant design from . Photo by .
Free-Spirited Blooms
Tied with a trailing ribbon, this loose arrangement of pink peonies, blue thistle, billy balls, scabiosa pods and celosia is a boho bride's dream.
Elegant Simplicity
White astilbe, white lisianthus, bonsai eucalyptus, silver dollar eucalyptus, purple limonium, Italian variegated pittosporum and white veronica are tied with burlap in this casual, rustic bouquet from . Photo by .
Soft & Simple
Seeded eucalyptus and scabiosa pods play perfect backup to soft-hued white and light pink garden roses.
Steal the Show
Burgundy red spider mums and hypericum berries add rich color to this otherwise neutral-hued arrangement of spray roses, succulents, veronica, astilbe and mixed greenery.
Lovely Lillies
Calla lilies are the classic focal point in this bouquet by . Photo by .
Asymmetrical Lovelies
An asymmetrical arrangement gives this stunning bouquet of creamy roses, astilbe and eucalyptus and ultra-organic feel.
Sensuous Scarlet
We're in love with this jaw-dropping firework of red and plum roses.
Classy Country
Wrapped in burlap, this bouquet of David Austen roses, veronica, succulents, dusty miller and eucalyptus is fit for a wedding day in the country.
True Love
The impact of just one signature flower comes through in this bouquet of lush peonies created by . Photo by .
Shades of Purple
A sumptuous bouquet by of white Majolica spray roses, lilac, purple and lavender stock, lavender and white sweet pea with 'Sterling Silver' roses.
Bouquet of Happy
This lush bunch of garden roses, purple wax flower, pink astilbe and eucalyptus greenery is almost as pretty as the gorgeous bride.
Artful Anemones
Ranunculus 'La Belle', anemone 'Galilee', scabiosa 'Fama White', digitalis 'Apricot Beauty', lady's mantle, sweet peas, feverfew, peonies, strawberries and dusty miller make for a visually complex bouquet with floral design by . Photo by .
Pops of Red
Red wildflowers pop against a backdrop of amnesia roses, white lisianthus and ruscus greenery.
Bright Bridesmaids Bouquets
Bright orange bridesmaid arrangements of ranunculus and roses are sure to shine.
Foraged
Effortlessly elegant, bouquets of freshly-picked wildflowers are an organic, beautiful trend we're loving.
Creamy Dreamy
The combination of peach David Austen roses, single-head pink rose aqua, eucalyptus, ruscus and baby's breath create a sherbert-colored symphony in this design by . Photo by .
Colorful & Wild
Sunflowers, zinnia, thistle, veronica, Queen Anne's lace, dahlias and goldenrod pop in this bright mix of summer wildflowers.
Greenery Galore
Roses and berries play backup to this bouquet's real star: a lush mixture of eucalypus and ruscus greenery.
Seaside Stunner
An eye-catching bouquet of peonies, scabiosa pods, white astilbe and thistle is a must for a trendy seaside ceremony.
Bright & Sunny
Get happy with a posy of bright yellow sunflowers, roses and waxflower.
Purple Posy
Rustic meets sophisticated in this bouquet of liatris, lilies, tulips, roses and daisies.
Peach Blossoms
Juliet garden roses, stock, Queen Anne's lace, dahlias, hypericum and fragrant freesia ensure a sweet-smelling arrangement. Floral design by . Photo by .
Herbs
Tickle the senses in a bouquet tied with a feathery blend of artemisia, lavender, sage, thyme and rosemary.
Silver Streak
Peonies, peach Juliet roses, pink Majolica spray roses, 'Cafe au Lait' dahlias, ranunculus, scabiosa and dusty miller define this bouquet by . Photo by .
Monochromatic
Go bold with a bouquet of bright monochromatic blooms like these pretty coral peonies.
Soft Focus
Zinnia, garden roses, hypericum, button mums, dahlias and Verbena bonariensis define this bouquet designed by . Photo by .
Loose + Organic
This carefree arrangement uses big blooms and small filler flowers in different colors with plenty of greens to ground it and give it texture.
Loads of Color
'Black Eyed Beauty' anemone, powder blue tweedia, variegated lilac, 'Coral Charm' peonies, Juliet garden roses, variegated geranium foliage, grape muscari, ranunculus and passion flower bring the color to this bouquet from . Photo by .
Swoon-Worthy
Peach-hued David Austen roses gorgeously complement dripping greenery in this lush arrangement.
Big Impression
Anemones, peonies, fiber-optic grass (Isolepis cernua), vines, mock orange and nigella offer a variety of textures in this imaginative bouquet. Floral design by . Photo by .
Retro & Fun
White feathers add a touch of retro playfulness to this arrangement of roses and dusty miller.