10 Ways to Prepare for National Cuddle Up Day
Preparation is the key to (cuddling) success.

If you thought New Year's Eve and New Year's Day were the only holidays this week, I have great news for you. We still have another reason to celebrate, and let me tell you, it's a good one. National Cuddle Up Day is this Saturday, January 6 — and it's quite noteworthy. Let me explain. Usually, National Cuddle Up Day falls on a weekday, which (most likely) means your cuddling hours are limited because of that thing called your job. But this year, the magic of Saturday and National Cuddle Up Day will combine to give us nonstop cuddling hours. I suggest you prepare accordingly so you have zero reasons to move from your snuggle spot. Read on for hygge-esque ideas.
Arm Knit a Chunky Wool Throw
The one cuddling necessity you can't do without is a chunky, warm blanket. Instead of paying top dollar for a wool throw, make your own with our arm-knitting tutorial.
Or Make a DIY Tassel Blanket
If you're more concerned with snuggling in style (Hey, no judgment here), make this super-cute tassel blanket, instead. Did I mention there's no sewing involved?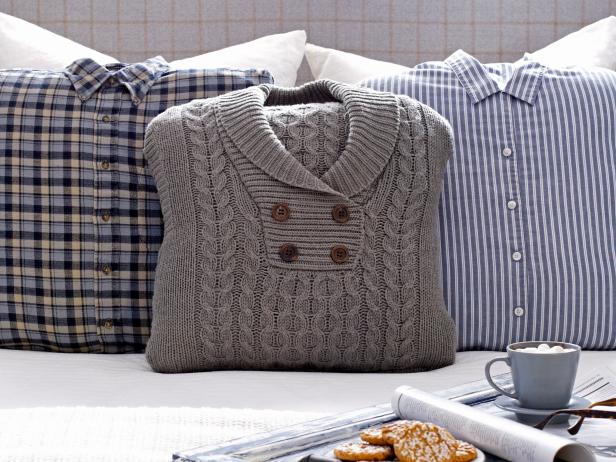 Cozy Pillow From Repurposed Menswear
Old knit sweaters and men's flannel shirts that have been retired from your wardrobe can be given new life again as throw pillows. This trio of repurposed apparel includes a cable-knit sweater as well as a pinstriped button-up and a woodsy plaid flannel.
You know that old sweater you never wear but always keep come closet-cleaning time? It's begging to be made into an adorable pillow just in time for Saturday.
Chop Veggies Now for Slow Cooker Soup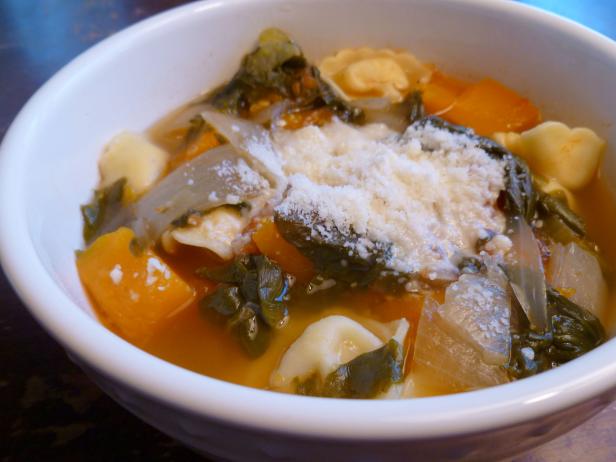 Winter Soup
This hearty winter minestrone will keep your belly full and warm.
Chop your veggies ahead of time, so you can throw everything in your slow cooker Saturday morning. Then proceed with uninterrupted snuggling all day — and still eat a delicious, home-cooked meal come dinnertime.
Make Your Pup a Snuggly Bed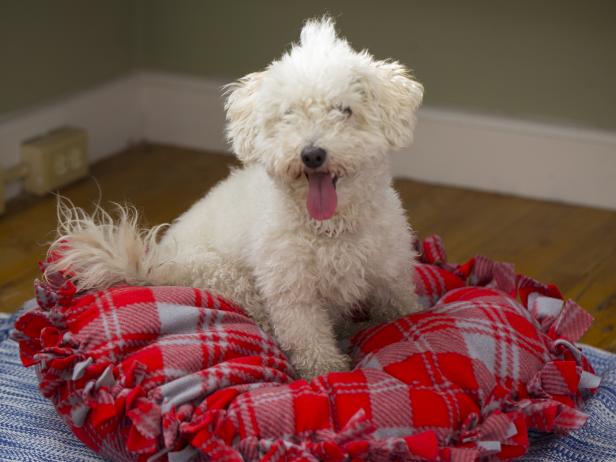 Original-617Media_No-Sew-Dog-Bed-Beauty_h
Craft a snuggling spot for your furry friend, too. This no-sew dog bed from is easy and inexpensive to make.
Collect Firewood for a Cuddle Day Fire
DIY Firewood Tote
Create a cozy DIY firewood tote that's as stylish as it is functional.
Flynnside Out Productions
Prep for a daylong fire by collecting plenty of wood and storing it near your fireplace.
Bake a couple chocolate chip cookies, and save them as a sweet treat on Saturday.
Make (Real) Hot Chocolate Mix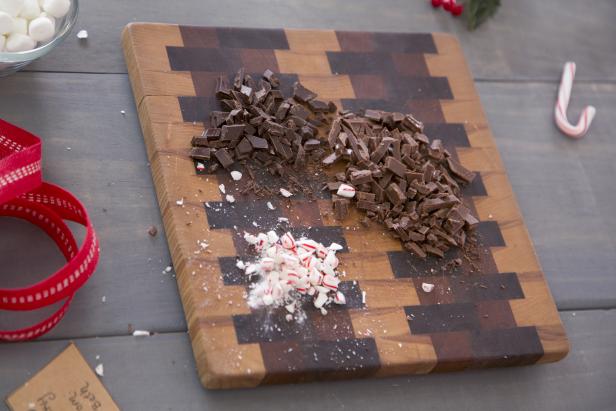 Nothing says cozy like a comforting cup of hot chocolate. Prep your cocoa ahead of time with real chocolate shavings, and you'll never go back to the powdered drink mix.
Make Your Own Essential Oils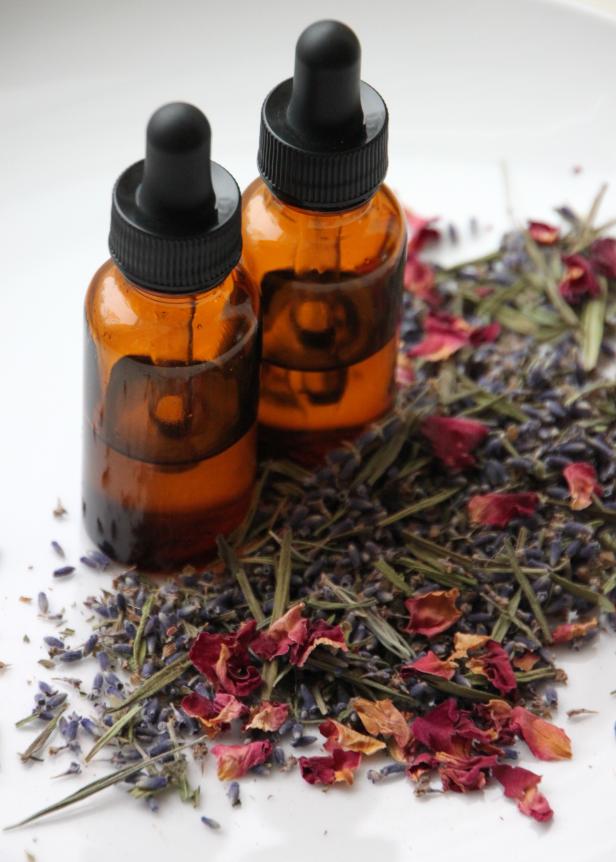 Make Your Own Essential Oils
Learn how to make your own essential oils with plants from your garden.
Cuddling is all about relaxation, so why not enhance your experience with aromatherapy? Make your own essential oils ahead of time to diffuse during your snuggle sesh.
Make a Candle for Cuddle Day Smells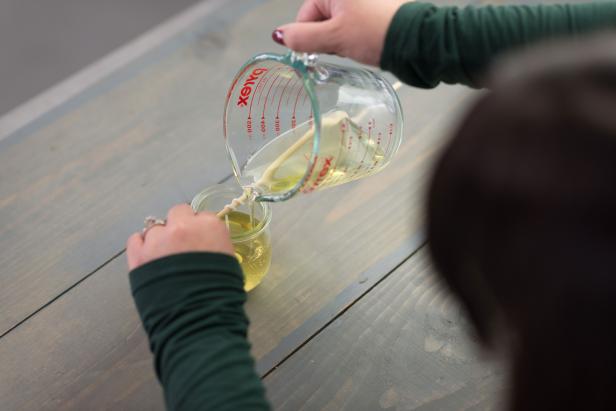 Pour Wax Into Jar
Carefully pour the wax into the jar. Allow to sit for 24 hours.
If you don't have a diffuser for your homemade oils, make a candle, instead.
Prep your living room with these designer tips and tricks.
Luxe Fabrics
"The addition of lusher, richer textures that complement existing decor is an instant way to make any room feel that much cozier," says interior designer of Black Lacquer Design. "Fur, velvet and Mongolian lamb are my favorite fabrics to layer for that cuddled-up vibe. The great thing about these materials is that a little bit here and there can completely transform the feel of a room," she says. Her advice for incorporating these materials in your own living room? "Add a velvet pillow to a chair, or toss a faux-fur throw over your sofa for an instant dose of cozy."
Historic Architectural Details
Working with an old home and a contemporary design aesthetic? Instead of demolishing period architecture, consider hanging on to it — for cozy's sake. Designer Rafe Churchill of explains how old and new work together to create a sense of comfort. "We love old interiors, especially when using contemporary furnishings. We believe there's some kind of nesting effect that occurs between a historic house and its modern interior," Rafe says. This gorgeous living room is no exception. "By keeping the existing millwork and paneling and then furnishing with contemporary pieces, this living room seems to almost acknowledge the history of the house and even finds comfort in it."
Holistic Approach
Interior designer takes a holistic approach to design, incorporating healthy, natural materials to promote wellness. In this living room, she used eco-friendly furnishings, raw fibers and organic textiles. "Creating a restorative environment begins with sustainable choices," she says. "Even the smallest decisions matter and can have profound effects on our health and the environment." Sarah also incorporated the homeowner's treasured collection of mineral specimens in this space, which fits with her overall design mantra. "Live with what you love," she urges. "Surround yourself with beauty and positive energy."
Sizable Sectional
Nothing says welcome like an oversized sectional sofa. It's the perfect tool for creating an immediate sense of casual comfort. Choose wisely, and your sectional can simultaneously establish coziness and sophistication, like the emerald green stunner in this living room by Jette Creative. "We wanted it to be a livable room for family nights watching TV, but also a space to have company — a space where the kids could roll around, but also [a space] that could allow for adult gatherings," says Jesse DeSanti, principal designer of Jette Creative. "We were able to bridge those through the deep, long sectional that really grounds the room in its size, color and softness."
Oversized Upholstered Ottoman
In lieu of a classic coffee table, try an upholstered ottoman to make your space more comfortable and livable. Interior designer explains why she made the choice in this family-friendly living room. "We opted for an oversized upholstered ottoman with a soft silhouette that could easily be used for entertaining needs, adults to rest their feet on, or for smaller children to jump and play on," she says. "This ottoman packs a powerful design punch with a gorgeously soft performance fabric that coordinates with the tonal blue on the walls, art and other textiles in the space. The result? A living room that will make you want to kick up your feet and stay awhile!"
Conversation Circle
Try the furniture-arranging trick that's worked for ages: the conversation circle. It doesn't have to feel overly formal or outdated. Here, created a conversation circle that feels casual and inviting. "Instead of using a traditional sofa-and-chair layout, we opted for four oversized, upholstered swivel chairs that created a comfortable, laid-back conversation circle, all while keeping the room polished and pulled together in grown-up whites," Jenn says.
Natural Wood
Interior designer Ginger Curtis of says natural wood is a go-to when she's trying to make a large, open living area feel warm and inviting. "The use of natural wood in a living space not only acts as a decorative or functional feature, but it can provide balance by adding texture and warmth," she says. "It has an organic element that reminds you of nature and brings a cozy, unfussy look and feel to a contemporary space." She suggests installing large beams, plank walls or raw oak floors for major impact or a handmade wood table as an accent piece.
Fireplace Focal Point
If you're lucky enough to have a fireplace, let it be the star of the show. A fireplace is inherently cozy, so by designing your space around it, you ensure a sense of automatic comfort. Carefully curate the accessories and artwork that surround it to draw the eye in, like interior designer did here. "My client wanted to have a picture of her kids above the fireplace, so we layered some vintage art pieces around the space to help create a more relaxed and curated look," Lexi says. She explains that the sconces helped complete the vignette and the space as a whole. "They gave the option to add mood lighting at night and further enhanced the ability to create the perfect, cozy space."
Large-Scale Photos
Don't be afraid to incorporate photos in a bold way. Meaningful photography can create intimacy in a way that basic artwork can't. Large-scale, black-and-white photos work especially well from a design standpoint. Interior designer says the horse photo in this living room brought both color and personality to the space. "The black and white photo added the bright white. [It's] beautiful but also quirky," she says.
Rustic Accents
When working with white walls, like the ones in this living room from , it's important to layer in warmth. Lexi's advice on how to do it? "Any element that brings the outdoors in is a great way to add contrast and a bit of coziness to a bright, white room," she says. Here, a reclaimed wood mantel and a tree stump turned side table do the trick.
Tonal Palette
Interior designer suggests trying a tonal palette with a minimal use of pattern to achieve a comfortable, peaceful living space. "I think people are so busy, and this type of design is rela and calming. It allows for you and for your eyes to rest," she says. To get this look, Sarah recommends swapping out patterned draperies and pillows for solids. Find pattern in rugs or architectural elements, instead. "Pick one color and choose varying shades of it," she says. "Then, venture into the closest color on the wheel for a little kick, but keep it in the same tone to allow for a smooth flow and transition."
Floor Lamps
Light is elemental in creating living room ambiance. What type of light emits that soft, warm glow you crave when snuggled up on the sofa? A lamp, of course. Instead of sticking to basic table lamps, interior designer Kirsten Krason of advises an arc floor lamp. "We love using statement floor lamps to fill up visual space and draw your eye in," she says. "A layered floor lamp with a side table creates so much more visual interest than just a side table with a table lamp."
Plenty of Pillows
Can you really ever have too many pillows? They're an instant (and relatively budget-friendly) way to bring texture, pattern and color to your living area — all in the blink of an eye! Take a cue from this gorgeous living room by , and go for a layered look. The end game? "A sofa and a room that no one ever wants to leave!" Jenn says.
Layered Rugs
It's a no-brainer that a rug-clad floor is cozier than a bare one, but have you ever considered layering multiple rugs? Interior designer is all for it. She says it works especially well to highlight one specific area within a larger living space. Creating zones within a spacious room encourages a more intimate atmosphere. "Here, I loved the idea of layering the sheepskin to bring in texture and create contrast with the chair swing to really highlight its suspension," Breeze says.
Bookshelves With Personality
"Creating layers within bookcases is the trick to making a room feel warm and cozy," says architect and designer . How did she do it here? "I mixed old and new together, as well as combined lots of materials and textures, to add depth and make this blank, white space feel full," Kerra tells us. How can you do it at home? Fill your shelves with varied books and accessories — new and old — that are meaningful to your family, and pay attention to the combination of textures within each shelf.
Dark, Inky Color
Though all-white walls are still ultra-popular, deep, dark-hued interiors are on the rise. Dark walls — or even just a dark accent wall, like the one in this eclectic living room — work to create a sense of intimacy within a living space. Not convinced? Interior designer explains why it works: "While it can seem like dark paint in a living room would feel heavy or dim, in practice, it can be the opposite! In a room where the walls are dark but the trim is light, the contrast brings focus to the windows and the light from the windows, creating a room that feels bold and dramatic, but still bright!"
Textured Paneling
"Enhancing warmth doesn't always require a trip to the color wheel. Rich textures and interesting architectural details infuse warmth just as nicely!" says interior designer . "My goal was to keep things light and bright in this sophisticated guest home, so I opted for a soothing white hue and delivered warmth through the use of a texture-rich wall application," she says of this white-paneled living area. "Don't be afraid to reimagine the classics. I fell in love with the way oversized reveals offer a clean, contemporary take on traditional shiplap paneling, creating a space that feels both homey and delightfully unexpected."
Houseplants
A self-proclaimed "plant lady," designer is truly the queen of houseplants. Her living rooms — this one being no exception — are marked by fabulous design, a true sense of coziness and plenty of houseplants. What should we take away from this? Houseplants are cozy, friends. It's time to work on your green thumb.
Fresh Greenery
So, you're pretty sure you'll never have a green thumb? That's okay, because fresh-cut greenery can bring the same sense of warmth and comfort that houseplants do. Interior designer says the best way to incorporate greenery is to first consider your space and then consider what's just outside. For this living room in Redding, Conn., she created a coffee table arrangement of blueberry bush branches. "I selected the material because of its simplicity in form and the reference of what grows on the land. Bringing the outside in is a key element to our design philosophy," Amy explains. "This room is casual in nature but also very large in scale, and the branches filled the space of the 10.5-foot ceilings without calling too much attention away from the view overlooking the property."
Practical + Comfy Furniture
When designing the hangout hub of the home, it's essential to consider the practicality and comfort of furniture. Don't worry — this can be done with style in mind. Take a cue from designer Sandie Tsai's fabulous yet practical living space. "We had wanted to do a nice leather sofa, but since this is a rental apartment, we didn't know how long we'd be here or where we would end up next," Sandie says. "We ended up with this sofa from Ikea. That sofa has definitely been loved on!" Sandie also used two stools instead of a coffee table to ensure the space was flexible.