5 Easy Halloween Costumes You Can Make With a T-Shirt
We're taking the plain white tee to a whole new level.

So you've been racking your brain for the perfect Halloween costume, and all you really know is that you want it to be cheap, creative and seriously easy. Well, you're in luck! We've come up with five super simple DIY costume ideas that all revolve around materials you likely already have or can easily pick up on the cheap. The common factor: a white T-shirt.
Get more Prefit
5 Easy White T-Shirt Halloween Costumes
02:37
A plain white T-shirt is all you need to recreate one of these fun, last-minute DIY Halloween costumes.
DIY Ice Cream Sundae Halloween Costume
Turn a plain white T-shirt into an adorable ice cream sundae costume with a few easy steps and basic materials.
white T-shirt
glittered cardstock
scissors
hot glue gun + glue
coffee filters
plastic headband
red balloon
red pipe cleaner
red electrical tape
This sweet costume couldn't be easier, especially if you already have a brown scarf and headband! Start by cutting glittered cardstock or scrapbook paper into long sprinkles. Hot glue them to the top of the shirt and on the brown scarf. The scarf serves as the hot fudge, but if you don't feel like buying a new scarf, the look totally works without it.
Next, grab a few coffee filters. After folding a filter in half, fold it into thirds and glue the pointed end to the top of a plastic headband. Do this until you have a full circle of coffee filters. These will act as the all-important whipped cream.
A small red balloon is the cherry on top, literally! You can safely use a hot glue gun with a low setting for this, but be sure not to touch the tip of the gun to the balloon. Once the cherry is attached, use red electrical tape to add a pipe cleaner stem.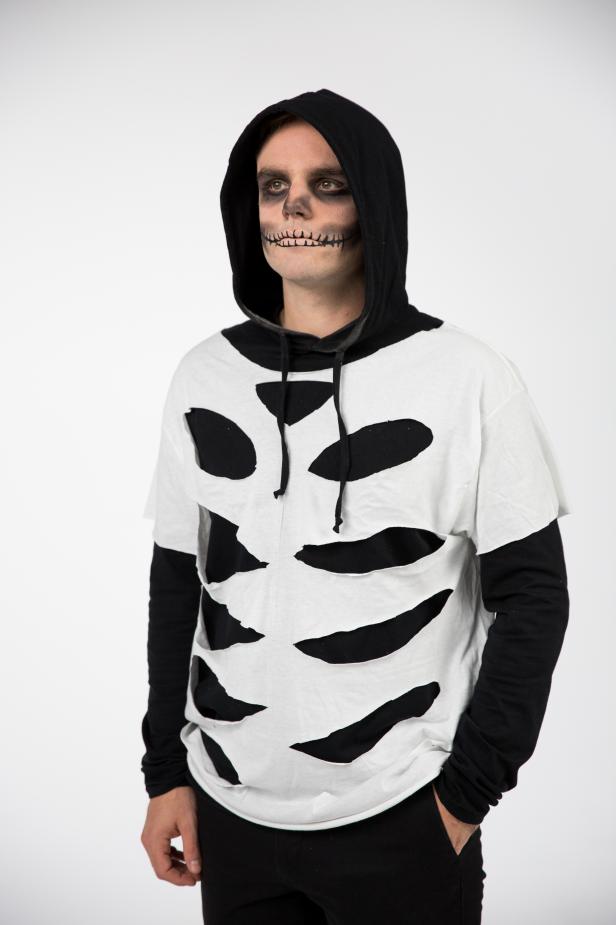 DIY Skeleton Halloween Costume
Turn a simple white T-shirt into a seriously creepy Halloween costume with a pair of scissors and a little imagination.
This skeleton costume really couldn't be easier. Start by drawing diagonal lines on both sides of the shirt that will represent the space between the rib bones. Roughly cut them out — it doesn't need to be perfect! Cut out a small triangle at the top.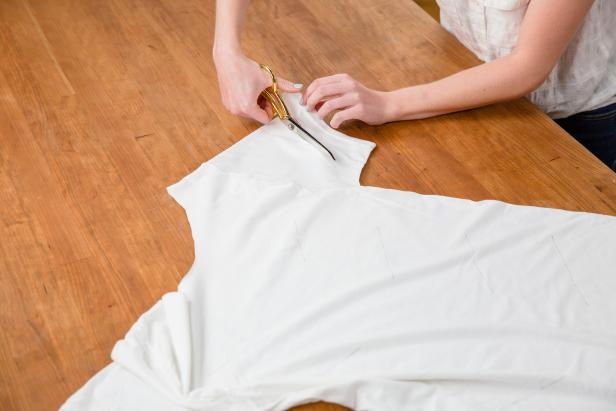 For an extra tattered look, cut off the top of the neck and the sleeves at the seam. Layer over an all-black ensemble. A full face of skeleton makeup doesn't hurt either.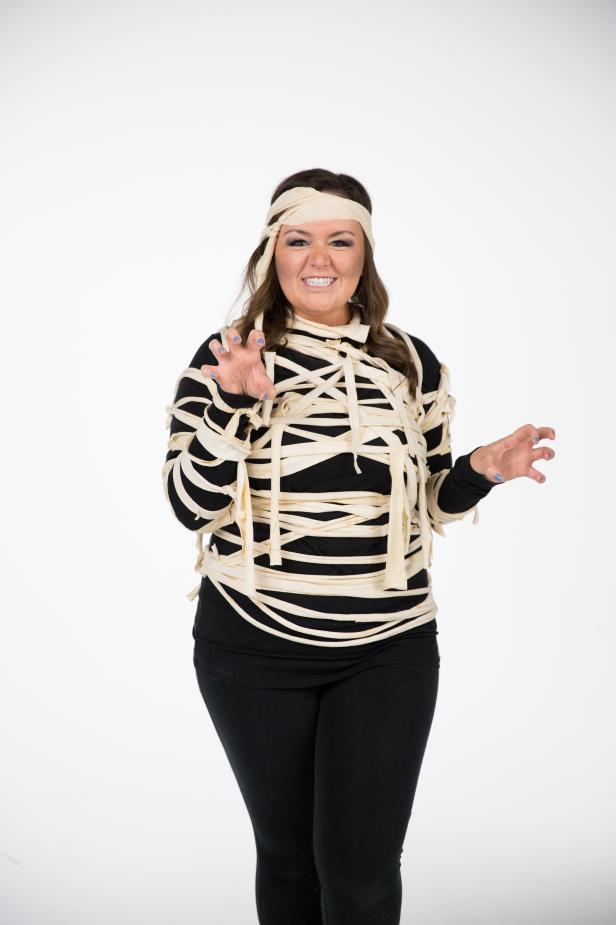 DIY Mummy Halloween Costume
Craft this easy Halloween mummy using some old T-shirts and a bowl of coffee. It's that simple!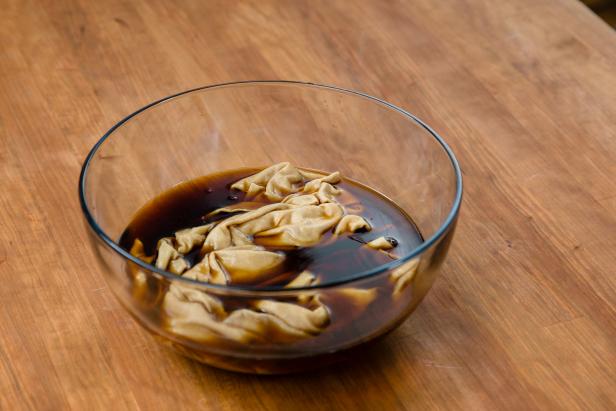 This versatile mummy costume can be as easy or as extreme as you want. Start by soaking a few white T-shirts in coffee. We found that 10 minutes creates the perfect look for aged mummy wrappings.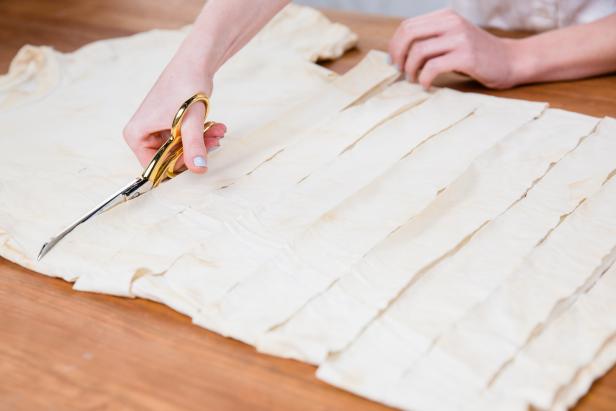 Once the shirt has fully dried, cut it into strips that are about two inches wide. Now get busy tying the strips all around your torso, arms and head (and legs if you want to get full-on mummified). It's that simple!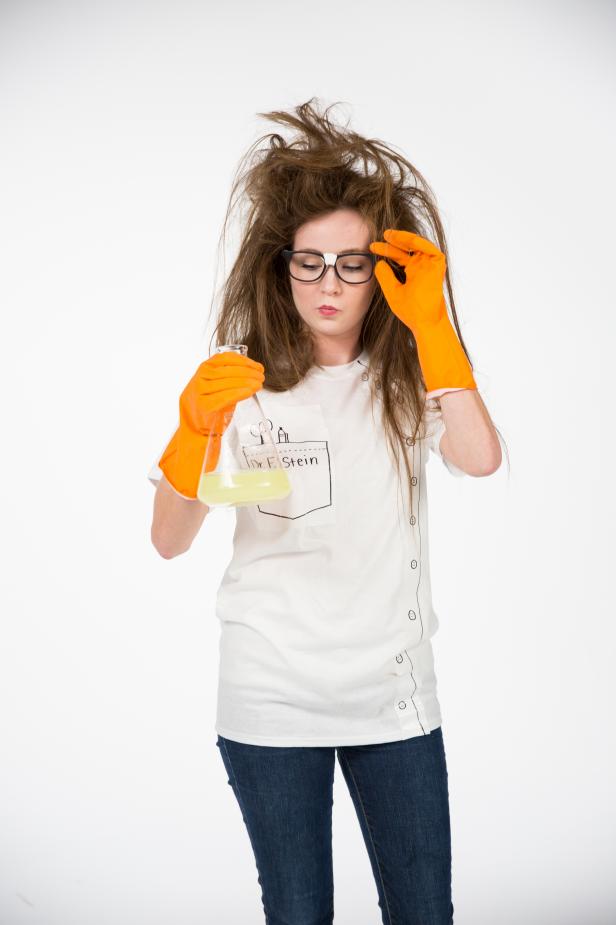 DIy Mad Scientist Halloween Costume
Turn a basic white T-shirt into a clever last-minute Halloween costume in just a few steps, using materials you likely already have at home.
white T-shirt
white duct tape
scissors
black marker
old sunglasses
dish gloves
beaker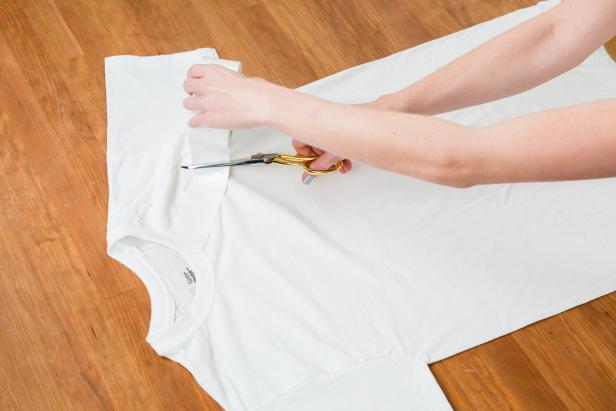 For the mad scientist, you really need to be ready to commit — or be committed. Start by adding a strip of white duct tape down the side of the shirt. Tape will make it easier to draw buttons and the seam, turning your plain shirt into an easy lab coat.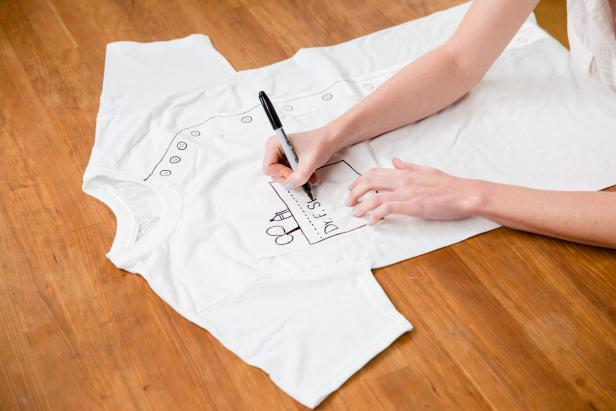 Add a pocket with a few strips of tape, and don't forget to give yourself a clever Halloween-themed name. To take this look to the next level, we recommend popping the lenses out of some old shades and adding a beaker and dish gloves to finish it off. Crazy hair is optional but definitely a plus.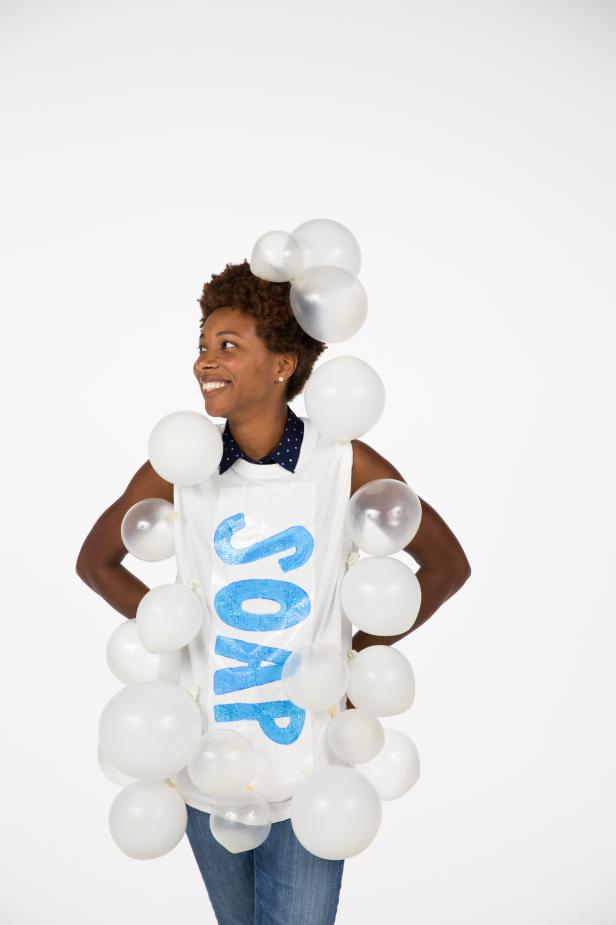 DIY Soap Halloween Costume
Turn a plain white T-shirt into a clever bar of soap for a simple Halloween costume that is sure to impress.
white T-shirt
white duct tape
scissors
marker
blue paint
paint brush
glitter
white balloons
hot glue gun + glue
clear balloons
plastic headband
Keep it clean this Halloween with a DIY soap costume that will get the party popping. Start by adding several strips of white duct tape down the center of the shirt. Then cut the sleeves off to make the shirt a perfect rectangle.
Draw or paint S-O-A-P down the front of the shirt. We added glitter for some extra sparkle.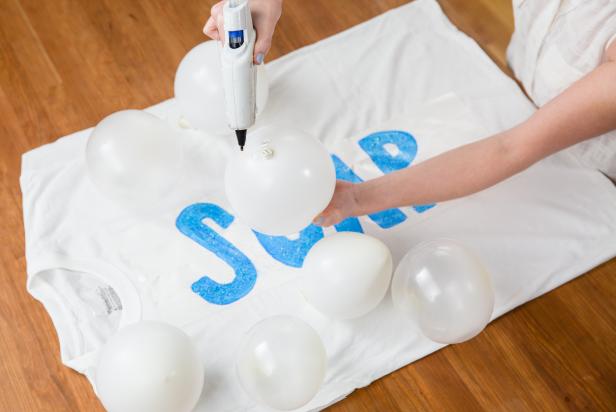 Using a variety of sizes, carefully glue a mix of white and clear balloons all over the front of the shirt. A headband with a few small balloons really takes this look over the top.