Deck the halls with beautiful potted Christmas flowers. These easy-growing bloomers add fresh color to holiday celebrations.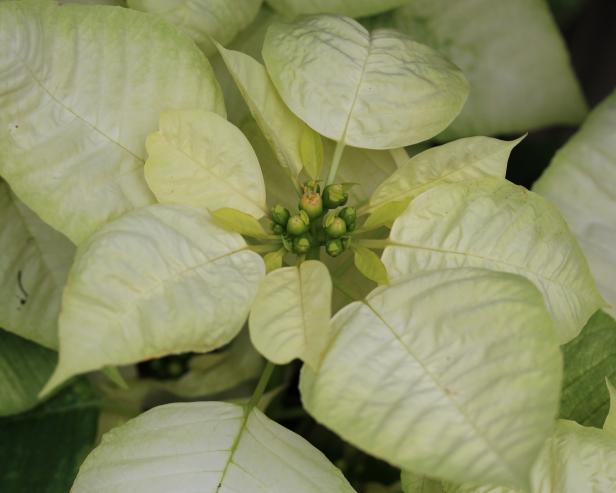 'Glace' Poinsettia
The elegant 'Glace' poinsettia features bright white bracts.
Image courtesy of the Biltmore Company
The elegant 'Glace' poinsettia features bright white bracts.

Start a new holiday decorating tradition by filling your home with easy-grows-it Christmas flowers. These potted beauties keep the color coming long after the festivities are finished—a few will even flower for years to come. Count on Christmas flowers for last-minute gifts and spreading good cheer.
The classic Christmas flower, poinsettia, comes in a variety of sizes and colors. Traditional red remains a favorite, although pink, white, marbled, orange and gold also fill holiday displays. Many garden centers and florists use floral sprays to give poinsettias sparkle and glitz, as well as coat white plants with alternative hues, like blue or purple.
Success with poinsettias starts with transport. In colder regions, never expose this traditional Christmas flower to freezing temperatures. That means don't leave it sitting in a cold vehicle, even for a few minutes, and refuse to carry it from the store without a protective sleeve. Plastic is fine; paper is better. Make sure your covering is closed at the top. Even a few minutes of exposure to 50º F can cause a poinsettia to drop its leaves later—imagine what freezing temps will do. Remove all coverings immediately upon getting your plant home.
'Ice Punch'
The bright white center of the 'Ice Punch' pops against the deep fuchsia leaves.
'Marco Polo'
The 'Marco Polo' variety has a soft, frosted salmon color.
'Glace' Poinsettia
The elegant 'Glace' poinsettia features bright white bracts.
'Mars Pink'
Who says poinsettias can't be pink? The 'Mars Pink' has a dark pink center and light pink leaves.
'Valentine'
The 'Valentine' features rose-shaped bracts and dark green foliage.
'Christmas Season' Pink
This 'Christmas Season' poinsettia boasts large, impressive bracts on sturdy stems making them great for container planting.
'Sonora White Glitter'
The bracts of this pretty poinsettia are speckled with white and red and then set off by deep green leaves for a novel take on this favorite holiday plant.
'Princettia Pink'
This image of 'Princettia Pink' poinsettias was photographed at the annual University of Florida poinsettia sale.
'Prestige Red'
With bright red leaves and dark green foliage, the 'Prestige Red' is the classic holiday poinsettia.
'Marble Star'
Salmons and creams are hot for the holiday season. Mix 'Marble Star' in with traditional red poinsettias for a layered look.
'Ice Crystal'
The bi-color bracts of the 'Ice Crystal' variety add a weathered, slightly snowy look.
Super Mini 'Winter Rose Red'
Mix in a small variety for visual interest. The Super Mini 'Winter Rose Red' variety works well on the tabletop for dinner parties or wedding receptions.
'Cortez Electric Fire'
The leaves of the 'Cortez Electric Fire' variety have a rich scarlet-orange color that pulls fall and winter together.
'Cortez Early Red'
The 'Cortez Early Red' features smooth leaves and a dark red color.
'Early Orion Red'
One of the first poinsettias of the season, the 'Early Orion Red' helps you get that front porch ready right after Thanksgiving.
'Mira Red'
The 'Mira Red' has a bold, bright and warm look that works well in winter displays.
'Cortez Burgundy'
The 'Cortez Burgundy' has a rich ruby color.
'Mars White'
A little cream goes a long way in your holiday displays with the 'Mars White'.
'Advent Red' Poinsettia
The 'Advent Red' poinsettia has intense red blooms and dark green leaves and is featured during the holidays in the Biltmore Estate's Conservatory.
'Burgundy'
The 'Burgundy' like to be kept in bright, indirect light and features a rich wine color.
'Peppermint Twist'
The 'Peppermint Twist' has dark green leaves and pink-speckled bracts.
Poinsettia Arrangement
With their intense red bracts, poinsettias make for a gorgeous winter display alongside other greenery, as seen in the Biltmore Estate's Conservatory, where a tower of poinsettias is set off by a white metal bench.
'Ice Punch'
These poinsettias feature variegated garnet and cream bracts and look especially pretty when presented in groups.
Poinsettias are not poisonous. If you eat a few leaves, you'll suffer a tummyache and may vomit, but won't die. If you're someone who rises to a challenge, keep your poinsettia alive through summer and try to make it rebloom. For others, the most sensible action is adding it to the compost pile when you tire of caring for it.
Amaryllis and Paperwhites
Bulbs are Christmas flowers that ignite a spirit of wonder. With their goofproof natures, amaryllis and paperwhite narcissus make every recipient feel like a master gardener. Amaryllis delivers on the promise that the softball-sized bulb contains a magical prize. Partially submerge a fat bulb into soil, and get ready for a show. Stems rocket toward the ceiling and explode into floral fireworks.
Paperwhite narcissus also stage a breathtaking display, and these bulbs don't even require soil. Just fill an old fishbowl with gravel, add a little water beneath, and perch the bulbs atop the stones. Occasional water replacement is all you need to do to conjure pretty green stems topped with fragrant white blooms. Some people love paperwhite perfume; others find it offensive.
Amaryllis 'Samba'
'Samba' opens big, red, ruffled blooms with white markings and margins. It averages 20 inches tall.
Amaryllis 'Apple Blossom'
This popular amaryllis, 'Apple Blossom' is a mix of candy pink and snowy white. The flowers have lime green throats.
Amaryllis 'Red Lion'
Popular 'Red Lion' is a holiday classic, with velvety-red blooms and white stamens.
Amaryllis 'Faro'
Less bold than many amaryllis, but just as beautiful, delicate-looking 'Faro' flowers are pale salmon and white.
Amaryllis 'Monaco'
Cherry red 'Monaco' has a white throat with a green center on each large bloom.
Amaryllis 'Summertime'
The 7-inch blooms on 'Summertime' range from watermelon pink to deep rose. They have greenish centers and cranberry red rays.
Amaryllis 'Fairy Tale'
'Fairy Tale' holds its striped red and white blossoms on slender stems. The flowers are smaller than those of many amaryllis, but bulbs can produce 5 or 6 flowers per stem.
'Matterhorn'
Large, snow-white flowers with yellow-green throats make 'Matterhorn' a standout.
Amaryllis 'Ice Queen'
Unusual, spider-like white petals brushed with green distinguish 'Ice Queen'.
The main difference between amaryllis and paperwhites is that, once the narcissus flower, the show is over. Toss the bulbs in the compost. Amaryllis, on the other hand, gladly flower for years to come with bigger blooms as bulbs age. It's a gift that truly keeps on giving.
Christmas cactus is another holiday flower favorite that easily becomes a treasured houseplant. It's not unusual to find this Christmas flower spanning generations, as starts are passed from parents to children. Choose a Christmas cactus with open blooms to ensure you get the flower color you want. Don't assume a coral bud yields a coral flower. Sometimes buds sport deeper hues than blooms.
Despite the cactus moniker, this is one plant that benefits from regular moisture. Water when soil is dry to the touch. Use care, though; it's easy to overwater a Christmas cactus during winter. The secret to wooing this beauty to bloom in future years depends on shorter days (no light for 14 hours daily) and/or lower temperatures (50-55° F). Stash it in an unused bedroom or near a cool window not near streetlights, and buds should appear.
Learn More About Winter Flowers