Time to spruce up your garden and take care of these fall gardening chores to help make next growing season a bit easier.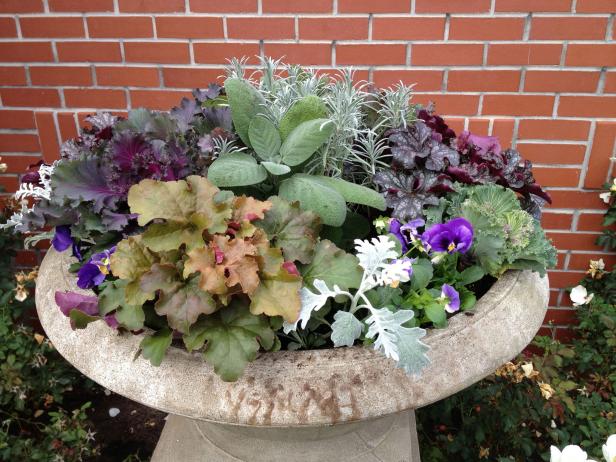 Fall Container Plant
Trade out your tired patio tomatoes and peppers for cool season spinach, lettuces, kale and parsley. Mix them with pansies for an edible fall container planting, says Cameron Watkins of C. Watkins Garden Co.
Cameron Watkins
Trade out your tired patio tomatoes and peppers for cool season spinach, lettuces, kale and parsley. Mix them with pansies for an edible fall container planting, says Cameron Watkins of C. Watkins Garden Co.
Prepare beds for spring planting.
Plant spring bulbs, except tulips, in beds and lawns.
Plant containers and baskets for winter color.
Take hardwood cuttings.
Sow sweet peas for an early display the following year.
Plant wallflowers for spring color.
Bring houseplants back indoors, checking for pests and diseases first.
Protect slightly tender exotics from frost by wrapping in fleece.
Cover slightly tender perennials with a thick mulch of straw or bark chippings.
Move tender dahlia tubers and cannas inside.
Turf or sow lawns.
Apply a fall lawn fertilizer to established lawns.
Lay chamomile lawns.
Make a woodpile shelter for wildlife.
Prune hedges for the last time.
Autumn Upcycle
Orange and yellow marigolds, which thrive in late summer to early fall, find a charming home in this rusty old wheelbarrow. To ensure colorful blooms all season long, swap out marigolds in mid-fall for plants that are more cold-weather friendly, such as mums or pansies.
Sweet + Simple
Mounds of purple pansies and trailing English ivy add a lovely touch of autumn color to this rustic wood window box.
Take a Seat
An antique white chair provides a stunning backdrop for a swoon-worthy vignette of cream-colored pumpkins and mums.
Make an Entrance
Brighten up your shady front porch with high-gloss black planters filled with tall evergreens, trailing ivy and fuschia calibrachoa.
50 Degrees or Above
This moody floral combo shows off a mix of begonia, sweet potato vine, wishbone flower and coleus — a summer to early fall stunner that thrives in temps above 50 degrees farenheit.
Darling Dahlias
Nothing says 'fall' quite like containers filled with eye-catching peach dahlias.
Farmhouse Style, Fast
Give your container garden or front entrance a quick, inexpensive farmhouse-inspired makeover by nestling plain flower containers into upcycled wood crates.
Full Sun, Fall Hues
This warm-hued container is overflowing with Timeless-Fire geranium, ColorBlaze Kingswood Torch coleus and Superbells Dreamsicle calibrachoa — sun-worshipping blooms that will last until first frost.
Fall Favorites
A pretty evergreen shrub shares center stage with cabbage, kale, pansies, dusty miller and coral bells in this simple yet gorgeous fall urn.
Garden Accessories
As summer is winding down and garden pots are vacated, stack them up and use them as sculptural accessories. They can be strikingly beautiful, even empty. You could tuck a pinecone, mini pumpkin or gourd inside as well. Get more fall porch decorating ideas >>
Window Box Stars
Nothing ups the fall curb appeal quite like window boxes filled with lush, colorful blooms. Fixer Upper's Joanna Gaines filled this client's planter with soft-hued fall favorites like dusty miller, ornamental kale, cabbage, pansies and English ivy.
Mod Thrillers
If you prefer the modern look, go all out with tall, dramatic grasses and trailing fall foliage displayed in sculptural metal containers.
Until First Frost
Many popular summer blooms can pull double duty in fall containers. This gorgeous hanging bakset, filled with dichondra 'Silver Falls,' 'Blue A Fuse' petunias and 'Breathless White' Euphorbia, will stay full and pretty until first frost.
Pumpkin Planters
Gray heirloom pumpkins, hollowed out to make room for a cornucopia of colorful succulents, can last weeks or even over a month in cooler outdoor temps. When your gourd starts to rot, however, simply transfer succulents inside where they'll thrive until spring.
First Impressions
You can't go wrong with classic white and green blooms artfully arranged in high-end lattice-work planters. Pro tip: if your shady front porch isn't flower-friendly, pair low-maintenance shade plants like evergreen shrubs and English ivy with a handful of faux blooms that will stay gorgeous all season long.
Cottage Charmer
Bursting with sage, million bells and dainty wire vine, this sweet window box lends a welcoming feel to a bucolic exterior.
DIY Design
Up your fall curb appeal with a DIY house number planter painted a fashion-forward cranberry hue and filled with vibrant autumn blooms.
Autumn Drama
Add a touch of dramatic flair to your fall containers by arranging low-lying blooms around tall focal point plants like these purple-tinted cordylines.
"Faux"-piary
Craft a gorgeous fall topiary that will last all season long, zero maintenance required.
Pumpkin Patch Charmer
Bring the charm of hayfields and pumpkin patches home by filling your front porch containers with gold Marguerite daisy, Superbells Yellow Chiffon calibrachoa, Dolce 'Blackberry Ice' coral bells and creeping wire vine.
Cold Shoulder
Keep your garden blooming well into late fall with a hanging basket filled with cold-weather stunners such as cyclamens, winter-flowering violas and several types of evergreens.
Cozy Container
Give your front porch a shot of farmhouse style by filling rustic wicker baskets with sweet seasonal blooms.
Simply Stunning
Sometimes a single bloom can make a huge statement, like the lush white and purple pansies in this colorful window display.
Beautiful Boxwood
Visually stunning and easy to maintain, a clipped boxwood topiary and fluffy lime green sedum make for a perfect pair in any container garden.
Silver Stunner
Give your garden the silver treatment by filling metallic containers with shiny coral bells, silverbush, cyclamen and primrose plants.
Plant shrubs, roses, trees, hedges, climbers and fruit bushes.
Plant tulips.
Sow broad beans.
Plant onions and garlic.
Grow trees from seed.
Indoors, plant amaryllis bulbs and prepared hyacinths and narcissi.
Trim late-flowering shrubs to reduce winter wind damage.
Rake up fallen leaves and compost.
Make a compost bin; fill, turn and empty when necessary.
Make a wooden obelisk.
Create a bog garden.
Dig out a pond.
Make a border and lawn edge.
Make a rose arch.
Check tree ties, and loosen if necessary.
Look out for pests and diseases, and take appropriate action.
Cut out dead or diseased wood.
Clean all cutting tools after use to prevent spreading plant diseases.