A Restaurant-Style Kitchen at Home
Modeled after French bistros and favorite neighborhood joints, this kitchen makes dinner at home feel as special as a night on the town. Take a look around with Prefit Magazine .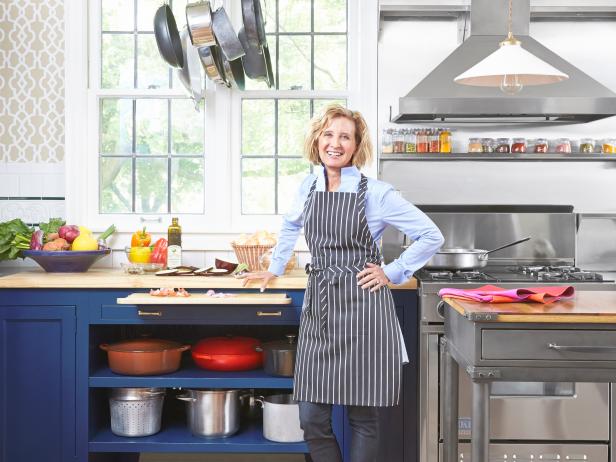 Restaurant-Style Kitchen at Home
Modeled after French bistros and favorite neighborhood joints, this kitchen makes dinner at home feel as special as a night on the town. Take a look around with Prefit Magazine.
When it came time to renovate the kitchen in her West Bend, WI, home three years ago, Kris O'Meara armed herself with magazine clippings and Pinterest boards-and photos of restaurants she loves. A fan of the famous New York City bistro Balthazar, she wanted to work the eatery's elegant French style into her own kitchen. She also found inspiration closer to home: "I went to a restaurant in Milwaukee with my husband, Mark, and our son," says the adjunct college instructor and mother of four. "We sat at a nice, dimly lit wood bar watching a nearby TV, and I thought, If I could combine this cozy atmosphere with a bistro look, I'd have my dream kitchen."
With help from designer Emily Winters of local firm Peabody's Interiors, Kris had the cabinets painted deep blue, installed several layers of lighting, and swapped the old kitchen table for two movable bar-height counters. The space has become the family's "go-to gathering spot-I can't get anybody to leave," says Kris. Now that's a four-star review!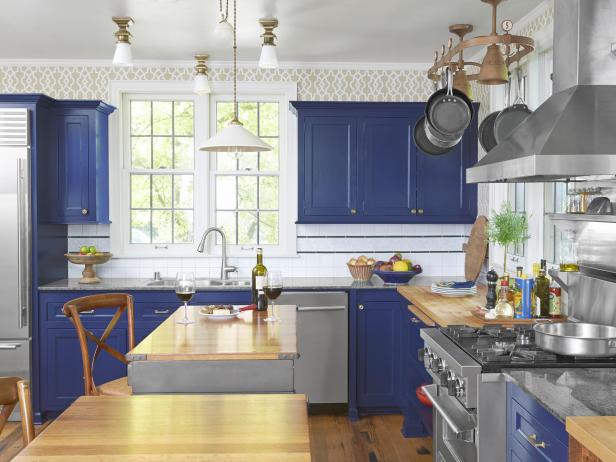 French Style Bistro Kitchen
Hanging pot rack, stainless steel backsplash and to islands make this kitchen feel more like a restaurant.
Mixed Lighting
A combo of European hanging pendants and small flush-mount fixtures are on dimmers for easy restaurant-style mood lighting. "At night, I turn them all on and the room just glows," says Kris.
Twice the Tables
Kris doubled up on custom bar-height tables made from reclaimed wine barrels and iron. When she cooks big dinners, she pushes them together to create one long buffet. The bentwood stools, from Ballard Designs, remind Kris of one of her favorite New York City haunts, Balthazar.
Blue Cabinets
Painting the cabinets a French blue (Arcadia Blue by Ralph Lauren Paint) gave the space a dining-club feel. The brass knobs and pulls, which look original to the 1935 house, are by Merit Metal.
Hanging Pot Rack
"It took my kitchen from 75% great to 100% great," says Kris of the extra storage created when she added the industrial-style pot rack from Urban Archaeology. Anything that can't hang, like stock pots and Dutch ovens, gets stashed under the counter on open shelves for easy access.
Stainless Steel Backsplash
Spanning from the range up to the ceiling, this custom-made swath of industrial steel is reminiscent of a restaurant kitchen prep surface. Matching stainless steel shelves hold spice jars of different sizes.
Butcher-Block Prep Counters
Interspersed between classic gray granite, these reclaimed maple surfaces lend the prep area a bistro-y flavor. Kris and her sous-chefs (kids Carly, 25; Grace, 24; Genevieve, 21; and Tim, 16) chop ingredients on the wood, which gets rubbed down with mineral oil every few months to stay in good shape.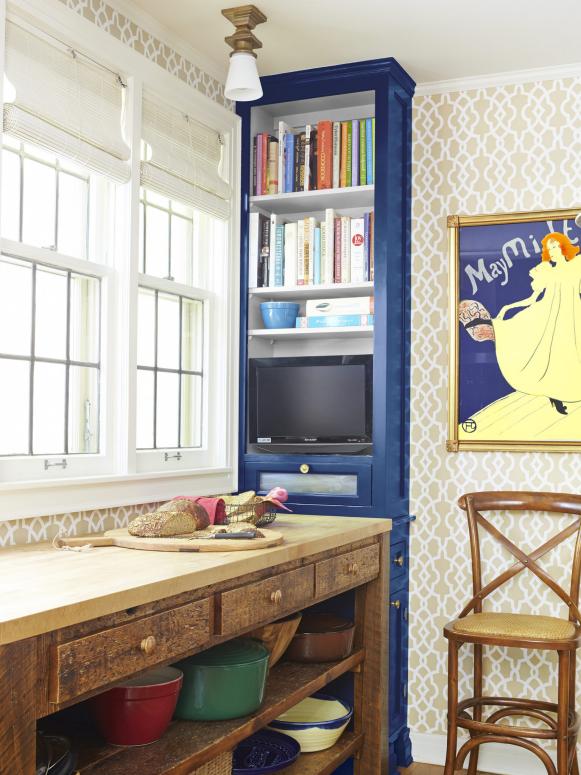 French Style Bistro Kitchen
Patterned wallpaper, mini television, and French art make this kitchen come alive.
Patterned Wallpaper
Originally, Kris wanted to paint the walls white, but she soon realized that wallpaper would make the room feel more intimate. Husband Mark chose this one, a tan-and-white trellis pattern by F. Schumacher.
Mini Television
Instead of filling the built-in bookcase with only cookbooks, Kris took a page from bar-restaurants and put a flat-screen TV on one of the shelves. "If it's the summer and I'm cooking, you can bet I'll have a Milwaukee Brewers game on," she says.
French Art
This framed print of a Toulouse-Lautrec painting, which Kris has owned since her single days, would be right at home in a Parisian bistro.
(produced by Jennifer Berno, styled by David Frid)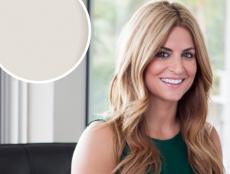 DIY Network's Kitchen Crashers host Alison Victoria answers your decorating and remodeling questions in Prefit Magazine .
Liven up your kitchen with these fun projects exclusively from Prefit Magazine .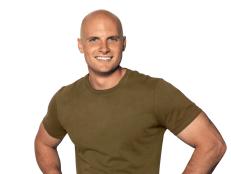 Should you hire a pro or tackle that home repair job yourself? Curb Appeal 's Chip Wade weighs in on five common questions.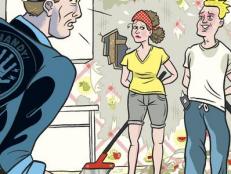 Handy people share hair-raising tales from the job with Prefit Magazine . Plus, they explain what you can do to avoid a frightening repair in the future.
With three kitchen renos under their belt, this couple knows all the tricks for a no-drama overhaul, and they shared them with Prefit Magazine .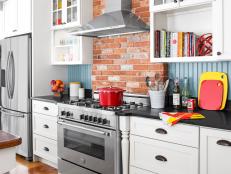 The past is always present in a Massachusetts kitchen that combines yesterday and today. Prefit Magazine took a look at its design-savvy mix.
Designer Karen Kettler explains how she transformed a builder-grade kitchen into a graceful, architectural showstopper.
Designer Karen Needler shares her story of a small kitchen remodel featuring pro-quality appliances and floor-to-ceiling cabinetry.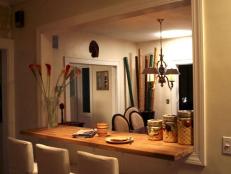 Learn how to remodel your kitchen by transforming a well between the kitchen and dining room into an open breakfast bar.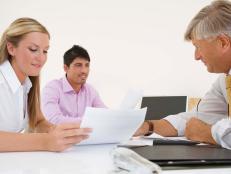 Expect nearly a third of your budget to go for cabinets and hardware.