A White Kitchen That's Anything But Vanilla
True, it's (mostly) white, but this Baton Rouge, LA, space is anything but basic, thanks to a few dramatic details. Prefit Magazine takes you inside.

When Ainsley Grigsby and her husband, Todd, moved their family from Dallas, TX, to a spacious ranch house in Baton Rouge, LA, she immediately felt right at home in their new tree-filled, kid-friendly neighborhood. The one space that wasn't so welcoming: her kitchen, with its faux-terra-cotta vinyl-tile floors, pea green wallpaper and Cold War–era appliances.For this mom of three sons, ages 9 to 15, who also proudly holds the title of family chef, that was not going to fly. "I'm always cooking," Ainsley says. "And they're always eating."
Although she wanted a white, light-filled room, she didn't want it to be a carbon copy of what was trending on Pinterest, so she enlisted architect William Sonner and designer Patrick Tandy to help create a functional space with a personal kick. The result is a bright room with plenty of unique touches, including a custom island, thick marble counters, and zingy citrus-hued accents. "I love the orange because it's vibrant, adventurous, and fun," Ainsley says. "I like to think I'm all those things, too!"
One of the biggest expenses was the 2-inch-thick Calacatta marble with dark gray veining. To keep the space from feeling chilly (and to stay within her budget), Ainsley used it only on the counters, behind the range and for 4 inches of the backsplash.
This Visual Comfort chandelier is 43 inches in diameter, but because of its wire-frame construction, it doesn't seem overwhelming. It was originally black, but designer Patrick had it painted a poppy shade of orange (Tangerine Melt by Benjamin Moore).
One design mandate Ainsley had for the island: She wanted it to include substantial X-shape supports inspired by the work of Suzanne Kasler, one of her favorite designers. Tall cabinets on one side hold small appliances; the other side houses a wine fridge and an ice maker.
Patrick and Ainsley snuck in more of Ainsley's favorite color with these orange barstools from CB2. The bentwood seats are easy to clean, and their sloped backs make them comfier.
Ainsley used just one paint color (Gentle Cream by Benjamin Moore) for the Shaker-style cabinets, walls, trim and ceiling; the adjoining family room is the same warm white, so it all feels like one big space. Rather than add a row of small upper cabinets, she chose open cubbies, which display her collection of white servingware. The satin nickel bar pulls are by Emtek.
After vinyl tiles were removed, Ainsley had oak floors installed and stained antique brown to match the ones throughout the rest of the house. The hand-knotted wool rug is from Rugs USA.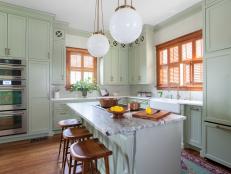 Believe it or not, there are other options out there.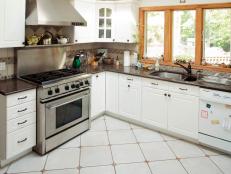 Create a bright cooking space with these ideas for a white kitchen design.
Designer Orren Pickell transforms a closed-off kitchen into a bright and spacious hub of the home.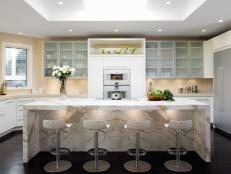 Tips for white kitchen cabinets make the whole kitchen sparkle like new.
Designer Kerrie Kelly gave this kitchen a light and open feel, making it the ideal space for entertaining groups of friends and family both large and small.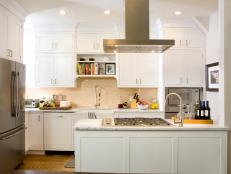 Get all the info you need on white kitchen cabinets, a stylish choice that can brighten your kitchen, and your mornings.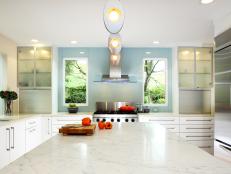 Add a light-and-bright feel to the kitchen with white kitchen countertops that are as timeless as they are sophisticated.
Designer Karen Kettler transforms a kitchen with classic white cabinets, stainless steel appliances and modern touches.
Designer Bo Li created this transitional kitchen space, complete with detailed tile accents and Old World design appeal.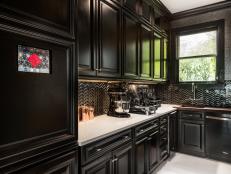 Discover why black is the hot, new trend in kitchen design.