5 Trendy Co-Working Spaces to Inspire Your Home Office Design
These co-working spaces will make you want to redo your home office.

With chic co-working spaces popping up on every corner, it's easy to find design inspiration for your own home office. From chic minimalism to vintage design, translate these trends into your home office surroundings to create a room you can't wait to clock into. Are you in need of ideas to get you started? We've got you covered! We've searched for gorgeous co-working spaces all around the globe. From Berlin to LA, Thailand to Atlanta, we've found spaces that are sure to leave you inspired to upgrade your current work nook.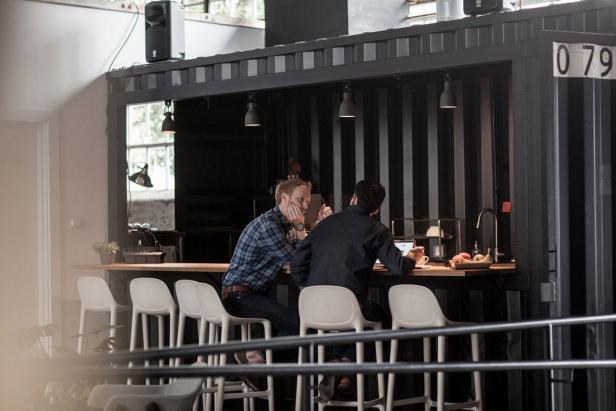 Elevator Factory
The Elevator Factory is a co-working space in Atlanta, Georgia, featuring shipping container offices.
Courtesy of Elevator Factory
This modern Atlanta co-working space radiates a rustic-meets-industrial vibe. Individual offices are housed inside sleek, black shipping containers, while the entire organization rests under exposed duct work and a high wooden ceiling.
The black and white minimalist aesthetic is easy to recreate in your own home office. Keep furniture and accessories simple like this and this . Juxtapose metal elements like industrial-style pendant lights and pipe shelves with wooden textures and area rugs to ensure the space feels warm and welcoming.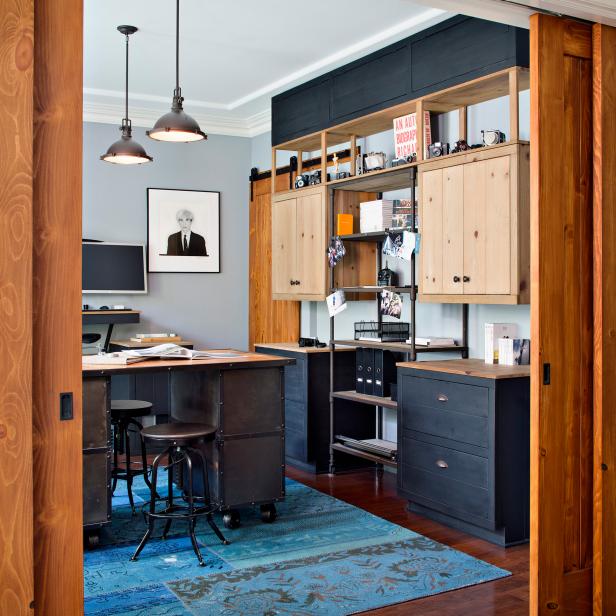 Contemporary Home Office With Industrial Influence Featuring Metal Desk, Open Shelving and Untreated Wood Cabinets
A vibrant blue and turquoise rug shines agains the wood and black details of the room while complimenting the powder blue shade of the walls. Painted black drawers add additional storage above and below the untreated wood cabinets for a strip-like effect. A metal framed book shelf fits perfectly within the cabinet set up and matched the industrial, metal desk.
This cute, pastel pink workspace in New York City feels more like a millennial bachelorette pad than a cold, corporate office. Some areas are reminiscent of vanity tables found in dream closets on Pinterest. Others look like cozy library nooks with pink couches situated next to floor-to-ceiling shelves of books. Lots of natural lighting, greenery and bamboo accents keep the space calm and centered.
Emulate this bright and airy office to create a girl boss workspace of your own by starting with the ever-popular millennial pink. If you don't want to go pink on an entire wall or large piece of furniture, add splashes of this rosy hue in to add a feminine flair to your workroom. Next, bring in your favorite houseplants (even if they're fake ones) and keep the furniture simple. Finish off your space with a vintage-style , perfect for displaying your favorite motivational quote to inspire your work hustle.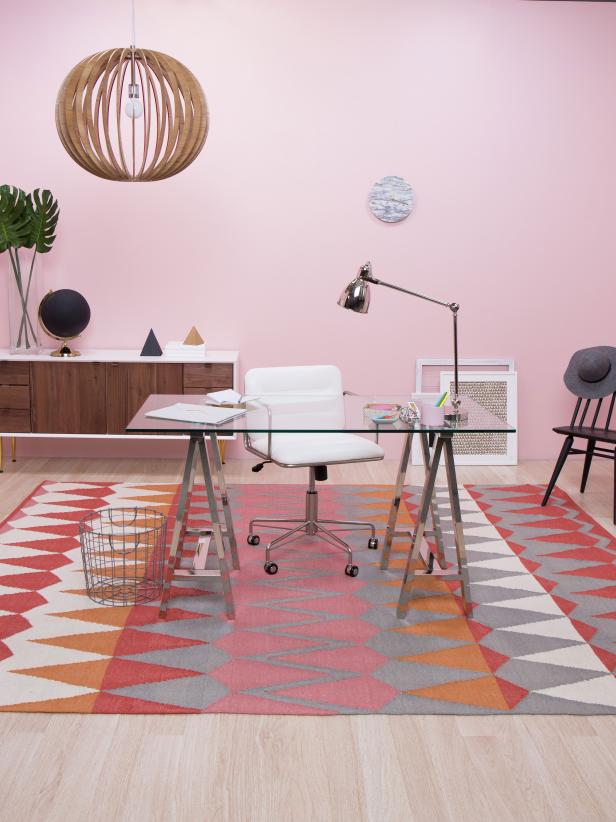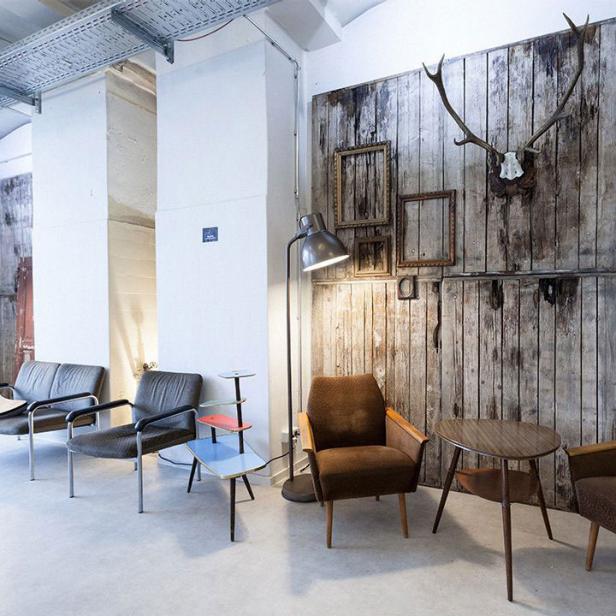 Ahoy Berlin
Ahoy Berlin is an industrial-meets-rustic co-working space in Berlin.
This bright white space is airy with super clean lines, in some ways resembling a modern college classroom. Very few wooden accents and plants peppered throughout keep the office from feeling too sterile.
Just because your home office is your work zone doesn't mean you should overlook decorative touches. It's still a space you want to feel inspired and if needed, a place you can take a coffee break and recharge in a comfortable setting. Take notes from Ahoy Berlin's atmosphere and incorporate wood tones and additional seating other than your designated desk chair like this home office featuring decorative antlers and a cowhide chaise, perfect for a quick power nap.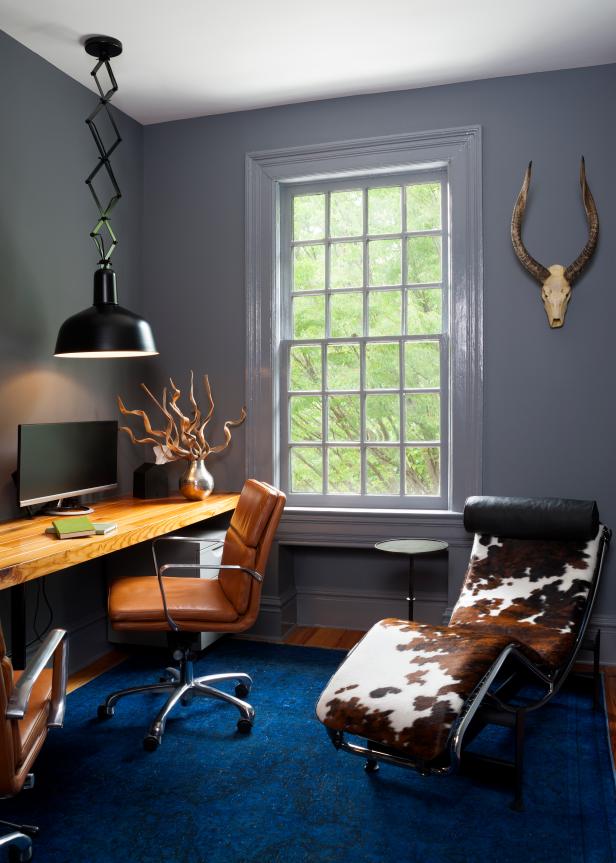 Home Office for Two
A cowhide chase, industrial light and antlers are just a few details that make this home office feel masculine. A stunning wood desk for two, paired with leather armchairs and metal frames. The cool gray wall paint finishes off the design.
Located just a two-minute walk away from the Pra Ae beach in Thailand, showing up to work has never been more tropical! Who wouldn't want to work to the sound of waves crashing in the distance? Imagine sitting at a steel table, under a palm frond-thatched roof, while digging your toes into the sand.
You may not be able to haul loads of sand into your home, but incorporating bamboo and Tiki-bar-type accents will be a breeze. This is a similar color to the water in Thailand and will give the right pop of color to a beachy space. Positioning your desk near a window to let in as much natural light as possible and bringing in plants will also help mimic KoHub's indoor-outdoor workspace.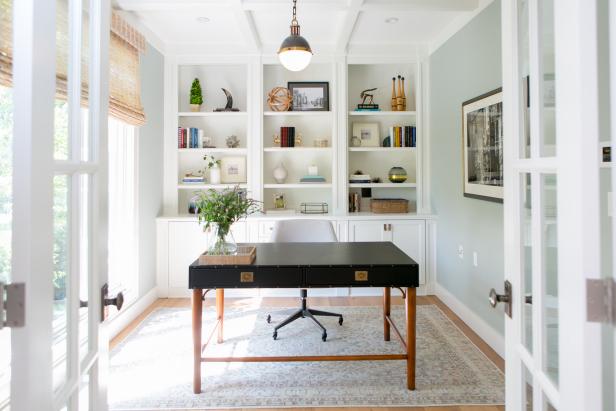 Blue Transitional Home Office With Black Desk
The home office is kept simple and elegant with a handsome desk and built-in shelves and cabinetry. Windows line one entire wall, letting natural light pour in.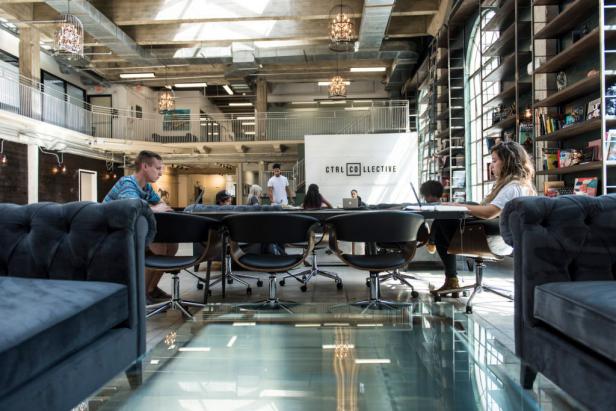 CTRL Downtown LA
CTRL Downtown LA is a co-working space in LA featuring high ceilings, blue velvet couches and floor-to-ceiling bookshelves.
Nestled in the fashion district, this chic co-working space is a fabulous combination of modern, industrial design and elegance. The cool steel accents and high ceilings are tempered with sparkling chandeliers; velvet, tufted couches; and large, timeless pieces of art.
To get a vintage, industrial look in your own office, add an eye-catching for guests who drop by. A wall lined with bookshelves will help keep your desk clutter-free, plus will add visual interest to the entire room.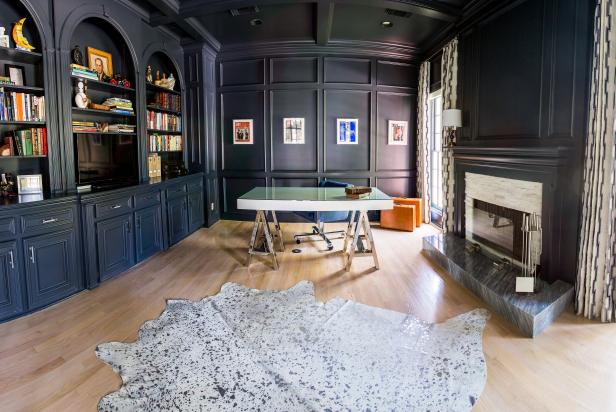 Contemporary Home Office with Black Walls
Bold charcoal paint covers the walls, millwork, even the ceiling in this contemporary home office. Black and white draperies call attention to the tall windows, while a white lacquered desk provides a modern contrast to the walls. An animal hide rug continues the color scheme and adds a touch of whimsy.