Flowers that Bloom in Winter
Fill your outdoor spaces with flowers that bloom in winter. Some of these bloomers can even start inside before shifting outdoors.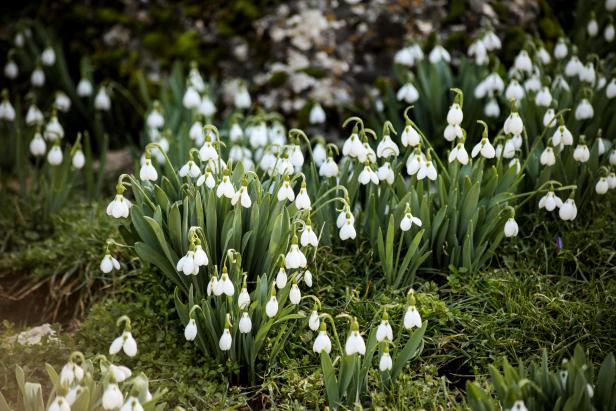 Give your landscape a boost of color courtesy of flowers that bloom in winter. In much of the country, winter is the garden's quiet season, and even a brief flourish of bloom is a welcome sight. In warmer regions, the list of flowers that bloom in winter embraces plants that can toss open blooms from December to spring.
Cabbages and Kales
Ornamental kale and cabbage are some of the most popular winter annual plants. They lend a completely different texture to a winter landscape bed. Once the plants are hardened by cooler night temperatures they can survive most cold winters.
Camellias
Camellias prefer acidic, moist yet well-drained soil that is high in organic matter. They flower in the fall and winter when their display of colorful blooms is most appreciated. The waxy-petalled flowers linger long on plants, displaying shades of red, pink, coral, white and bicolors. Plants are evergreen, growing to form shrubs or small trees. Once established, camellias are drought-tolerant.
Winter Jasmine
Jasminum nudiflorum or winter jasmine is an exceptionally trouble-free plant to grow.
Holly Bush
Hollies bring an eye-catching display of evergreen leaves that is often punctuated with bright red or gold berries.
Winterberry Holly
Winterberry hollies are deciduous, and the berry-bedecked branches truly stop traffic. (Even this lizard stopped to take a gander at the beautiful berries!)
Cotoneaster
Cotoneaster is another leafy evergreen that you can depend on for a dazzling berry show in even frigid winters. It's a fast-grower and can be used as a striking groundcover.
Japanese Maples
Japanese maples often have artistically shaped trunks. The contorted branches on this shrub or small tree come into focus as winter arrives.
Nandina
Nandina shows off its berries in areas with milder winters. Tuck these plants in front of solid backdrops so the berries can shine.
Native Serviceberry
Native serviceberries also earn rave reviews for snow-covered branches. Watch for white blossoms in spring, followed by tasty berries in June. Birds love the berries, so if you want any for a pie, net trees. Fall color features shades of red and orange.
Doublefile Viburnum
Doublefile viburnum has a symmetrical, tiered branch structure that's beautiful when covered with snow.
Red- and Yellow-Stemmed Dogwood
Red and yellow twig dogwood each inspire with their colorful winter stems, which show up best against dark evergreens or a snowy landscape.
Witch Hazel
Witch hazel, a native shrub or small tree, opens strappy flowers in late winter to early spring. The blooms offer shades of yellow or orange and a sweet fragrance. Fall foliage is a striking gold, so this plant pulls double-duty in terms of seasonal interest.
Star Magnolia
Star magnolia opens pale blush to white flowers with a sweet fragrance in late winter to early spring.
Snowdrops
Close out winter with a flourish of color, courtesy of bulbs and perennials. Snowdrops grow from bulbs and return reliably year after year. Make sure to plant the bulbs during fall to give them the chilling period they need to bloom.
Lenten Roses
Lenten roses (hellebores) offer leathery evergreen leaves accented with rose-like flowers in shades of pink, red, maroon, chartreuse and white. Plants self-sow readily, forming low-maintenance colonies.
Winter pansies are cold weather all-stars. These cheery winter blooming flowers can freeze solid and emerge from that state ready to grow and flower. Other bedding plant flowers that grow in winter include nemesia, snapdragon, sweet alyssum and flowering stock. Count on these frost-tolerant bloomers to bring color to winter landscapes in regions with warmer winters. In colder regions where winter keeps the landscape in a steady deep freeze, draft these flowers to fill fall containers and planting beds with strong color.

Lenten rose or Christmas rose (Helleborus) is a perennial flower that blooms in winter. Leathery, dark green leaves stand umbrella-like above winter mulch or snow. Most hybrids survive to Zone 5, but the hardy Helleborus niger withstands even Zone 3 winters. Lenten rose makes a perfect addition to a woodland garden or part shade border, blending artfully with ferns and sweet woodruff (Galium odoratum).

Deer and voles turn up their noses to Lenten roses, and flowers open in a rainbow of hues and forms. In warmer zones, expect blooms in January; in colder regions, it could be February to March. Don't remove old leaves until blooms are ready to open. Those dead leaves provide winter protection to fragile flower buds.

There are a few bulbs that are winter blooming flowers. Dainty and delicate, snowdrops (Galanthus) are true spring harbingers. No bigger than a dandelion, they bravely push through snow and even ice to grace the garden with their dangling white bell blooms. These bulbs are hardy in Zones 3 to 7 and make their appearance as early as February in Zone 6.

Winter aconite (Eranthis hyemalis) is another winter blooming flower that grows from a bulb. Like snowdrop, this tiny bulb bloomer often appears among late-winter snows, opening bright green leaves topped with cheery yellow blossoms. Plants top out at 6 inches tall. This bulb appears before crocus, typically in February in Zone 7. Winter aconite is hardy in Zones 3 to 7.

When placing flowers that bloom in winter in the landscape, focus on positioning them where you will see them. Think about the weather during your region's winter. Except in the warmest zones, you'll most likely spend the colder months indoors, so plant winter blooming flowers where you can easily see them from indoors.

Tuck annuals like winter pansies, sweet alyssum and nemesia into containers near entrances and on patios. Short bulb bloomers like snowdrops and winter aconite are a natural fit for planting beds along walkways. Taller perennials, like lenten rose, are also best viewed up close and personal. Plant them in beds where you can easily see them, such as on the way to the garage or near the door you use most.
Learn More About Winter Flowers