10 Ways To Deal With Japanese Beetles
Beat back Japanese beetles with a few of these strategies.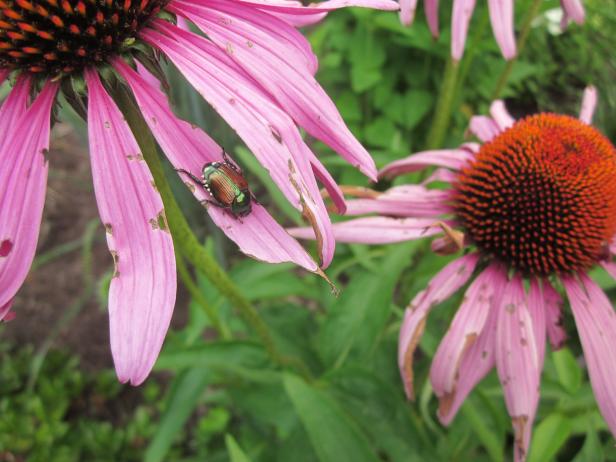 Purple Coneflower With Japanese Beetle
Japanese beetles aren't picky about what flowers they chew and even attack the otherwise pest-proof purple coneflower.

Japanese beetles are the bane of the summer garden. The adults feed for roughly six weeks, destroying plants. Their favorites are things like roses, perennial hibiscus, raspberry bushes and any fruit tree. When there's enough of them, they'll eat plants they usually pass up, including canna leaves and purple coneflower.
When Japanese beetles appear each summer, you have two opportunities to deal with them effectively: Attack adults in summer or newly hatched grubs in early fall. Learn a few methods you can use to deal with Japanese beetles.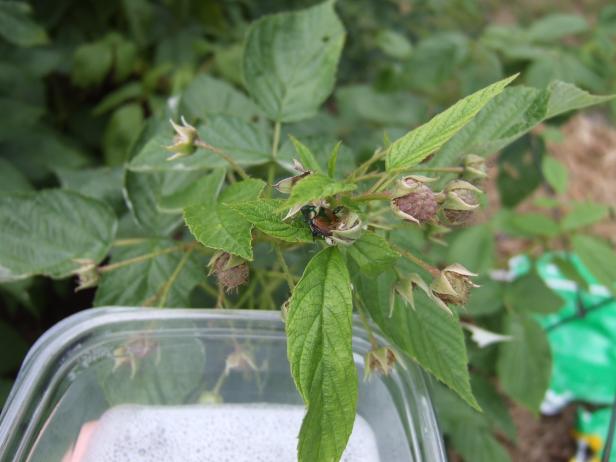 Hand Pick Japanese Beetles
Knock Japanese beetles into sudsy water for a quick and easy kill.
Knock beetles into water with a few drops of dish detergent added. Wear nitrile gloves to help eliminate the creepiness of touching beetles. Entomologists report the best time of day to gather beetles is 7 p.m. Gathering at other times of day helps reduce feeding damage, but you'll catch the most in early evening.
Trap effectiveness is hotly debated because they do bring more beetles to your yard than are already there. Most experts agree that using traps is not the best choice because traps only catch 75 percent of the beetles they attract. That leaves 25 percent to attack your prize plants. If you decide to use store-bought or DIY Japanese beetle traps, you'll get best results by setting out traps early in the season, so you catch beetles before they lay eggs. Site the trap at least 50 feet away from desirable plants. Empty the trap daily. Dead beetles that accumulate in the trap actually act as a repellent. Feed the beetles to pet poultry or pond fish. Freeze surplus beetles for a ready-made fish or chicken treat.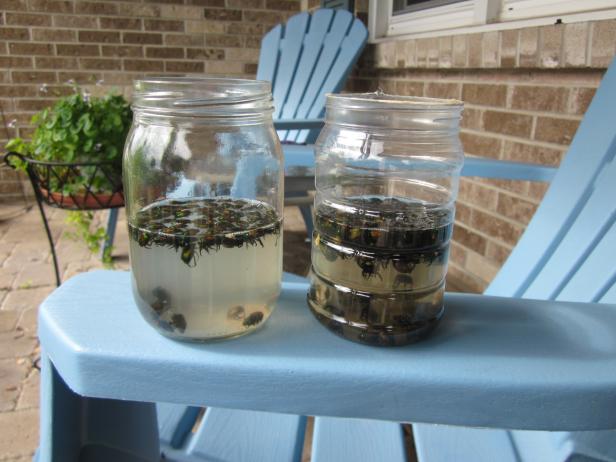 Collected Japanese Beetles
Use containers of collected Japanese beetles near plants the beetles love, and the smell of the rotting insects acts as a repellent.
The smell of dead Japanese beetles acts as a repellent to other Japanese beetles. Let containers of dead beetles (the ones you hand-pick or collect in traps) sit near desirable plants.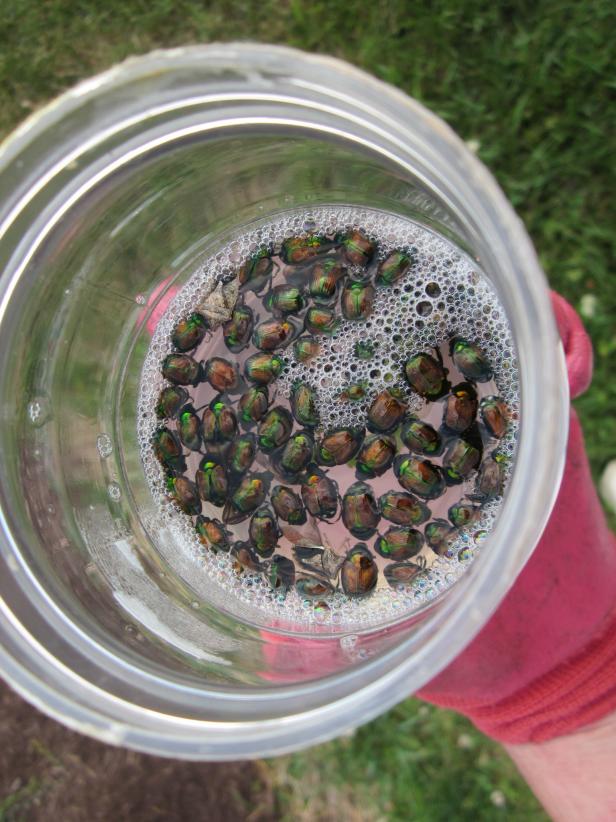 Japanese Beetles In Sudsy Water
A simple solution of a squirt or two of dish washing soap and water provides an effective trap for Japanese beetles.
This method is not for the faint of heart. Toss dead beetles in a secondhand blender, add a little water, and liquefy the bugs. Add more water, strain out the beetle parts, and spray the solution on plants. Reapply after rain.
Neem organic insecticide/fungicide is effective against adults. Avoid using systemic pesticide treatments that you pour on soil so roots take up the chemical. The active ingredients in some of these products have been implicated in honey bee colony collapse disorder.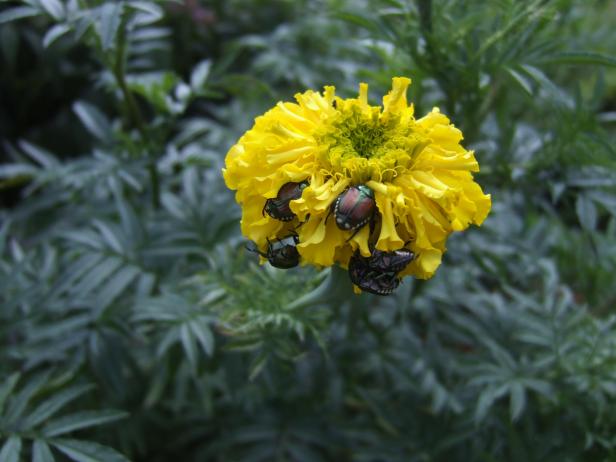 Japanese Beetles On Marigold
Plant a trap crop—a plant that Japanese beetles love, like marigolds—to lure the beetles to a certain part of your garden, where you can hand pick or vacuum beetles.
Plant a row of Japanese beetle favorites in another part of your yard to lure beetles to one place. Good beetle bait plants include African marigold, borage, evening primrose and knotweed. Hand-pick beetles from the trap crop, or use a bug vacuum, which you can find online or at larger garden centers.
In early fall, Japanese beetle grubs (the precursor to the flying menace) are feeding on grass roots in your lawn. They're near the soil surface at this point and most vulnerable to treatments. An easy treatment is strapping on a pair of lawn aerating sandals (which actually do nothing to aerate the lawn). Entomologists report the spikes are the ideal length for spearing grubs. Focus efforts on any areas of your lawn that are browning. You can also use the spikes in early spring when soil temps hit 60 degrees F (search for average soil temps online). It's one of the few treatments that works against adult grubs.
Soil dwelling nematodes (they're like microscopic worms) are naturally occurring predators that hunt down grubs and kills them. The type that's best is Heterorhabditis bacteriophora. Buy them through a company that specializes in selling beneficial insects. Apply in early fall and/or spring. Nematodes need to be applied annually—they don't build up in soil.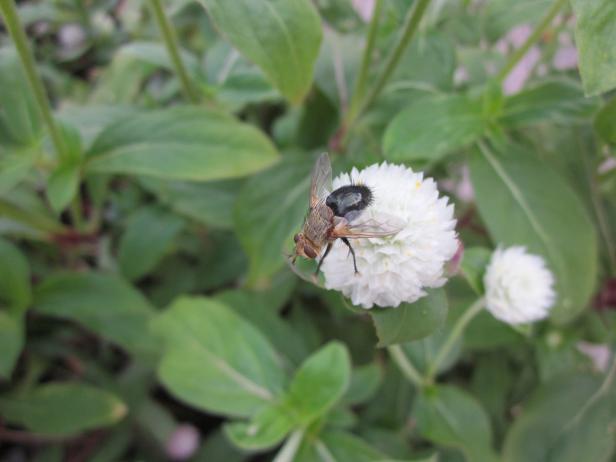 Tachinid Fly
Tachinid Fly The tachinid fly is a beneficial insect that lays its eggs on Japanese beetles. When the eggs hatch, the beetle larvae bore into the Japanese beetle, essentially eating it from the inside out.
Birds are probably easiest to attract to your garden. Provide food, shelter and water, and birds will rally to your yard. Some birds, like catbird, cardinal and robin, eat the beetles. Others, including starling and crow prefer the grubs. When flocks of starlings walk through your yard in autumn, they're often digging up grubs. Tachinid flies (above) show up when beetle numbers are high. They lay eggs on the heads of Japanese beetle adults. When eggs hatch, larvae bore into the beetle to feed and live, which kills the beetle. Like many beneficial insects, adult tachinid flies feed on nectar. They prefer flowers like dill, fennel, sweet clover, gomphrena and mint.
10: Don't Water Your Lawn
Japanese beetles prefer well-watered turf for egg laying. That's because the eggs need moisture to develop. Limit your lawn's attractiveness to egg-laying beetles by not watering grass during beetle season—roughly late June to late July. Instead, let grass go dormant.