Discover easy, stylish ways to keep gardening in winter, indoors and out.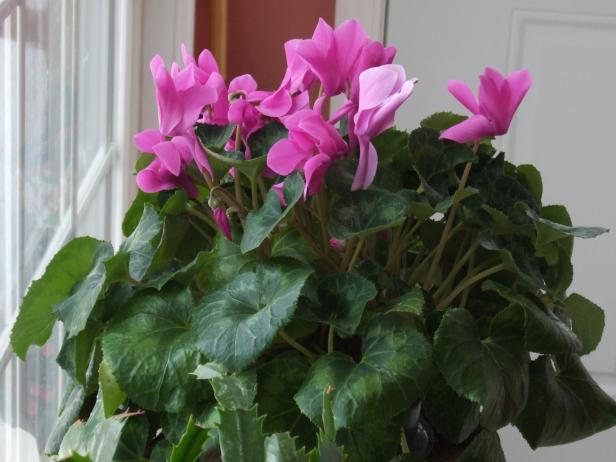 Cyclamen Plant
Cyclamen plants feature beautiful blooms and marbled leaves.
Julie Martens Forney
Cyclamen plants feature beautiful blooms and marbled leaves.
Who says you have to stop gardening in winter? In mild winter regions, spending time outside gardening in winter is wonderfully enjoyable—thanks to fewer pests and lower temperatures. Even if you live where the snow flies, you can find some winter garden ideas that work for you. Not sure where to start? Try a few of these winter gardening ideas.
Plant winter container gardens with frost-tolerant flowers and greens to brighten the scene and fill your salad bowl. As temperatures tumble, shift containers from wide-open areas to protected spots on a porch or beneath a deck to prolong the colorful harvest. In cold-weather zones, your containers may be done by Thanksgiving, but you can replace the plants with evergreen clippings or sculptural twigs and light strings for a pretty winter display.

In mild winter regions, a winter gardening idea your family will love is raising a winter vegetable garden. Even in a small space, you can grow plenty of greens, root crops and other veggies to savor homegrown garden-fresh flavor all season long. Depending on how cold your weather becomes, you can also tend winter herbs outdoors in planting beds or pots.

Indoors, try your hand at gardening in winter by tending winter-blooming houseplants. Paperwhite narcissus, white jasmine, cyclamen and moth orchid open beautiful blossoms during the cool seasons of the year. You can also raise potted herbs indoors, along with salad greens. You might need to provide supplemental light, but you can still enjoy the taste of freshly picked food you grow yourself.

For a spot of living greenery, sow rye or wheatgrass seed in a pot of soil. You'll be surprised how much fun it is watching seeds sprout. Instead of mowing, break out a pair of scissors to trim your grass. Once it starts to fade, pull it and replant. Wheatgrass grows so quickly you can easily keep several pots in process to ensure you always have a happy green place all winter long.
Mistake No. 1: Planting Too Late
Making late additions to the landscape can result in devastating losses next spring, especially in areas where the ground freezes. Perennials are the most susceptible to late planting, as alternating freezing and thawing of soil literally shoves plants out of soil, exposing crowns. Shrubs and trees can go into the ground later, but for best winter survival rates, you should have all plants in place by six weeks before soil typically freezes.
Mistake No. 2: Pruning Shrubs
Pruning causes plants to produce new growth, which is tender and highly vulnerable to freezing temperatures. Wait to prune shrubs, including butterfly bush and caryopteris, until spring, when all danger of frost has passed. At that point you can remove any winter killed branches. In future years, aim to get pruning done by late August, so plants have time to harden off before freezes arrive.
Mistake No. 3: Planting the Wrong Varieties
Fall lettuce crops can linger well into December in mild winter areas. Plant cold-tolerant varieties to ensure the longest harvest period. Good choices for fall planting include 'Four Seasons' lettuce (shown), 'Arctic King' and 'North Pole.' To overwinter lettuce in regions with cold winters, plant 'Winter Marvel' or 'Brune d'Hiver.' In mild winter areas, sow seeds of 'Four Seasons' or any oakleaf type.
Mistake No. 4: Not Watering New Trees
Trees that you plant in fall need consistent watering as they enter their first winter. If winter brings frozen soil without snow, give your tree a drink during any times of above-freezing temperatures. One hose-less way to ferry water to a tree is with a water bag in a cart.
Mistake No. 5: Failing to Deadhead Self-Sowers
Plants that self-sow aggressively in the landscape can be beautiful in bloom, but a gardener's nightmare if allowed to go to seed. Clip seedheads on plants that tend to self-sow heavily in your garden. Good candidates include joe-pye weed, goldenrod, boltonia and black-eyed susans.
Mistake No. 6: Skipping Mulch
A winter mulch can be a gardener's best friend, especially around new additions to the landscape. That extra mulch layer can help prevent frost heave around new plants that may not have an extensive root system to help keep them anchored in soil as it freezes and thaws. Put a 2-inch-thick layer around the base of plants to insulate roots.
Mistake No. 7: Spraying for Weeds
Be sure to read the label of your favorite weed killer. For common chemicals like Round-Up, 50°F is usually the lowest temperature where the product remains effective at killing weeds. Many plants essentially stop growing as soil temperatures fall into the 50-degree range, so at that point spraying is a waste of time and money. The answer is to spray early in the fall season, while plants are actively growing and air temps are still in the ideal 60-degree range.
Mistake No. 8: No Pre-Snow Clean-Up
In snowy winter climates, aim to clean up the garden before early snowfalls arrive. Doing this helps to reduce winter resting places for pests and diseases that go into hiding once snow flies. It's also easier on you—no frozen fingers.
Mistake No. 9: Not Destroying Veggie Crops
It's vital to destroy spent vegetable crops, especially those that hosted problem pests, like Mexican bean beetles. Don't toss these plants into a compost pile unless you know it heats enough to destroy pests and eggs. It's safer to dispose of infested plants and fallen leaves in bags you put at the curb for garbage pick up.
Mistake No. 10: Failing to Use Frost Blankets
If you have a garden that's actively producing when frost threatens, there's no excuse for not investing in some season extending equipment to keep the fresh flavors—and nutrition—coming into your kitchen. This kit costs under $25 and comes with built-in hoops and the ability to extend up to 18 feet.
Mistake No. 11: Letting Grass Grow Too Long
In snowy regions, grass that goes into winter without being mowed is more prone to develop snow mold. Try to give grass one last cut before winter snows arrive. Also, once the ground freezes, stay off the lawn. Frozen grass is more prone to breaking as you walk on it, which can damage individual grass crowns.
Mistake No. 12: Not Wrapping Vulnerable Shrubs
Take time to wrap shrubs and small trees with a winter coat of burlap for protection against cold temps. Plants at risk include those with borderline hardiness and evergreens prone to winter burn. Spray evergreens with an anti-transpirant before wrapping in burlap. Before adding the burlap, protect trunks against chewing rodents by tossing mouse bait that's enclosed in a protective container near the base of the plant.
Mistake No. 13: Failing to Protect Trunks
As food sources become scarce, rabbits, mice and voles can make quick work of bark on unprotected trees and shrubs. Use tree guards around young tree trunks, and surround shrubs with hardware mesh. You can also try to attract raptors like owls and hawks, which prey on these mammals, by erecting artificial perch poles.
No matter where you stick your trowel in soil, you can enjoy the beauty of well-placed winter plants. In coldest regions, a key winter gardening idea is to design a landscape that offers beautiful winter views. A well-designed winter garden rewards in other regions, too, but when outside temperatures drive you indoors, filling key views with beauty ranks high on the garden priority scale.

An important winter gardening idea is taking inventory of your yard to determine where design is lackluster or weak. Observe your landscape and notice what attracts your eye. Structures like a trellis, tuteur or garden arch provide an instant focal point. Neatly edged paths and beds also earn their keep in winter, when lines are clearly visible and not blurred by billowy plantings.

Once you determine where your landscape needs help, settle into some armchair gardening. Peruse photo galleries online and flip through inspiring garden books for ideas you can adapt to your budget and yard.

In all regions, design a winter landscape that provides materials you can clip to assemble winter floral arrangements—indoors and out. Gathering these materials and creating attractive displays is a simple, but rewarding winter gardening idea. Stuff pots or hanging baskets on a porch with evergreen clippings and berried branches, and you have a winter-hardy display.