Winter Vegetables and Fruits
Transform the cold weather months into a time of color and flavor in your yard by growing winter vegetables and fruits.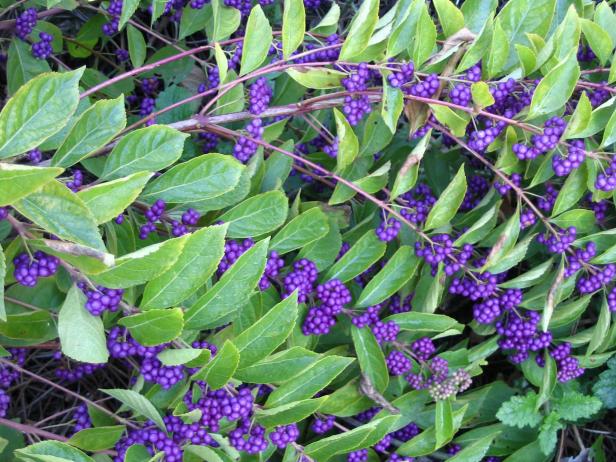 Purple Callicarpa Americana
The beautyberry bush produces long wands of purple berries.
The beautyberry bush produces long wands of purple berries.
Make plans now to celebrate the arrival of frosty nights with a commitment to keep on gardening. You can grow winter vegetables in many parts of the country. In mildest regions, you can plan to pick fresh winter garden vegetables from fall to spring.
Winter fruits also play a role in creating a spirit-refreshing multi-season garden design. These aren't the kind of fruits you'd serve to family, but birds and other critters will be happy to nibble on them. Learn some ideas for winter fruits and vegetables you can grow in your yard this year.

Winter vegetables include an array of plants, from root crops, to greens, to brassicas. The list includes semi-hardy plants, which withstand light frosts (29 to 32°F), as well as hardy winter veggies, which tolerate hard frosts (25 to 28°F). Semi-hardy crops include arugula, endive, leaf lettuce and gourmet greens. Asian greens, savoy cabbage and radicchio also survive light frosts. For root crops, the semi-hardy group includes beets, carrots, rutabagas and Irish potatoes.

Hardy crops cover a wide variety of vegetable favorites, such as English peas, leeks, broccoli and Brussels sprouts. Radish and turnip fall into the hardy crops group, too. Frost-tolerant greens include the true cold-weather champs: kale, collards and spinach. These three leafy plants can take temperatures into the upper teens to low 20s.

Figuring out when to plant your winter vegetables might be the hardest part of the process. You can safely guess that it's planting time when seedlings show up at local garden centers. A good rule of thumb is that to grow winter vegetables in Zones 7 to 10, you should prepare soil in late September and actually plant sometime in October. The precise planting window depends on which winter vegetables you're growing and what the last frost date is for your region. Expect to find terrific winter vegetable garden advice from the local extension office.
Arugula
Arugula is at its best in cold weather. Try growing it in cool weather for a milder crop.
Broccoli
Broccoli continues to produce side shoots once the main head is harvested. Once established, you can enjoy broccoli into early winter.
Brussels Sprouts
Brussels sprouts are the most cold hardy of the cabbage family.
Cabbage
Cabbage is very cold hardy. Stagger the planting so you can enjoy cabbage all winter.
Endive
Endive is a great addition to a winter salad. Plant plenty this fall.
Kale
Kale and other hearty greens are great winter vegetables.
Spinach
Spinach is great to grow in cool weather. Add it salads or saute with garlic for a hearty winter feast.
Swiss Chard
Similar to beet greens, Swiss chard has a mild flavor. Its pretty color will add a little pizzazz to your garden (and your plate).
Growing winter fruits can refer to stocking your home landscape with berried shrubs and trees, or it can speak of raising citrus crops, pomegranate or kiwi. In mild winter regions, these fruits ripen during traditional winter months. In most of the country, though, winter fruit is speaking more of ornamental plants.

Many winter shrubs bear fruit that lingers through winter, including holly (Ilex spp.), winterberry (Ilex verticillata), heavenly bamboo (Nandina domestica) and cotoneaster (Cotoneaster spp.). While these shrubs ripen mostly red berries, other winter shrubs offer unusually tinted berries. Coralberry (Symphoricarpus orbiculatus) ripens beautiful coral-blushed berries that blanket branches heavily. Beautyberry (Callicarpa spp.) steals the show with its clusters of bright purple fruits.

Other winter fruits dangle from trees, including classic crabapples. Homeowners prize these flowering trees for their spring flower power, but these plants also carry color into winter in the form of dangling fruits. Prairifire (Malus 'Prairifire') and Profusion (Malus x moerlandsii 'Profusion') crabapple trees hang onto their fruit into January. At this point, the apples soften, and then birds start to feast. For crabapples that keep their fruit further into winter, try Sugar Tyme (Malus x 'Sutyzam') or Sentinel (Malus 'Sentinel').
More About Winter Vegetables And Fruit