Get all the info you'll need on corner bathroom sinks, and get ready to install an attractive and space-saving fixture in your bath space.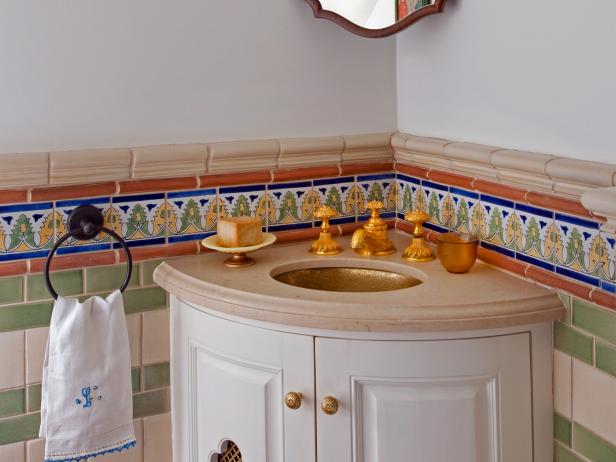 DP_Ashley-Astleford-Mediterranean-powder-room-niche_s4x3
A corner of this Mediterranean-inspired bathroom includes a large mirror, hung at an angle; a wedge-shaped vanity with round inset sink, gold fixtures, and space for soap dish and candleholder; and a tile wall with alternating rows of green and white tile which is topped by a row of blue, yellow, and green tiles that form a pastoral scene.
Bathrooms are often tight spaces, so if you're looking to maximize the efficiency of your bath space, you'll want to explore the range of corner bathroom sinks available.
Architectural Distraction
Designers Mark Edge and Amy Wikman collaborated to turn Mark's narrow yet tall master bathroom into a classic, masculine retreat. By cladding the walls with dark paneling and freeing the sink from closed-in cabinets, they minimize the space's shortcomings and shift focus to its architectural interest.
Bold-Colored Bathroom
As this 6-foot-by-7-foot Atlanta bathroom demonstrates, sometimes bold color is all you need to make a big statement. Although this space receives no natural light, the bold Kelly green walls give it fresh personality. The ultra-white floor and wainscoting counterbalance the green's intensity.
Less Is More
In the main bathroom of her family's Georgia home, author and stylist Amy Flurry took a less-is-more approach. Although the space is narrow, the eye is drawn upward to its generous 10-foot ceiling, first by a splash of cobalt blue concentrated on the center of the walls, then up toward the ceiling with a classic chandelier.
Grounded With Graphic
The basket weave-pattern tile in this bathroom by designer Betsy Burnham demonstrates how a statement graphic and high contrast can pack visual interest into an otherwise tiny space. Although Betsy uses graphic tile on the floor, she keeps the walls simple and bright with a smart choice of white subway tile.
Packed With Pattern
When remodeling daughter Carson's tiny bathroom, Betsy mixed contrasting yet coordinating patterns. The cheerful Katie Ridder wallpaper is much larger in scale than the mirror's snakeskin framing, allowing the two prints to coexist harmoniously, while the unstructured pattern of the Roman shade strikes a balance by accentuating the black and white tones.
White on White
Playing with available natural light is key in small bathrooms. When remodeling son Will's modest en suite bathroom, Betsy used a white-on-white color scheme to reflect and refract light from the tiny window all around the small space.
Hard-Working Hardware
Although it's often a DIYer's afterthought, hardware can make a huge impact in a small space. By keeping cabinets simple and light, then splurging on high-end, statement-making hardware, Betsy played with shape, sheen and scale to pack style into this bathroom without taking up valuable space.
Go With Glass
For the remodel of his midcentury-modern Atlanta home, designer Keith Brown camouflaged the bathroom's size by maximizing all available natural light through windows and a glass partition. By keeping the shower area open to the rest of the bathroom with a generously sized interior glass wall, the otherwise darkly decorated space feels spacious and airy.
Floating Free
To make his master bathroom feel slightly larger in space, Keith repurposed an IKEA media cabinet into a floating vanity. The creative spin on a traditional fixture freed up floor space, creating the illusion of more square footage.
Open Entry
Located just off his master bedroom, Keith's master bathroom feels much larger thanks to its open entry. The absence of a door opens the rooms into one another, making them feel like one large space and allowing light to flow freely between the spaces.
Corner bathroom sinks come in a wide variety of styles, colors and materials. Because they're often minimalist in design, they can at times be less expensive than larger models. Additionally, it may be possible to place a standard-sized sink comfortably and snugly in the corner of the bathroom without having to customize the sink design. Pedestal sinks work particularly well for this, but drop-in sinks that sit in a corner-shaped console can also work well.
One consideration to keep in mind if you're contemplating a corner bathroom sink is plumbing. If your existing sink plumbing is located in the corner in question, there's no issue—you can, and probably should, place the sink there. If, however, you'll need to reroute plumbing to accommodate a corner sink placement, you may want to weigh the cost and time of reconfiguring the plumbing against the space-saving or aesthetic advantages of a corner sink.
Other Bathroom Sink Options