Half Bathroom or Powder Room
Get tips for how to design a small but mighty space.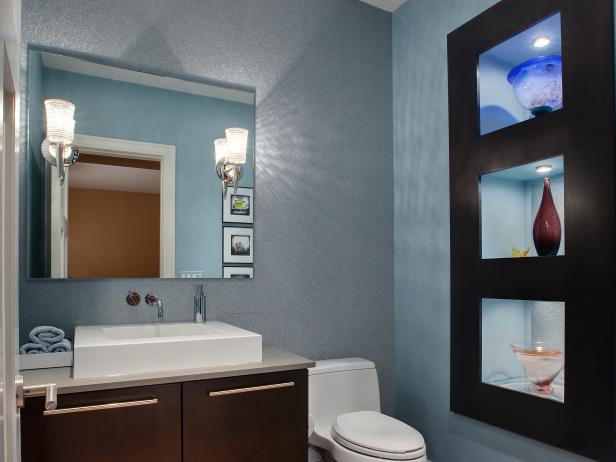 Contemporary Blue Bathroom With Built-In Shelves
Geometric elements like the rectangular vessel sink, cubic, built-in shelves and a simple, square mirror give the space a contemporary look. Slate blue walls add drama and a soothing pop of color.
Powder rooms, sometimes called half baths, are petite but powerful. "They are usually small rooms, but you can spend a lot of money per square inch practically," says Lori Carroll, president, Lori Carroll & Associates, Tucson, Ariz. "There are many different levels of 'wow factor' you can incorporate whether it's the floor or light fixture, the mirror, the wall tile, the specialty finish, the toilet."
Basically, you can dress a powder room to the nines and spend more in this sliver of a space than you would renovating a full bath. You may decide to pull out all the stops and design this little jewel box of a room to showcase your personal style. Guests you entertain will surely stop in to use the space at some point in the evening.
Bold Wallpaper Patterns
The graphic wallpaper adds dimension to this small black-and-white powder room. Photo by Hale Photography. Design by Jennifer Jones in San Francisco
Powder Room Stripes
A rich faux stripe finish and elegant botanical artwork on the walls give this powder room a traditional feel. Design by Loretta Willis
Simple Elegance
Sophistication and understated elegance are found in this powder room. The bamboo walls shine in this space alongside simplistic countertops. Design by Chris Johnson
Minimum Color Palette
The upholstered walls in this small powder room bring warmth and texture to the space. Don't bring too much texture though; keeping a minimalist color palette helps maximize small spaces. Photo by Terrance Williams. Design by Lauren Jacobson in Studio City, Calif.
Small Space, Big Design
This powder room boasts a midcentury modern design aesthetic characterized by clean lines and bold color contrasts. Design by Vern Yip
Mediterranean-Style Powder Room
This powder room, designed by Bonnie Sachs, has a Mediterranean feel. Jerusalem stone with modern glass elements from Italy create a combination of visual and tactile texture and vibrant color.
Regal Accents
The chair rail and wood paneling add formality to this powder room. The traditional wallpaper print, in combination with the gold accents in the frame, mirror and faucet, create a classic space. Design by Thomas Conway
Tile Wall Powder Rooms
This space, designed by Andreea Avram Rusu, uses the same color glass tile throughout, but the lower half is sandblasted and the top half is glossy. A cast concrete sink and stainless steel toilet add classiness, and the flowers in the corner complete the look.
Beautifully Aged Powder Room
This space achieves a Mediterranean appearance with a warm wall finish. The walls are faux-finished with plaster relief arabesque motifs scattered about. A soft glaze washes over the wall to give it an aged feel. Design by Joseph Pubillones in Palm Beach, Fla.
The Element of Surprise
The detailed vessel sink complements the warm red walls. The walls are embellished by a gold leaf design, adding an element of surprise in this powder room. The oversize mirror above the vanity works with the diamond-shaped mirrors on the back wall to make the space seem larger. Photo by Cynthia MacDonald. Design by Kim Smart
Organic Colors
This powder room brings the outdoors inside with reclaimed wood cabinetry, plants and pebble-covered walls. The sconces add a bit of sparkle. Design by Lori Dennis
Mirrored Walls
A mirrored wall makes this powder room feel twice as big, and the bold artwork enlivens the small space designed by Andreas Charalambous.
Wood-Paneled Powder Room
This bathroom, designed by Gail Drury in Glen Ellyn, Ill., takes advantage of some wasted space in the adjoining room. The three openings are framed with wood panels to match the frames on the back wall.
Vanity Appeal
The open washstand with porcelain sink from Walker Zanger creates a beautiful focal point for this well-detailed powder room. Design by Kathy Geissler Best; photography Matthew Millman
African-Inspired Details
Wood-lined walls, leather vanity, chiseled-limestone counter, slate flagstone flooring and natural branches are some of the elements used to create a rustic atmosphere and evoke a cultural context.
Is this bathroom mainly for guests?
Will family (children) use the bathroom on a regular basis?
Where is the bathroom located (off of the kitchen by a mudroom entrance; near a formal foyer)?
How much natural light enters the room (if any)?
What style is the powder room today, and is there a style you'd like to experiment with in this space?
Self-Rimming Sink
A self-rimming sink is the easiest to install and can be replaced without destroying the countertop. It has a rolled and finished edge or rim and seems to sit on top of the counter. This self-rimming bathroom sink has a traditional porcelain finish and a silver faucet. Image courtesy of Toto USA
Undermount Sink
Installed underneath the countertop, undermount sinks are growing in popularity because they're easy to clean and offer a seamless appearance. Set beneath marble countertops, this bathroom's white basin sink gives the space a clean-cut, contemporary feel. Image courtesy of Xylem
Vessel Sink
A stylish choice for contemporary bathrooms, a vessel sink is a basin that sits on top of the counter. A blue glass vessel sink with a nickel faucet is the focal point of this tranquil master bathroom. Design by Jill E. Hertz.
Pedestal Sink
A pedestal sink is a basin that is supported by a freestanding pedestal leg. Pedestal sinks take up very little floor space and are easy to clean around, making them a great option for both large and small bathrooms. The pedestal sink is perfect for this bathroom since there isn't much square footage. Image courtesy of Kohler
Console Sink
A console sink is a table-like fixture supported by ornamental legs. Upheld by simple, bracket-like legs, this console sink gives the bathroom a light and open feel. Design by Beth Haley Design in Nashville, Tenn.
Wall-Mounted Sink
Supported solely by the wall, wall-mounted sinks free up floor space and are arguably the easiest to clean. Because of a lack of space in this bathroom, designed by Jennifer Charleston, the wall-mounted sink is the perfect option because it's not too bulky.
Vanity Sink
A vanity sink is installed into some kind of cabinetry. It provides ample storage and can hide clutter. This sink is built into an antique-looking cabinet, giving the space a rustic feel. Image courtesy of Native Trails
Think big: The powder room is really the place to install the fancy tile or choose the exotic wood cabinet or other materials that would be cost-prohibitive in a larger space. "It's the one place where you can put all of your money into the finishes because it's so small," Rady says.
Vessel sink: This is the bathroom to install that vessel sink you've been eyeing, and you can find them in glass, stone, porcelain and other materials.
Add opulence: Traditionalists, now is your chance to go diva. Choose rich colors, hang a piece of interesting artwork, include an accent pendant light fixture that makes a statement.
Ventilate properly: While you aren't dealing with water condensation from a shower, you should consider a system to keep air moving in this especially small space to get rid of bathroom odors.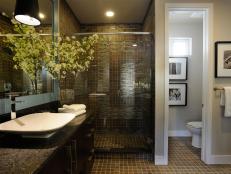 Consider how you will use the space and arrange the room layout to suit your lifestyle.