Out with the Mold and In with a New Luxurious Master Bathroom
Homeowners John and Christa Carter transform their deteriorating master bathroom into an elegant escape, featuring a grand iron chandelier, soaking tub and walk-in shower.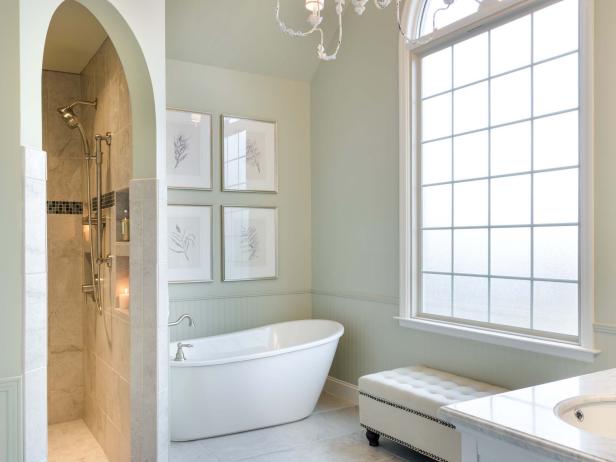 hgrm-Make-Room-local-bathroom-overall_s4x3
Photography by Jason Kisner
Jason Kisner
Photography by Jason Kisner
A brass-accented ceiling fan, a linen closet with bifold mirrored doors, and a big jetted garden tub done entirely in dusty pink tile. Before they decided to remodel it, John and Christa Carter's master bathroom was a pitch-perfect tribute to Golden Girls-era design.
"When we bought the house, we knew we bought work," Christa says. "Nothing had been done to the place in 20 years. But it was overwhelming trying to decide what to do first. With that big garden tub and all that mauve tile, you couldn't start one thing without doing another—we knew the bathroom would be a big expense down the line."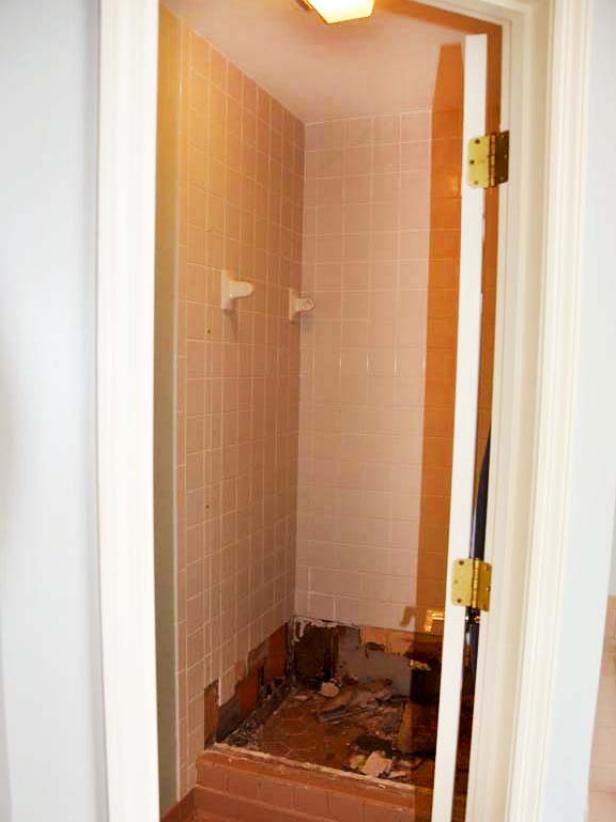 hgrm-Make-Room-local-bathroom-shower-before_s3x4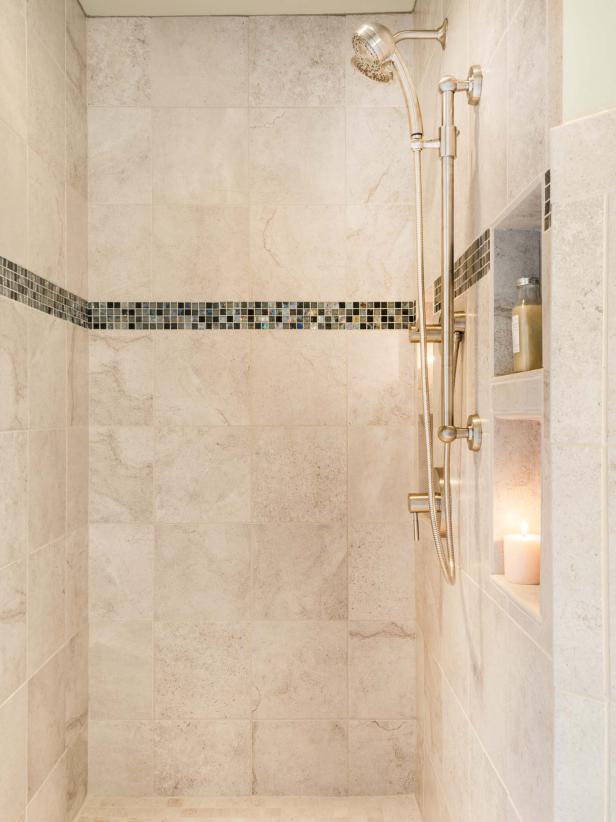 hgrm-Make-Room-local-bathroom-shower-overall_s3x4
To make things tolerable until they could afford a remodel, the Carters painted over the floral striped wallpaper and oak vanity and added a couple of modern fixtures. But the bathroom finally forced their hand when a lingering mildew smell became impossible to ignore: plumbing leaks behind the shower and tub were destroying the drywall and tile. "We'd put our kids in the big tub and the tile would just crumble around them," Christa says.
So she and John took the plunge. Christa put together an idea book with the help of her aunt, an interior decorator, and she and John consulted with a designer, plumbing and lighting pros, and their construction company. They decided to take on part of the demolition themselves to keep the budget manageable, and they made a list of wants for the new space.
Clean and Serene
The finished master bath is elegant and spa-like, with the crowning touch overhead: a wood-and-iron chandelier sourced from a local salvage shop. The Carters had just installed a similar piece in their dining room when they realized how good it would look in their newly remodeled bathroom—so a second shopping trip yielded the same model in a different color.
Before the Remodel
The dark mauve garden tub appeared to suck all the light out of the master bathroom, even though it was located right next to a large window. Even worse, tiles had begun to disintegrate in the surround and the smell of mold had become noticeable. To Christa, the tub always felt old and dirty even when it was clean.
Shower Power
A larger walk-in shower was the top priority for John and Christa. Done in ceramic tile with a glass tile accent, the shower features both a traditional showerhead and a handheld spray for easy cleaning.
Extra Storage
Four built-in shower niches provide enough storage that the Carters don't miss the linen closet they had to eliminate.
Clever Hooks
Robe hooks take up far less space than towel bars would have, allowing for the entire shower experience to fit inside the once-cramped alcove.
Multipurpose Bench
Christa did some serious searching before finding the perfect storage bench. Deep enough to hold bath towels easily, the bench has a tufted linen cover with nailhead trim.
Tucked Away Toilet
Peeking out from behind the space-saving pocket door are the comfort-height toilet, now occupying its own compartment, and a woven basket for holding tissue.
Rela Tub
Christa loved the simplicity of this freestanding soaking tub—and the extra feeling of space it would afford because of its relatively small footprint. Because the tub was white, she chose to paint her beadboard trim the same sage color as the walls in order to set off the tub visually, a tip from her interior decorator aunt.
Handy Fixtures
Christa had the tub re-plumbed to include the fixtures she wanted, including a handheld spray.
Vanity Flair
The new contemporary vanity has a higher profile and offers more storage than the old one the Carters were living with.
Drawer Space
Dividers maximize the usefulness of the vanity's large drawers.
Mirror, Mirror
Using separate tilted mirrors and two banks of lights adds more drama per square foot than a single mirror or fixture would have. Mirrors that tilt on an axis are handy for couples because they can be adjusted for users of different heights.
The Homeowners' Wish List
The old bathroom, despite its roomy footprint, had an awkward layout. The small shower and the toilet were crammed together in an alcove with no separation, leaving what Christa calls "a big dance floor in the middle." The linen closet was shallow and had only four modular shelves inside, and the vanity offered limited storage space.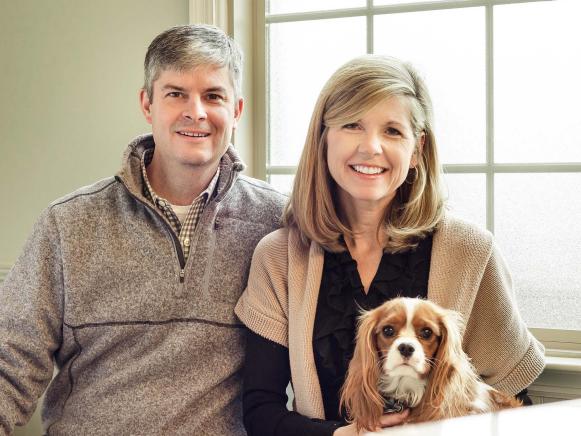 hgrm-Make-Room-local-bathroom-homeowner-portrait_s4x3
John and Christa Carter sit in front of their bathroom window with their dog, Hunter.
Jason Kisner
John and Christa Carter sit in front of their bathroom window with their dog, Hunter.
Christa and John's requests:
A bigger, more beautiful shower. They wanted more space and more storage, and after some discussion, they asked that the square doorway to the shower alcove be replaced with a more dramatic arch that would match the look of the room's large window.
Smarter storage. The bathroom's ample space could certainly be used to better advantage.
Access to the walk-in master closet from the bathroom. Since they would probably be losing the impractical linen closet in the redesign, John and Christa hoped to link their large master closet to the new bath.
A cleaner look—both literally and figuratively. Christa wanted a fresh, simple look that would be easier to clean. That meant swapping out the big jetted tub for an elegant freestanding soaking tub, and adding handheld sprays there and in the shower to make cleanup a breeze.
Removing the toilet from the alcove and giving it its own space was the first order of business—this would allow the Carters to turn the entire alcove into a roomy tiled shower space with both dry and wet areas. To provide a separate space for the toilet, the original linen closet was removed, and a bit of room was stolen from the master closet on the other side of the wall. A space-saving pocket door now divides the toilet compartment from the bathroom.
Still, although the designer tried several different layout configurations, the larger shower ultimately meant sacrificing access to the master closet from the bathroom. So without a linen closet in the bath, smarter storage became imperative.
Getting Started
Before tackling a master bathroom remodel, homeowner Christa Carter presented her design ideas to Ferguson product consultant Brittany Earlie, left, who advised her on plumbing and lighting selections.
You Might Also Like...
Picking Products
"Christa showed up with an idea book, which was great," Brittany says. "That way we could narrow down her product choices based on the simple, elegant look she wanted."
Handy Showerhead
Handheld spray heads make cleaning a breeze, and that was Christa's rationale for including them both here in the shower and also on the tub. This brushed-nickel handheld model is from Mirabelle®, a line of fine faucets and bathroom fixtures, available exclusively at Ferguson Bath, Kitchen, and Lighting Gallery showrooms.
Clever Hooks
Christa hit a snag trying to fit towel bars into her space—that's when Brittany suggested hooks instead. "They're actually inside the shower, but there's a dry space in the front corner where towels won't get wet," Brittany says. "Robe hooks are great because they take up far less space than bars, plus towels actually get dry hanging on them because they aren't folded up."
Toilet Closet
It's looking bashful in this photo, but this Key West® toilet from Mirabelle® could certainly toot its own horn. "It's about as decorative as a toilet gets," Brittany says. "It's got nice style, it's a taller height, and it has a slow-close seat, which is awfully snazzy."
Soaking Bathtub
The single slipper Maax tub offers a traditional look with a clean line, Brittany says. Christa, weary of her mauve-tiled garden tub and unimpressed with the hassle of cleaning out jets, wanted a simple soaking tub with an understated profile.
Brushed-Nickel Fixtures
Christa's tub features a classically-inspired Roman Tub Faucet with diverter for hand shower, all from the Mirabelle® St. Augustine collection, available exclusively at Ferguson Bath, Kitchen, and Lighting showrooms from coast to coast.
Bright Idea
"John and Christa maximized their lighting over the vanity by doing two separate mirrors and two banks of lights," Brittany says. That's six feet of lighting, which adds a warm glow to a room already graced with good natural light.
Mirror, Mirror
Brittany helped Christa achieve the tilted-mirror look she had admired in a magazine. "They add interesting design detail without adding extra bulk visually," Brittany says. "Plus, because they tilt on an axis, they can accommodate people of different heights."
Decorative Sink Faucet
The brushed-nickel fixtures from Ferguson's Mirabelle line are clean and contemporary but still have a traditional feel.
With the linen closet gone, the homeowners incorporated alternative storage options.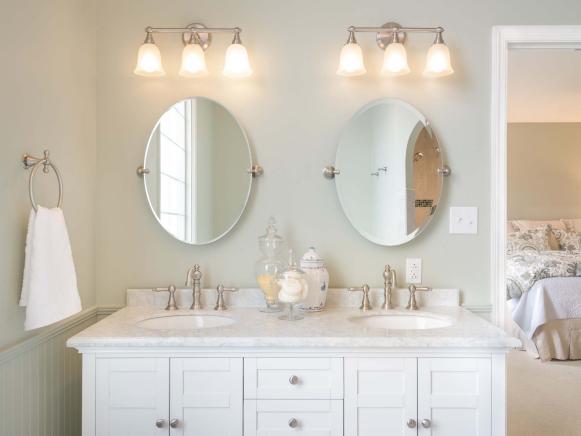 Bright, Charming Bathroom With Double Vanity
The Carters shopped online for their new contemporary vanity from Cabinets to Go, which features a custom look without the cost.
Jason Kisner
The Carters shopped online for their new contemporary vanity from Cabinets to Go, which features a custom look without the cost.
Four storage niches in the shower. "No more shampoo bottles on the floor," Christa says.
Robe hooks instead of towel bars. Placed in the dry area of the shower, hooks take up a fraction of the space and allow towels to dry more quickly.
A deep storage bench under the window. Linens have their home here, while tissue is stored in a basket in the toilet compartment.
A modern vanity. The taller new piece is more comfortable to use and has more drawer and cabinet space than the old version.
John and Christa say the remodeling process was nearly glitch-free, and they're thrilled with the results. The new sage color is the epitome of cool, clean, and soothing. "I didn't realize how dark all that mauve tile had made the room," Christa admits. The freestanding tub and walk-in shower give the room an authentic spa feel, and the space is crowned with a distinctive salvage-store find: a distressed wood chandelier that shows off the room's vaulted 12-foot ceilings to best advantage.
Plus, Christa says, no more mold. "This bathroom might just be the best-smelling room in the house," she jokes.
John makes no bones about what he likes the most: "Definitely the shower," he says. "The old one was so cramped. This one is larger and has better features and it just looks really cool."
And there was a bonus benefit in store: because the master closet had been rearranged anyway, John was inspired to outfit it with a new modular shelving system that made the most of the new layout. "It wasn't officially part of the renovation," he says, "but we didn't have a functional closet before, so I decided to install it myself. And you know what? It's a game-changer."