Browse helpful information on powder rooms so you can create an elegant bath and preparation space in your home.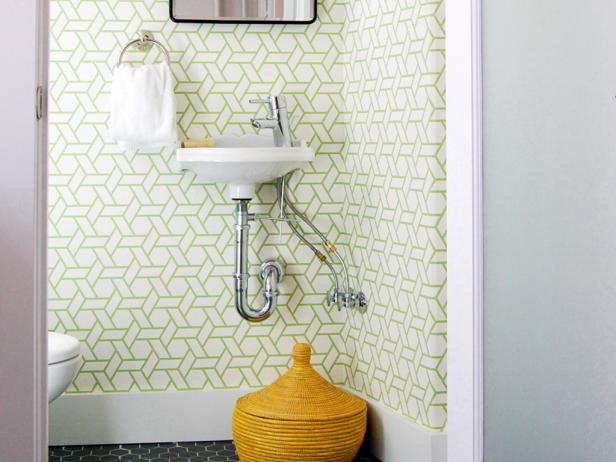 DP_Niche-Interiors-Contemporary-Bathroom_s4x3
A tiny powder room in a San Francisco Victorian is updated with graphic wallpaper and contemporary fixtures.
Powder rooms, though small, can be important elements in your home. By adding a few bold, contemporary touches, you can create an elegant and up-to-date toilet and cleanup space in your home.
Bold Wallpaper Patterns
The graphic wallpaper adds dimension to this small black-and-white powder room. Photo by Hale Photography. Design by Jennifer Jones in San Francisco
Powder Room Stripes
A rich faux stripe finish and elegant botanical artwork on the walls give this powder room a traditional feel. Design by Loretta Willis
Simple Elegance
Sophistication and understated elegance are found in this powder room. The bamboo walls shine in this space alongside simplistic countertops. Design by Chris Johnson
Minimum Color Palette
The upholstered walls in this small powder room bring warmth and texture to the space. Don't bring too much texture though; keeping a minimalist color palette helps maximize small spaces. Photo by Terrance Williams. Design by Lauren Jacobson in Studio City, Calif.
Small Space, Big Design
This powder room boasts a midcentury modern design aesthetic characterized by clean lines and bold color contrasts. Design by Vern Yip
Mediterranean-Style Powder Room
This powder room, designed by Bonnie Sachs, has a Mediterranean feel. Jerusalem stone with modern glass elements from Italy create a combination of visual and tactile texture and vibrant color.
Regal Accents
The chair rail and wood paneling add formality to this powder room. The traditional wallpaper print, in combination with the gold accents in the frame, mirror and faucet, create a classic space. Design by Thomas Conway
Tile Wall Powder Rooms
This space, designed by Andreea Avram Rusu, uses the same color glass tile throughout, but the lower half is sandblasted and the top half is glossy. A cast concrete sink and stainless steel toilet add classiness, and the flowers in the corner complete the look.
Beautifully Aged Powder Room
This space achieves a Mediterranean appearance with a warm wall finish. The walls are faux-finished with plaster relief arabesque motifs scattered about. A soft glaze washes over the wall to give it an aged feel. Design by Joseph Pubillones in Palm Beach, Fla.
The Element of Surprise
The detailed vessel sink complements the warm red walls. The walls are embellished by a gold leaf design, adding an element of surprise in this powder room. The oversize mirror above the vanity works with the diamond-shaped mirrors on the back wall to make the space seem larger. Photo by Cynthia MacDonald. Design by Kim Smart
Organic Colors
This powder room brings the outdoors inside with reclaimed wood cabinetry, plants and pebble-covered walls. The sconces add a bit of sparkle. Design by Lori Dennis
Mirrored Walls
A mirrored wall makes this powder room feel twice as big, and the bold artwork enlivens the small space designed by Andreas Charalambous.
Wood-Paneled Powder Room
This bathroom, designed by Gail Drury in Glen Ellyn, Ill., takes advantage of some wasted space in the adjoining room. The three openings are framed with wood panels to match the frames on the back wall.
Vanity Appeal
The open washstand with porcelain sink from Walker Zanger creates a beautiful focal point for this well-detailed powder room. Design by Kathy Geissler Best; photography Matthew Millman
African-Inspired Details
Wood-lined walls, leather vanity, chiseled-limestone counter, slate flagstone flooring and natural branches are some of the elements used to create a rustic atmosphere and evoke a cultural context.
One of the best ways to retain the elegance of traditional powder rooms while adding some modern touches is by combining vintage and modern textures and materials. For example, seating an elegant but modern porcelain sink on a vintage wooden base is a great way to create a warm, welcoming space that still exudes classic style. Other vintage elements like candlestick-style lamps or traditional sconces can have the same effect—combine these with a bold, ornate mirror frame design in wood or metal.
Since powder rooms are often used by guests and not bound to any other room's design, they're a great opportunity to experiment with bolder colors, patterns and textures. Adding some fun and personality to the powder room can create an unexpected design surprise for guests. Explore the local thrift shop for unique design elements—art, furniture or lighting fixtures—that can make an entertaining or irreverent statement.
Another common feature of powder rooms is wallpaper. Notoriously difficult to install, wallpaper is a natural choice for powder rooms because of their often petite, rectangular design. Feel free to experiment with elegant or bold patterns, and create a space that welcomes guests and family members alike.
Make a Statement in Your Powder Room