Get all the info you'll need on vessel sinks, and get ready to install a striking sink design in your bath space.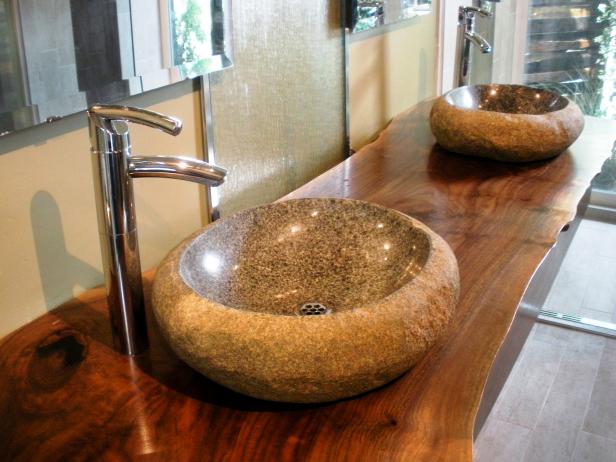 DBCR110_Double-Stone-Vanities_s4x3
Vessel sinks can be the most striking feature in a bathroom, adding style and value to any bath space.
Defined as free-standing sink basins that sit on top of sink consoles or countertops, vessel sinks are available in a wide range of materials, colors and prices.
Neutral and Classic
Interior designer Laura Green embarked on a full master bathroom remodel aimed at incorporating design elements from Italy and France. Keeping with her signature design sensibility, the designer focused more on the art of tone-on-tone layering by pairing white with cream to keep the overall mood calm and airy. The original space was too small for a standing shower, a soaking tub, and a dressing room-style place dedicated to getting ready. The master bathroom was expanded from 121 to 168 square feet to accommodate these important design elements.
Mi Marble
For custom bathroom floors without the custom price tag, Green purchased standard 12X12 Calcutta Gold marble tiles and had them cut down to 4X5. The initial plan called for using the Italian marble, chair-rail style, on the walls. For a similar effect at a much affordable price, she stuck with Calcutta Gold bullnose trim at the top with a band of 4X5 Calcutta tile below, and used basic ceramic subway tile all the way down to the base trim. "Since your eye starts at the bullnose trim and ends at the Calcutta base trim, all you really notice is the white marble," says Green. "The subway tiles sort of just fade away."
A Fabulous and Functional Shower
A glass-enclosed shower was added in the space where a toilet once sat. To keep the feeling open and connected to the rest of the bath area, Green stuck with the same wall tiles used throughout the bathroom. A rain shower-style shower head made from 24 karats Venetian gold sprays triple the amount of water from the existing one. Instead of polishing the gold, she lets it age to develop a natural patina.
A Stunning Soaking Tub
In its original state, the bathroom had a contractor-grade, fiberglass 1980's corner tub which seemed like an afterthought. In the new space the French cast iron tub is the star of the show centered in the room.
European Flair
Many Roman palaces and temples are known for gilded gold ceilings, which evoke a sense of classic European luxury. This same idea was put to work in the bath area with gold finishes on the hardware and fixtures, including the faucet for the soaking tub.
A Corner for the Commode
Since the bath and shower area was designed to help with rest and relaxation, the toilet needed to be relocated. The toilet was tucked into a corner partitioned off by a 12-inch deep column, which keeps it out of view from the soaking area.
European Art
To add a touch of European architecture, a classic structural arch drawing was framed and hung above the commode. Keeping in check with gold accents throughout, she chose a gold leafed frame to showcase the art.
European Textures for the Vanities
At the entry to the bath retreat sit two identical vanities across from one another. Different European textures are mixed in throughout the area. The Calcutta Gold top and backsplash, gold-gilded mirrors and gilded sconces evoke Roman charm while the patina of an aged 18th century French silver goblet adds a Parisian touch.
Displaying Accessories
Determined to keep the soaking and shower areas clutter-free, Green limited accessorizing strictly to the vanity area. The essentials are all out on display yet contained in a French metal bin.
Convenient Storage Solution
Although the vanity area is tight on space, the storage below is ample enough to house towels and bath essentials to keep the relaxation area completely open.
Bronze Drawer and Cabinet Nobs
Antique bronze drawer and cabinet pulls were used for a not-too-perfect effect instead of sticking with the tone of gold seen in accents everywhere else. "Mi metals is okay as long as they complement one another," Green says. "Contrast works well and anyone can do it."
Gold Sconces
A lover of antiques, Green opted to bring in 18th century Italy through lighting. During a shopping trip, she purchased gold candle wall sconces and had them wired and put on dimmers for modern ambience.
In general, vessel sinks require either a wall-mounted or otherwise free-standing sink faucet; they rarely feature an attached faucet. This means that you'll need to be particularly careful in measuring the location of the sink basin, drain and faucet, so that everything lines up perfectly.
In terms of materials, vessel sinks run the gamut from simple, affordable porcelain models to intricately shaped metals like copper and bronze. Glass vessel sinks can be extremely attractive, but they're also quite expensive, and durability can be a concern.
Style-wise, vessel sinks tend to reflect a more modern or contemporary look, as opposed to more traditional drop-in or pedestal sinks. This doesn't mean they can't pair with other style elements that are more traditional, however—an eclectic mix of styles can often create visual diversity and interest in a bath space.
Other Bathroom Sink Options
Top Before-and-After Bathrooms