Bedroom Closet Ideas and Options
It's one of the most used and often most abused spaces in your home — the bedroom closet. Find out how to organize it with these practical storage solutions.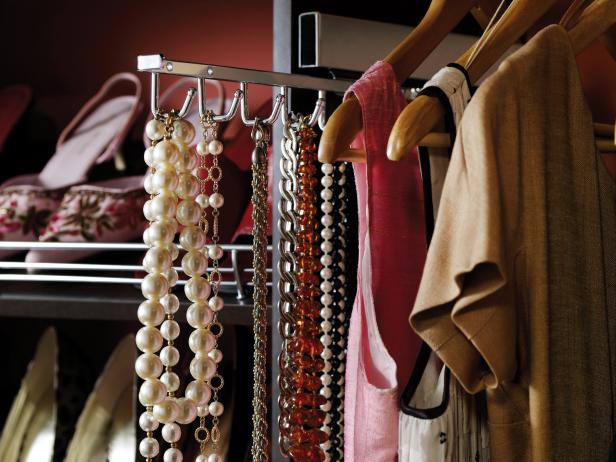 Chic Master Closet With Tie Rack
While a jewelry drawer insert is great for most knickknacks, a person with multiple long necklaces may need a different type of storage. A great way to decorate your closet, show off your favorite gems and make accessories handier is a tie rack. They're great for necklaces, scarves and, of course, ties.
By:
Caroline Shannon-Karasik
The bedroom closet is one of the most-used spaces in a home, but it can often also be a messy, disorganized space behind those . With a few simple storage solutions, your bedroom closet can be the organized oasis you always dreamed it would be.
Comfortable and Personal
An upgrade from the typical walk-in closet, boutique-inspired closets often incorporate seating, stylish lighting and other luxuries. In this closet by ClosetMaid, a plush rug and a comfortable bench create a place to relax, while framed photos and decorative boxes add a personal touch. The closet also features ample storage space in the form of drawers, shelves, shoe racks and rods.
Ornate Details
With gold leaf accents, elegant molding and plush carpeting, this closet by Studio Becker is a luxurious extension of the bedroom. A popular feature for boutique-inspired closets, an island provides extra storage space and a surface for folding laundry or packing clothes.
Chic Contemporary
Whether your style is traditional, modern or somewhere in between, choose a closet system that complements your home. California Closets' Venetian Wenge suite system features flat-panel drawers and simple hardware for a look that's sophisticated and contemporary. A stylish light fixture highlights the central island, while a woven rug and baskets add warmth to the sleek space.
Seamless Transition
A large doorway allows this closet by ClosetMaid to flow seamlessly off the master bedroom. The door also defines the his-and-hers zones of the closet, which are equipped with shelving, rods, a hutch for him and shoe storage for her. A double center island with a bench unites the space and adds extra storage space.
Timeless Style
Clean, classic and neutral, this closet by Studio Becker feels like a fitting room in a high-end clothing store. The drawers and storage boxes feature hand-stitched leather pulls, and the shelves are crafted from quality maple wood.
Handsome Design
Cherry cabinetry with an espresso finish adds masculine appeal to this closet by Wellborn Cabinet, Inc. The well-designed space includes several convenient features, including laundry storage and open shelving for shoes and purses.
All in the Details
The right details can transform a typical closet into a stylish sanctuary. Decorative molding, an antique-looking light fixture and maple cabinetry with a distressed finish add vintage style to this closet by Wellborn Cabinet, Inc. Along with rods, drawers and slanted racks for shoes, the closet features built-in shelving for books, framed photos and other personal mementos.
Soothing Hues
Think about what colors attract you when designing your closet. Grays, blues and browns make this closet by ClosetMaid a serene place to get dressed and spend time. For an invigorating space, opt for reds, oranges and other bright colors.
Start by categorizing all of your clothing into individual piles. Use storage containers to stow away out-of-season clothing and place it on a shelf until it is needed. Make locating your clothing easier by purchasing a particular color of hangers for each member of the family.
Consider hanging hooks on the wall to help keep belts, scarves and ties up organized. A shoe rack or shelf that sits on the floor is also helpful for keeping shoes in one place. Shoeboxes are also a useful option if it is easier to store shoes on shelves.
If you have his-and-her bedroom closets, then you might consider more customizable options, like a tie rack or jewelry organizer. If drawers are available, consider dividers that can help to keep lingerie or small accessories from becoming a tangled mess.
More Closet Organization and Storage Ideas
Other Closet Storage Ideas