Energy-Efficient Kitchen Remodel
A gut remodel turns eight outdated rooms into one modern, open kitchen with top-notch sustainable features for cook Adrian Hale and her family.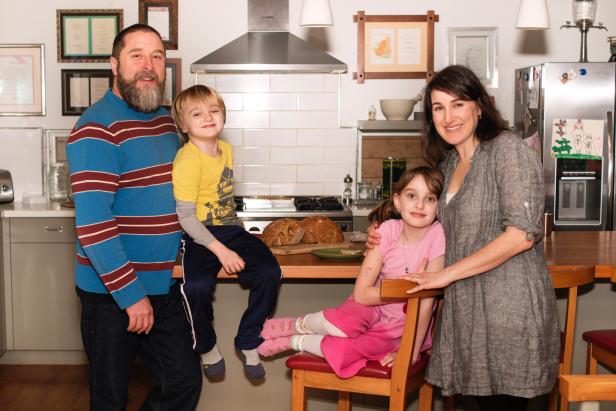 MR_Hale-Portland-Kitchen-family-portrait_s4x3
By:
Jen Jafarzadeh L'Italien
When cook Adrian Hale and her husband Gregg first saw their home, the space where the kitchen now resides was broken up into several different rooms, including a small dining room, galley kitchen, mop closet, breakfast nook and other random rooms. Now their modern, open floor plan simply boasts a cook's dream kitchen, a small pantry and a powder room. "The kitchen is now a seamless part of a room that we designed to be the heart of our living space," says Adrian. "I love being able to cook dinner while watching my kids do art across the room."
At the top of their priority list was creating a kitchen with sustainability in mind. "Green Hammer balanced our needs and desires with cost and long-term sustainability," says Adrian. "They truly created a house that is a long-term dwelling for us (but I also think they considered beyond us), while trying to do the least amount of harm to the planet with what means were at hand."
Blast From the Past
The kitchen was most likely remodeled in the 1950s when an electric range was added to upgrade the original wood stove system from when the home was built in the 1930s. The kitchen had not been touched other than the red paint for 60 years, and it was in need of an update.
Starting From Scratch
The family never lived in the house before the remodel. "When we were looking to buy the house, I almost cried because it was in such bad shape," says Adrian Hale. On the main level, there were four different floors in four different rooms. The floorboards were so worn through that you could see straight to the basement, Adrian notes. Now, there's a seamless wood floor throughout.
The Family in the Well-Loved Kitchen
The kitchen is the heart of the home for Adrian and her family. "I am a cook, and the main people I cook for these days are my kids, husband and friends who pass through," says Adrian. "Later in the day, the kitchen is the place where I discuss vacation plans with my husband or hear a story about my daughter's day while making dinner, or sit down at the counter to help my son learn to read." The family eats breakfast at the island – and sometimes dinner (especially when Gregg is out of town.)
Drawing Eyes Up
The ceiling beams are new FSC-certified glue laminated beams that had made for the kitchen space and stairs. The original stairs were imposing and stood uninviting right as you opened the front door. At first, the family talked to Green Hammer about removing the stairs entirely, but that would've been expensive. Green Hammer came up with the design of moving the front door and creating a breezeway-type space alongside the stairs. They also opened up the stairs in their design so that the staircase doesn't cut the room in half. "We really wanted one big open room, and I was happy Green Hammer figured out what to do with the stairs to still allow us to achieve that," says Adrian.
A Place to Gather
"Around the time we were in the designing phase of our remodel, we went on vacation and stayed at a rental that had a big table in the kitchen, and that's when it hit me — I wanted to mimic this same feeling of having a utilitarian space that could also function as a gathering space," says Adrian. "I'm sure I made the right decision. We eat breakfast at the island every morning, but it's also where I knead bread every week, make pie dough, chop veggies for dinner, and even stage plates for bigger dinners when we're entertaining."
Open Wood Stairs
Green Hammer loved the look of the wood ceiling beams so much that they shifted from an open steel stair design to making the stairs out of the same FSC certified beams. The change was actually less expensive and added a softer, warmer touch to the overall design.
Unified Floor Plan
The floors are all Forest Stewardship Council (FSC) certified eucalyptus. Green Hammer chose this warm color wood for its red and orange tones that highlight the exposed Douglas fir ceiling beams and stairs.
Two Sinks is Better Than One
The sink is a large 36" wide, 12" deep dual-basin stainless steel sink. Adrian asked for a big, deep sink to handle the heft of the stock pots, dutch ovens and half sheet pans that she turns out every day. The small basin is where she washes salad greens and herbs. The dual basin allows her to separate cooking prep from cleaning. "I always hated the idea of washing veggies in a sink that also holds all the dirty dishes!" says Adrian.
Perfect Shade of Gray
The kitchen cabinets are a custom gray with green added to the color. Adrian worked with Green Hammer's interior designer to select just the right color, which complements the red and orange hues of the surrounding wood features. Green Hammer actually custom-built the cabinets, dining table and countertop in their furniture shop, .
Cool Concrete
The countertops are made of concrete by Nature Cast concrete counters. The family wanted to use eco-friendly materials throughout the kitchen, and concrete was a good, sustainable choice in their price range.
A Cook's Dream
"Early on, it became clear that Adrian deeply enjoys cooking, while engaging and feeding her favorite people," says Stephen Aiguier of Green Hammer. Being that Adrian is a talented chef who loves to entertain, she really needed a kitchen that could keep up with her and allow her the space to produce gourmet meals and bake for family and friends. "To us, this meant we needed to provide ample space, storage and systems for her to effectively prep, cook and clean." Stephen loved their site meetings as Adrian always brought along a homemade treat, like cheese puffs he still dreams about.
Let the Light In
The house was originally made up of lots of small, dark rooms. The new kitchen design opens up the space and lets in more natural light. "We can set the mood for the kitchen by using the lighting in different ways," says Adrian.
A Functional Pantry
Adrian is also a food writer and recipe developer, so she uses this kitchen to nurture her own dreams and passions. Everything down to the pantry was designed with an eye for functionality.
A Cup of Espresso
"I am personally connected to almost everything about the kitchen space," says Adrian. "It's where I spend most of my day, since it's the heart of the house. It suits me for the small quotidian things that make my day better, such as the moments after I get the kids off to school, and I get to sit and enjoy a cup of espresso while reading the paper."
Salvaged Wood
Green Hammer custom built both the wood counter and dining room table, using salvaged wood from a Douglas fir tree that was felled in the city of Portland. "Doesn't get more local than that!" notes Stephen Aiguier.
On or Off
"Green Hammer designed a lighting scheme that allows us to choose which areas we want lit and which we want to dim," says Adrian. "It allows us to use this one big room in many different ways."
Storage Down Low
This kitchen features less upper cabinetry, which helps keep a feel of openness. Adrian prefers the low pull-out storage systems available in the lower cabinets. All the cabinet hardware is made by Blum and features their soft-close Blum Motion technology.
Windows With Privacy
Adrian worked with Green Hammer to create a true lighting design for the kitchen. Originally, Adrian did not want south-facing windows because of a privacy concern. She didn't want to look directly into her neighbor's house while she was working away, and vice versa. Green Hammer developed a solution by suggesting that the windows be kept low and at countertop level. "That way the light cascades onto the work surface during the day and allows her to work without needing lighting but still keeps the privacy she was interested in having when facing the work surfaces," says Stephen Aiguier.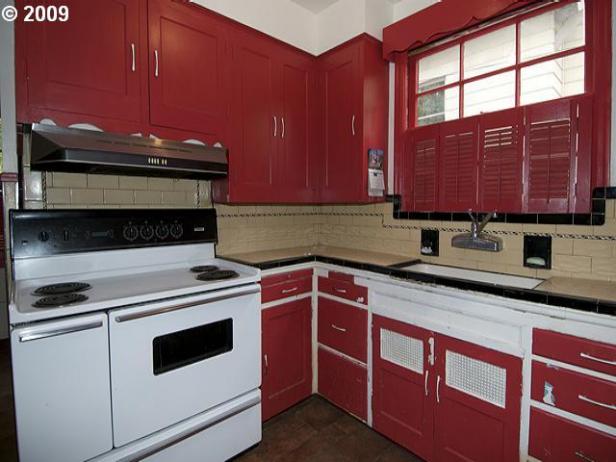 MR_Hale-Portland-Kitchen-before_s4x3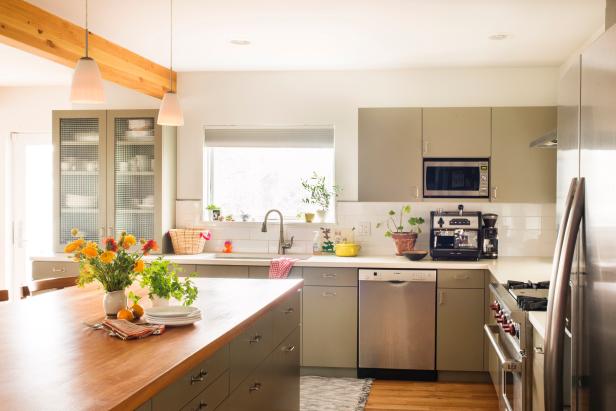 MR_Hale-Portland-Kitchen-eucalyptus-floors_s4x3
Environmentally Conscious
A major goal for Gregg and Adrian was to make their home as energy efficient and environmentally responsible as it could reasonably be. Green Hammer had the home go through Earth Advantage's rigorous third-party certification system and achieved their highest energy and green building certification level at platinum. "We had the entire home energy retrofitted to be up to current standards, and we actually raised the bar, and the Hale's home now performs about 40% better than a code new building," says Stephen Aiguier, founder and CEO of Green Hammer. The sustainable elements of the remodeled kitchen include:
+ Updated the home's energy system.
+ Building was weatherized, super-insulated, and made air-tight.
+ Designated fresh air system that feeds constant fresh filtered air into the living spaces and constantly removes stale and humid air from the house.
+ All wood products, including the cabinetry, were either salvaged or third-party certified by the Forest Stewardship Council, the gold standard for responsible and sustainable forests to ensure future generations can enjoy natural forests.
+ The countertops are a mixture of recycled glass and mineral material in a concrete mix.
+ All of the appliances are Energy Star certified high-efficiency units.+ All lighting is LED or CFL.
+ Green Hammer removed the old closed stair system and donated that to a local architectural salvage company called The Rebuilding Center.
+ Removed the fireplace, which was an energy hog.
Why They Lost a Fireplace
Fireplaces are typically a pretty bonus for any room. A fireplace anchors a room as a dominant design feature and adds an instant cozy vibe. So why did Green Hammer opt to remove the fireplace in the family's original kitchen? Stephen Aiguier of Green Hammer explains why:
+ Fireplaces take up a tremendous amount of space, create poor air quality conditions (fireplaces and burning wood is dirty), and they're a major energy hog.
+ A fireplace sucks air out of the home as it burns. And it's an open hole to the outside of the home that the occupants ultimately breathe from (so you're basically getting your fresh air from a chimney!).
+ One alternative could have been retrofitting a wood stove into the space, which would have been more efficient and less dirty than the fireplace. But wood stoves pump out too much heat for the super insulated and energy efficient home Green Hammer designed for the family.
+ Keeping the fireplace would have dramatically dropped the home's energy performance and kept it from hitting the high green building standard that the house received.
+ A modern open floor plan is challenged by a large fireplace, since the fireplace takes up a massive footprint of space. And in a climate like Portland's, you'd only need to use the fireplace a few times a year.
+ So it made sense to say goodbye to the family's fireplace. Green Hammer removed the two chimneys, making more functional, everyday space available in the kitchen and main living area.
Bottom line: The homeowners love the change. "We took out a fireplace, and I feel like we put the energy of it right back into our kitchen where everyone gathers around, drawn in by the figurative fire of the kitchen," says Adrian.
In the Future: Stephen notes that the family can still easily retrofit a hip little ethanol fireplace like this one, without needing a chimney at all. This kind of fireplace would provide a smaller amount of boost heat that's reasonable for a home of their energy performance — and it wouldn't take up a ton of space.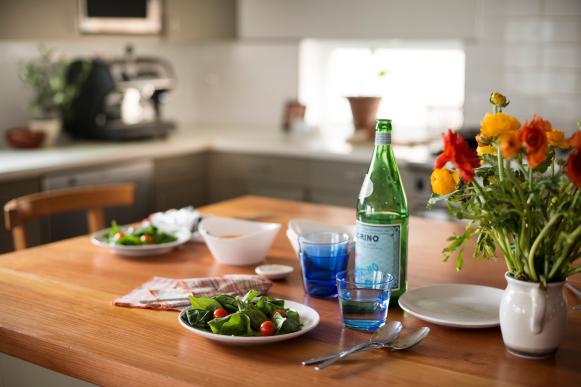 MR_Hale-Portland-Kitchen-salvaged-wood-table_s4x3
Green Hammer custom built both the wood counter and dining room table, using salvaged wood.
Green Hammer custom built both the wood counter and dining room table, using salvaged wood.
Favorite Room in the House
With the open floor plan, you're never very far from the kitchen. "You can sit in a big, comfy chair across the way reading a book, and you're still able to watch the roasts coming out of the oven or the cookies on a rack or some drink concoction being spun," says Adrian. As evidenced by the before photos, their original kitchen called for a total gut remodel. "Gregg had the vision, and the designers we hired at Green Hammer assured us they could deliver. They certainly didn't let us down!" says Adrian, a talented cook who works as a food writer and recipe developer.
An efficient kitchen means different things to different people. The family chose some less popular options in the remodel process — and they're happy they did. "Everyone was trying to get me to put a stove in the island," says Adrian. "That's what you're supposed to do when you get an island, right? Everyone talks about how then you don't have to turn your back while you're cooking." But the couple had lived in a place with a stove built in the island, and Adrian didn't like how it broke up the space. "It made it feel like there was this part of the island that's off limits." She also felt it would make a stressful place with her young kids. So the island top is one single slab of wood that Adrian uses as a prep surface and the family uses as a breakfast table.
Get the basics or go beyond the steps of weatherization to improve energy performance.
Besides looks, consider your changing needs when evaluating your space.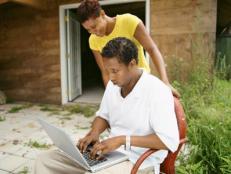 Green remodeling provides an opportunity to make almost any existing home a healthier home.
Designer Karen Needler shares her story of a small kitchen remodel featuring pro-quality appliances and floor-to-ceiling cabinetry.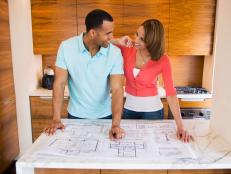 Figure out what you want from your new kitchen with our questionnaire and worksheet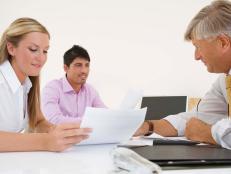 Expect nearly a third of your budget to go for cabinets and hardware.
It's one of the toughest rooms to redo, but we'll guide you through the process.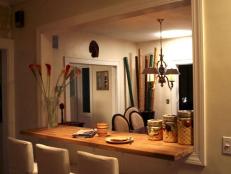 Learn how to remodel your kitchen by transforming a well between the kitchen and dining room into an open breakfast bar.
Architect Ben Herzog applied his skills to his own kitchen and dining room, creating a space where family and friends love to gather.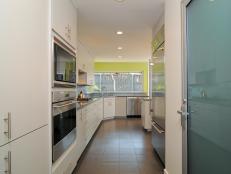 Get all the info you need on galley kitchen remodeling, and prepare to add an efficient and functional design to your kitchen space.