Living Room Lighting Tips
Use different kinds of light to illuminate your living room and create an inviting atmosphere.
Homeowners spend lots of time choosing a sofa or paint color for their living room walls, but often forget about the importance of proper lighting. In a space where you watch TV, read books, play games and entertain guests, lighting serves an important purpose in both the function and look of the room.
"Lighting is important because of the intimacy it creates," says interior and lighting designer Linda Allen of Linda Allen Designs. "Since living rooms are usually one of the first rooms you walk into, it sets the tone for the rest of the house."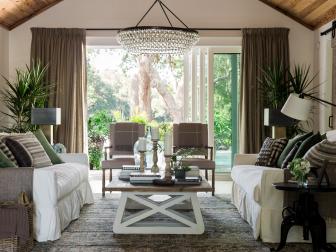 Texture and neutral colors help make this living room the ideal spot for rela and entertaining.
See the Photos
A good living room lighting scheme uses different kinds of light, set at different levels, that work together to make the space warm and attractive. Allen says if you want people to linger, use dimmers that allow you to control the level of light to suit the activities that take place in the space.
Layers of Light
A well-lit living room requires a combination of ambient, accent and task lighting. In this living room, recessed fixtures cast general lighting, wall-mounted lights showcase artwork and an adjustable floor lamp provides light for reading. Design by Andreas Charalambous
Track Lighting
Sleek, low-voltage track lighting highlights artwork in this living room and gives the space a soft, ambient glow. A table lamp provides task lighting for the seating area, while a floor lamp washes the wall with light. Design by Lin Lee
Soft Accent Lighting
Subtle up-lighting accentuates the beautiful wood ceiling in this living room. The custom-built media cabinet is softly illuminated with recessed light fixtures. Design by Christopher J. Grubb
Modern Floor Lamps
In this living room, designer Van Tullis used track lights to illuminate artwork displayed on the wall. Floor lamps with modern, square-shaped shades provide ambient lighting and look dramatic against a wall of floor-to-ceiling windows.
Warm Lighting Design
Two hanging pendants complement this living room's traditional look and cast soft light throughout the space. Recessed fixtures wash the walls with light, while candles and a fireplace provide a warm glow. Design by Amy Bubier
Cove Lighting
Cove lighting, installed in a ledge high up on the wall, provides soft, ambient lighting that bounces off the ceiling and adds a touch of glitz to this living room. Designer Andrea Schumacher installed the lighting on a dimmer, allowing the homeowner to create a mood when entertaining.
Clean and Contemporary Lighting
Designer Andreas Charalambous used halogen track lighting on dimmers and LED cove lighting in blue to enhance this living room's contemporary design. A stylish arc floor lamp offers task lighting for reading.
Take advantage of the newer, more energy-efficient lighting solutions for residential use, suggests Mary Beth Gotti, manager of the GE Lighting Institute.
"Ten years ago you wouldn't have seen nearly as many halogen fixtures, and LEDs are definitely one of the newest options," says Gotti. "Lighting can be magical. You can go online or visit your local lighting showroom and learn about the new light sources and colors now available."
Here are four popular lighting strategies and how they work in a living room.
When you want to highlight certain features in your living room, like a fireplace, textured walls or a favorite painting, accent lighting is the way to go. Recessed, adjustable lights directed to points of interest or under-cabinet lighting in a display case that highlights selected objects are examples of accent lighting.
"Accent lighting adds a pleasing variation of brightness," says Gotti. "You're drawing attention and putting more light on an architectural feature."
In order for accent lighting to work, it needs to supply about five times as much light on the focal point as the surrounding general light.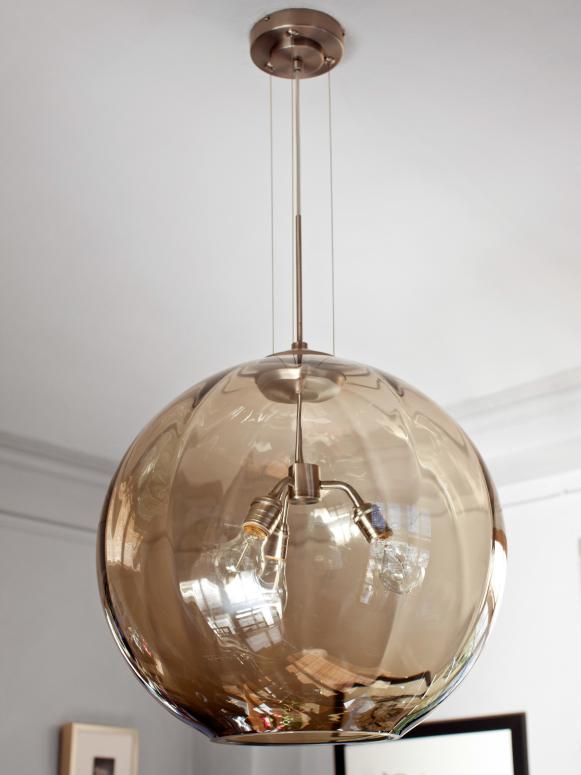 BPF_Original_different-design-tastes_globe-pendant_v
Although the overall style of the workspace is traditional, Alex was able to bring a touch of his classic, modern style into the room with a smoked glass pendant light centered above the Chinese farmhouse table.
Brian Patrick Flynn
Although the overall style of the workspace is traditional, Alex was able to bring a touch of his classic, modern style into the room with a smoked glass pendant light centered above the Chinese farmhouse table.
Stylish chandeliers, ceiling lights, wall-mounted fixtures or portable lamps can provide the ambiance that casts a warm glow in your living room. It controls glare and provides the general illumination that makes the living room feel comfortable and inviting.
"As a lighting designer, when I'm creating ambient light I'm creating an effect," says Allen, who likes to use ambient light when she wants to illuminate a surface but not see where the light source comes from.
Since this type of lighting affects the overall quality of light in the room and tends to be used the most, Gotti says this is where you want to use your energy-efficient solutions, with dimmers or three-way controls.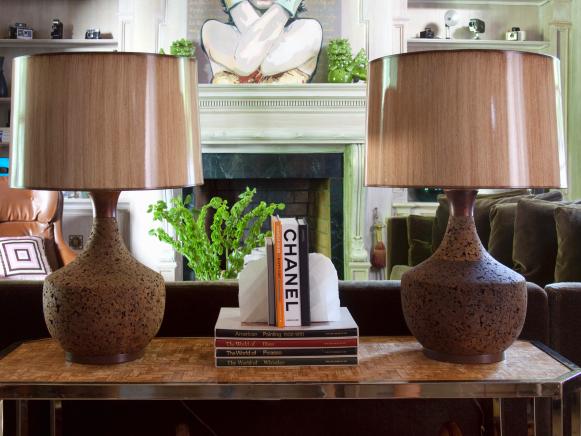 HGRM-RWAP-buckhead-lamps_s4x3
When you want to create interest and add sparkle to your living room, table lamps, hanging pendants and chandeliers can provide the decorative light that adds coziness and intimacy.
"It personalizes a space," says Allen. "I always say it's like wearing a great pair of earrings to complete an outfit."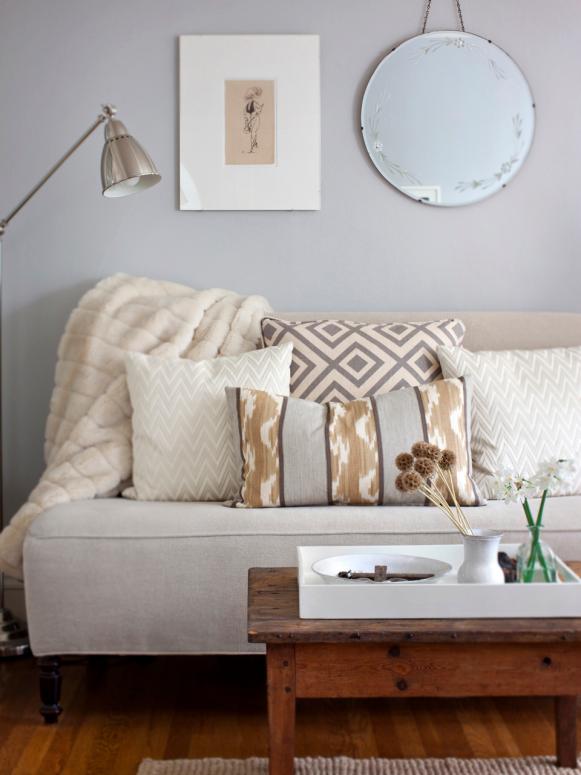 RWAP-sacramento-street-apartement-living-room_s3x4
When you want to read a book or need to write at a desk, good task lighting helps you get things done. This brighter light can be a floor lamp with a swinging arm next to a comfortable chair, or a directed light source over a desk.
"These are not the lights you use all the time — they're only to be used when you're doing a task, like reading or writing," says Allen.
A more localized type of lighting, positioning is especially important. Portable table lamps allow for flexibility when furniture is moved.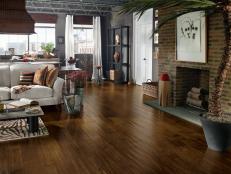 Learn the pros and cons of wood, stone, concrete and carpet, along with buying tips.