Learn about mold-resistant paint, which can help keep your home mold free.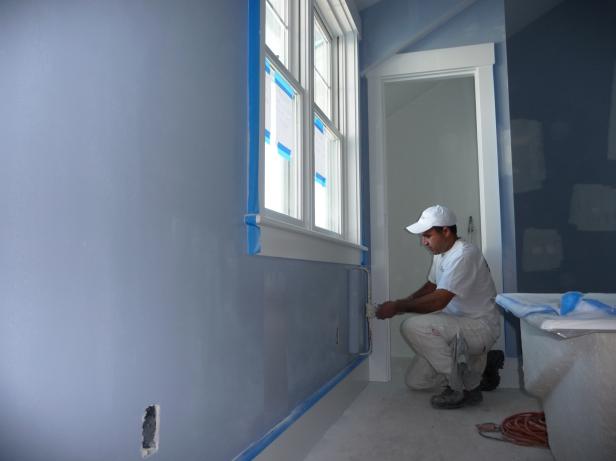 Mold and mildew are a huge concern for homeowners, as they can be costly to treat and remove and, in some instances, even lead to health risks. For those interested in , mold-resistant paints are now available to assist homeowners in their battle against mold.
Formaldehyde-Free Cabinets
That "new cabinet" smell might be bad for your health: Plywood adhesives used by many manufacturers contain VOC formaldehyde, a known carcinogen. Armstrong Cabinetry changes all that with its . Cabinetry is made with PureBond, a soy-based adhesive that contains no urea-formaldehyde. What's more, the wood is derived responsibly from managed forests, and then enhanced with a proprietary resin, giving it particularly strong bonding and water-resistance qualities.
Smog-Eating Roof Tile
It sounds like science fiction but is like a catalytic converter for your roof. The concrete tile contains titanium dioxide, a photo catalyst. When activated by daylight, the catalyst converts harmful levels of nitrogen oxide molecules, a major component of smog, into calcium nitrates. When it rains, the nitrates wash off the roof and fertilize your landscape. The company claims that over the course of a year, 2,000 square feet of tile can destroy as much nitrogen oxide as a car produces from driving 10,800 miles. The tile also inhibits the growth of organisms like algae and moss, and, thanks to its porous structure, dries in half the time of conventional tile.
IAQ-Friendly Gypsum Board
As mold-resistant gypsum panel products gain popularity, CertainTeed has upped the ante with a gypsum board to improve indoor air quality (IAQ). Not only does 's paperless surface resist moisture, mold and fire, but the company claims the core also permanently converts VOCs into safe, inert compounds and absorbs them for up to 75 years.
Caveat: The National Association of Home Builders points out that "mold-resistant does not mean that mold cannot grow. Under the right conditions, mold can grow on almost any surface. These products limit the conditions which are prime for organism growth, reducing the chances for mold."
Formaldehyde-Free Fiberglass Insulation
For fiberglass fans, Owens Corning has reformulated its iconic pink Fiberglas insulation, ni the phenol formaldehyde binder for one that is plant based. Eco Touch also boasts the highest recycled content (50 percent) of any fiberglass product on the market. EcoBatt, certified mold-resistant by Greenguard, also "does not support microbial growth or attract insects or vermin," according to the company's website. Other companies that offer formaldehyde-free fiberglass insulation include Johns Manville, Knauf (EcoBatt) and CertainTeed (Sustainable Insulation). Two cotton insulation products — UltraTouch by Bonded Logic and the new Mr. Insulate by Applegate — are formaldehyde-free as well as mold-, insect- and fire-resistant.
All-Natural Carpet
If you want to go truly nontoxic and all natural, you have to think carpet, backing and padding, which is why the wool-jute-hemp-cotton combo wins with many environmentalists. is 100-percent undyed, untreated natural wool — no fire retardants, preservatives, chemical bonding agents or pesticides. The adhesives are made of natural rubber and the padding is wool. The primary backing is hemp and cotton and the secondary is jute. The use of hemp is notable because its natural resistance to most pests means that no pesticides or herbicides are necessary to grow it.
Hybrid Electric Heat Pump Water Heater
Cut your hot water costs up to half while helping the environment with the Energy Star-qualified . With its electric heat pump, the heater uses 62 percent less energy than conventional models by pulling heat from the ambient air and using it to heat the water. Added bonus for damp basements: The unit also dehumidifies the area, which can further cut air-conditioning costs and limit mold growth.
PVC-Free Wallcovering
Although designed for healthcare facilities, Carnegie's new vinyl alternative, wallcovering, is an interesting concept for the bathroom or kitchen. Made of thermoplastic olefins, this durable, cleanable product uses only water-based inks and coatings, "eliminating the vices of vinyl: chlorine, plasticizers, heavy metals, formaldehyde and dioxin," according to the textile company's website. Surface iQ is Cradle to Cradle Silver Certified by MBDC and SCS Indoor Advantage Gold certified.
Fungus-Based Rigid Board Insulation
Insulation that is grown — not manufactured — could save you money and protect the environment. To create rigid board insulation, Evocative Design looked to nature — mushrooms, in fact. The developers use a filamentous fungi (mushroom roots) as a resin to bond agricultural byproducts, like cotton burrs and rice hulls, into a product that's energy efficient, mold- and water-resistant and free of petrochemicals, VOCs and synthetic binders. There are no spore or allergy concerns associated with the use of this foam-like product. Greensulate should be available in 2012.
Infrared Paint Stripper
is an ideal choice for contractors performing home renovations and repairs, especially when lead-based paint is involved. Conventional paint-stripping methods carry many risks, including exposure to toxic solvents, open flames and lead gases. The Speedheater reduces those risks significantly by operating at a low temperature (before lead vaporizes) and taking only 20 to 30 seconds to heat paint layers to the point where they can be easily scraped off.
Low-VOC Wood Stain
Most wood stain products are notoriously high in VOCs. Now comes a zero-VOC wood tint from Vermont Natural Coatings. mix quickly and resist fading. Tints are mixed with the company's clear PolyWhey interior wood finish, which is made from recycled whey protein, a plentiful byproduct of Vermont cheese-making. Reusing the whey keeps it from winding up in streams and fields, which would be bad for the environment, and eliminates the need for toxic co-binders and carcinogenic solvents typically found in wood finish. The products are nonflammable and nontoxic.
Mold can grow anywhere in a home where there's sufficient moisture and a food source in the form of organic matter. In many instances, the latter can take the form of drywall paper, insulation, carpet or sub-flooring. Using mold-resistant paint on walls and floors can help to stop mold before it starts, by sealing off access to wall-based materials and therefore preventing mold from spreading to floors and carpets.
Mold-resistant paint should only be used after any existing areas of mold growth have already been treated. If mold is growing on drywall or inside of walls, the drywall and any other affected materials should be removed and replaced before the application of mold-resistant paint. Once the area has been treated for existing mold, mold-resistant paint can be applied to the walls and floors of any affected areas.
The chemicals in the paint will help to destroy any remaining mold, and seal off the area from further mold growth. When painting, pay special attention to top and bottom corners where walls meet, as these are particularly popular neighborhoods for mold to move in.
Using mold-resistant paint, particularly on basement floors, walls and ceilings, can be an affective way to prevent mold growth in your home.
Other Mold Control and Prevention Products