Keep outerwear and bags in place with mudroom locker designs that suit your family's lifestyle.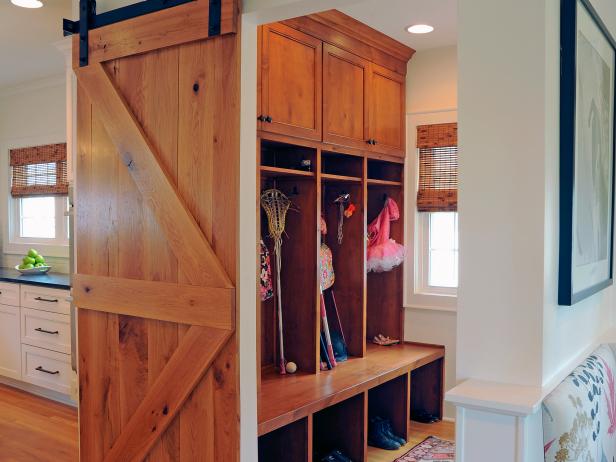 Rustic Mudroom With Wood Cabinets
A closed-off mudroom is the best option for those that don't care to have a guest-ready space at all times. This rustic one uses built-in wood cabinets and locker areas to store the family's coats, shoes, and sporting equipment.
One of a mudroom's main purposes is to help keep coats, backpacks, umbrellas and other items from being dumped all over the house. The best way to keep these things organized is to give each member of the family his or her own locker. These elongated cubbies or cabinets have the vertical space to accommodate longer coats and umbrellas, and they're a good alternative for either a mudroom or entryway if you don't have an entry closet.
Vintage Dresser
Jennifer Grey of the Old Painted Cottage placed an early 1900s child's armoire near the front door to serve as storage and added old brass doorknobs to a vintage piece of wood with original paint to hold bags and hats. "For my entry, you literally spill directly into the living room the second you walk through the front door," she says. "So I created a sort of mock entry mudroom with carefully planned placement of furniture and objects." Photo courtesy of
Retro Sink
Just because a mudroom is new doesn't mean it can't feel familiar and homey. A retro-styled sink and faucet plus a towel bar make this space both functional and pretty. Vintage accessories like the painted stool were brought in to add texture and patina. Photo courtesy of Houseplans.co; photography by Bob Greenspan
Warm Wicker
Mudrooms often have lots of hard surfaces such as cabinetry. Soften the space by bringing in accessories that provide texture, warmth and interest, such as a wicker umbrella stand. Photo courtesy of
Antique Knickknacks
For a light and airy space that also serves as a secondary dressing room for guests using the pool, all the pretty vintage and antique accessories are on display, while doors and drawers hide supplies and appliances. Decorative touches lend the patina of age to the traditional space. The washer and dryer are housed in compartments with doors so that they too can be hidden when not in use. Photo courtesy of Houseplans.co; photography by Bob Greenspan
Must-Have Boot Trays
Whether you choose to wear shoes inside the house or not, you may want to store boots here, "especially if you don't want them clogging up your bedroom closets," says professional organizer Ruthann Betz-Essinger. Photo courtesy of
Nostalgic Picnic Baskets
Stacked picnic baskets move into the mudroom, storing out-of-season gear out of the way but within easy reach. Ginny Snook Scott of California Closets recommends planning both horizontally and vertically. "You'll find a lot of storage space by going up as high as possible," she says. Photo courtesy of
Reclaimed Umbrella Barrel
A rustic barrel serves as an umbrella stand, adding texture and vintage charm to a contemporary mudroom where everything has its place. Photo courtesy of
Farmhouse-Style Storage
Consider using baskets for the things you'll store in the mudroom. "When you're looking at all these beautiful photos of mudrooms," says professional organizer Ruthann Betz-Essinger, "when you see a basket, there could be all manner of clutter inside. But who cares?" Photo courtesy of
Upcycled Iron Wall Unit
Create a sculptural wall unit by adding hooks to a metal grid for storage of hats, bags and jackets. The easier your mudroom is to use and the more interesting it is to look at, the more likely you are to enjoy it and have it work for you. Photo courtesy of
Mudroom lockers come in many different styles. Classic mudroom lockers typically have a high open cubby with an elongated main compartment and a smaller upper shelf. Hooks fastened to the walls of each cubby provide a place to hang coats, umbrellas and other long items.
If you want to keep outerwear out of sight, you can choose lockers with doors that will keep these items concealed. Children are more likely to slip a coat on a hook out in the open than they are to open a door and pull out a hanger, so you may want to include both in your design and store lesser-used items behind closed doors. You can hang a message board on the inside of each door to keep reminders and notes in easy sight of each member of your household.
The typical look for lockers is a pretty wood construction with painted or stained trim. For a space with a contemporary decor you can choose a sleek design for your lockers and other cabinets. Or if you like a more casual or industrial look, you can scour thrift shops, yard sales or online ads to salvaged metal school lockers. You can paint them all the same color, or you can try a multicolor approach with a different hue on each locker door. If you prefer, you can have the lockers powder coated, a process in which a powder from synthetic material is used to coat the piece, which is then heated to fuse the powder coating into a protective layer. Assign each family member a locker and apply creative labels to help with organizing.
If your house has a mudroom-laundry room combination, you can set up your locker system so it encourages family members to put away their own clean laundry. Include a shelf in each locker for a "clean clothes" basket as well as hampers to collect dirty sports jerseys, socks and other items shed by your athletes when they come in the door after practice or a game.
Other Mudroom Furniture and Storage Ideas