Not Your Father's Vinyl Floor
This surface looks better than you remember and can look like hardwood, tile or stone.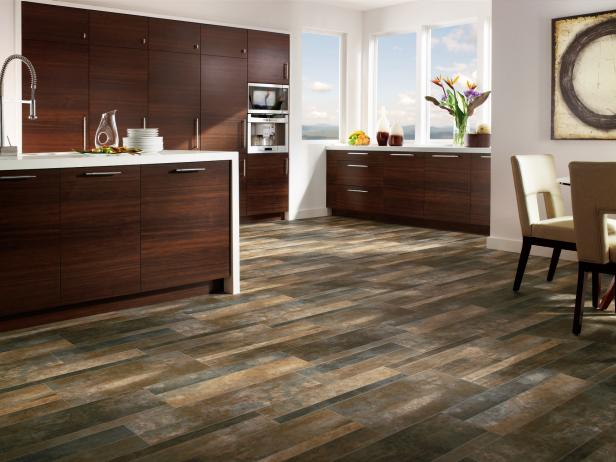 Open-Plan Contemporary Kitchen With Striking Wood Floor
Yes, that is a vinyl floor. Wood-look, sheet vinyl, to be precise.
Yes, that is a vinyl floor. Wood-look, sheet vinyl, to be precise.
The most popular type of resilient flooring, vinyl is durable, low maintenance, and easy on the budget. Vinyl floor has more depth and texture today than it did a generation ago, so it can look like hardwood, tile, and stone, and it comes in a variety of colors. Vinyl is soft underfoot, so it's comfortable to stand on for long periods. It's also warmer to the touch than hard surfaces like tile. Vinyl comes in various levels of gloss so you can get a range of looks.
Vinyl is composed of four layers: a protective urethane top coat, a protective clear vinyl layer, a printed design layer, and a felt or fiberglass backing. Vinyl flooring is available in sheets, tiles and planks.
Sheet Vinyl: Vinyl sheets generally come in 6- or 12-foot-wide rolls. Sheet vinyl can often be installed seamlessly, making it ideal in rooms with moisture. It comes in a range of colors and designs, including styles that mimic tile and wood.
Vinyl Tiles: These DIY-friendly tiles are easy to install and can be laid in any orientation, from checkerboard to diagonal. Some vinyl tile can be grouted for a more realistic appearance. Vinyl Composition Tile (VCT) is primarily made from limestone and is low cost. Solid vinyl tile (SVT) and luxury vinyl tile (LVT) contain more vinyl, for better performance and more realistic appearance.
Vinyl Planks: Designed to closely resemble hardwood, vinyl planks come in the same size as wood planks, and boast realistic features such as texturing and beveled edges.
High-End Style
Luxury vinyl floors are stylish enough for the bedroom. This high-end style features a realistic hardwood look and can be installed easily, no glue necessary. Shown: Cabrueva in Brown Vermel. Photo courtesy of
Realistic Details
This luxury vinyl tile can be installed with or without grout. It's soft underfoot and eco-friendly, and the surface exudes a true-to-life ceramic look. Photo courtesy of
Soft Underfoot
This vinyl plank is warm, comfortable and quiet, making it a great choice for kids' rooms. The honey oak surface is a timeless backdrop that won't go out of style. Shown: Congoleum DuraPlank. Photo courtesy of
Rustic Design
Inspired by the Mediterranean coast, this unique floor features variable width vinyl planks for a rustic appearance. The floor is comfortable underfoot and fashionable enough for the dining room. Photo courtesy of
Stylish Patterns
Dressy enough for a stylish kitchen, this wood-look sheet vinyl offers enhanced visuals, such as sharp patterns and improved color clarity. The fiberglass structure makes it extremely durable. Shown: Armstrong DualityTM sheet vinyl in BandelierTM Flint. Photo courtesy of
Durable Sheet Vinyl
A popular choice for busy entries, sheet vinyl evokes the look of tile. The visual pattern paired with a subtle gray shade produces a good-looking floor. Shown: Congoleum Pacesetter. Photo courtesy of
How to Clean. Sweep, dust, or vacuum regularly, and occasionally wipe the surface with a damp mop or cloth. For glossy floors, occasionally strip and reapply polish as necessary. Avoid wa or buffing the surface.
Best for: Vinyl is traditionally reserved for hardworking rooms (kitchens, baths, entryways, laundry rooms, and playrooms) but high-end styles are making their way into living spaces. Some types can't be installed on stairs.
Pet Friendly? Extremely. Quality vinyl floors stand up to pets' nails and messes better than many surfaces, and they're comfortable for pets.
Underlayment. With proper preparation, vinyl can be installed over virtually any flat, dry, clean surface. In most cases, a plywood underlayment is recommended for the best results.
Today's vinyl is not your grandmother's flooring. Improved printing and embossing techniques produce a surface that looks and feels more authentic than ever. You can get vinyl that looks like wood, slate, even leather. Often, vinyl flooring is imbued with antimicrobial protection to resist bacteria, mold, and mildew. It also doesn't require wa and polishing as it did in the past. Some vinyl floors contain recycled content, and many manufacturers are moving toward greener practices, such as utilizing low-VOC inks.
Vinyl is an excellent choice for rooms that get a lot of traffic. It withstands water, and it doesn't easily dent, scratch, stain or fade. It's quiet and comes in a wide variety of colors and designs, and it's quiet and easy to install.
Vinyl Flooring Installation Tips
01:04
See why vinyl flooring is easy to install and made to last.
Because of vinyl's resilience, it's warmer and more comfortable to stand on than most hard surfaces, and dropped dishes are less likely to break on it. However, keep in mind that even the best vinyl is unlikely to be mistaken for the material it's imitating, and it can be cut or gouged by sharp objects.
Vinyl typically costs between $1 and $5 per square foot, uninstalled. Although vinyl tiles are fairly DIY-friendly, sheet-vinyl installation is generally better left to professionals.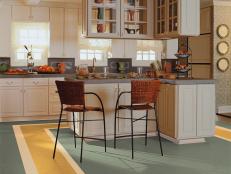 This practical and eco-friendly flooring is being rediscovered by homeowners.