Room for Two: Traditional Meets Midcentury-Modern Design
Interior designer Scott Laslie creates a chic bedroom, living room and workstation merging his traditional style with his partner's midcentury modernism.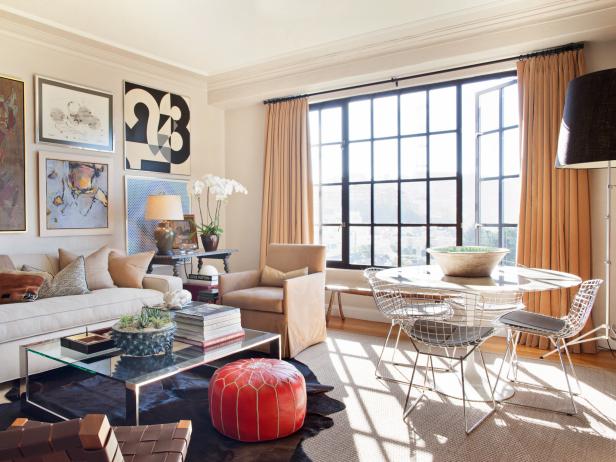 BPF_Original_different-design-tastes_living-room-breakfast-area-combo_h
To incorporate informal dining into their living room, Scott and Alex included a mid-century modern Saarinen tulip table and four chrome Bertoia chairs, all of which came from Alex's previous home, a townhouse just one block away that he sold prior to moving in with Scott.

In December 2010 designers Scott Laslie and Alex Guerrero found their ideal San Francisco home. As owners and operators of , an online source for homeowners seeking remote guidance for their interiors from design professionals, they sought an apartment packed with architecture, history and style. Their charming 1,000-square-foot, one-bedroom apartment overlooking Golden Gate Park in San Francisco's Ashbury Terrace neighborhood did not disappoint.
While their new apartment's Spanish-style building, built in the early 1920s, was packed with a classic European aesthetic that both Scott and Alex appreciated, choosing a style for its interiors proved much more difficult. "I'm an interior designer whose previous home was a Southern bungalow packed with traditional and European-style furniture," Scott explains. "Alex, a fashion consultant and pure midcentury modernist, came from a 1950s-era San Francisco townhouse furnished with iconic midcentury-modern pieces. Merging both of our different styles into one home was definitely a challenge."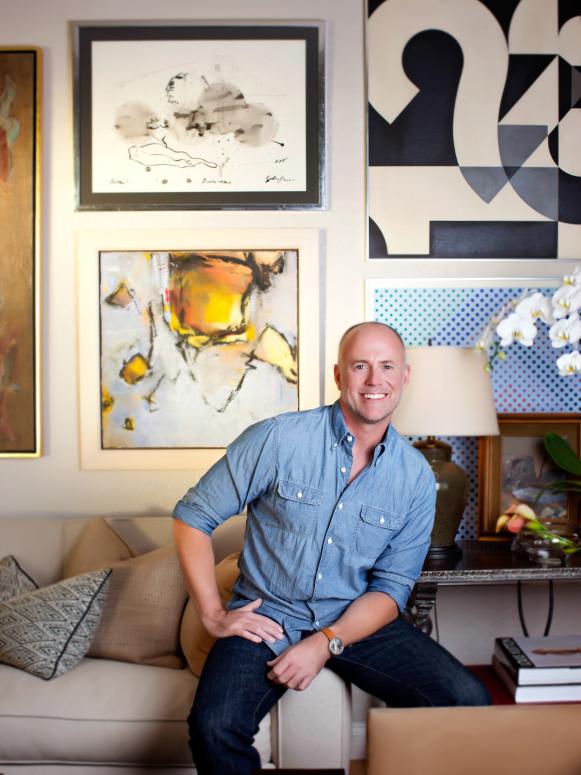 BPF_Original_different-design-tastes_portrait_v
Interior designer Scott Laslie
Brian Patrick Flynn
Interior designer Scott Laslie
Adamant about keeping each of their own furnishings, the designers decided to incorporate as many pieces as they could into their new home. "I hoard objects like nobody's business, especially since I love layered vignettes on tabletop surfaces. I couldn't part with anything, especially my accessories," Scott admits. "Alex, being the true modernist that he is, prefers all surfaces clean and somewhat sparse." In order to create one space that was equally befitting for Scott as it was for Alex, the couple decided to blend their different styles throughout all areas of the apartment, while also assigning each space a clearly defined purpose.
When asked what was on the couple's to-do list, Scott answered: "Since the apartment doesn't have an actual office, our dining room needs to function more as a workspace than as a place for sit-down meals. The view in that space is so inspiring, its natural light is amazing and the breeze keeps the space cool all day long. Since it didn't have any storage at all, Alex and I were set on adding as much concealed storage as possible; we each have a ton of work stuff that quickly turns into clutter."
Additionally, Scott and Alex wanted their living room to serve as an informal place to eat breakfast as well as a place to showcase their collection of modern art. They also planned to incorporate a small lounge-like seating area into their master bedroom, control the intense amount of sunlight streaming in the apartment's tall windows using temperature-control window coverings, and make their small entrance hall truly feel like a grand foyer.
Before: Lifeless Beginnings
When Scott Laslie and Alex Guerrero first moved into their new apartment, it was colorless. They decided to work together to combine both of their styles in every room, and assigned more than one purpose to some of the rooms.
Coming Together
To merge Scott's style with Alex's style, the couple combined each of their own favorite pieces to create something truly unique. While the traditional-style furniture and modern art collection are from Scott's previous home, Alex's flair for all things midcentury modern makes its way into the room in the form of a chrome Milo Baughman coffee table.
Alex's Midcentury Style
To incorporate informal dining into their living room, the couple included a midcentury-modern Saarinen tulip table and four chrome Bertoia chairs, all of which came from Alex's previous home, a townhouse just one block away that he sold prior to moving in with Scott.
Modern and Traditional Mashup
The chairs of Scott and Alex's living room are a perfect example of how the couple combined Scott's traditional sofa style with Alex's chrome Bertoia chairs, a staple in midcentury-modern design.
Chrome Coffee Table
Although the living room is made up mostly of traditional pieces from Scott's collection of furniture, one of Alex's prized possessions, a chrome and glass 1970s coffee table by Milo Baughman, anchors the seating area.
Window Treatments
Scott and Alex had custom top-pinch draperies made from scratch, and incorporated blackout liner to help control the harsh rays of the California sunshine.
Open Shelving
Although Scott's design style is more traditional and European-influenced, he and Alex both agreed that Alex's midcentury-modern wall-mounted media storage system was ideal for the space. To attach this system to the wall, two vertical wooden slats were fastened to the wall with a drill, then the shelves were cantilevered over them. Not only does the wall system house all of the couple's media components, it also keeps their favorite books and accessories on display.
Spanish Design
Many of Scott's traditional European antiques coordinated perfectly with the Spanish architecture of the house, which includes textured plaster walls and arched hallways.
Inviting Entryway
In order to give their modest hallway more of a grand-entry look, Scott combined his traditional European console table with a modern piece of art.
Pendant Lighting
Belgian bell-jar pendants were installed in the entryway and in the kitchen hallway to add a designer touch to the apartment. When purchasing custom lighting, Scott suggests buying an additional replacement globe to save time in the event that one should break.
Office Space
Scott and Alex turned their formal dining room into a workspace, complete with a Chinese farm table and mixed styles of seating that accommodate both dining and desk use. A pair of console chests is not only home to turquoise table lamps but they act as concealed storage to keep the couple's work-related clutter out of sight.
European Furniture
To take full advantage of every square inch of space in the formal dining room, Scott brought in a rustic European armoire to house his fabric and wall-covering samples.
Spacious Work Area
Thanks to its generous dimensions, the Chinese farm table in the workspace can easily accommodate Scott and Alex's laptops as well as samples and swatches that the designers each work with on a daily basis.
Globe Pendant Light
Although the overall style of the workspace is traditional, Alex was able to bring a touch of his classic, modern style into the room with a smoked-glass pendant light centered above the Chinese farmhouse table.
Art Exhibition Entryway
Determined to make the most of the apartment's wall space to showcase his huge collection of modern art, Scott designated the back wall of the master bedroom as a gallery. It can be seen from the entryway and from certain vantage points in the living room.
Sentimental Sculptures
When Scott and Alex created their online design source, Found Market, they together developed its branding, a graphic emblem of a hand. In keeping with their labor of love's signature graphics, Scott's collection of hand sculptures is displayed on a wall in the entry just off the couple's bedroom door.
Before: Tight Squeeze
In its original state, Scott and Alex's apartment left much to the imagination as far as space planning was concerned. They wanted to maximize storage in their master bedroom and create an area to lounge and sleep.
Clever Space Planning
Scott and Alex were able to incorporate a small lounge-like seating area around the casement windows in their master bedroom. Alex, a fashion design consultant, has a huge collection of designer clothes. The couple worked extra storage to house many of Alex's winter clothing pices into the bedroom's design, incorporating a 6-foot-tall chest with five drawers and a glass-enclosed cabinet at the top.
Gray Master Bedroom
By painting their master bedroom a dark shade of gray-brown from Benjamin Moore called Affinity, the couple was able to create a dramatic, neutral backdrop on which to showcase Scott's collection of modern art.
Hanging Storage
Both lovers of masculine-style interior design, Scott and Alex worked iconic masculine accents into the apartment, including a wooden deer head that doubles as open storage for the couple's collection of hats and baseball caps.
Trick of the Eye
To bounce light around the room, and make the space appear slightly larger, Scott and Alex hung a classic traditional mirror on the wall opposite the casement window. This offers a second vantage point from which to check out the gorgeous view.
Master Bathroom
Scott used the blue tones of the bathroom's shower tile as a jumping-off point for the color scheme of the apartment. The same tone of blue from the tile is picked up in the bedroom in the form of bed linens, accessories and art installed gallery-style above the bed.
Charming Windows
One of the characteristics that drew Scott and Alex to the apartment was that it had casement windows in every room in the house, the bathroom included.
Art Everywhere
To add personality to their bathroom, Scott incorporated a modern piece of art depicting a crying girl in black and white with tears in a bold red. The bathroom's walls are covered in mustard-colored glazed ceramic subway tiles that were installed parquet style. Black and white hexagon mosaic tile covers the bathroom floors.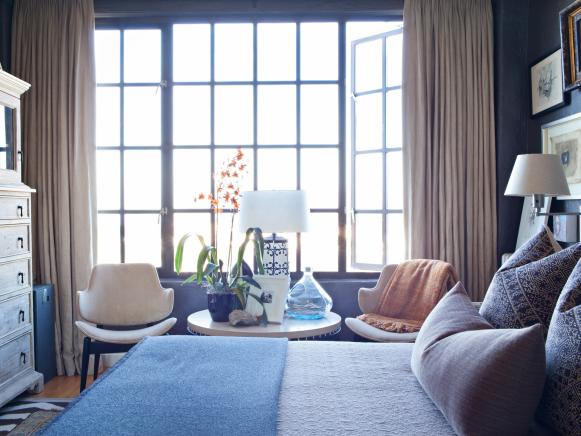 Bedroom With Cozy Window Seating Area
Scott and Alex had custom, top-pinch draperies made from scratch, and incorporated blackout liner to help control the harsh rays of the California sunshine.
Brian Patrick Flynn
Scott and Alex had custom, top-pinch draperies made from scratch, and incorporated blackout liner to help control the harsh rays of the California sunshine.
Once moved in, Scott immediately turned his focus to the apartment's showstopping casement windows. "San Francisco gets phenomenal light," Scott says. "In fact, so much that it can actually be too much, especially when I'm working from home and it's blaring into my computer screen. In order to control the intense rays, I had custom draperies made, velvet for the living room and linen for the bedroom, and lined with blackout liner."
When having custom draperies made, the standard lead time is roughly four to six weeks. If you're in a rush, many workrooms can pull off the job in one to two weeks; however, rush orders can cost double the price. Another tip Scott offers for properly estimating yardage for window treatments: "For every 8-foot-tall single-width panel, you'll need three and a half yards of fabric."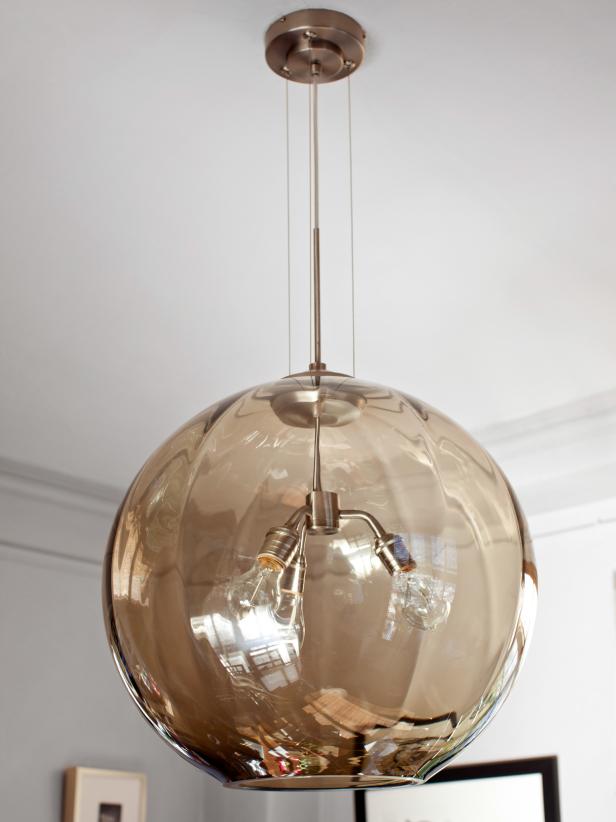 BPF_Original_different-design-tastes_globe-pendant_v
Brian Patrick Flynn
Alex's Pick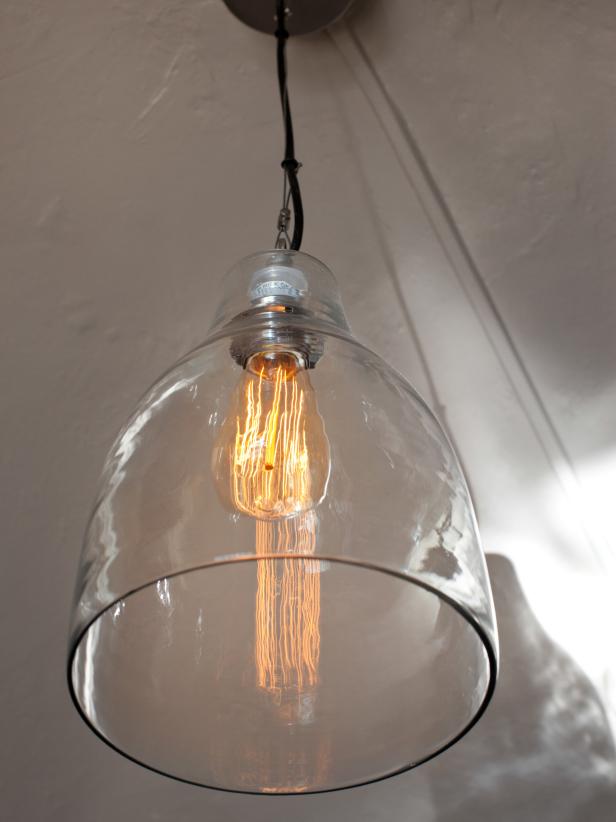 BPF_Original_different-design-tastes_bell-jar-pendant_v
Brian Patrick Flynn
Scott's Pick
With the window treatments underway, Scott and Alex next tackled paint and lighting simultaneously. To keep the spaces neutral with masculine flair, the couple chose a taupe Benjamin Moore shade, Clay Beige, for the main spaces. They chose a dark gray-brown tone called Affinity for the bedroom that makes the space feel more intimate and helped keep the focus on the gorgeous view outside. "Alex and I chose the same dark color for the walls and the window casing," says Scott. "At night this causes everything to recede except for the view, instantly drawing your eye out the window."
Next up on the couple's list of projects was to marry their two different styles of furniture, room by room.
In the living room, Alex's midcentury-modern style is on display in the form of:
Saarinen tulip table with a white marble top
Chrome Bertoia chairs
Marble Saarinen tulip side table
Woven leather strap and wood De La Espada chair
1970s Milo Baughman chrome and glass coffee table
Modular midcentury-modern wall unit

Scott's style makes up the remaining elements of the room, including:

Top-pinch pleated camel-toned velvet window treatments
Natural woven sisal rug
Traditional Mexican and Spanish pottery
Modern art
A pair of transitional Ultrasuede-upholstered club chairs
Spanish-style side table with turned legs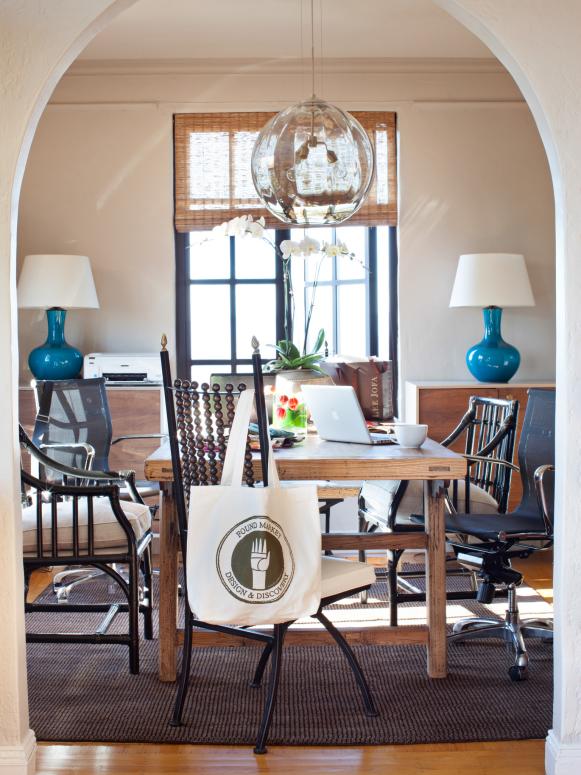 BPF_Original_different-design-tastes_workspace_v
Scott and Alex turned their formal dining room into a workspace, complete with a Chinese farm table and mixed styles of seating that accommodates both dining and desk use.
Brian Patrick Flynn
Scott and Alex turned their formal dining room into a workspace, complete with a Chinese farm table and mixed styles of seating that accommodates both dining and desk use.
Of all spaces in the apartment, the dining room/workspace required the most creativity to make it functional, mostly due to its multipurpose usage and complete lack of storage. To turn it into a full-fledged work-focused room, the two designers incorporated clever concealed-storage solutions and mixed seating. There are two modern Herman Miller desk chairs with mesh backs and chrome arms and bases, which are Alex's style. In addition there are two pairs of traditional chairs that reflect Scott's aesthetic: ebonized bamboo armchairs and Spanish-style side chairs with wood-bead detail along their backs.
Now that the apartment is finished, the couple is happy to call it home. "When we first moved in, there was no workspace and we had no idea whose furniture would go in which room," Scott recalls. "Now, not only do we have a practical place to work from home, but every space in the apartment has a defined purpose — some of them more than one. I also love that all of our favorite pieces are on display and getting their fair share of use."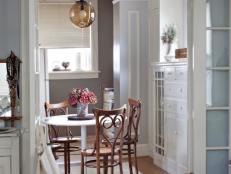 Blogger Caitlin Flemming uses expert space planning to design a living room, workspace, bedroom and dining room in her 375-square-foot apartment.