Small-Space Living Room Layouts
Use smart strategies to make your small living room feel larger.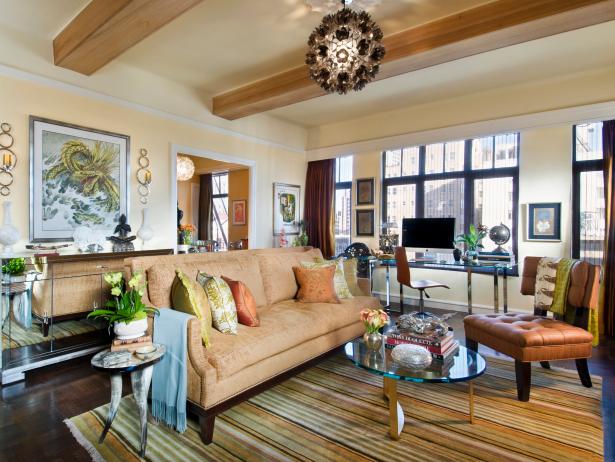 CI-Claudia-Juestel-living-room_s4x3
Design by Adeeni Design Group; Photography by Crystal Waye
Design by Adeeni Design Group; Photography by Crystal Waye
When carefully planned, a small living room can be both attractive and user-friendly. When you take the time to consider your storage needs and daily lifestyle, you can create a small but smart living room that increases the enjoyment of your home.
"Make sure the furniture you choose for your small living room is appropriate for the space," says eco-friendly designer Robin Wilson, CEO of Robin Wilson Home of New York City. "For example, avoid sofas with skirts. You want to go for furniture raised off the floor."
A tall lamp that draws your eye up and adds height to the room or a stylish chair with a pop of color or interesting back are other tools Wilson likes to use to make a small living room feel larger and give it personality. Other simple ideas, like going for a space-saving flat-screen TV or a laptop that hides out of the way instead of a stationary desktop computer, keep the area free from clutter and allow traffic flow in and out of the room.
But try to resist the urge to use only small pieces in your small living room. Instead, consider an oversized chair that gives unexpected scale to the space, suggests San Francisco interior designer Jonathan Rachman.
Think Big: Bold and Traditional
Design elements in a traditional-style space are prominent and sophisticated. This living room showcases bold details and dramatic architecture on a grand scale. For a similar effect in a small space, add white crown molding around the perimeter of a room and paint it to match the ceiling. This creates an illusion that the ceiling is larger. To increase the height of a room, use wainscot to draw the eye up.
Get the Look
For an updated approach, start with a bold color palette of cream, khaki, blush and royal blue. Our shopping list: custom upholstered SOFA, 40"H x 88"W x 37"D, ; Spring Blossom Oushak RUG, 6'x9', ; traditional cherry CONSOLE TABLE, 32"H x 50"W x 18"D, ; cast bronze CANDLE HOLDERS, ; red Gate ACCENT PILLOW, Harper Bergere ARMCHAIR, and blue Lotus Garden STOOL, .
Make It Work
The popular loveseat and large sofa combination takes up valuable space and interrupts traffic flow. Instead, mix one large furniture piece with two smaller chairs to create openness without sacrificing seating.
Think Big: Casual Chic
An abundance of natural light and cool hues makes this sizable morning room an elegant retreat. In the tiniest spaces, lighting makes a big impact. Exposed bare windows visually enlarge a space by bringing the outdoors, along with natural light, into the room. Design by Marika Meyer
Get the Look
Start with a unified color scheme of cream, gray and blues. Our shopping list: gray Clara apartment SOFA, 75"W x 33"H x 38"D, ; citrine velvet throw PILLOW, , Nelson Design (shop owner); navy Quadrille Volpi PILLOW, , Spark Modern (shop owner); gray tile RUG, 5' x8', Pottery Barn; Oliver Lagoon CHAIR, 24"W x 27.5"H x 28"D , West Elm; gray and silver Damask PILLOW, Pillow Décor; framed BUTTERFLY COLLECTION, ; Forest Hill hallway LIGHT, ; Curtain end Venetial sterling silver TABLE, 27"H x 26" D, ; Ceramic Shell BOWL, .
Make It Work
"Create movement and good traffic flow around the room by floating furniture away from the walls," says Prefit producer and designer Brian Patrick Flynn. "The floating floor plan will take the focus off a room's modest dimensions and redirect it to the ensemble of decor."
Think Big: Eclectic Cottage
Prefit designer Sarah Richardson used layers of textures and artsy elements to make this home's large living room addition feel warm and welcoming. Similarly, in a small space personal touches go a long way. Avoid clutter with too many accessories. Instead choose a thoughtful collection of items that add a layer of sophistication on the walls. Attract the eye with shapes and textures in complementary colors for a subtle statement.
Get the Look
Start with a plush color palette of cream, blush and maroon. Our shopping list: gray Kingston club CHAIR, 30"W x 37"H x 37"D, ; coral handmade PILLOW, ; Safavieh Old World RUG, 5' x 7.5', ; white Joselin CHAIR, 31"W x 35"H x 30"D , Ballard Designs; Smith one-drawer TABLE, 28.5"W x 25"H x 28.5"D, and galloping horse SCULPTURE, ; iron CHANDELIER, ; vintage grandfather wall CLOCK, 12.5"W x 31.5"H x 5.5"D, , Clarbehr (shop owner).
Make It Work
Encourage conversation by positioning chairs in a circular arrangement around a central focal point, such as a coffee table or intricate light fixture. Using chairs, instead of a large sofa, creates openness and allows you to rearrange with ease.
Think Big: Rustic and Refined
Wood finishes, timber ceiling beams and leather sofas portray a sense of comfort in this spacious great room. When re-creating a similar vibe in close quarters, focus on layering textures and avoid overcrowding the area with bulky furniture. Photo courtesy of Jeffrey Aron Photography
Get the Look
Start with a rich color palette of burnt orange, green and brown. Our shopping list: hand rubbed LOVESEAT, 62.5"W x 38"H x 37"D, ; Brackendale striped brown rectangular throw PILLOW, Pillow Décor; Jaipur Poeme Corsica RUG, 5' x8', Wayfair; Rollins corner CHAIR, 29"W x 34.5"H x 29"D, ; Mongolian lamb PILLOW, ; dark brown Minka Ambience table LAMP, Wayfair; pedestal TABLE, 26"H x 22"W x 22"D, .
Make It Work
Rather than squeezing a coffee table into a 10x10 area, go with a side table instead. This frees up floor space for better traffic flow. Round pieces and soft edges add a touch of coziness in a living room.
Think Big: Contemporary
Contemporary style showcases clean lines, eclectic elements and embraces nature. When designing with limited room keep furniture simple and functional. "Armless furniture is used in small spaces to keep the eye flowing throughout the space, uninterrupted," says Flynn.
Get the Look
Start with a neutral color palette of gray, blue and brown. Our shopping list: Baxter Chaise LOUNGE, 39"W x 69"D x 26.5"H, ; cowhide PILLOWS, and ; Koldby cowhide RUG, 48.44 square feet, IKEA; Contact STOOL, 12.5" diameter x 19.25"H, ; contemporary chocolate two-tone OTTOMAN, 38"W x 19"H x 26"D, ; musician POSTER, , Tamara Art Heritage; mid arc floor LAMP, Trend Lighting .
Make It Work
A sectional adds definition to this 10x10 area without overpowering it. "L-shaped sofas maximize seating along one concentrated area, making the room feel much more spread out and providing additional floor space to be used," explains Flynn.
Think Big: Vibrant and Earthy
Prefit 2012 Green Home uses refined, neutral furnishings, pops of color and industrial elements in this quirky, down-to-earth great room. Take the same approach from an ancient small-space design rule by sticking with cool colors to give the illusion of spaciousness. Add interest with funky art and shapes.
Get the Look
Start with a playful color scheme of gray, lime green and navy. Our shopping list: Fairmont David Francis CHAIR, 28.5"W x 38"H x 32"D, ; light neutral ivory area RUG, 6.7' x9.6', by NetChannel Inc.; Ayodhya round COFFEE TABLE, 19"H x 36"D, ; Sputnik SCULPTURE, ; Buchanan apartment SOFA, 79"W x 38.5"H x 36.5"D, ; Aubree Boucle yellow and Linden green PILLOWS, ; gray and white circle pattern oblong throw PILLOW, , Blooming Home Décor (shop owner); expressionistic green and neutral acrylic PAINTING by Elizabeth Chapman, Etsy.
Make It Work
Furniture proportions are key in small-space floor plans. "When spatial constraints are extra tight, it's important to use specialty-sized pieces known as apartment-scale," says Flynn. "These don't sacrifice style for substance, but will allow great-looking seating sized closer to 4.5' or 5' rather than the standard sofa length of 6' or 7'."
"Oversized wall art also expands the room," says Rachman. "Doing an accent wall color stretches and deepens the room. You can use a complementary color or something that offers contrast: You can have three walls neutral and then take that same color and use the deepest version of that color for the accent wall."
Creating the illusion of more space is the way to go, believes Rachman. A great area rug can be used to mark a seating area, or you can paint a pattern, like chevron stripes, on your hardwood floor to create borders to help the room feel more spacious. And just because you have a sofa doesn't mean you have to have a standard coffee table.
Bulk Be Gone
In small spaces, it's important to avoid bulky furniture. Designer created the sleek feel of this New York City apartment by opting for furnishings with thin legs and open bottoms.
Add a Rug
A light-colored rug can really open up a room. Cover dark wood flooring, or try placing an area rug over carpet for a cozy, layered look. Design by Erinn Valencich
Spice It Up
Just because your living room is small doesn't mean you have to sacrifice fun. Use bright colors and cool graphics to add interest to the space. Just be sure to limit your palette to two or three colors for a look that's exciting but not overwhelming. Design by
Spatial Reasoning
Small-space dwellers know that in order to make the most of the space you have, you need to take advantage of every nook and cranny. Vertical space is especially useful. Add a few shelves, and watch what was once awkward space be transformed into useful storage. Design by
Be Bold
Don't be afraid to use dark colors, even in a small space. Lighter colors might make the room feel larger, but deeper hues add drama and style. If you do opt for a dark paint color, be sure to choose a satin or semigloss finish that will reflect light in the room. Extra tip: Window treatments can weigh down a small living room. Leave windows bare to keep your space light and airy. Design by
Multipurpose Furniture
Get more bang for your design buck by choosing furniture pieces that do double duty. For example, the bar cart featured here is not only the ideal spot to store bar essentials, it also works as an innovative side table, housing a lamp, books and other belongings.
Just White
This mini cabin in the woods is packed full of homey decorations and other knickknacks, but the cohesive color scheme lends a calming, organized look to the tiny living room. White is a great color choice for reflecting light and adding visual space.
Optical Illusions
To draw the eye upward and create the look of extra space, hang curtains from the ceiling rather than directly above windows. In this living area, glass tables also trick the eye and make the room appear more spacious, while the built-in shelf adds much-needed storage.
Scale It Down
Nothing shrinks a room faster than large-scale, overstuffed furniture. To make your petite space seem just right, choose smaller furniture that fits the room. The two-seater seen here works perfectly in the tiny NYC apartment. And instead of a bulky coffee table, two end tables lend plenty of storage and can be easily moved for more space.
Mirror Image
A well-placed mirror (or three) can work wonders in a small space. Not only are they decorative in nature, but a perfectly situated mirror can also add dimension and pull in extra light. Design by Erinn Valencich
"In a small living room, you can use ottomans or stools that move out of the way when you need the space," says Rachman. "Just make sure to consider how you need that room to function and if there are any special requirements. For example, if you need a pullout sofa for guests."
Think about traffic flow when you arrange furniture, but avoid placing all the pieces in one corner of the room. Also consider pulling your sofa away from the wall. This simple move gives you space to add a console table that offers open storage and a place for displaying your favorite collectibles.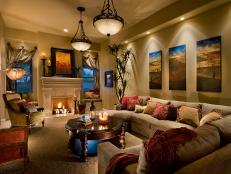 Use different kinds of light to illuminate your living room and create an inviting atmosphere.