Warm Bedroom Color Schemes
Create a cozy bedroom retreat with a palette of warm colors.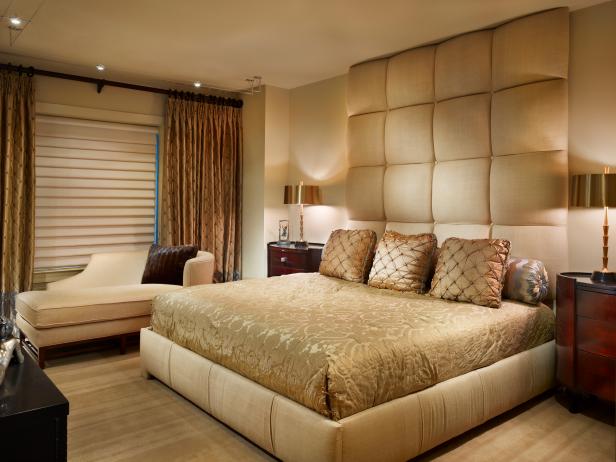 DP_Joe-Berkowitz-contemporary-gold-master-bedroom_4x3
This sophisticated contemporary master suite has an art deco flair. A floor-to-ceiling custom headboard and surround ground the space, and a silk lattice drapery and subtle stripe carpet add texture to the monochromatic color scheme. Deco-style mahogany night chests and a bronze reclining nude sculpture on the dresser enhance the deco style.
A mix of warm colors can turn any bedroom into a cozy retreat that can wrap you in comfort as you settle into bed at the end of a long day. Such colors can help take the chill off north- or east-facing rooms, and they're good choices in rooms with small windows or no windows.
Flooring Options
If you like the look and warmth of carpet, but you already have wood floors, opt for an oversized rug. It's soft to the touch and much cheaper and more easily removable than carpet. Design by Pulp Design Studios
Perfect Palette
Choosing two strong, sophisticated colors, such as chocolate brown and gray, adds elegance to the bedroom. Pick the right colors, and you've already created a space that looks like a million bucks. And for even more high-end appeal, add some patterned wallpaper to an accent wall. By only covering a portion of your room, you're sure to save money and bring instant flair. Design by Brian Patrick Flynn
Alternative Arrangements
Fresh flowers brighten any room, but unless you have access to a flourishing garden year round, keeping fresh flowers in the home can be pretty pricey. For a similar feel without the constant expense, substitute feathers or artificial flowers for a more affordable, lasting effect. You can always take the look a step further by integrating these artificial orchid branch lights into your bedroom design. Each bulb provides a tiny light to illuminate the room with all the color and ambience of real blooms. Photo courtesy of
Midas Touch
By spray-painting accessories gold, you're free to buy old, stained and mismatched items, knowing they will look new and lavish with a simple coat of paint. Another benefit to the golden hue is the added touch of glam it gives to accessories, such as the bedroom mirror, vintage collectibles and even the gold tacks on this custom-made bedside table. Design by Jolene Huitt
Repurposed Furniture
Find new uses for old furniture. This wine cabinet is being used as a TV nook, but with a rod or added shelving, it could even be made into an armoire. Shop consignment stores and flea markets to find interesting furniture that can be salvaged and revamped. Design by Adam Zollinger
Arts and Crafts
Vintage sale signs make for cool and creative artwork. Look at flea markets or antique shops, or maybe even make your own. So, instead of spending your time at art auctions looking for the ideal statement piece for your bedroom wall, channel your creative side and try your hand at your own wall art. Design by Gregory Augustine
Simplistic Display
Artwork adds a touch of personality and class, but rather than spending a fortune to buy high-end art, use what you have. Display what you love, and you will never get tired of it. In this room designed by Sarah Richardson, the walls are adorned with straw hats that add to the home's summer-inspired, cottage-style charm.
Accent Pieces
Who doesn't love an incredible crystal chandelier? The sparkle will light your bedroom and make the whole room exude glamour. But if you can't afford an expensive chandelier, look for more budget-friendly alternatives. Scour vintage shops for antique glass or crystal accessories, lamps and more. Design by Sarah Richardson
Mix and Match
Look for furniture at thrift stores and local consignment shops, and try to find pieces that complement but do not necessarily match your bedroom. You're bound to save money if you stay away from purchasing entire bedroom sets. Design by Patrick Baglino, Jr.
Get Creative
Think outside the box. If you're in the process of building or redesigning your bedroom, consider creative ways that you may be able to save money in the future. For example, the wall of this bedroom, made entirely of 4X4 lumber, eliminates the need for side tables, lamps, shelving and even a bedframe if you want. Design by Antonio Ballatore
Multiple Uses
For this bedroom, designer Nile Johnson chose furniture that could serve several different purposes. The same piece of furniture is used for decoration, a nightstand and storage. By incorporating pieces that work for numerous different things, you will save money by buying fewer items.
Smart Design
If your bedroom leads to an open closet, buying a closet door is only one of several options to conceal your belongings. In this little girl's room, designer Candice Olson uses decorative fabric to separate the two spaces. An old curtain will do the trick, or visit a fabric store to find the perfect design to suit your taste.
Warm colors don't have to be dark. For example, yellow and peach are warm, even in pale shades. There are even warm "whites," such as buttercream and vanilla. In general, muted shades of warm colors are a good choice if you don't want to be overwhelmed by color in your bedroom.
Some of the best warm color schemes are borrowed from sunsets. Sunny yellows, pinks and oranges can be used alone or together to add warmth to any room. Subtle tints of these colors work well if you want to brush them on all of your bedroom walls. If you like a brighter shade, consider painting just one accent wall with a warm color, and paint your other walls white.
Waking up in a yellow bedroom can feel like waking up to sunshine no matter what the weather is doing outside. The same is true for some shades of orange. Choose a shade in soft buttery yellow or muted gold, which look beautiful with nearly any style of furniture.
Brown, which can be considered neutral or warm, conveys comfort. Choices range from deep espresso to auburn to pale latte. You can go as dark or muted as you desire. Deep brown can work well in a room with large windows. Balance a darker shade with fabrics, rugs and other accessories that provide a touch of light or bright color. Brown also looks good with other warm colors, such as orange or lime green, or even some shades of purple.
Red is a warm color that appeals to many people, but some find it overpowering for the bedroom. If you love red, consider a muted shade; if you want a true red, try painting just one wall as an accent. Some red peeking from behind a headboard or wall art can give your bedroom the right amount of sizzle. You can also balance red walls with accessories and fabrics in white, black or neutral shades.
Even if you're going with a warm color scheme in your bedroom, you may want to bring in touches of cool tones to provide some balance to your look. Consider accents in aqua blue, turquoise or purple against a palette of yellow or orange shades. Just remember to keep these accents small, so that your warm bedroom remains a place of rest, not unrest.
Other Bedroom Color Schemes
Get More Ideas for Bedrooms