A Kitchen Built for the Family
A remodel turns a dated, cramped kitchen into a beautiful, functional space where kids are welcome.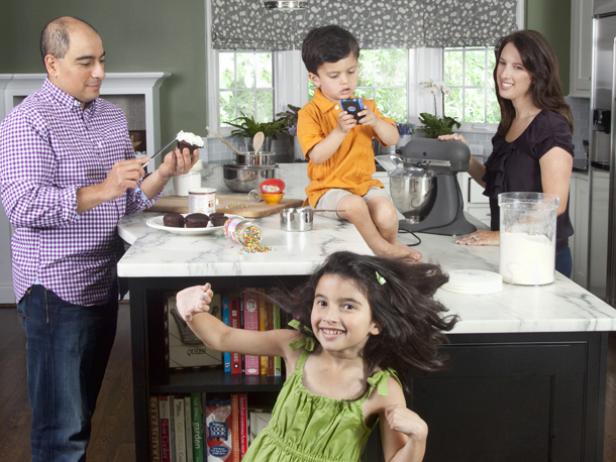 RWP_baker-kitchen-family-9620_s3x4_H
Mike (left), Ansley (front), Asher (on counter), and Alex Fenech (right) make cupcakes in their newly remodeled kitchen.
Mike (left), Ansley (front), Asher (on counter), and Alex Fenech (right) make cupcakes in their newly remodeled kitchen.

Alex and Mike Fenech have three passions in life: spending time with their kids, cooking, and spending time cooking with their kids. When the couple bought their 1970s ranch house in Dunwoody, Ga., in 2008, they loved the generous square footage of its existing kitchen but wanted to change its layout. Their goal was to use its space more efficiently, get rid of its dark, dated, Tuscan look and turn their kitchen into a kid-friendly cook's paradise.
Alex and Mike, both busy executives, balance their demanding professional lives by spending as much quality time as possible with their daughter, Ansley, and son, Asher. The family loves food and their favorite thing to cook is cupcakes. "The only way we can lure the kids away from their iTouch games is with cupcake time," Alex says. "Asher will jump up on the counter and work with me on the icing, while Ansley instantly becomes the Sprinkle Queen."
Multi-Purpose Counter Layout
This L-shaped counter can be used for food prep and display. In its previous state, the counter space was almost completely taken up by a sink and a free-standing range.
Dishwashing Made Easy
A stainless steel sink has a removable grid system to help filter any large food items that could clog the drain. The one-touch technology gooseneck faucet allows one to use both hands for dishwashing; water turns on with a simple tap of the arm.
Convenient, Hidden Trash Bin
A pull-out trash bin integrated into the base of a cabinet keeps bins for trash and recyclables within arm's reach.
Bold, Refinished Floors
Instead of ripping out the existing wood floor, the uneven floors were leveled, sanded, then refinished in a matte, dark walnut stain.
Out of Sight, Into Island
An island houses both a stainless steel microwave and warming drawer on its rear side, keeping small appliances out of view yet within arm's reach
Smart Feature Relocation
The corner that was home to all the appliances and a sink is now occupied by cabinetry that holds all baking supplies and a full-length pantry for everyday food items. Ansley Fenech samples cupcake toppings.
The Sweet Spot
To keep all baking supplies confined to one area and out of the children's reach, the Fenechs opted for upper cabinetry to house both ingredients and bakeware.
Classic Subway Tile
The walls of the kitchen feature sleek, subway-style glass tile.
The Icing on top... of the Window
A window in the kitchen's baking station looks out on the front yard. Custom-made Roman blinds dress up the window with a dash of contrasting color and graphic pattern.
Convenient Pot Filler
A stainless steel pot filler installed above the range makes boiling prep easier. The tile backsplash is made of glass-and-marble basket weave and black marble bullnose trim in a panel set into glass tile.
What's black and white, and made for bakers?
The remodeled Fenech kitchen features a black and white color scheme accented by olive green. Its transitional style updates a mid-1990s Tuscan look and its new layout makes more efficient use of the existing space.
Bold, Contrasting Elements
The area previously used as a pantry is now home to a new stainless steel refrigerator. The room incorporates black and white through three main design elements: honed white Vermont Danby Marble on the bar-height kitchen island countertops, black bead board cabinetry and casing, and polished black granite on the counter-height solid surface countertops.
Kid-Friendly Pantry
There's a kid-height pantry in the kitchen island that holds snacks, plastic cups and plastic bowls, allowing the kids to serve themselves.
Easy-Acess Storage
A pull-out drawer system in the island keeps plates and bowls at waist height. The top drawer holds flatware while the middle and bottom keep offer storage for dishes. These drawers are directly across from the dishwasher, allowing the Fenechs to fill the drawers with clean dishes without ever having make a single step.
Strategic Lighting Design
A trio of polished nickel pendants above the kitchen island and recessed can lights throughout the room provide a mix of task and ambient lighting.
Convenient Cookbook Shelving
Ansley and Asher Fenech sit on the counter of their family's newly remodeled kitchen. Bookshelves built into the island keep cookbooks within easy reach.
After living in the house for more than a year, the Fenechs decided to take their kitchen into the 21st century, lightening it up with a transitional, family-friendly look and turning it into the kitchen of their dreams.
The Fenechs hired Dale Contant of Atlanta Design & Build, Marietta, Ga., to execute the renovation. The three-month, $100,000 project included:
Tripling the amount of counter space
Relocating all appliances (and upgrading them to commercial grade.)
Building three pantries: one for everyday foods, one for the kids and another strictly for baking ingredients
Creating custom bookshelves to house cookbooks
Integrating a microwave and warming drawer into the backside of a kitchen island to keep them out of sight
Installing recessed cans and new pendants for better lighting
Turning an old bay window into a dishwashing station
Moving walls to open up the floor plan
Leveling the kitchen floor
Adding more vents
Creating a mud room and powder room on the other side of the kitchen wall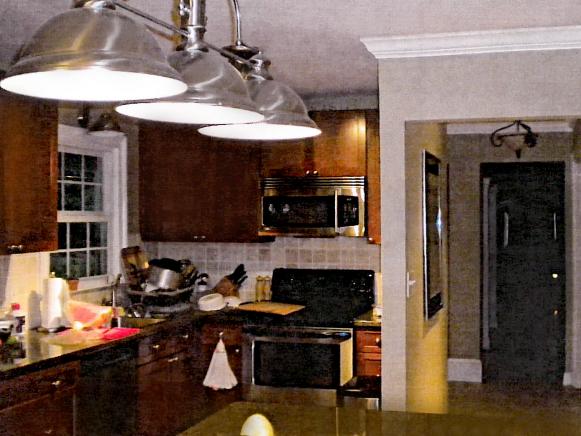 RWP_baker-kitchen-before-stove_s4x3
The existing floor plan had all the appliances shoved into a tight 6x11 corner and the pantry was located directly next to the bay window.
The existing floor plan had all the appliances shoved into a tight 6x11 corner and the pantry was located directly next to the bay window.
To give the homeowners more space, Dale altered the room's existing layout, moving the appliances out of a corner and scattering them throughout the room into multiple task zones. "All the appliances were shoved into one corner and it had a small island where mail, homework and keys piled up," Alex says. "There was never any empty counter space." Dale installed a larger kitchen island with a warming drawer, pull-out trash bins and built-in bookshelves for cookbooks.
Dale and his team also turned the existing kitchen's bay window into a dishwashing station, transforming wasted space into a functional area and improving the room's flow. Dale took out the lower windows and installed black granite countertops and a stainless sink. There's now enough counter space to accommodate potted plants and herbs by the window.
The Fenechs worked with Dale to decide how much to spend on each element of the room, then agreed on a list of priorities. They splurged on commercial-grade, stainless steel appliances, marble and black granite counter tops, a pot filler, custom inset cabinets and a glass tile backsplash. The Fenechs bought their large appliances online, willing to take buy them sight unseen to save some money and time. "Shopping [online] saved a ton of time we would have otherwise spent driving all over town," Alex says. They bought the remaining elements, "hardware, a stainless steel microwave, pendant lights, window coverings and small appliances" locally.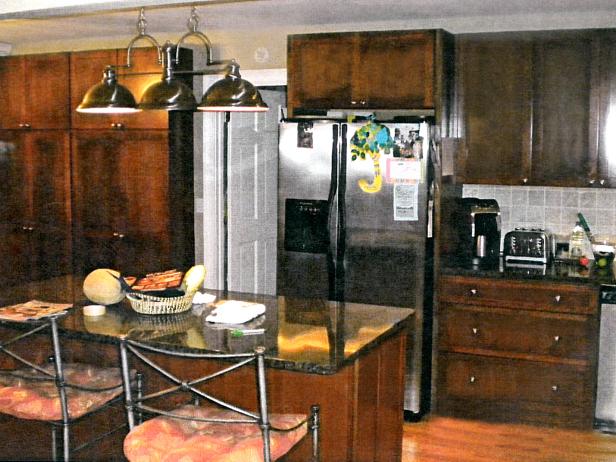 RWP_baker-kitchen-before-island_s4x3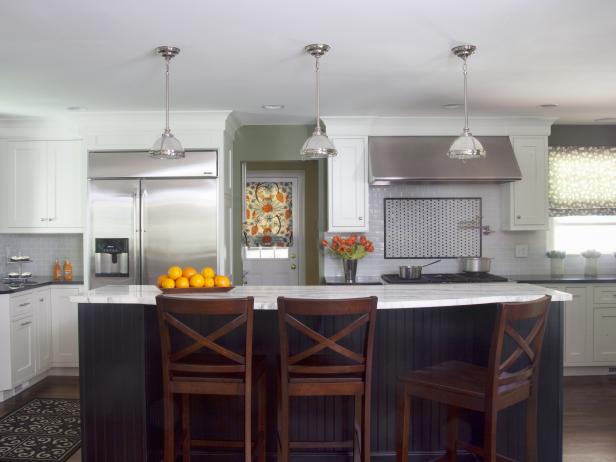 RWP_baker-kitchen-room-colors-9921_s4x3
Alex and Mike took their children into consideration as they made decisions about the remodel. "In the old kitchen, since everything was out of reach, the kids had no independence to get their own snacks or water," Alex says. But a kid-sized pantry, integrated into the side of a kitchen island, allows Ansley and Asher to get their own snacks.
Because their kitchen is where the family gathers, the new kitchen island also includes a school work station, so the children can do their homework there while Mom and Dad cook. "We don't want our kids stuck in their bedrooms doing homework all afternoon," Alex says. "[Having the school work station in the kitchen] allows us all to interact and get dinner ready at the same time."
Another kid-friendly accommodation: The kitchen's new baking station is built around one of the home's front windows, so Mom and Dad can cook and keep an eye on Ansley and Asher as they play in the front yard.
The room's new layout uses the kitchen space more effectively, so there's space for everyone in the family to do different tasks at the same time without getting in each other's way, like most homeowners who do a remodeling project, the Fenechs ran into some items that ended up costing more than they had expected. Like custom window treatments. "We left a small amount of money in the budget for custom Roman shades," Alex says. "As it turns out, custom window treatments are very expensive. It wasn't until about eight months after the renovation that we were able to splurge on what we wanted."
Another area they saved money: countertops. Their budget didn't allow for a roomful of high-end countertops, so they used top-grade material on the main islands and a less expensive material on the other countertops in the room. The Fenechs splurged on white marble for their bar-height island counters, because they loved the rich look. They used less-expensive, polished black granite on the rest of the counters. The key to mi the materials: using contrasting colors.
Dale suggested the Fenechs choose honed finished marble instead of the highly polished sort, because the matte finish of honed is easier to clean and it shows fewer stains and marks. "It's perfect for a working kitchen," Alex says.
The result of all this work has been a gorgeous kitchen where all four Fenechs can crank out cupcakes.
"The old kitchen wasn't conducive to family-style baking," Alex says. "Now, not only is it set up to knock out more than 100 cupcakes a day, it's much more our style, and there's enough space for everyone to pitch in."