Home Automation: Security Control
Gather information on home automation security control, and prepare to install an automated security system in your home.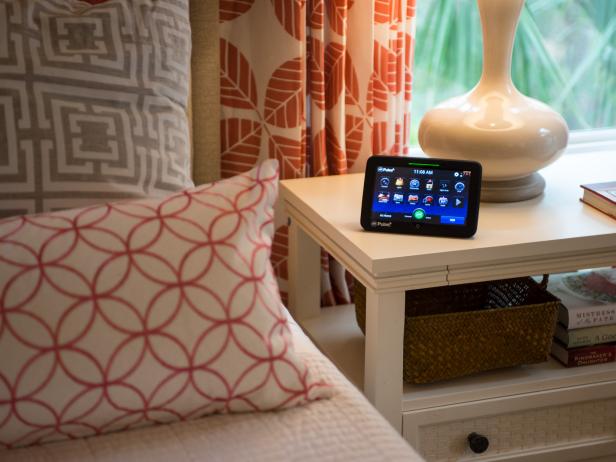 sh13_03-guest-bedroom-JDK1352_4x3
Guest bedroom at the Prefit Smart Home 2013 located in Jacksonville, FL
Home security systems are increasingly prevalent, and if you're considering installing a new home automation system or improving an existing one, you may want to explore options for home automation security control. Automated security systems allow homeowners to program, monitor and control their home's security setup remotely or via an in-home dashboard, providing both safety and security for the home and a potential deterrent for criminals.
Piper
No need to buy separate cameras and alarms: This hub has an integrated, 180-degree HD video camera, microphone with two-way audio, and a siren. It also monitors temperature and humidity, and for extra security, you can add door and window sensors. If there's trouble, Piper can message, text, email and call you.
Lowe's Iris
Iris is a hub that works with smart devices, letting you control them from your phone. The Safe & Secure kit includes a motion sensor and two door/window/cabinet sensors; you can optionally add more sensors, cameras and even smart locks. The app will alert you if any are triggered.
Dropcam
A small but powerful HD camera with two-way audio, Dropcam works with an app to let you see what's happening in your house via your smart devices or computer. It sends emails or notifications when it detects movement. Crystal visuals plus night vision make this a great choice for monitoring pets and babies, too.
Belkin WeMo
A series of products intended to make it easy to automate your home, WeMo lets you control everything via app — from cameras to motion sensors to lights. Schedule your house to light up at a certain time, lock or unlock, check cameras or even switch on the stereo, so it's like you're home even when you're not.
August Smart Lock
Safer than leaving keys under a mat (or getting your key reproduced or stolen), this smart keyless lock only lets in those who have a digital key assigned to them. You can even control when people have access to your house (so the housekeeper can't let herself in while you're on vacation).
Brinno PeepHole Viewer
Looking through an ordinary peephole gives only a miniature, limited view (not to mention visions of horror movies). The PeepHole expands that view to a 2.7" LCD screen, so you never need to guess what you're seeing.
SkyBell Video Doorbell
Who's ringing the bell? Find out by seeing live video feed on your cell phone — then communicate via two-way audio. It's like installing a call box with video, plus a motion sensor, night vision and accessibility across multiple devices — so you can even see who's there when you're out of the house.
STI Rex Plus II Electronic Watchdog
Rex uses radar to detect movement through walls and glass, and starts barking. When an intruder gets closer, he barks more frequently, and can even growl. If you prefer a siren or a human voice, Rex can do that, too. Good boy.
Many automated home security systems are now capable of operating via the home's wireless network—which means that homeowners can control the security system remotely from within the home, or from virtually anywhere in the world with an internet connection. Increasingly, companies who manufacture and install home security systems also offer apps that allow homeowners to monitor and manipulate their home security system from smart phones or other mobile devices.
Automated home security systems are available in a wide range of pricing tiers and levels of complexity. At their most basic, they often feature battery-operated sensors placed on doors and windows that can detect whether an entryway is open or closed. The sensors communicate wirelessly with a central control hub, which the homeowner can program to be active or inactive at specific times during the day, or for longer stretches during vacations or extended absences from the home. More sophisticated systems are often configured to operate with a whole-home automation scheme, so that the home's lighting and entertainment systems may also be configured to operate in conjunction with the security system when it's active.
Other features of home automation security control include motion detection and video monitoring, as well as notification software to let homeowners know when family members arrive home. For example, many systems feature keypad entry for all doors, with codes for each family member; this way, parents can be notified via email, text or automated phone call when their children return home from school or activities. Motion detectors inside and outside the home can be configured to turn lights on within rooms or along outside pathways—a feature that conserves energy, helps homeowners returning home at night, and may operate as a deterrent for criminals.
Security cameras are an increasingly popular feature of automated home security systems. They help homeowners monitor who is entering and exiting the home at all times, and they also may deter criminals. In the past, closed circuit cameras were widely used, but in recent years many home security system manufacturers have shifted to digital monitoring, which allows homeowners to view any area of the home via webcams from anywhere with an internet connection. The video streams from these digital security cameras often back up onto cloud servers or high capacity hard drives, ensuring that the home's activities are accessible for review at any time.
More on Home Automation and Control Systems
Other Ideas for Home Automation