How to Plan for Building an Outdoor Fireplace
Learn how to plan for building an outdoor fireplace, and get tips and tricks for creating a warm and welcoming focal point for your outdoor living space.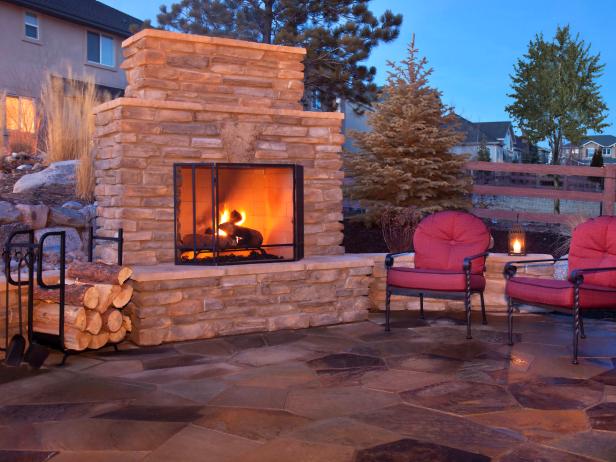 TS-153816520_Plan-for-building-an-Outdoor-Fireplace_s4x3
Outdoor living space with a stone woodburning fireplace, chairs, and wood storage area.
If you're ready to install a warm and welcoming focal point in your backyard, you'll want to browse these helpful tips on how to plan for building an outdoor fireplace.
Design a Fireside Retreat
Outdoor fireplaces set the scene to dine alfresco and provide warmth for outside gatherings on cool nights. Photo courtesy of Mega-Bergerac
Solid Advice
"Stone can be used outdoors as either the entire makeup of the fireplace or as accents within the design." says Lou.
Natural Beauty
This large outdoor fireplace, with its beautiful stone facade, has a grand allure. With lush greenery peeking from behind the fireplace, this outside space invites you to relax. Photo courtesy of Concrete Network
Use Local Resources
Rich wood textures and a cozy stone fireplace make this outdoor living room the ultimate mountain escape. For a custom fireplace design use materials significant to your area, like river rock for a cabin in the woods or shells for a beachy cottage. Photography by beall + thomas
Plush and Inviting
The standout element in this courtyard is the stucco fireplace. Sleek sofas add modern style and comfort to the outdoor escape.
Evening Charm
This Tuscan-style outdoor room features a rustic fireplace and iron details that set the stage for an intimate outdoor gathering at sunset. Photography by Keith Summerour
Add Year-Round Comfort
Outdoor lighting, furniture, and a fireplace blur the boundaries between indoors and out. A covered patio adds to your home's livable space. Photo courtesy of Kichler
Beautiful, Custom and Cozy
Decorate your outdoor space the way you would think about outfitting your living room. This deck blends a traditional stone fireplace with modern furniture. Photo courtesy of Rich Pomerantz
Intimate Elegance
A porthole mirror and potted plants dress up this outdoor fireplace. Courtyard seating faces the fireplace, creating the perfect spot for company and conservation.
Double-Sided Duty
This patio features a built-in outdoor fireplace you can enjoy from both sides, rain or shine.
Find the Perfect Fit
A fire pit is one of the many focal points in this deck's multi-level design. A built-in bench curves around the fire pit for toasty seating on chilly nights. Photo courtesy of Trex
Ready for Company
The entertaining deck at Prefit's 2012 Dream Home offers a warm and cozy respite even on the chilliest winter's evening. This fire pit has a modern design and features four separate gas units.
Shop to It
When choosing an outdoor fire pit, "look for heavier materials, nothing flimsy," advises Lou. "And you'll need to cover your fire pit when it's not in use." Design by Laidlaw Schultz Architects; Photography by John Ellis.
Salvage Materials
"Many companies that make paving stones for driveways and patios also make outdoor fireplace kits," says Lou. "Essentially all these bricks get stacked on one another to form the fireplace. All you need for the base is gravel and sand." Design by Jamie Durie
Just Heating Up
An outdoor fire pit does more than create ambiance — you can use it for a range of cooking options, including slow-cooking meats and grilling kebabs. Photography and design by Debora Carl
Roast and Relax
Sure, an outdoor fire pit creates warmth on chilly evenings and a place to gather together in the open air. But its best use might be roasting marshmallows to make s'mores.
Built-In Arrangement
Nothing beats a cozy fire with a view. A stone fire pit like this would be more costly than a portable option, due to the cost of transporting and laying the stone. Photo courtesy of Belgard MegaArbel
Position it Right
For safety reasons, it's best to position your fire pit away from any foliage or nearby trees.
Decked Out
The freestanding fireplace is the focal point for large outdoor gatherings on this curvy deck. Photo courtesy of TREX
Decks & Patios in Depth
Discover more ways to optimize your outdoor space for greater enjoyment.
The first consideration when planning to build an outdoor fireplace is location. Your backyard focal point is going to be a popular, heavily trafficked area. Will you locate it adjacent to your home, on a deck or patio, or set it further into the backyard, in a separate seating area?
Some factors that might influence your decision include the size of your outdoor living space, and whether your outdoor fireplace is going to be wood burning, or powered by propane or natural gas. If you plan to fuel it with wood or propane, it can be a portable structure, and you can locate it more or less anywhere in your outdoor space. Natural gas is usually fed from the home, which won't necessarily mean your fireplace needs to be located directly adjacent to the house, but the configuration of your gas line may be a limiting factor.
Next you'll need to think about a design for your outdoor fireplace. Many homeowners choose a "built-in" style, attaching the fireplace to an outside wall of the home or another wall in the outdoor space. Others prefer a freestanding fireplace, possibly even one that's portable. For either a built-in or freestanding style of outdoor fireplace, you can choose to purchase a prefabricated exterior or one that's a blank slate, so that you can choose which materials to adorn your fireplace with. Bricks, different types of stone, marble and even fire-resistant glass are some of the many options available.
More Outdoor Fireplace Design Ideas
Other Outdoor Fireplace Ideas
Outdoor Fireplace and Fire Pit Tips
02:21
Great tips and inspiration for creating an outdoor fire pit or fireplace.